If you have a patient, nurturing personality and critical attention to detail, you may have a future as a personal care assistant. Follow this guide to learn how to become a personal care assistant. It covers specific skills, job responsibilities, and suggested education and training you can earn to find your first job.
Once you're ready to dive into the job market, study these personal care assistant resume samples. These samples act as helpful study and formatting guides to help you pick which skills and experience you should share on your job applications.
Need cover letter guidance? Add a cover letter to your resume using our cover letter formats how-to guide and add value to your resume.
Improve your application with a personal message! Your resume may summarize your qualifications, but a cover letter can help you express your professional accomplishments and working style. Pair these cover letter templates with our builder subscription to unlock AI-powered text templates and professional designs that will help you submit a complete application.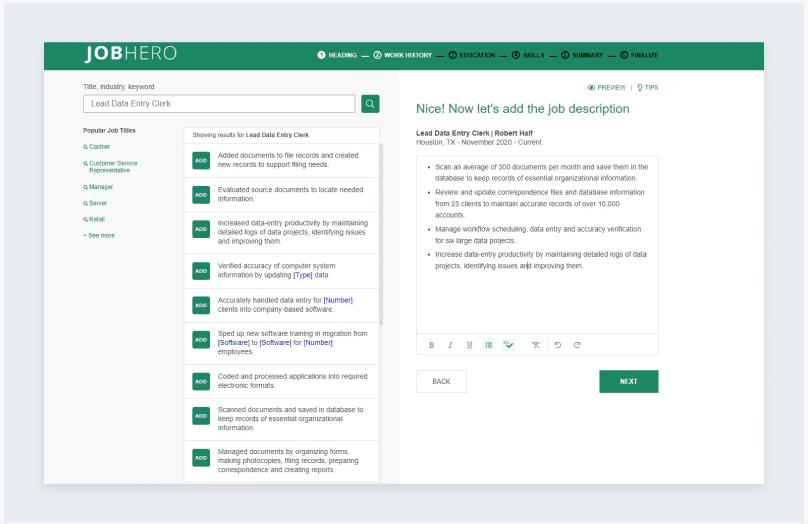 BUILD MY RESUME
What Does a Personal Care Assistant Do?
A personal care assistant (PCA) assists individuals with a physical or mental disability with daily tasks. These aids help their clients with transportation, personal hygiene and meal preparation. PCAs work in their clients' homes, hospices, adult day care, and senior centers or residential care facilities.
Your responsibilities as a personal care assistant may include:
Helping with personal hygiene, such as bathing and brushing teeth.

Preparing meals based on patients' medical needs and dietary restrictions.

Administering medication.

Helping clients get in and out of bed.

Assisting with exercises prescribed by a medical professional.

Helping perform daily housekeeping such as washing dishes, sweeping, vacuuming, or doing laundry.

Help organize patients' daily schedules and upcoming medical appointments.
How Do You Become a Personal Care Assistant?
As our current labor force ages out of the job market, many retirees will need additional support around the home. The Bureau of Labor Statistics (BLS) predicts strong job growth of 25% from now until 2031. With an estimated 711,700 job openings yearly, learning how to become a personal care assistant is a financially sound decision.
1
Complete a high school diploma or GED course.
Most personal care assistant job openings don't specify a required educational history. It's safe to assume that a high school diploma or equivalent is sufficient for an entry-level job.
2
Consider an associate or vocational degree.
You can develop additional patient care skills by pursuing an associate degree or vocational training in home health and personal care aide. These courses may cover basic safety techniques, emergency response and housekeeping tasks and may include on-the-job training related to client hygiene, reading and noting vital signs, or monitoring infections.
3
Find your state's license or certification requirements.
Minimum job requirements may vary from state to state. Select states and employers may require additional safety or emergency response training, such as the Red Cross's CPR or first aid certification. Use this database to find your state's medical board and additional training requirements.
4
Complete additional training as your state's medical board requires.
TThere is a voluntary certification for personal care aids offered by the National Association of Home Care and Hospice that can help secure a job. This certification requires the completion of 75 hours of training and the successful completion of a written exam.
Once you meet your state's medical board requirement, use our AI-powered Resume Builder to generate most job postings' tone and writing style. This strategy can help you score well on applicant tracking systems and improve your job prospects.
You can also study our PCA resume samples to see how your fellow personal care aides advertise their experience and training.
Personal Care Assistant Skills
As a personal care assistant, your soft skills will be more critical than your technical skills. This position requires empathetic, ethical, helpful and calm people. You'll work with people who are elderly, sick or have mental disabilities; they may be in extreme pain, confused, angry or unable to speak or comprehend others.
You should also be in good physical health, as you may be on your feet throughout your shift and may need to help patients move around, get in or out of bed, or carry heavy objects such as using wheelchairs and oxygen devices. The following soft and hard skills can help you effectively perform your care tasks.
Soft skills:
1
Ability to follow directions, especially medical suggestions and medication requirements.
2
Excellent communication skills to effectively interact with patients and family members.
3
Active listening skills to help monitor patients, identify potential medical ailments and provide adequate medical aid or support.
Hard skills:
3
Monitor the client's pulse, temperature and respiration rate.
4
Perform basic first aid.
5
Set up and run medical equipment, such as ventilators.
6
Maintain at-home medical records regarding conditions, improvements and complications.
Insights from a Personal Care Assistant
Debra Benson, a former Personal Care Assistant, provides her thoughts on this career choice.
What is the common career path for a Personal Care Assistant?
A Personal Care Assistant career path leads from here to a License Vocational Nurse and then to possibly a Registered Nurse (RN).
What should someone consider before becoming a Personal Care Assistant?
As a PCA, you will be exposed to biohazards.
What type of person excels in this job?
A compassionate and patient person will excel in this type of job.
What are some of the most important skills for a Personal Care Assistant to have?
As a PCA, there are hard and soft caring skills that are needed to care for patients with various disabilities. These skills include:
Be able to assist patient with ambulation.
Assist with (ROM) range of motion.
Assist with transferring a patient in a wheelchair or bed to chair.
Assist with oral care, dentures, natural teeth or gum care.
Giving a bath at the bedside; giving a bath or shower.
Give a tub or sponge bath
Nail care (except with diabetic patients).
Finger or toes to soak, file or trim.
Shampoo hair in the bed, in the sink, bathtub or shower.
Help prevents the skin breakdown.
Provide a bedpan, urinal, bedside commode, or assist the patient to the bathroom.
Provide special cleaning to patients with external dwelling catheter or catheter.
Monitor a patient fluid balance.
Perform intake or output measurement.
Change linens.
And always practice universal precautions.

What do you find to be the most rewarding aspect of being a Personal Care Assistant?
The most rewarding aspect of being a personal care assistant is finding fulfillment.
How Much Do Personal Care Assistants Get Paid?
The Bureau of Labor Statistics states that Personal Care Assistants make a median yearly salary of $20,100. The highest paid PCAs make $28,600, and the lowest paid make $16,900. This salary varies depending on if the PCAs work for one client in their home, or have various that they work with in facilities.
Top 10 States for a Personal Care Assistant's Salary
Personal Care Assistants in the following states make the highest median salary in the US.
Personal Care Assistant Resources
For more information about becoming or working as a Personal Care Assistant, follow these sources.
On the Web
Institute for Professional Care Education
A certification course is designed for individuals seeking to gain employment as a senior care provider.
Blogs
Best Home Care
A helpful blog with tips on taking care of home care clients.
Books
The information in this article comes from the Bureau of Labor Statistics, job postings and other online sources.