Are you interested in helping streamline a company's operations system? This career guide on becoming an operations manager covers a seasoned employee's experience, training, salary expectations and career insights. Once you're trained and ready for the job market, review our operations manager resume samples to learn how to best describe your training and qualifications.
You can also create multiple customized resumes for each job opening with our AI-powered Resume Builder. Our builder unlocks professional resume templates, a section-by-section writing wizard, and customizable text templates based on your education and experience.
Need cover letter guidance? Add a cover letter to your resume using our cover letter formats how-to guide and add value to your resume.
Impress your future boss! According to a 2020 survey, most hiring managers read cover letters for candidates they're considering interviewing before making their final decision. Make a cover letter that seals the deal with our professionally designed cover letter templates.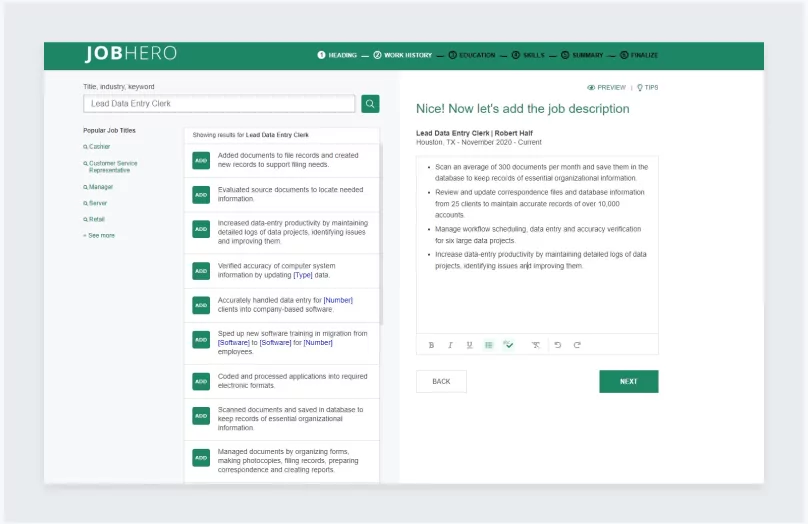 BUILD MY RESUME
What Does a Operations Manager Do?
Operations managers oversee the production of goods and services in a company and do whatever is possible to increase efficiency. Operations managers ensure organizations operate smoothly to fulfill the product and service needs of customers and clients. In that capacity, Operations Managers also troubleshoot as issues arise.
The duties of an operations manager vary depending on the organization. Generally, they include:
Managing quality assurance programs.

Supervising, hiring and training employees (or overseeing those processes).

Monitoring existing processes and analyzing their effectiveness

creating strategies to improve productivity and efficiency.
How Do You Become an Operations Manager?
Demand for operations managers is increasing. The Bureau of Labor Statistics forecasts 7% growth for the position through 2024, amounting to 68,880 openings for operations managers during that period. Given this projected growth, aspiring operations managers are likely to find many job opportunities in the transportation or insurance industries, to name a few.
1
Step 1: Finish your high school education.
According to our analysis of online job postings, most hiring managers require at least a college education. Use your high school education and afterschool opportunities to strategically prepare for your college program by signing up for statistics or economic classes and joining the Future Leaders of America, Key Club or student government to develop data analysis and leadership skills.
2
Step 2: Apply for a business administration or management degree.
Most job postings require an associate degree, although a bachelor's degree or higher in business or some aspect of logistics is often preferred. We strongly recommend a business administration or management degree to familiarize yourself with corporate language and commonly used programs.
3
Step 3: Gain practical experience in operations or logistics.
Becoming an operations manager is very similar to other managerial positions. Usually, you would start as a junior manager to gain some functional experience in a specific area. The next position would be senior manager, followed by the team leader and head of operations.
4
Step 4: Consider additional certifications or training.
The American Institute for Business Management and Communication, or the AIBMC, has a detailed list of certified courses and certifications to boost your application.
5
Step 5: Apply for an open operations manager job.
Any successful job search begins with crafting a high-quality resume highlighting your skills and experience. Our operations manager resume samples offer some guidance on preparing your application materials.
Complement your resume with a cover letter that expresses your interest in the position and highlights your qualifications and what you would bring to the role. You can learn how to prepare an effective letter with our writing guide or our professional operations manager cover letter example.
Operations Manager Skills
Operations managers must liaise with other team members, including interacting with managers in different areas of the organization. The operations manager wears many hats. They may present findings to higher management or manage support services such as HR, IT and Finance.
The following combination of soft, hard and technical skills can help you complete these responsibilities.
Technical and hard skills:
1
Financial knowledge to review the budget.
2
Help maintain and oversee HR, IT and finance when needed.
3
Interpret financial data and perform cost-benefit analyses on internal and external fiscal programs.
4
Proficiency with computer programs, in particular business planning software.
Intersocial soft skills:
1
Management skills to motivate, direct, train and supervise employees.
2
Good communication skills to effectively update upper management and internal team.
3
Strong attention to detail to effectively multi-task and manage multiple projects or staff members.
Insights from an Operations Manager
In order to get an inside look at how to become an Operations Manager, we talked to Jennifer Simons, an operations manager at Renovata Partners. Here's what she had to tell us:
What is the common career path for an Operations Manager?
An Operations Manager needs to be able to get to grips with the inner workings of their company and understand how everything is interconnected. This can cover everything from financial systems, HR processes, KPIs (key performance indicators) and reporting, IT & Infrastructure and so on. Given the wide remit of operations there isn't necessarily one career path but instead applicants should show curiosity about what the company does, how it operates and constantly seek to improve their knowledge in every functional area.
What should someone consider before becoming an Operations Manager?
Becoming an Operations Manager for the first time can be daunting as you will likely know some business areas better than others. Don't just play to your strengths, have a plan in place for how to fill the gaps in your knowledge and find people in the business that can help you. Other functional leaders are great for this and may be willing to let you shadow or even contribute to their projects. This is a great way to learn.
What type of person excels in this job?
Problem solvers who have a real passion for making the business best in class and who refuse to become complacent with the standard business operations. Great can always be greater, our job is never done. There people will have a natural curiosity for understanding how things work and who enjoy a balance of process management and innovation in their workload.
What are some of the most important skills for Operations Managers to have?
Being able to take both a high and ground level view is key. At a high level you need to be able to look at all projects across the firm and identify and recommend priority projects / action items. At ground level you need to be talking to the team to understand their experience of the business processes in order to streamline, cost save and improve the overall process effectiveness.
Whether you're working with others or on your own, the business is likely to face several challenges at once in addition to your day to day activities.  So the operations manager must develop a process for managing projects and ensuring you don't let anything slip through the cracks. A great Operations Manager needs to communicate and influence well at all levels both internally and externally.
What do you find to be the most rewarding aspect of being an Operations Manager?
I find my role as an Operations Manager fascinating as I'm at the core of the business. I'm constantly learning new things, whether it's developing reporting capabilities around KPIs or building the company brand into all client touch points so it's difficult to be bored or run out of things to do.
When I first joined the company I couldn't do a tenth of the activities that I do now. Just having the exposure to different areas of the business put me on a steep learning curve and has given me a great sense of personal achievement.
How Much Do Operations Managers Get Paid?
Operations Managers are typically paid an annual salary, with the median annual wage in the United States being $97,700, according to the Bureau of Labor Statistics. The lowest-paid Operations Manager makes about $44,200 per year, while the highest-paid can earn more than $187,200.
Top 10 States for Operations Manager Salary
Operations Managers in the following states make the highest median year wage in the U.S.
Operations Managers Resources
We compiled this list of additional resources to help you continue exploring a career as an Operations Manager.
Professional Groups
The Association for Operations Management
The premier professional association for supply chain management keeps members up-to-date on current news and events and enhances their operations and supply chain management skills, to name a few.
LinkedIn
Operations Managers books