Featured in:
More Office Assistant Resumes
Use these Office Assistant samples as a guideline or visit our extensive library of customizable resume templates.
Additional Administrative Resume Samples
How to Format an Office Assistant Resume
Maximize your chances of getting hired with a remarkable resume. The best way to scale your job-hunting strategy starts with the right resume format.
A resume format organizes your resume's section so that your best qualifications get spotlighted. A resume format simply organizes your resume starting with your best qualifications.
If you just started as an office assistant or have career gaps, the functional resume starts with your top skills and volunteer work to create a lasting impression. Meanwhile, experienced job seekers can benefit from a chronological resume because it organizes your resume starting with your employment history.
Chronological Resume
18

years in workforce

10

years at this job

AAS

Electronic Medical Records
Work Experience
Office Assistant, Celebration Health Hospital
February 2012- present, Kissimmee, FL
Works with an ER system titled Waiting Room to input new and current patients into the office scheduling database.
Maintains organization inventory by checking stock to determine supply levels, expedited orders, and delivered materials to workstations promptly.
Ensures all current patient information is updated and collected appropriately according to an organization and industry standards.
Functional Resume
2

years in workforce

9

months at this job

AS

Liberal Arts
Professional Skills
Relationship-building
Works closely with a naturopathic doctor (ND) focused on preventive and integrative health care.
Increases the likelihood that new patients come in and existing patients return by taking the time to give each patient individualized care and attention and accommodating their needs.
Manages patient schedule while greeting and rooming patients.
Caregiving Skills
Takes vitals, blood pressure and pulse measurements on new patients.
Follows up with patients to check on them, collects payments and reschedule appointments.
Records symptoms and helps prepare patients for exams and treatment.
Office Assistant Resume Samples
No results found
0-5

years of experience

Worked with an ER system titled Waiting Room to input new and current patients into the office scheduling database.
Maintained organization inventory by checking stock to determine supply levels, expedited orders and delivered materials to work stations in a timely manner
Upheld office schedule to ensure day-to-day business needs were met
Provided exceptional customer service by appropriately answering client concerns, forwarding messages and confirming appointments as necessary
Ensured all current patient information was updated and collected appropriately according to organization and industry standards
0-5

years of experience

Worked closely with a Naturopathic Doctor (ND) focused on preventative and integrative healthcare.
Oversaw and contributed to a variety of patient-oriented, office, and marketing duties
Provided recipes for monthly newsletters
Responsible for increasing the likelihood that new patients come in and existing patients return
Managed patient schedule while greeting and rooming patients
Took body composition, blood pressure, and pulse measurements on new patients
Checked patients out, collected payment, and rescheduled appointments
6-10

years of experience

Answered high volume of inbound phone calls for this oil and gas drilling firm.
Welcomed and greeted all visitors; screened calls; directed to appropriate staff; opened all incoming mail and distributed to recipients.
Stamped, coded, and entered all invoices for well operations into Excel spreadsheets.
Coordinated and scheduled all corporate business travel and accompanying itineraries.
Handled catering services and set up equipment for board and stockholder meetings.
Maintained and updated vacation time and sick time accrued for all employees.
Exhibited a high degree of discretion related to safeguarding confidential information.
0-5

years of experience

Created summary reports for business expenses.
Performed payroll and billing administration.
Managed and order supplies within the budget guidelines of the organization.
Composed correspondence/reports for own or manager's signature.
Conducted bookkeeping, purchasing, accounting, inventory control, and clerical/administrative functions.
Assisted with budget preparations; handled accounts; bank deposits; maintained ledgers; and prepared financial reports.
0-5

years of experience

Collaborated with Dispatch and Accounting to ensure smooth work flow and organization operations.
Accountable for all operations of busy office, including payroll and Human Resources.
Facilitated onboarding of new employees by scheduling training and processing paperwork.
Organized technician schedule for customer jobs.
Maintained status reports to provide management with updated information for client projects.
Assisted with payroll preparation and entered data into cumulative payroll document.
Arranged, scheduled and coordinated all logistics and travel itineraries for staff of 30 employees.
Ensured staff was equipped with all necessary supplies and collateral for long distance travel.
Liaised with HR department to establish employee benefits, training, payroll, and termination procedures.
0-5

years of experience

Provided administrative and executive support within busy laboratory department. Managed supervisors calendar; planned client and executive team meetings; prepared reports, spreadsheets and presentations; managed records; and administered database. Results:
Earned "outstanding" ratings on annual reviews for the past three years. Recognized for high-quality work, organizational strengths and exceptional customer service delivery.
Became the LCMS/MS department's primary creator of PowerPoint presentations and the main troubleshooter of office issues.
Excelled within deadline-intensive environment, ensuring the accurate and on-time completion of all projects.
0-5

years of experience

Created spreadsheets to track sales and labor to measure the overall performance of the restaurant.
Coordinated with the bar manager and the Chef to develop inventory sheets for the bar and the kitchen to be more efficient for measuring cost of goods sold.
Assisted with the office manager to improve productivity for all daily accounting, filing, and bookkeeping.
Utilized my organizational skills to help maximize overall office performance.
0-5

years of experience
Interact with diverse professors to grade homework and input grades into online system
Archive paper documents electronically utilizing Acrobat Adobe Pro, resulting in increased usability and office organization
Maintained confidentiality and developed relationships through interdepartmental document delivery
0-5

years of experience

Answered calls & routed messages to designated individuals
Maintained and updated the filing of Bills, bill payments, inventory and incoming and outgoing mail.
Operated office equipment such as photocopiers, scanners, fax machine, voicemail.
Provided invoices and receipts for customers manually or computer on QuickBooks.
Managed the cleanliness of the office and refilled office supplies when needed. As well as made coffee and setting refreshments for customers.
6-10

years of experience

Provided administrative support
Managed and processed payroll for all employees
Filed and faxed documents, answered and directed phone calls and managed bank deposits
Prepared spreadsheets and reports
Scheduled meetings and prepared agendas
Assisted and welcomed walk-in customers
0-5

years of experience

Handled 20-35+ customer calls per shift regarding bill amounts, flat rates and new customers
Entered daily work hours for the payroll of 30 employees using Excel Spreadsheet
Through the use of Quickbooks I create invoices, receive payments (cash, checks, and credit), and record deposits once I have received a certain amount of profit. This deposit is mailed to the bank.
PayPal is used to process customer credit cards for payments.
Coordinated interviews by performing background checks on possible candidates for new hire
A 3-line phone system is used to address incoming customer concerns. I also contact various customers in attempt to receive payments that are past due.
Responsible for ordering supplies when we are low as well as restocking the supplies when they arrive.
0-5

years of experience
Provided clerical support including answering phones, faxing, copying packets, etc.
Compiled, sorted and verified the accuracy of data prior to computer entry
Maintained database by entering new and updated customer and account information
Secured information by completing database backups
Followed policies and procedures to assure customer confidence and protected operations by keeping information confidential
Maintained office supplies inventory
0-5

years of experience
Created an organized electronic files system of numerous archival documents
Scanned large drawings and plans using the Oce machine and Cannon Scanner
Sorted and categorized files for an offsite scanning company
Professionally answered the phones and took detailed messages
Scheduled meetings and reserved rooms for the engineers
Collected packages, created labels to prepare them for pick up
Collaborated with other members of the Office Services Team to organize files
0-5

years of experience

Responded to inquiries from students to staff and faculty
Responsible for organizing, registering, and publicizing students for department events
Liaison between callers and staff as well as faculty through operating an eight line calling system
Distributed and managed office inventory
Maintained a neat and organized work place
Aid in planning annual department graduation ceremony
0-5

years of experience

Administrated payroll, invoices, scheduling, reports, email, and inventory
Conducted periodic reconciliations of all bank accounts statements
Coordinated data codes for financial systems of business transactions
Prepared pertinent information for external accounting firms and auditors
0-5

years of experience

Performed typing duties and provided administrative assistance to employees and guests
Maintained directory by updating, indexing, and organizing new material
Perform administrative duties: answer phone lines, create, type, fax, copy and mail correspondences
Set up lunch meetings and travel arrangements for directors and chairmen
Ad hoc assignments, desktop publishing, scanning, flyers and posters
Maintain and organize files and documents
0-5

years of experience

Oversee the reception area to include a 3 line phone, office correspondence, and stocking office supplies
Responsible for filing and maintenance/storage of closed files
Online research and reports from arrest records to create mail list programs for potential clients
Additional personal assistant duties for Attorney and Paralegal
General office maintenance and cleaning
0-5

years of experience

Assisted in office with light data entry of records and customer information using Microsoft Word and Excel.
Performed out of the office duties such as making copies of flyers and updating any new changes to the flyers.
Scanned documented file into the computer system that was requested to be kept in a digital format for later analyst.
Went to local businesses and colleges and met with key people for flyer distribution approval partnerships.
0-5

years of experience

Carefully checked cosmetics on mobile phones as well as functioning to ensure phone is properly running.
Experienced in many positions in production line such as assembly, disassembly, screws, RF testing, and changing labels.
5 months experience in office. Handling paperwork, answering phone calls, and managing emails. Assisting manager with emails and production situations/ issues.
Handle employee attendances and absences.
Praised by management for organization, friendliness, helpful, and understanding.
0-5

years of experience

Maintained a clean reception area, including lounge and associated areas.
Greeted numerous visitors; including vendors and interview candidates.
Screened applicant resumes and organized both phone and in-person interviews.
Answered up to 20+ calls per day
0-5

years of experience

Assist with financial statements, quarterly and annual tax return preparation for individuals and corporations
Develop Excel spreadsheets to record cash receipts and disbursements for corporations
Accurately prepare banking reports and reconciliation, check preparation and setting up new accounts, oversee petty cash and postage accounts
Reconciliation of expense accounts: utilities, supplies, etc.
Purchase and maintain office supplies being careful to adhere to budgeting practices
Compile reports on all monthly office expenses and overheads and submit to supervisor
Reorganized manual filing system to maximize time-management
Transferred computerized files to a new computer system
Entrusted to manage office in the owner's absence
0-5

years of experience

Organized and categorized files and supplies to be easily seen and inventoried
Monitored students checking in and out and recorded attendance
Adhered to policies and confidentiality
Assisted parents and students; accessing information through the data base system
Communication and receptionist skills included answering multi-line phones, paging teachers, taking messages, computer skills and operated basic office equipment
0-5

years of experience
Managed filing system and contact database.
Created and edited monthly newsletters, performed data entry and record scanning
Assisted with events, such as graduations, advisory board meetings, and student luncheons.
0-5

years of experience
Provided administrative support to the CEO and assisted with various projects
Managed accounts payable and receivable
Responsible for daily delivery and pick up of mail and operated postage meter
0-5

years of experience

Create estimates for potential upcoming projects based on work needed.
Create invoices for completed work and send out to various management companies.
Watch surveillance video and create detailed reports based on findings.
Assist president of company with day to day operations as needed.
6-10

years of experience

Answered calls and made calls, took and reported messages in a timely and accurate fashion.
Managed incoming and outgoing mail/email.
Word-processed documents, to include editing, proofreading, filing, faxing, scanning and data entry.
Assist with running errands and delivery of ordered merchandise.
Maintained good, productive contact with clients and company staff
Assist with loading of merchandise onto trailer.
6-10

years of experience

Family owned business - 732-872-8000
Consulting firm specializing in Internet Services, Websites Development & Graphic Design
Responsible for telephone/reception, filing and mailings.
Entered and printed checks for the accounts payable Manager using MYOB accounting program.
Created mailing lists using Microsoft Excel by typing spreadsheets for marketing mailings.
0-5

years of experience

Checked Patients in and out of appointments.
Answered patient phone calls, patient questions, and scheduled appointments.
Took confidential patient information regarding insurance coverage and payments.
Pulled and filed patient charts.
Called patients one day prior to appointment to confirm appointment.
6-10

years of experience

Implemented a free web-based Electronic Health Records system to enhance the efficiency of office operations (Practice Fusion)
Operate and answer phone calls using a multi-line switchboard
Acquired knowledge in ICD-9 medical coding
Update and maintain accurate patient information in Medisoft and Medisoft's Office Hours
Bill claims and verify coverage of insurance using Availity.com and TMHP.com
Ensure peace and understanding in emergency situations
Record and collect patient charges
Organize drug room and dispose of expired medications
0-5

years of experience

Supporting the office manager and recruiting team in all aspects of keeping a rapidly expanding office functioning.
Receiving office guests and clients.
Sourcing and screening candidates for the recruiting team.
Conceptualizing and executing office reconfigurations to fit our growing numbers into limited space.
Assisting with the planning and coordination of events.
0-5

years of experience

I met with clients to discuss the business objectives and requirements of the job they are wanting done.
I understood the client's business needs and developed a concept to suit their purpose.
I helped estimate the time required to complete certain work and provided quotes for clients.
I worked on layouts and art work to prepare for print.
I working as part of a team with printers, copywriters, photographers, stylists, illustrators, other designers.
0-5

years of experience
Operated office equipment such as fax machines, voicemail systems, and personal computers.
Reviewed files, records, and other documents to obtain information to respond to requests.
Added new material(s) to file records or created new records as necessary.
Sorted or classified case files, according to content, purpose, user criteria or alphabetical, or numerical order.
Routed incoming mail and prepared outgoing mail.
0-5

years of experience
Organized office filing and storage systems to help in the efficient operation of the department
Greeted clients and directed them to the correct staff
Answered phones calls, scheduled appointments for meetings
Assisted professors in preparing class documents
0-5

years of experience

Redesigned entire filing system, including categorizing and archiving old records and files.
Establish and monitor procedures for record keeping.
Purchase and maintain office supplies inventory.
Answer and initiate calls, take and report messages.
Manage incoming and outgoing emails.
Electronically scan, label, and file documents.
0-5

years of experience

Report to and receive duties from the Clinic Charge Nurse or Nursing Supervisor. IE: Clinic schedule, employee compliance in training, etc.
Manage the day to day clerical needs of the clinic. Phones, mail, errands, supplies: Office, Medical, etc.
Oversee the data for various patient lists like: Pregnancy, TB, Detox, etc.
Use of Microsoft based programs, electronic health record program, and general office equipment.
Facility that I work at is all classifications and every day is different and I am always learning something new.
0-5

years of experience

Primary point of contact for processing customer orders in fundraising software.
Research and generate leads to ensure company profitability.
Manage inventory of supplies, order fulfillment, packaging and shipping within established service level
Partner with sales staff to maintain master sales list and customer data base for purposes of effective
Serve as customer-facing team player with responsibilities including, but not limited to, management of call volumes and mass mailing coordination.
0-5

years of experience
Assisted human resources staff and college administration in general office duties
Processed new employee paperwork, verified documentation, and scanned documents
Answered multiline telephone system and transferred calls throughout campus with over 1000 employees
0-5

years of experience

Maintain and track all purchase orders and accounts payable bill for outside facility vendors
Help maintain database for the record retention program located in the warehouse
Report buildings problems to the Property Management company
Help make employee badges along with support backup for the security system and office receptionist.
Maintain and track the vacation schedules for the facility personnel
Make service call for all copiers including placing orders for replacement toner
Help resolve employee complaints when dealing with corporate location issues
0-5

years of experience

Answer and direct incoming calls
Liaison between the insurance adjuster and the client
Dictate insurance reports from audio files
Maintain filing system for closed reports
Made copies, sent faxes and handled all incoming and outgoing correspondence.
Organized files, developed spreadsheets, faxed reports and scanned documents.
0-5

years of experience

Answers telephone, takes messages and answers inquiries within assigned scope of responsibility
Orders, distributes, and keeps an inventory of supplies
Schedules appointments, maintains calendar, allocates supervisor's time
Prepares materials for customer proposals and maintain customer files
Performs other duties assigned.
0-5

years of experience

Answers telephone, takes messages and answers inquiries within assigned scope of responsibility
Orders, distributes, and keeps an inventory of supplies
Schedules appointments, maintains calendar, allocates supervisor's time
Prepares materials for customer proposals and maintain customer files
Performs other duties assigned.
0-5

years of experience

I currently manage the day-to-day operations of a medical facility, including the:
Updating and organizing of medical records, including electronic health records,
Scheduling and coordinating appointments,
Verifying patient insurance,
Providing quality customer service to patients,
Preparing correspondence between medical providers and their patient.
10+

years of experience

Process medical insurance claims and correct problematic issues for reimbursement
Process all prior authorizations, either for office visits or medications
In charge of scheduling, canceling, and rescheduling patient appointments
Prepare correspondence on behalf of staff, doctors and facility
Daily enter accounts payable and accounts receivable to ensure balancing at the end of each business day
Order and control all medication samples from drug representatives
Order and maintain clinical and office supplies and equipment
Organize work load to manage priorities to guarantee that the practice runs efficiently
0-5

years of experience
Answered telephones and gave information to callers, took messages, and transferred calls to
Operated office equipment such as fax machines, copiers, and phone systems, and used
Greeted visitors or callers and handled their inquiries or directed them to the appropriate
6-10

years of experience
Maintained reception area, answered phones, received guests, sorted mail, faxing/emails
Maintained office calendar to coordinate work flow and meetings
General clerical duties such as data entry, bookkeeping, faxing/emailing
Load More
Administrative Cover Letter Examples
Create your own professional resume in just minutes.
Try our resume builder today
Build Your Resume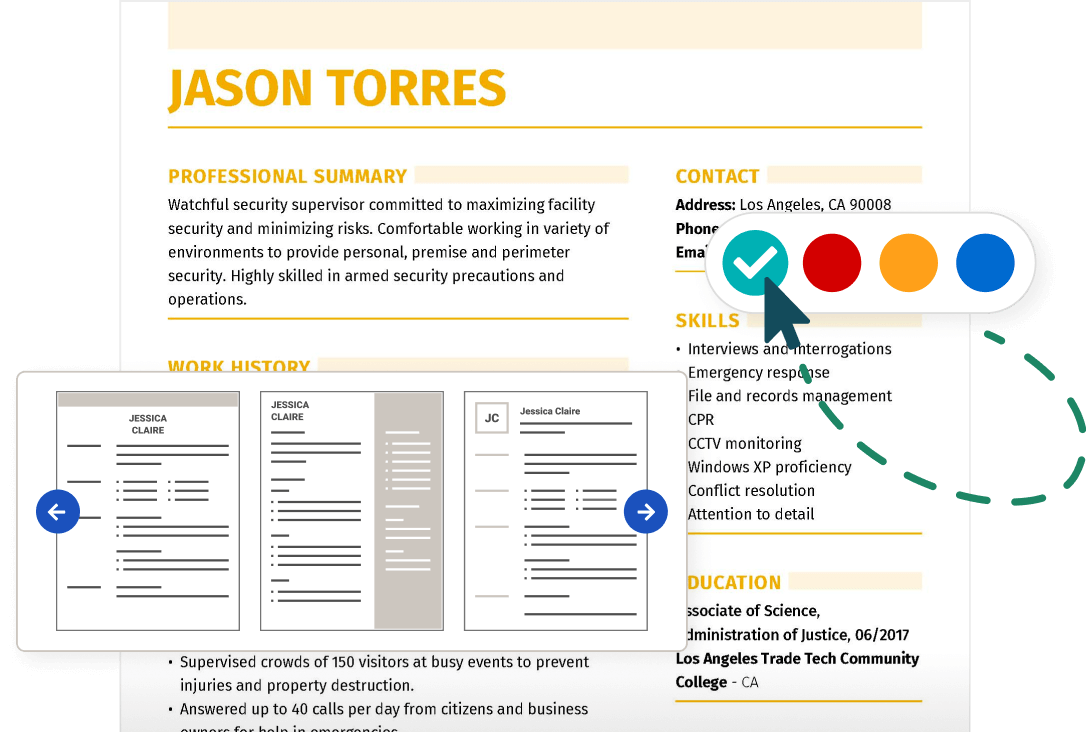 Office Assistant Resume FAQ
What are the responsibilities of an office assistant?
Office assistants are also known as administrative coordinators or administrative specialists and they play a vital role in the company's effectiveness. They are the face of the employer because an office assistant is responsible for taking inbound calls from customers, delivering messages and responding to emails. They also keep track of important documents and manage supply inventory.
The ideal candidate for this job is someone who can assist management and all visitors to the company by handling office tasks, providing polite and professional assistance, and being a helpful and positive presence in the workplace.