The Importance of a Well-Written Resume
A resume is a must-have item for employers. It's the one document that allows hiring managers to evaluate your skills, credentials and other qualifications for the position they're trying to fill. A resume that is personalized, well-researched and concise can help boost your chances of landing an interview. The most crucial element of a well-written resume centers around three primary sections: Summary, Work Experience and Skills. Master the writing in these sections and you can count on a callback. Use this guide to learn how to write an effective resume.
Spotlight Your Worth with the Right Format
Should I use a specific resume format? Yes. There are three main resume formats tailored to specific job-seeking situations - maybe you're a career changer, primary caregiver returning to work, or a recent grad with no work experience. Different resume formats work best for different people, and you should research and choose the ideal format to boost your employment odds. Here are the three common resume formats:
Reverse-chronological resume format
Focuses on work history. Write to this format if you have a traditional work history with few-to-no work gaps
Functional resume format
Known as a
skills-based resume
. Write to this format if you're considering a career change or your work history doesn't align to the job posting, but you possess some, if not all, of the role requirements.
Combination resume format
Consolidates elements from the functional and reverse-chronological resume formats. Write to this format if you're considering industries or jobs that require highly specialized skills, such as senior-level executive jobs.
5 Strategic Sections of a Resume
How do you structure a good resume? Each resume section plays a critical part in the employer's evaluation of your application materials. Individually, they demonstrate how you are qualified for the job you're targeting. Make sure to include all sections as leaving out information can potentially hurt your chances of success.
Contact Information
Your name and contact information opens your resume. This vital section allows a potential employer to contact you for an interview. Include your name, city, state, email address and phone number, but leave out your street address.
Summary Statement
Your summary statement outlines your hard and soft skills, and highlights your compatibility for a job. This one to three-sentence paragraph demonstrates your unique match to an open role through the strategic use of quantifiable achievements. By applying hard facts and easy-to-read numbers to your accomplishments, you demonstrate an ability to understand a job role and proof of your ability to earn results.
PRO TIPS

Be over-specific: "Met and outperformed sales goals," sounds impressive, but doesn't offer any quantifiable details to aid a hiring manager. "Implemented new sales policies that increased sales quota by 23 percent in Q3 and an additional 36 percent in Q4," provides your specific actions and positive end results.
Imbue personality: Avoid speaking in the third-person. Use first-person and remove all pronouns like "I," "we" or "me."
Short and sweet: It's OK to use fragment sentences to describe your previous experiences or accomplishments.
Skills
The length and purpose of your skills section will evolve with your chosen resume format: chronological, functional or combination. Regardless of the format you choose, your skills section will include a mixture of hard skills, or job-specific and technical skills that you've acquired in your professional life; and soft skills, or personality-driven skills like communication and teamwork.
Your resume should include a bulleted list of skills you possess relevant to the position. Review the job posting for repeated job-related keywords and, if you possess them, prioritize these keywords in your skills section.
PRO TIPS

Chronological Resume:

This resume format prioritizes your work history. Your skills section supports your previous responsibilities.

Features six to eight skills and showcases a mixture of hard and soft skills.
Place the skills section below the work experience section and above the education section.

Functional Resume:

This format is also known as the skills-based resume and downplays your formal experience in preference of your applicable qualifications. Your resume's layout may vary, but each functional resume features a blend of your summary of qualifications, professional skills and relevant skills sections.

A summary of qualifications is not your summary statement. This section sits under your summary statement. You'll feature two to three sentence-length bullet points that demonstrate job-relevant skills and your successful application of these skills in a professional setting.
Your professional skills should feature three to four required skills from the job post, and list an additional three to four examples of how you're qualified to meet the job expectations with little to no job training.
Unlike the summary of qualifications or professional skills sections, the relevant skills section does not explain or demonstrate how you acquired or apply the necessary job skills. It's a simple list of six to eight skills. For this section to leave an impression on a hiring manager, scan the job posting for repeated keywords or job requirements.

Combination Resume:

As this format is a literal hybrid of the chronological and functional resumes, your skills will be laid out in a professional skills section and an optional summary of qualifications.

Professional skills follow a simple format:Identify six to eight skills from the job posting that you truly possess and feature them on your resume. This section will sit below your summary statement, but above your work experience section.
The summary of qualifications section is optional, but it's a strong choice to include on your resume if you have a lot of formal, if inconsistent, training. It follows the same format as the functional resume: Identify three to four skills and dedicate a few detailed bullets to each skill outlining your previous, successful experience.
Work Experience
This section should list previous roles and responsibilities, although the amount of information varies among the three main resume formats we mentioned before. Despite your chosen resume format, each work experience section will start with your most recent employer first through your previous jobs in reverse order.
Chronological Resume and Combination Resume:

You'll want to break your work experience section into subsections that summarize your previous roles, responsibilities and accomplishments.

The first line includes your job title and company name, and is typically bolded to indicate a new role.
The second line includes your branch's location and length of time you worked there.
List your previous responsibilities, and use quantifiable metrics to demonstrate your accomplishments at this role. Remember to adapt this section to meet the duties and requirements of the new position youre pursuing.
Repeat this for each job that you've held in the past 10 years.

Functional Resume:

This resume features the least information regarding your formal employment, as more importance is given to your acquired skills.

List your previous positions in reverse-chronological order (most recent to oldest).
Each line is dedicated to your former job title and the company name.
You can also include the dates of employment, but this is an optional choice and good to exclude if you have work gaps or short contract roles.
Repeat this process for your past 10 years' work history.
Education
List degrees you've obtained, the schools you attended and the year you earned your degree. This section is crucial for jobs that require a minimum education level, such as a bachelor's degree.
Additional Accomplishments
This section is optional and won't make or break your resume, but if you've earned any professional awards relevant to the position, it's a good idea to include them here.
Top 7 Tips to Perfect Your Resume
How can I improve my resume? If you're looking for ways to improve your resume and help ensure it gets noticed by hiring managers and employers, read on for some actionable tips from the experts at JobHero.
Write for the future, not the past.
Remember your resume is not a historical document - you're trying to convey where you are now in your professional life. Give heavier emphasis to credentials, experiences and accomplishments that relate to your objective and the job.
Integrate critical keywords.
Embedding keywords in your resume is especially important for recruiting agencies or larger companies that use applicant tracking systems to auto-scan resumes and cover letters. Take keywords and phrases right from the job posting and make sure they match your lists of skills and work experiences.
Make your contact information stand out.
Write your name and contact information at the top of the page, in the header of your document, center-aligned. Your name should be in a larger font. Include one phone number and email: Consider making your email address a live link, especially if you're submitting it electronically.
Be honest with everything you include.
Lying on your resume is dangerous. It's easy for hiring managers to discover when you're not telling the truth, especially in today's digital age where public profiles, education history and work history are easy to find.
Ask someone in the field to proofread.
If you have a family member or friend in your career field, ask them to proofread your resume and provide suggestions. Another set of eyes can find typos that you may have missed - someone in your industry can offer ideas on what you might want to highlight.
Personalize your resume for each role.
It's important to tailor your resume to each type of job you're applying for to make it as specific as possible. When you pair your resume with a cover letter that targets one job, you can help boost your chances of receiving a callback because the details you include are relevant for that employer.
Remember that format and layout do matter.
You don't want to submit a resume that's a wall of text. Break it up with bullet points, large subheaders for each section and horizontal lines. Using a resume template can help you save time on this step as most templates already have a defined layout and format.
Resume Templates and Examples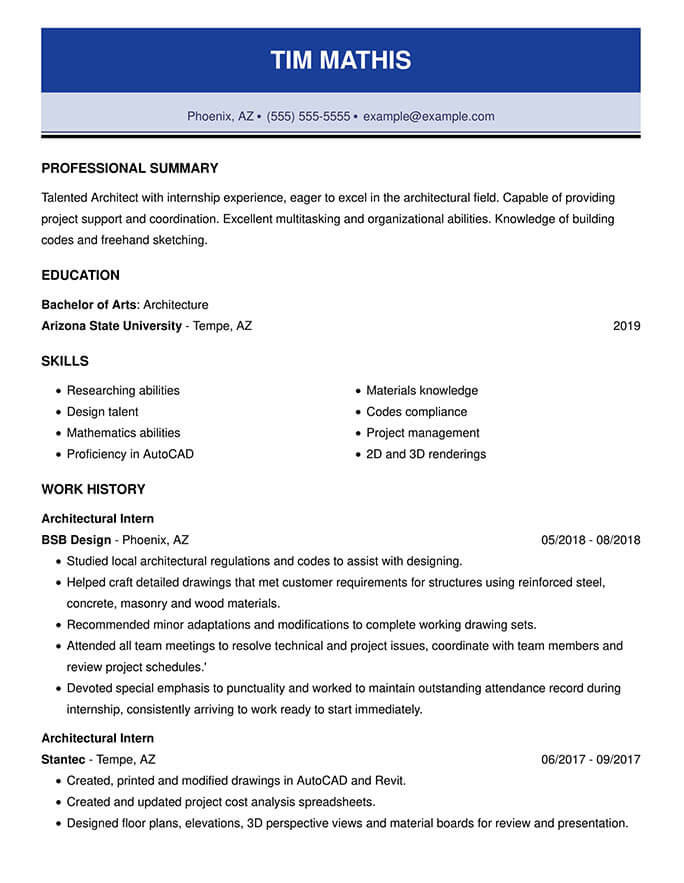 Build a Resume Now
Templates and examples help you write a great resume
Using a template to create your resume is one of the smartest decisions you can make. When you use a resume template instead of writing a resume from scratch, you don't have to worry about creating margins, designing it or ensuring you're using the correct font.
A resume template lets you fill in personal details about your skills, work experience and education in a format that's easy to read and ideal for recruiters and hiring managers to scan. It saves time, organizes all your sections and information automatically and helps you make a great impression on the employer. Choose a template below to get started.
How to Write for ATS
What are applicant tracking systems? Applicant tracking systems, or ATS, are programs that many recruiters and large companies use to help efficiently filter out unqualified applicants. These programs scan resumes and cover letters for specific keywords and phrases that pertain directly to the job. Often, these words are taken directly from the job posting you're replying to.
According to a Columbia University study, 75 percent of applicants don't pass the ATS stage. Those are slim odds for your cover letter and resume - here are some tips to help move your documents into human hands:
Use exact keywords.
Copy the exact keywords from the job posting. If the posting says, "Possess strong written and verbal communication skills," consider making this one of your many bullet points in your skill section, or when listing work experience responsibilities.
Remember that not all ATS programs are the same.
If you're applying through an ATS, the name of the program may be visible. If it is, it might be worthwhile to do some research on the program and its nuances.
Keep the formatting simple.
All ATS programs require simple formatting. Avoid using images, logos, symbols or pictures. Stick to classic fonts such as Tahoma, Arial and Times New Roman.
Stick to Microsoft Word over PDFs.
While many career insiders debate over which format is best for submitting resumes, it's generally a good idea to stick to the tried-and-true Microsoft Word instead of PDF. ATS programs, especially older ones, may have trouble reading PDFs.
JobHero can Help with Your Resume
Why Use JobHero? JobHero provides resources that could help earn you a callback and hopefully land you an interview. You'll save time since JobHero does the writing, editing and formatting for you when you use one of our resume templates.
You don't have to worry about organizing different resumes, either, since JobHero makes it easy to create multiple resumes that are customized for each position you're applying to. Visit JobHero's Resume Builder to get started.