Featured in:
More Market Research Analyst Resumes
Use these Market Research Analyst samples as a guideline or visit our extensive library of customizable resume templates.
Additional Marketing Resume Samples
How to Format a Market Research Analyst Resume
The quickest way to get recruiters to notice you is by choosing the correct resume format to organize the information on your resume.
A resume format lays out your most marketable accomplishments first while downplaying any weaknesses like a lack of work experience. Candidates with an extensive employment history of 10+ years can benefit from a chronological resume emphasizing their work experience.
However, if you are just starting your career, you can still create a remarkable resume with a functional format. A functional resume focuses on your best skills and knowledge, shifting the focus from your work history.
Check out these two samples of how each job seeker presented their experience differently based on their experience level.
Chronological Resume
10

years in the workforce

11

months at this job

Engineering
MA

English Literature
Work Experience
Market Research Analyst, Florida Virtual School
February 2022 - present, Orlando, FL
Analyzes and researches different market trends in U.S. and Africa artist management industries.
Devising a financial plan for the next four years, clarifying SMART and financial goals, and reliable cash flow statements.
Creates a social media strategy for Noble Empire Media Group and provides a clear execution plan.
Functional Resume
3

years in workforce

1

year at this job

BA

Marketing

MBA

Master of Business Administration
Professional Skills
Data Analysis
Collaborates with reporting team to conduct futures market data analysis.
Interprets data to solve problems and increase productivity by 20%.
Leads a team of four to conduct internal database reports.
Statistics
Collects data to develop pricing models and identify areas for improvement.
Interprets statistical, economic, and data modeling techniques and tools.
Organizes and analyzes data to create charts and graphs and presents findings to the leadership team.
Market Research Analyst Resume Samples
No results found
0-5

years of experience

Performed market segment strategic planning by analyzing market data through various forms of research including data mining, conducting target clientele interviews and negotiation.
Collaborate with reporting team to conduct the futures market data analysis to maintain the accuracy
Increased overall productivity and efficiency of client targeting by 30% by conducting extensive data management and technical decision making
Led a team of 4 to conduct internal education seminars. Enhanced team integration and generated 40% cost savings on internal education process.
0-5

years of experience

Managed School Research Program wherein 6 schools took an active role in evaluating Pearson products.
Developed and implemented new methodology to support goals of the program.
Designed questionnaires, discussion guides, observation instruments and logs to gather meaningful feedback from participants.
Moderated focus groups to obtain insights that allowed products to better meet customer needs.
Analyzed data using both quantitative and qualitative methods.
Created and presented results reports to product development and marketing teams within Pearson.
0-5

years of experience

Contributed heavily in the formation of the business plan for the upcoming subsidiary for [company name], named as Noble Empire Media Group' (NEMG)
Analyzed and researched upon different market trends in USA and African artist management industries.
Devised a financial plan for the next four years, clarifying SMART and financial goals along with reliable cash flow statements.
Created a social media strategy for Noble Empire Media Group and provided a clear plan on how NEMG would go on with it.
Designed marketing and a sales strategy in order to achieve the financial goals for NEMG.
Strategized the product line strategy for NEMG with the help of market analysis.
Designed the pricing strategy for NEMG, categorizing its different services and products.
0-5

years of experience

Used Google Analytics, WordPress, Silverpop, Salesforce, and multiple social media platforms to collect relevant online activity data and translated them into key performance metrics
Automated data aggregation to reduce data processing time from 12 hours to 2 hours
Analyzed web activity to generate a highly efficient dashboard to support C-level executives
Scrutinized detailed web activity to provide feedback on site utilization to web designers
Managed and coordinated participation in various national marketing events
0-5

years of experience

Employed qualitative marketing research techniques to help clients understand their customers more fully and make well-informed business decisions
Utilized spreadsheets and statistics to analyze significant patterns within clients' customer bases
Presented the results of complex analysis in easily understandable Excel and PowerPoint documents, allowing clients to quickly engage with the findings
Wrote customized profiles from in-depth personal interviews to succinctly and effectively tell each interviewee's story
Generated factually-supported recommendations for clients, highlighting promising areas for growth
Especially experienced with analyzing market trends in the health insurance and financial industries; most recently completed projects for Kaiser Permanente and Thrivent Financial
0-5

years of experience
Supported product development and market strategy through data and analysis to provide recommendations to Marketing & Sales and Program Management executives
Analyzed and reported competitive, economic and industry trends to Marketing & Sales management
Researched market and product forecasts for Marketing & Sales and Program Management
Improved customer satisfaction survey process, increasing response rate by 50% and streamlined market tracking database, reducing update cycle time by 30%
0-5

years of experience

Designed a survey for banquet products, collected feedbacks from over 200 customers
Analyzed data using SPSS and presented results of segmentation (cluster analysis), customer behavior patterns and potential factors (regression analysis)
Selected customer contacts from database by SQL and sent out marketing emails
Provided comprehensive marketing strategies, 15% revenue growth after product and service adjustments
0-5

years of experience
Wrote and helped execute project plan for new product launch.
Increased email campaign efficiency by 12.5% through send-time analysis.
Coordinated all trade show planning.
Oversaw collection of $180,000 in company bad debt.
Performed gender-based sales analysis to lead focused marketing efforts.
Acted as company Salesforce.com administrator.
6-10

years of experience

Consulted with internal business partners and external vendors to identify business needs and keep up with best practices in order to identify, analyze and report strategic results focused on generating revenue for the corporation.
Identified, composed and presented both macro-trends effecting the grocery business and category-specific product trends to fuel innovation and anticipate customers' future needs.
Managed consumer, customer and business information data for CRM marketing programs and campaigns, as well as performed expert analyses on programs, campaigns, consumers and customers.
Participated actively in the design, development, testing and implementation of the custom Marketing Customer Management System.
Conducted quantitative research on Publix programs members to aid in segmentation and marketing messaging.
Assisted in qualitative research for private label product development, including composing moderator's guides, selecting moderators and writing reports.
0-5

years of experience

Researched market trends to determine the ideal moment to purchase Stocks and ETFs based on value, safety, and timing.
Facilitated User group meetings and presented stock market strategies on a monthly basis to a group of 10 - 15 members.
Back tested various strategies to analysis their performance during various market conditions.
Educated and trained investors in stock market trading and using risk management to reduce potential losses.
Analyzed stocks from a fundamental and technical standpoint while tracking market trends.
Provided monthly scorecard reports and trend anomalies to upper management
0-5

years of experience
Delivered on 25+ projects, commissioned by 17 clients, representing 13 divisions
Contributed to team research services that saved [company name] Company $2.74M in 2012
Performed market analysis, channel research, and NPI research in infection prevention, drug delivery systems, renewable energy, aftermarket automotive, and personal safety devices
Analyzed competitors in 6 global regions representing 13 countries
0-5

years of experience

Recruited hundreds people to participate in market research studies through phone calls and emails.
Analyzed company's database on a daily basis to find prospective clients for market research studies.
Conducted phone interviews on behalf of Fortune 500 companies.
Inputted specific information for registering consumers into the computer's tracking system.
Updated the database regularly and participated in different projects as requested by my supervisor.
0-5

years of experience

Devised a strategy for various marketing channels (For Customers in Europe, Asia Pacific and Middle East)
Researched industry and global markets for potential clients and vendors to sell 'Brain Fingerprinting' technology
Managed contracts for vendors located globally
Created content for website, marketing material, presentations and white papers
Managed email marketing and all correspondence generated from leads
Maintained customer databases and dashboards to monitor sales pipeline
0-5

years of experience

Conducted in-depth 45-60 minute qualitative interviews with executive-level employees for research contracted with Microsoft
Analyzed qualitative data using QSR N6
Authored multiple award-winning posters for professional conferences
Authored and edited manuscripts for submission to peer-reviewed journals
Authored reports for NJ government organizations
Developed training program for staff company-wide to improve written reports and presentations.
Load More
Create your own professional resume in just minutes.
Try our resume builder today
Build Your Resume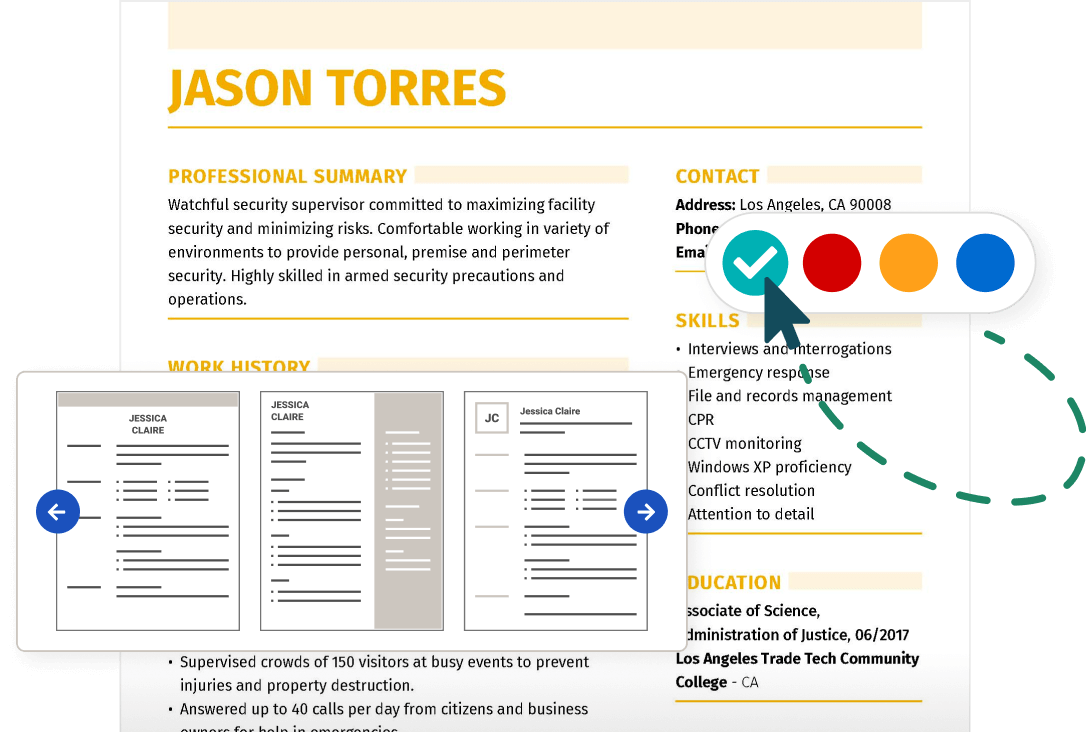 Market Research Analyst Resume FAQ
What are the responsibilities of a market research analyst?
Market research analysts gather and analyze information on consumers and competitors to stay ahead of other brands and their marketing methods.
They proactively study and gather consumer information to become the leading brand. A market research analyst is required to have exceptional organizational and research skills.
They are strong communicators and analytical. They review data and provide accurate insight into consumer behavior and competitors' strategies.
What are the best skills to include in my market research analyst resume?
The skills that will help you land a market research analyst job are critical thinking and analytical skills. Additional must-have skills include attention to detail, organization, accuracy, and communication.
Include job-specific, technical skills on your resume, such as statistical analysis, integrating multiple data sources, and online qualitative research skills. This allows you to gather the information used to determine potential sales of a product or service and pricing.
How much do market research analysts make?
The salary for a market research analyst will vary depending on the industry. According to the Bureau of Labor Statistics, aerospace product and parts manufacturing is one of the top jobs, with an annual salary of $127,700.
For management, scientific, and technical consulting services, a market research analyst can make $71,930 annually.
Analysts specializing in managing companies and enterprises can earn up to $89,230. If you aim to work in advertising, public relations and other related services, you can make up to $73,960 a year.