Featured in:
More Warehouse Manager Resumes
Use these Warehouse Manager samples as a guideline or visit our extensive library of customizable resume templates.
Additional Inventory Management Resume Samples
How to Format a Warehouse Manager Resume
Your warehouse manager's resume can use one of three formats, depending on what you want to highlight. If you have over 10 years of experience and want to showcase previous managerial or leadership skills, use the chronological resume like Candidate A. This resume format features the lengthiest and most detailed work history section and helps demonstrate the gradual growth of leadership opportunities.
Candidate B, however, has less than two years of experience with one job. Despite their lack of formal employment, they have a degree in shipping and logistics and plenty of academic knowledge. They use a functional resume to minimize their work history and focus on applicable skills and experience, such as warehouse management and team leadership.
Chronological Resume
11

years of experience

3

years at this job

AS

Logistics
Work History
Warehouse Manager, Sports Depot
March 2019 - present, Dallas, TX
Provide direct support, supervision and coordination to the warehouse and moving crews to ensure the overall success of the sport and exercise equipment.
Manage warehouse and moving crews by training, setting expectations, monitoring performance, providing feedback, development and progressive discipline.
Manage and control the condition and security of inventory, including proper storage, handling, disposal, transfer, cleaning and repair.
Functional Resume
2

years of experience

1

year at this job

BS

Online Supply Chain
Professional Skills
Warehouse
Manage warehouse organization and special projects.
Inspect the physical condition of the warehouse and inventory.
Ensure cleanliness, maintenance and security of the warehouse.
Ensure that safety standards are adhered to in all warehouse areas.
Team Management
Provide direct support, supervision and coordination to the warehouse and moving crews.
Manage productivity and performance of warehouse staff. Oversee an average of 25 associates per shift.
Provide training on basic stock handling, warehouse equipment repair, inventory procedures and safety.
Warehouse Manager Resume Samples
No results found
6-10

years of experience

Responsible for shipping, receiving, inventory and transportation operations while directing warehousing activities for 70 team members including 11 drivers. Established operational procedures for activities such as verification of incoming and outgoing shipments, handling and disposition of materials and keeping warehouse inventory current. Support all human resources processes at the facility such as staffing all positions, support the performance management process, training and development of team members.
Managed an 18% reduction in labor cost by identifying the root cause
Implemented daily safety discussions and monthly safety committee meetings resulting in a 60% reduction of TRC injuries
Achieved and maintained a 99.95% level of service ensuring customer satisfaction
Initiated strategic transportation route planning and equipment maintenance increasing outbound revenue and ROI
6-10

years of experience
Operations Manager for the Distribution Center, provide direct leadership to a headcount of over 56 employees and work closely with different business units while overseeing daily activities to ensure business operate in a efficient manner.
Participated in various continues improvement projects and business consolidations, helped deploy Distribution Centers in Houston and OH.
Accomplished a cost per line reduction within the first 6 months of overseeing and managing the distribution center.
Achieved an inventory record accuracy of 95% or higher by implementing a more robust cycle counting process.
Work closely with replenishment planners to ensure safety stock levels are maintained and our goal of 92% OTTR is meet day to day.
0-5

years of experience

Oversaw warehouse and office team operations. Directed work processes and all daily warehouse operations. Managed order processing and inventory control strategies, implementing improvements to environment and systems. Trained, mentored, and oversaw teams to increase productivity. Led the development of manuals, reports, and other operational correspondence. Coordinated deliveries, and shipping, with (LTL) less than truckload and truckload carriers establishing routing information and delivery times. Tracked and schedule deliveries of all inbound containers. Developed shipment quotes for sales reps and clients.
Doubled order processing, improved EDI processing, reduced costs by restructuring warehouse design.
Lowered carrier costs by reviewing existing contracts and bringing in new carriers.
Improved proper steps and procedures for customer routing instructions to deceased the charge backs to it lowest.
Moved over 6,000 pallets from 2 locations into one within 5 days, warehouse operational on the fifth day.
Improved productivity by purchasing new storage racks and equipment.
Spearheaded coordination of highly complex projects to ensure on-time/under-budget delivery, including working with customer to create plans.
Increased communication effectiveness among customers, vendors, brokers, and 3PL warehouse.
0-5

years of experience

Managed 6 supervisors and 56 warehouse associates in 6 different distribution warehouses. Responsible for capital and expense budget, hiring and firing, creating and refining processes, succession planning, KPIs, replenishment, and managing change
Implemented tech replenishment process based on equipment usage reducing required capital asset inventory by 50%
Consolidated Business Class inventory into central warehouse in Columbus reducing number of required warehouses from 5 to 1 for the market.
Helped with the integration of systems and processes during 3 acquisitions which included mapping material and equipment into one system (PeopleSoft) and reducing number of warehouses by 4.
Market Warehouse lead for Easy Connect program that reduces costs and the number of truck rolls for installing equipment. Currently 70% of self- installs is handled through this program.
Warehouse lead for tech truck material audits done in 5 divisions for the market, which allowed for analysis to ensure tech trucks are not overstocked with good and or obsolete materials.
Reduced number of lost serialized equipment reconciled monthly by increasing QC and process improvements in turn giving a score of 99.1% level of accuracy
Reduced inventory on hand from $2.6 million to $1.7 million which also increased turns from 3.6 to 5 turns.
Worked on project teams that included warehouse consolidation after corporate acquisitions that worked toward collapsing 5 warehouses into 2, integrating a staff of 12 with 34, then reducing staff across the division by 23 employees
Integrated systems, processes, and material, due to acquisitions in order to standardize and align with the enterprise.
0-5

years of experience

Manage 19+ employees in Inventory Control, Receiving, Material Movement, and Stocking departments for a 50,000 sq ft warehouse and distribution center. Facilitator-Lead for Lean Manufacturing training and projects within the facility. Utilize Six-Sigma initiatives in business process analysis and improvements by monitoring team's performances, analyzing inventory levels and overseeing the standardization of processes across the PDC to reduce waste and increase production.
Increased productivity by 30%, while reducing the material flow rate from 24 hours to same day reflecting an increase to customer service. Meeting and exceeding customer's requirements and expectations.
Generate KPI reports for $4.5M of inventory, which include Daily Production, Sales/Packing/Receiving per hour, Daily Cycle Numbers, Safety Observations, etc.
Developed a location audit program to identify, correct, and improve material location accuracy from 73% accuracy to 98% accuracy.
Key Player in implementing HOS (Honeywell Operations System), a proprietary Six Sigma program that increases productivity and efficiency, while decreasing waste and cycle time.
Warehouse/Distribution Center Ambassador for giving key personnel a tour of the facility from freight drop to shipping.
0-5

years of experience
Improved picking and shipping quality significantly by tracking and following up on every error made. Shipping error was reduced from 5 to 6 per week to 0 or 1 per week in the first 3 months on the job. In 6-sigma's terminology, it's from 725 PPM to 94 PPM.
Improved order flow from picking, staging to loading to trucks in a constant flow manner. Getting orders out of warehouse throughout the entire shift, rather than rush at the last hour of the day. Improved to 99.5% on-time shipping.
Improve cycle count activities and corrected some bad habits from floor operators. Inventory accuracy is improved from mid 90% to 98% and is still improving.
Gathered data and established productivity standards from putaway, replenishment, picking, and shipping.
Discover and develop new associates to become reliable performers both in productivity and quality of works.
Improved warehouse KPI's to top tier among all [company name] warehouses.
Improved attendance, housekeeping and general disciplines of the entire warehouse.
Coached and improved supervisors' management skills to oversee daily and weekly operations, coaching them on planning, quality, resource utilization, and individual performances.
6-10

years of experience

Arranged and coordinated incoming orders in the United States, Canada, Mexico, China, Italy, South Korea and Dominican Republic.
Managed logistics of multiple shipments and deliveries within extreme time constraints.
Negotiated freight carrier contracts to reduce shipping cost.
Implementation of 5s organization method.
Fluent in UPS Worldship, FED-EX Ship Manager, MS Dynamics Navision ERP system, Prophet 21 ERP system, MS Excel, MS Word, Filemaker, and Corevu.
Responsible for quoting and purchasing of all warehouse supplies and equipment repair.
Coordinated audited inventories with great success.
6-10

years of experience

Satellite Warehouse Manager
Reconciled inventory, monthly.
Managed, supervised and trained 3 supervisors and 6 warehouse workers. Scheduled all staff shifts.
Interviewed, hired, trained and dismissed personnel; performed evaluations and facilitated salary increases and promotions; Reprimanded by enforcing policy as necessary.
Operated 50,000 square foot warehouse.
Administered logistics of multiple shipments and deliveries within extreme time constraints.
Coordinated customer pickups at Nashua Warehouse.
Supervised inventory control in the satellite warehouse.
Achieved zero deviations multiple times.
Scheduled store transfers and home service calls originating from the warehouse.
Monitored and reported on Paul's exchange program nationwide, resulting in reduced product replacement costs.
0-5

years of experience
Improved productivity by reorganizing and streamlining warehouse operations.
Reviewed previous products and purged inventory.
Established new inventory guidelines and trained staff.
Implemented inventory tracking for all marketing materials and place orders, as needed.
Assist Marketing Manager in meeting deadlines, to include printing, binding and spiraling large. documents needed for the Account Executives.
Manage all UPS shipping and Pitney Bowes mailings.
0-5

years of experience

Oversee all logistical operations for the company's warehouse, including shipping/receiving, collecting/packing, truckload planning,
employee scheduling, dispatching and accurate recordkeeping for nine direct reports. Utilize expertise in budgeting, cost controls,
safety compliance, report generation and quality assurance. Additionally, developed product placement diagram for all incoming and outgoing deliveries.
Supervise shipping/receiving dock staging areas, provide quality control on high profile time-sensitive deliveries and run daily pull
Recruit, hire and orient warehouse staff, mentor new hires through out the 90-day orientation period.
Evaluate and document employee performances, conduct all yearly performance appraisals, recommend salary changes; and set
Conduct daily team meeting to provide updates on delivery changes to various stores to accommodate time-sensitive
Prepare and supply company vehicles and trucks for events and sponsorships.
0-5

years of experience

Manage a warehouse of 13,000 sq. ft. Manage a team of warehouse workers engaged in stocking, inventory maintenance, order fulfillment and shipment of products. Oversee truck loading / unloading and pick / pack operations. Helped with hiring, training, evaluating and terminating staff.
Report directly with the owners on operations, projects, sales, budgets and growth of the company.
Project managed the move of two warehouses, one 2,800 sq. ft. and the other 4,000 sq. ft. into a 10,000 sq. ft. warehouse.
Managed the opening and setup our 12,000 sq. ft. warehouse in Cincinnati Ohio.
Oversee and organized product throughout the warehouse.
Ensure all warehouse safety protocols are being established and followed.
Managed a team of five warehouse workers engaged in stocking, inventory maintenance, order fulfillment and shipment of products.
Oversaw truck loading/unloading and pick n pack operations. Help with hiring, training, evaluating and terminating staff.
Managed company's customer support through email.
0-5

years of experience

Providing leadership for the plant's manufacturing warehouse organization owns the manufacturing warehouse and transportation management processes and serves on the plant's leadership team. Manages and develops manufacturing supervisor, inventory control, shipping & receiving personnel and transport personnel
Regularly raises team and individual performance standards
Improves process and operational consistency to reduce cost
Motivate, direct, coach and develop a diverse, high performing and engaged team to meet established goals and build organizational capability.
Demonstrates the ability to recognize and address the complexity of leading a diverse workforce
Shares strategies in a relevant way with all levels.
Inspires team to high levels of achievement through positive reinforcement and persuasive messages.
Sustain a consistent, long-term vision through continuous process improvement.
Builds strong internal, cross-functional networks for effective collaboration and knowledge transfer
0-5

years of experience
Successfully coordinated the initial start-up of the PA warehouse operations.
Plan and direct the day to day logistic operations of a laser printer parts distributor.
Maintain daily business goals, all daily orders are shipped, receiving and dock to stock is processed, cycle count accuracy, all are maintained at 99.9% or higher.
Maintain Lean processes in cross functional departments, 5S and ISO 9001:2000 certified.
Responsible for maintaining building maintenance and capital goods.
Manage annual expense budget.
Assisted in the closure of the Hayward, CA facility and successfully managed the start-up of the Phoenix, AZ and Dallas, TX facilities.
Developed all Operational SOPs during Oracle system implementation. Trained employees in AZ and TX on the [company name] WMS.
Maintain a clean, safe and organized work environment.
Interview, select and evaluate personnel.
0-5

years of experience
Managed a crew of four individuals, overseeing different sections with a variety of materials
Fork Lift was used for loading and unloading of material for installers
Handling of incoming deliveries
Kept warehouse organized and clean
0-5

years of experience
Responsible for planning, developing and buying dental supply in a timely and cost effective way; while maintaining appropriate quality standards and specifications.
Prepare purchase orders by verifying terms and price.
Verify receipt of items by comparing items received to items ordered; resolves shipments in error with suppliers.
Authorize payment for purchasing to ensure accurate and timely payment of invoices, as necessary for the business with the supplier.
Monitored cycle counts with warehouse and adjusted inventory accordingly.
Print batches of dental supply orders and revised accurately for the warehouse to pack and ship.
Keep information accessible and secure by sorting and filling documents.
0-5

years of experience
Manager of Fulfillment [company name] and Fulfillment Warehouse for third party logistics business.
Setup and maintained product master files for accurate pricing and margins.
Managed and provided training to full time and temporary employees in the shipping/receiving departments
Processed daily credit card sales and issued credits.
Inventory management
0-5

years of experience
Ship orders according to customer instructions and via their recommended carrier using UPS, FedEx, freight, pickup etc.
Receive incoming inventory into Accpac software, note damage if any on BOL and double check actual inventory sent against packing slip.
Requisition product according to Min/Max levels and whenever frequently ordered product inventory is getting low.
Receive returned inventory, create an RMA#, notify relevant customer service representative and then place information into Excel spreadsheet.
Perform occasional cycle counts on sections of inventory and correct inventory daily whenever a discrepancy if found.
Be self -motivated and work without supervision but maintain daily contact with supervisor in Niagara Falls, NY.
Be as helpful and friendly as possible with sales reps and customer service in order to help customers, prevent mistakes and have necessary inventory on hand.
0-5

years of experience
Supervisor to 20 warehouse workers and delivery personnel.
Managed warehouse environment; processing 3 to 7 trucks per day. Loading and unloading daily.
Routed and maintained trucking schedules.
Conducted inventory of all work tools and consumables; ordered replacements as necessary.
Performed inventory control; including ordering, receiving, weekly scans and investigations using AS400.
To ensure quality assurance, performed pre-delivery inspection of all
Monitored truck loading to ensure all company processes are followed.
Held monthly safety meetings and provided instructions on best practices.
Took part in interview and hiring processes of potential warehouse associates.
Provided customers with status updates; scheduling and issue resolution.
0-5

years of experience

Scheduling appointments for delivery
Receiving and sending out merchandise
Creating delivery routes for the delivery trucks
Receiving merchandise through the inventory data entry system
Updating inventory
Scheduling technicians visits and resolutions for customers
Working as a team to ensure all goals and guidelines are met
10+

years of experience

Plan and direct the day-to-day operations of a grocery store.
Develop strategies to improve customer service, drive store sales, and increase profitability.
Ensure customer needs are met, complaints are resolved, and service is quick and efficient.
Ensure all products and displays are merchandised effectively to maximize sales and profitability.
Forecasts staffing needs and develops a recruiting strategy to provide optimal staffing in all areas
Monitor and control inventory
Direct warehouse/receiving area in all phases
Basic Warehouse supervisor duties
10+

years of experience

Communicate with Supervisors, Managers and Vice Presidents on any departmental operation requests.
Sales, samples, price negotions
Prepare, maintain and present weekly and monthly reports and spreadsheet.
Contract negotiations and renegotiations.
Plan and develop systems and procedures to improve operations and efficiency.
Forecast and develop systematic procedures to improve warehouse operations, efficiency and lower labor costs.
Identify warehouse equipment needs and facilitate ordering, justification and maintenance schedules.
Mentor in leading team negotiations.
Manage all aspects of supervising, training scheduling and disciplining Full-Time and Part-Time managers/supervisors, stockers, shipping staff, drivers and all other warehouse departments.
Process and manage the administration of payroll and maintain attendance calendars and employee files for staff.
Answer and assist all customer questions, complaints, and gather any information that was needed to resolve any and all situations.
0-5

years of experience
Manage Inbound and Outbound Operations totaling 20 employees and 2 Team Leaders
Track budget goals using UPH metrics
Evaluate and coach associates to maintain quality standards
Supervise customer pick-ups and customer disputes
Review and analyze KPIs (Key Performance Indicators)
Track individual performance using quality indicators and UPH metrics
Promote safe work methods in a warehouse environment
0-5

years of experience
Handle all Purchasing and Forecasting functions within warehouse that provides merchandise for 150 individual nationwide franchises
Manage relationships with upwards of 15 vendors, both national and international
Warehouse budget creation and analysis
Manage relationships with several freight/logistics companies
Order picking, packing, and shipping
Development of promotional ideas and new products
6-10

years of experience

Manage logistics of multiple shipments within time constraints
Lead warehouse team of 45 people who support the daily outbound trucking delivery needs
Assist in training of new employees on all procedures
Operate a forklift to pull merchandise for delivery
Scan and load trucks for home and store delivery with an RF scan gun
Responsible to complete each order guaranteeing that each merchandise will be shipped to the correct locations
Supervise and support customer pick-up
Manage and supervise all deliveries for home installations
0-5

years of experience

Supervise up to 30 employees; assign daily work to warehouse team members.
Monitor, meet labor and shipping material costs goals.
Provide excellent customer service by ensuring orders are shipped on time.
Perform duties of warehouse manager in their absence.
Work with UPS WorldShip, Netsuite and home Admin systems.
Inventory control/adjustments as needed.
Help develop Standard Operating Procedures.
Knowledgeable about each department in the warehouse.
Daily lifting, cleaning, sorting, and organization of inventory and facility.
0-5

years of experience

Manage and operate branch warehouse independently with little assistance.
Handle inventory and logistics daily for warehouse and client facilities.
Act as a first line of contact for IT issues in remote branch facilities.
Troubleshoot branch hardware/software issues and address them alongside corporate IT department.
Interact with hospital directors on a daily basis to advise and assess their needs.
0-5

years of experience
Received, sorted, and organized company inventory throughout store
Delivered thousands of dollars' worth of product, such as fasteners and tools, to large manufacturing and maintenance customers throughout the Roanoke Valley
Resolved consumer issues such as product/service need identification, billing predicaments, and shipping methods
0-5

years of experience

Set Daily Goals
Informs employees of their objectives
Ensure associates follow safety guidelines and procedures
Train new employees
Maintain strong understanding of the company policies, procedures and employee handbook.
0-5

years of experience

Loading and unloading of route trucks
Inventory monitoring/counting and stocking
Loading and unloading of trailers/Product
Maintaining warehouse
Use of forklift for loading and unloading product
Load More
Inventory Management Cover Letter Examples
Create your own professional resume in just minutes.
Try our resume builder today
Build Your Resume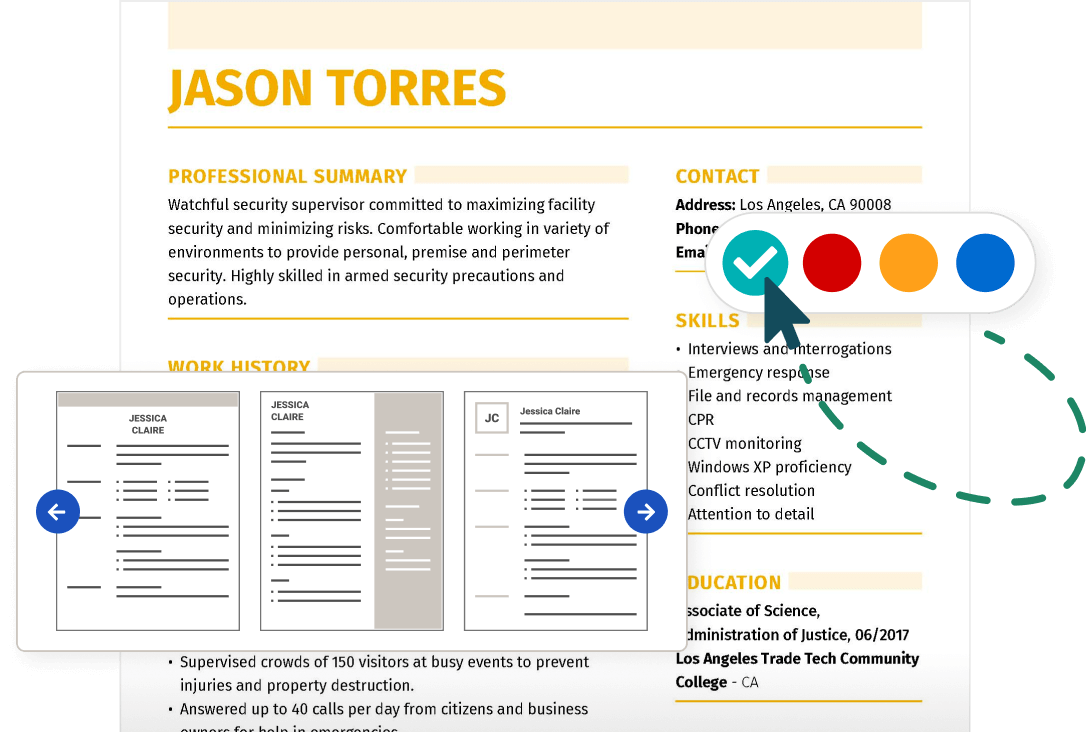 Warehouse Manager Resume FAQ
How do you describe a warehouse manager on a resume?
Describe your warehouse experience under these three resume sections: a resume summary or objective statement, a work history, and a skills section. Your resume summary and work history description let you personalize your logistics knowledge and accomplishments to the needs of an open job. At the same time, your skills section boosts your warehouse manager's experience with technical skills. Use the following tips and resources to help you craft these resume sections:
Resume objective or summary statement: This introduction acts as your five-minute pitch. Use this to share meaningful accomplishments related to warehouse management. Visit our resume objective and summary statement guides for more writing advice.
Work history: This section features a chronological description of your previous jobs, employers, dates of employment, and associated responsibilities and accomplishments. See our work history guide for more examples of describing your experience.
Skills: Visit our transferable resume skills and skills section articles to find additional examples.
What is a good objective for a warehouse manager's resume?
A good warehouse manager resume objective, or summary statement, highlights key accomplishments or logistics skills to impress a hiring manager within the first seven seconds of reading your resume. Snagging their interest might increase the consideration they give your resume and application.
Good resume objective: "Productive warehouse manager with over ten years of experience in warehouse and logistics operations. Coordinated staff and equipment to meet massive shipping needs related to holiday sales and warehouse clearance sales. Moved approximately $750,000 worth of products a quarter. "
Poor resume objective: "Skilled warehouse manager with 10 years of experience. Looking for an open leadership position with an established company."
How do you list warehouse skills on a resume?
You'll list your warehouse and logistics skills throughout your summary statement, work history, and abilities resume sections. Examples of warehouse skills that employers look for in their managers could include:
Picking and packing.
Record keeping.
Documentation skills
Inventory control.
Product sorting and organization.
Certification to run and maintain warehouse equipment such as dollies and lifts.
Team management.
Shift scheduling.
Team coordination.
Visit our resume examples to see how your fellow job seekers showcase skills across multiple resume sections.