Featured in:
Curators acquire art and artifacts for museums and art galleries and arrange exhibits in a way that best tells the story of a piece. Curators are responsible for much more than acquisitions. They set the ambiance of a gallery or museum through their selection and arrangement. While the role of curator may seem like a niche position since they are only employed by museums and art galleries, the opposite is true. Many art galleries specialize in the art of a certain style, culture, or time period. Also, there are museums that specialize in all kinds of topics, all of which need curators. You may be surprised at which areas of expertise you may be able to parlay into a role as a curator for something you love. Curators spend most of their time in the museum or gallery for which they work. When not there, they are meeting with holders of pieces and brokering a deal. Curators may have to work evenings, weekends, and holidays.
Within large galleries and museums, there is a hierarchy of curators; junior and senior curators work under a head curator. At small museums, there may be only one curator who works independently and who is also responsible for managing museum employees. According to the National Bureau of Labor Statistics, the demand for archivists, curators, and conservators is set to rise 13 percent through 2026.
Need cover letter guidance? Add a cover letter to your resume using our cover letter formats how-to guide and add value to your resume.
Improve your application with a personal message! Your resume may summarize your qualifications, but a cover letter can help you express your professional accomplishments and working style. Pair these cover letter templates with our builder subscription to unlock AI-powered text templates and professional designs that will help you submit a complete application.
Curator Duties and Responsibilities
Curators perform a variety of tasks in their quest to strategically put together a museum or gallery. We analyzed curator job descriptions to come up with the following list of most common curator duties and responsibilities:
Scout and Identify Items for Purchase or Acquisition
Passionate for their area of expertise, curators are in constant pursuit of the perfect items for their gallery or museum. They use their word-of-mouth network and various digital resources to keep their finger on the pulse of the market.
Develop an Overall Curation Strategy
When curators do their job well, every piece within their museum or gallery fits into the overall story like pieces in a narrative puzzle. Curators need some planning and project management skills to create a curation strategy that fits within the resource limitations of their employer.
Conduct Research on Acquired Items to Create Display Facts
Curators need good research and written communication skills to create the display content that goes along with each piece. In some innovative and well-funded facilities, this content could include video, audio, and augmented reality.
Collaborate with Grant Writers to Find Grants and Funds
Many museums and art galleries are not run for a profit. Instead, they rely on the contributions of private benefactors and government funding to stay in operation. Curators collaborate with grant writers throughout this process.
Maintain Detailed Catalogue Records
Curators rely on their organizational skills to keep a record of every piece acquired, as well as its condition and date of acquisition. They are also responsible for keeping track of any restorative or conservation work.
Hire and Train Museum or Gallery Staff
At smaller museums and galleries, curators are in control of the hiring and training of all employees. At larger museums, this is the responsibility of the head curator.
Curator Skills
Curators are experts in their niche. For example, someone who wants to get a job at an Impressionist art gallery must be an expert in Impressionist art. Curators must also be experts in appraisal and conservation techniques to properly value potential acquisitions and keep the current property in the best possible condition. Curators are excellent planners and organizers. They have strong observational skills to inspect the quality and authenticity of artifacts. In addition, curators need the following skills to get hired:
Monitoring artifact market for potential acquisitions that fit overall curation strategy
Analyzing artifacts for quality and authenticity
Coordinating conservation efforts for current holdings
Creating and maintaining a database of current holdings and potential acquisitions
Negotiating purchases and loans of artifacts
Curator Tools of the Trade
Magnifying instruments – curators use various magnifying tools to help them see minute details on artifacts, which often help them determine authenticity
Computers and software – used for research, collecting and tracking data, and communication
Curator Education and Training
Smaller museums and galleries will hire curators who have a bachelor's degree in art, history, museum studies, archaeology, or a related field. Coursework covers topics that help curators establish expertise in their chosen specialty. Much of what they learn about curation comes through on-the-job training. Some larger museums require curators to possess a masters or doctoral degree in their area of expertise.
Curator Salary
According to Glassdoor, the national average salary for curators is $52,031. Those at the low end of the scale make $33,000. Those at the top of the scale make $122,000.
Create your own professional resume in just minutes.
Try our resume builder today
Build Your Resume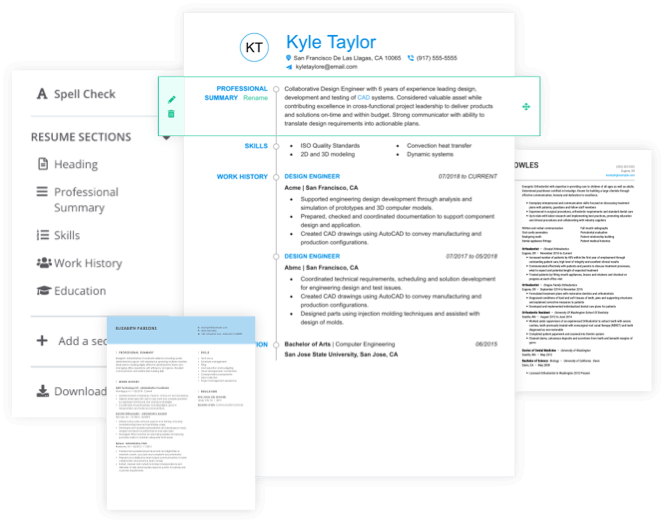 Curator Resources
Are you interested in turning one of your passions into a career as a curator? If so, check out the list of resources below:
Curator Resume Help
Explore these related job titles from our database of hundreds of thousands of expert-approved resume samples: