Featured in:
More Sales And Marketing Manager Resumes
Use these Sales And Marketing Manager samples as a guideline or visit our extensive library of customizable resume templates.
Additional Marketing Resume Samples
How to Format a Sales And Marketing Manager Resume
Use a chronological or combination resume to format your sales and marketing manager resume. These work-forward formats use a detailed timeline to highlight your steady work experience. Candidate A hasover 12 years of experience in sales and marketing, so we recommend the chronological resume for its ability to highlight promotions and consistent employment. The lengthy work history section and detailed timeline help Candidate A describe how many team members they led, trained and mentored throughout their career.
Suppose you have less than three years of experience like Candidate B; their lack of formal employment may disarm some hiring managers. The functional resume deemphasizes the candidate's lack of work history, so they can use the skills sections to showcase their team management and sales skills.
Chronological Resume
12

years of experience

3

years at this job

BA

Journalism
Work History
Sales and Marketing Manager, Bright Stars Winery
May 2019 - present Sonoma, CA
Oversee a 24-person team managing the Northern California and Pacific Northwest sales region.
Facilitate the annual regional sales of five brand-name wines under the parent winery. Achieved yearly sales of $100,000, with an annual profit growth of 7.2%.
Develop and lead training programs and workshops for new traveling wine sales representatives.
Functional Resume
2

years of experience

1

year at this job

BA

Literature
Professional Skills
Team Management
Manage and supervise a staff of 30 call center customer service representatives.
Train and mentor a team of 11 new employees to increase team members' technical knowledge and sales skills.
Improved workplace culture with team outings and incentives to help a struggling team collaborate and meet call volume goals.
Sales
Increased sales by 18% in less than a year through a new, aggressive up-selling campaign and client follow-up.
Improved customer satisfaction score by 14% in a month after implementing a new customer engagement strategy.
Sales And Marketing Manager Resume Samples
No results found
0-5

years of experience

Leverage consultative selling approach to build relationships across target market, develop marketing strategy, and implement training program to on-board new hires and create consistent methods across sales teams.
Increased franchise sales close rate from 39% to 72%, 2011 to 2012
Created new advertising campaign for State Fair, with 40% increase in sales 2011 to 2012
Streamlined advertising across independently owned Twin Cities Metro area franchisees, raising brand awareness with new advertising formats and increasing print advertising by 30%.
Design and coordinate TV, print and radio advertising campaign for Minnesota franchises.
Developed training program and led training workshops, training sales teams across Minnesota franchises, developing Best Practice methods and creating consistent communication to strengthen product brand.
0-5

years of experience

Oversee all aspects of corporate sales and marketing initiatives along with P & L responsibility in a fast-paced environment, ever evolving market; commission/sales plan building and logistics and sales management.
Mentor, manage and supervise an inside and outside sales team of twelve employees.
Recruited, trained and mentored a highly versatile team of 11 Account and Territory managers with inside and outside sales functions.
Brought forth transformative change and improved the culture of a struggling team that failed to meet budget specifications within eight years, suffering losses within six of those eight years.
Increased overall sales by 13% in less than 1 year through the implementation of strategic marketing campaigns, which were sponsored by vendors and directly contributed to sales growth.
Improved overall Gross Margin Dollars by 17% in less than 1 year.
Devised and facilitated multiple training programs to increase technical knowledge and sales skills of team members.
0-5

years of experience

Consistently broke sales records for number of new accounts created and photo shoots scheduled
Successfully marketed and sold dozens of Bid Day, Composite and Portrait photography products and services
Handled creative direction of many marketing projects from the initial concept through design and implementation
Managed logistics and served as coordinator and on-site contact for GreekYearbook at dozens of national Greek organization conventions, trade shows and events
Managed and handled logistics for over 90 large-group (100 - 800 people) sorority bid day and Greek organization photo shoots
Launched and maintained many ongoing social media campaigns via Twitter, Facebook, Instagram, Vine, Pinterest, Sorority Pin, GreekYearbook company blog and more
0-5

years of experience

Recruited to develop and execute integrated sales and marketing plan for an entrepreneurial company. Spearhead B2B sales and marketing responsibilities, producing company image and marketing materials, managing website content, and propelling new business development. Present corporate services and solutions to customers. Source leads and deliver information on prospects to sales agents; train new merchant service agents on best practices. Manage trade show, networking association, and business expo participation to promote brand awareness.
Successfully expanded market share by 30% through strategic sales initiatives and marketing leadership.
Developed high-performance team of sales agents, leading to 31% increase in productivity.
Recommended new contact manager software system to enable more accurate management of sales leads and more efficient tracking throughout sales process.
Realized 13% increase in merchant enrollment by innovating new merchant programs and incentives to accelerate business.
Achieved reputation for exceptional customer service and client retention rates.
0-5

years of experience

Identified, created and developed marketing opportunities for market research
Implemented productivity, quality, and customer service standards to attract and maintain client relationships
Promoted outcome tracking to nonprofit organizations by demonstrating business case for success tracking of programs
Grossed over $250,000 to date, surpassing quota of $150,000. Attained the Republican National Convention polling project.
Advised client organizations in their efforts to attain knowledge, insight and data to increase their revenue and profitability
0-5

years of experience

Worked individually and collaboratively with team members to tactically market existing products by evaluating prospective clients and their needs while focusing on optimizing costs
Built strong customer relationships by understanding the client and their needs, which led to the largest contract in the company's history
Perform in-depth operational cost and schedule analysis to minimize variances in marketing
Increased brand integrity and awareness by monitoring the quality of marketing content and understanding market exposures
Acted as company representative at industry meetings, conferences, and events in order to gain insights into the various luxury brands and how they can be marketed
0-5

years of experience

Chief Manager responsible for developing, promoting, and branding our clients and their products in order to most effectively increase revenue while maintaining our third party corporate accounts
Developed and strategized multiple direct marketing campaigns that drew in over $1.2M in gross sales
Led market launch of multiple new products by identifying new opportunities, researched product possibilities, collaborated with clients and created campaigns
Nationally consulted other markets on ways to improve sales, campaign strategies, and product research
Managed a team of 20 or more marketing ambassadors and created training methods in order to properly promote our clients to its consumers
Built corporate relationships in order to assist in expanding the market potential
Performed ongoing market research and demographic profiling in order to capitalize on unmet market needs ahead of the curve
Researched and became an expert on the competition in order to advise proper channels for the clients' products and promotions to advance with a competitive edge
10+

years of experience
Responsible for P&L, Regional Sales Management, Sales and Marketing Strategy, hiring, performance reviews, and multi-million dollar account development
Increased sales by $12M, 80% increase in sales, by creating and implementing a new marketing plan. Capitol's Sales Department achieved its best sales year in 53 years
Added multi-million dollar incremental volume by increasing customer base through new business segments
Championed internal cultural change to increase efficiencies and productivity
Increase bid opportunities by 50% by implementing new product R&D and Market Introduction Programs by working with VP Operations and Architectural Specification Writers
Added $5M incremental volume through development of new markets in Michigan and Indiana and up to 20 inclusions in architectural master specifications
Managed Sales Department strategy and accountability for meeting sales and marketing quarterly objectives by increasing efficiencies and established key deliverables
Led, planned, and executed annually multiple trade shows
0-5

years of experience

Expanded 2 new markets, generating $40k+ MRR new funnel within 4 months
Created and managed Clearview Waco Kickoff event with more than 75 attendees
Authored Clearview Virtual Data Center white paper - not yet published
Created company profiles for LinkedIn, Twitter and Google+ and managed company social media
Led move from Salesforce.com to PipeLineDeals CRM >> reducing departmental spend and increasing workflow efficiency/AE adoption rate
Produced webcast with Alert Logic: Is Your Business Prepared for the Next Cyber Attack?
Oversaw transition to new company website as well as design of same
Created content for company proposal tool, as well as leading vendor selection process for same
years of experience
Planned and executed several social media marketing campaigns through Facebook, Twitter and Instagram for Driven Society Products and Services.
Expanded sales revenue 20% through digital marketing campaigns and branding
Successfully launched the D.S Apparel through digital marketing campaigns through Instagram Facebook and Twitter to over 8000 followers
Coordinated joint ventures with Market Peers maximizing Share Profit Ventures ( D.S Next Up , Society Tuesday's, Minds Behind the Music, Brenae Rose)
0-5

years of experience
Managed sales and marketing activity to the NIH, commercial accounts, and universities
Sales and marketing activity increased customer base by 20%
Conducted market research for new product development
Launched three direct mail campaigns that averaged 2% response
Led product development from conceptual through beta test phase
0-5

years of experience

Large Format Media/Healthcare
Staffed, directed, and developed Sales and Marketing teams
Transformed sales coverage, pipeline, cost controls and KPIs
Optimized P & L goal attainment thru cross-functional GTM efforts
Led outside sales teams targeting SMB and Mid-Market segments
Maximized product availability thru portfolio segmentation initiative to optimize price and profitability while maximizing cash flow
Completed the Stanford University/HP "Building Innovative Leaders" Program designed to develop HP Executives
0-5

years of experience

Attract 10 new businesses with face-to-face consultations, direct mail, and community participation
Enhance profits by facilitating new contracts to cut costs on labor and material for new business
Create, monitor, and control advertisements and social media platforms
Sold a minimum of $50,000 in product and labor per month
Collaborate with owners to ensure marketing and service objectives are being exceeded
Manage accounts and close sales for top 30% of commercial and residential clients
Introduce store brand to 15 new markets by developing brand logo and promotional material
Ensure materials and labor operations are executed on time for commercial contract deadlines
Load More
Create your own professional resume in just minutes.
Try our resume builder today
Build Your Resume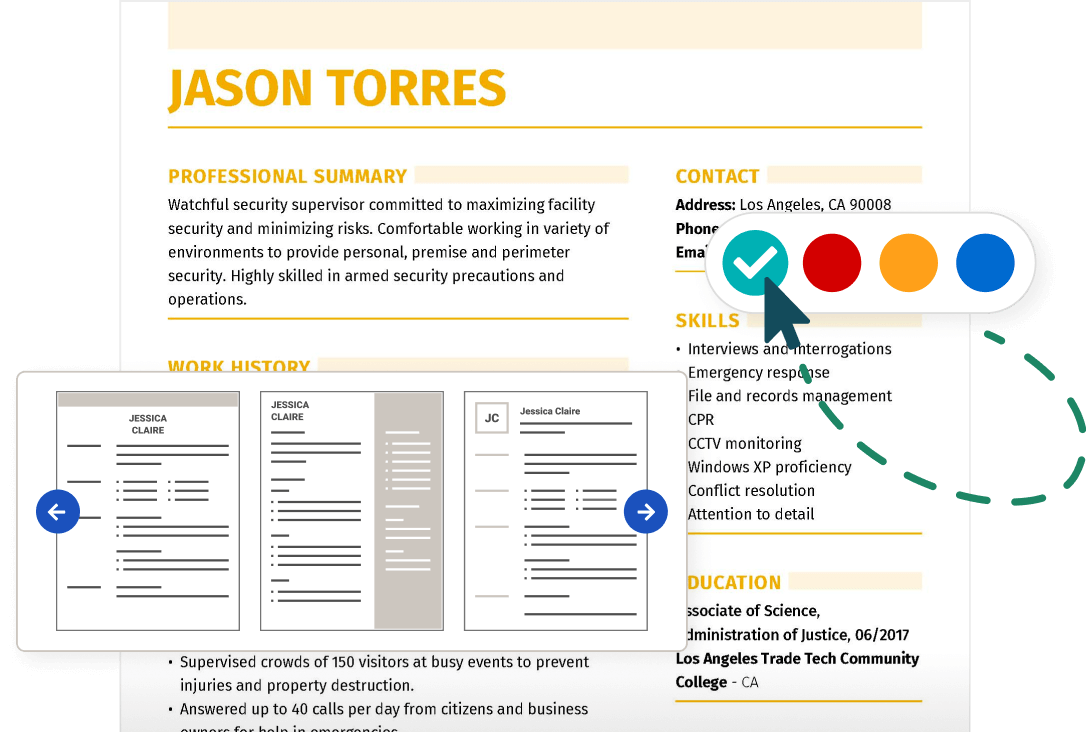 Sales And Marketing Manager Resume FAQ
What should you put on your resume for sales and marketing?
Most hiring managers for sales jobs are interested in profits and clients. Your sales and marketing manager resume needs to include the following three topics:
Your quarterly sales numbers: Highlight the dollars you brought in, whether you were a consistent top performer or if you frequently upgraded client portfolios.
Relevant skills: Sales is about product knowledge, networking and customer service. Highlight transferable skills related to strong communication, persuasion and client management.
Career accomplishments: Were you the top performer in your district? Were you invited to speak at sales conventions? Are you tapped as an effective onboarding trainer or educator? Showcase those external validations of your sales and marketing expertise.
Visit our resume examples library to see how your fellow job seekers demonstrate their skills and achievements.
What is the role of a sales and marketing manager?
The responsibilities of a sales and marketing manager can vary depending on the size of the sales region or organization. Still, your role might include some of the following tasks:
Led a team of professional sales associates.
Set up monthly or quarterly sales plans and goals.
Monitor daily, weekly, or quarterly sales.
Track market developments.
Create regional sales strategies.
Maintain positive employee and customer relationships.
What skills should I list on my resume for marketing?
A solid sales and marketing manager candidate should feature a persuasive combination of technical sales skills, hard skills, and soft interpersonal skills. You can find our researched master list of the most recommended resume skills here, but we also curated a short list of powerful marketing skills to help kick-start your resume:
Technical skills
Use of sales tracking software such as Salesforce, Pipedrive or Zoho CRM.
Knowledge of content management systems such as WordPress, Squarespace or Wix.
In-house creation of video content for internal training and external marketing.
Programming languages like HTML, CSS or Python.
Hard skills
Read and interpret data analytics.
Social media management.
Content writing, copywriting and page layout.
Search engine optimization (SEO).
Soft skills
Creative thinking.
Verbal and written communication.
Team management and collaboration.
Public speaking.