Featured in:
More Service Delivery Manager Resumes
Use these Service Delivery Manager samples as a guideline or visit our extensive library of customizable resume templates.
Additional Customer Service Resume Samples
How to Format a Service Delivery Manager Resume
Picking the appropriate format for a service delivery manager is easy. In short, most job seekers should use a chronological resume format. The chronological resume is simple, elegant and useful. In this format, most of the page is devoted to work experience, making it easy for hiring managers to see your career progression.
There are exceptions, however. Candidates who have little to no work experience or plan to change careers may want to try an alternative format, like the functional or combination resumes. Functional resumes are also known as skills-based resumes because they focus on skills and qualifications. Meanwhile, true to its name, the combination resume combines essential qualities of the other two types.
The candidates below offer a neat illustration. Candidate A has been working in the industry for nearly 10 years, including two years in her current role. The consistency of her work makes the chronological resume an obvious choice. Candidate B has nearly the same amount of experience, but she's been out of the workforce for several years and would rather not call attention to her employment gaps. In her case, a functional resume is a reasonable option. Compare their resumes to see how your approach may differ depending on the format you choose (the similarities between the two are in bold).
Chronological Resume
9

years in workforce

9

years at this job

AS

Associate of Science
Work Experience
Senior Delivery Manager, Delivery Solutions
04/2020–Current, Chicago, IL
Managed engineering resources for the building of networking equipment and hardware installation sites across areas following a major banking partner's brand acquisition.
Raised client satisfaction by 30% by increasing the service delivery margin across matrixed teams.
Created a positive culture with team-focused activities, generating the highest employee satisfaction ratings of any department.
Helped hire several employees, offering to develop and mentor three associated service delivery managers via a company mentorship program.
Functional Resume
8

years in workforce

0

years in current role

BS

Bachelor of Science
Skills Summary
Systems and Procedures
Planned and implemented the rollout of networking equipment for a major banking partner's 62-site branch acquisition, managing the engineering resources through to project completion.
Strategized the rollout of 1,400+ hardware installation sites for a large multinational company.
Continuously drove client satisfaction by improving the service delivery margin through the service teams in a matrixed organization.
Leadership
Focused daily activities toward the teams success rather than individual efforts, creating a positive culture that generated the highest employee satisfaction ratings in the company.
Participated in the hiring process for 30+ high-level employees from beginning to end.
Developed and mentored three associate service delivery managers, taking a personal interest in their career growth.
Service Delivery Manager Resume Samples
No results found
0-5

years of experience

Responsible for the management, planning and delivery of on-site IT management services at Health Now. Managed 18 team members on 4 teams (Service Desk, Desktop, Security Operations, including 1 remote site). Services included technical support, build/deploy computers, asset management, mobile device management and processing security requests. Provided technical and operational expertise in policies and procedures. Responsible for staffing, hiring, terminations, performance appraisals and promotions.
Transformed team to be highly successful, winning Strive for Excellence Award 3 straight
Increased first call resolution from 75% to 86%.
Managed P&L at + 60%.
Oversaw 100% compliance of meeting SLA's and KPI's in accordance with master services
Reduced support costs by developing new workflows and support processes.
Managed Desktop execution of Windows 7 Project for 2500+ machines; completed on time.
0-5

years of experience

Created an interactive model that quantifies the impact of using SaaS options to Service On Demand user specified portfolios
Improved QAD Service On Demand Project Implementation Methodology, reduced 15% QAD cost and increased 35% customer satisfaction
Managed business development and IT realization projects for a global automotive company upgrading corporation level ERP
Managed one of the largest On Demand customers for QAD with $4 million in annual purchases. Interacted with the customer CTO to identify new growth areas and achieved additional sales of $200K
Achieved 88% customer satisfaction in fiscal year of 2013 (QAD avg in fiscal year of 2013: 83%)
0-5

years of experience

Managed 25+ on/offshore resources providing services to organization for building/maintaining data delivery to/from external financial organizations.
Reduced average delivery of completed transmission from one month to two weeks
Implemented process oriented work streams for service delivery
Merged 5 disparate service request systems into a single solution for the entire company
Created rigorous and comprehensive quality assurance programs to provide timely and quality based customer solutions/implementations.
Met with internal/external customers to consult on technical solutions, project planning, issue resolution, and implementation assessments.
Designed and developed a comprehensive metrics tracking system to monitor service delivery performance, customer metrics, LOB metrics, and this tool provided senior management reporting.
6-10

years of experience

Managed client relationship with various business units on the Disney contract. Regularly interacted with clients regarding satisfaction issues, expectations, and potential projects. Ensured work was correctly scoped and staffed (technicians, vendors, etc.) to address client needs and for timely completion of projects. Responded promptly to client calls/emails to resolve questions and problems, escalating to senior leadership when appropriate. Worked with senior members of account leadership team to develop ideas for expansion of service opportunities. Managed End User desktop support teams. Conducted regular staff meetings to discuss projects, on-going issues, client concerns, and to motivate and energize staff. Promptly and accurately completed account administrative tasks such as creation of project related technical services proposals, approval of vendor invoices, approval of employee timesheet and evaluation of employee performance using automated employee management tools. Tracked hours billed to account and staff hours worked to determine and evaluate vendor and sub-contractor productivity, made changes as needed to manage labor costs. Facilitated on-going training of technical staff. Managed local projects in coordination with Senior Project Managers. ITIL v3 trained, Foundation Level.
Created PC loaner program that reduced end-user downtime from as much as five days down to four hours.
Negotiated service change with business unit that increased customer satisfaction while increasing revenue by 15%.
Improved e-Discovery service level by 40% via process, reporting and documentation improvements.
Consistently met business unit annual asset refresh targets by or ahead of deadlines
0-5

years of experience

Accountable for managing transactions for high-profile global accounts totaling $1B+ in managed spend
Successfully managed staff to meet needs of new clients including hiring, client reassignment and training facilitation
Managed and monitored results of team to ensure internal and external SLA's are met
Directed team in fast paced/high volume environment utilizing case management system to process an average of 8k cases monthly
Managed account portfolio growth and served as integral part of new client implementation, training and team capacity management
Responsible for rapid team expansion providing training and performance evaluations on a regular basis
Completed leadership training while taking part in invite only Manager's Learning Club
Identified as SME for new client implementation for Service Delivery - shared expertise and lessons learned to all levels of management
0-5

years of experience

Managed Help Desk service delivery and performance. Coordinated overall services with the customer for daily customer support, change and incident management. On-site customer advocate and primary interface for customer at the Service Desk on all issues concerning Service Desk. Developed and delivered weekly and monthly reports on Profit and Loss, and Service Level Agreements.
Restructured Help File process to where document changes were made and implemented within 2 working days of requested change for 40% improvement.
Managed projects converting two additional departments, Sales, and Research and Development to use Help Desk services in two phases on time and without any disruption in services.
Incident Management of Severity 1 and 2 incidents and resolved customer escalations with Help Desk.
Developed and implemented process for maintaining Service Catalog at Help Desk.
10+

years of experience

Directed Managed Service site operations, with 21 direct reports and staff of 160. Interfaced with corporate and client management to maximize success of partnership. Managed 21 service accounts including data center and help desk, totaling over $6 million
Exceptional accounts' performance generated business totaling over $5 million with new clients
Designated by client as the delivery "focal" for a $2.5 million banking contract to establish managed service business for 3 states
Created print survey for client, eliminating $200,000 in unnecessary print-outs
Provided critical solutions for staffing needs. Interfaced with client to address functionality and headcount to determine training requirements Generated full utilization of company resources
Relocated client's 250,000 tape library during disaster recovery event
Developed "in-house" computer print room construction plan for client managed service business, generating over $200,000, annually
Trained 4 staff members who were promoted to Service Delivery Managers, saving over $100,000 in "new" hire salaries/cost
Directed implementation of 9 site start- ups, including staff scheduling, totaling $3,500,000 annually.
0-5

years of experience

Managed service delivery for three large multi-service (H&W, COBRA, Spending Accounts, and Dependent Verification Services) ADP clients with annual benefits revenue over $600,000.
Completed Annual Enrollment projects on time with quality
Coordinated ongoing team projects and resolved system, process and participant issues with cross functional team members.
Conducted ongoing internal team meetings to set priorities and timely resolve outstanding issues.
Facilitated weekly client meetings to review project status, upcoming deliverables and address concerns.
Created client specific Standard Operating Procedures to document processes and become more efficient.
Developed effective client relationships which led to high client satisfaction scores.
0-5

years of experience
Created and implemented service delivery improvement plans and release management policies by reducing change failure rates and improving system availability and stability by 30%.
Increased application/systems performance uptime for all sites through system and process re-design, resulting in a 20% gain in KPIs and SLAs and the mitigation of information and system security audit deficiencies associated with contract terms
Exceeded system availability and contract obligations (9s) by 22%.
6-10

years of experience

Responsible for the day-to-day Health & Welfare Benefits plan administration services provided by [company name] and is the primary client contact for multiple relationships. Service Delivery Manager is responsible for ongoing client satisfaction by establishing successful customer and internal team relations. Responsibilities as Implementation Project Manager include new client implementations, as well as the annual enrollment process for all clients assigned. Other responsibilities include managing escalations, troubleshooting, issues identification and resolution, facilitation of meetings, inquiry tracking, customer reporting, and trend identification.
Managed multiple Annual Enrollment projects to completion by negotiating resources with a successful end result of being on time and on budget.
Improved existing client relationship for International client resulting in additional business being allocated to [company name] in 2010.
Led successful client implementation onto new Enterprise platform while managing tight timeline and limited resources.
Improved change management tracking process and cost estimation for clients resulting in an increase of 35% in additional revenue.
0-5

years of experience

Responsible for team comprised of 6 managers and 60 staff members delivering system generated or complex manual calculations for 20 of company's largest clients. Simultaneously managed one of company's largest and most difficult clients to meet service standards and project delivery dates.
Interacted on daily basis with client contacts to ensure client satisfaction
Developed and trained team members on system calculations and complex manual calculations as well as special projects
Managed overall large scale reduction in outstanding participant inquiries with direct impact on performance standards. Worked with team members to provide training and employ best practices to achieve top results. Reduced turnaround time and developed reports to track progress
Provided guidance and coaching to staff
Implemented new model for service delivery
0-5

years of experience

Managed and supported multiple Managed Service and Premier One accounts. Served as the single point of contact for escalations to ensure high quality service solutions and project
deliverables are met or exceeded. Responsible for successful delivery of client service
transaction reports and monitoring system reports. Proactively anticipated trends or opportunities and engaged colleagues to develop customer presentations for corrective action plans.
Maintained "high touch" contact with all client levels, individual contributor as well as C-Level.
Worked with clients to identify sales opportunities for equipment updates or expansion
Identified clients with network security requirements, planned corrections or updates
Developed the software revision monitoring program and process for data solutions
Created a data monitoring threshold best practice approach document for all monitored
Project managed the Juniper DIMM replacement project for 63 clients proactively
0-5

years of experience

Managed operations of Service Call Center to exceed client expectations of consistent customer service
Developed continuous process improvement and implemented initiatives to meet critical timelines
Focused resources on critical business needs to reduce costs while achieving optimal results
Increased profit margins to double the Company expectation while maintaining service standards
Analyzed metrics to optimize technician service levels and improve SLA response and resolution times
0-5

years of experience

Recruited by commercial sector President to step in and restore client relationship and achievement of service levels for 2 business units. Oversaw contractual service requirements of an $84M, 7-year, Best
Effort IT outsourcing contract. Managed departmental leads in delivering end-to-end IT services
Restored service levels from failing to exceeding on all measures in 6 months.
Developed labor reporting process that increased revenue and enhanced direct cost margins.
Implemented key indicators for service metrics to ensure quality and timeliness of service delivery.
6-10

years of experience

Proven history of providing excellent customer service maintaining over a 90% client retention rate over a 3+ year
period.
Negotiate contract renewals and upsells with C-level executives.
Manage an account base with revenues in excess of 7 Million annually.
Exceeded over $1 Million in upsells each year and $1.5 Million the last two years.
Manage multiple internal and customer-facing consulting engagements with high degree of complexity.
Responsible for the Project Management, implementation and on-going operations of all assigned clients and associated contracts and special projects.
6-10

years of experience

Managed the Strategic relationship between HP and Western Region Resellers
Provided program management to clients assuring operational excellence through program compliance. Increased client efficiency through computer application training and report analysis.
Served as operational support liaison between client executive level management, operations, sales and technical teams, maintaining end user quarterly customer satisfaction rating of 95%.
Developed product specific growth plans through market analysis, established quarterly revenue growth targets and achieved growth of $50,000 per month through indirect HP service sales.
Administered delivery compliance for printing, computing and server products acting as liaison for parts procurement. Achieved warranty service level agreements targets for same day and next business day repairs.
Analyzed and identified root causes of mission critical management problems to drive delivery solutions
0-5

years of experience

Project manager responsible for implementation and execution of inbound and outbound tele-marketing campaigns.
Project Manager responsible for implementation of new marketing campaigns. Work streams include: training, operational documentation, staffing levels, KPI development, and call script design.
Involved in all 5 phases of multiple campaign launch projects including:
Participated in initial design of marketing campaigns.
Heavily involved in Definition of Scope and campaign planning. Examples include: definition of KPI's, development of call guides and reporting development, and execution of the project plan and work back schedules.
Launched the campaigns with minimal slippage and full stakeholder happiness.
Monitored post launch performance, followed by making recommendations and adjustments to optimize results. Examples include: listening to calls, reworking call guides, and tweaking campaign messaging.
Completed campaigns either meeting or exceeding stakeholder expectations.
To date results: Achieved 106% of year's goal on the largest and most visible campaign, including getting to "Green" status on a metric that has never been met.
0-5

years of experience

Drove the definition, design, development, and implementation of service delivery for state-based Non-Profit Co-Operatives for several states implementing non-profit alternatives for the Affordable Care Act. Oversaw enrollment, policy issue, fulfillment, billing and collection, call center servicing, and claim adjudication.
Developed and implemented functional processing for enrollments, fulfillment, billing, call center, and customer service, per plan, by October 1, 2013;
Developed and implemented functional processing for collections and claims, per plan, by January 1, 2014;
Designed and implemented Interactive Voice Response system resulting in automated handling of 34% of incoming calls;
All processes and staffing in place, per plan, resulting in achievement of all contractual Service Level Agreements.
0-5

years of experience

Implemented voice and web routing to clients' customer service centers or specified Internet web pages
Ongoing project management for existing clients with voice and web routing applications
Assessed, defined and maintained project requirements
Developed and reviewed project schedules
Coordinated and facilitated client team meetings and testing
Assisted with issue resolutions as subject matter expert
Built and maintained team relationships for keeping clients informed
Created monthly and quarterly security audit reports
0-5

years of experience

Serve as the executive level contact to 6 multinational accounts with an annual revenue $7 million.
Responsible for all annual enrollment client activities, contract execution, SLA management and strategic projects
Develop and mentor 3 assigned Associate Service Delivery Managers
Continuously drive client satisfaction by improving the service delivery margin through the service teams in a matrixed organization
Responsible for monitoring and overseeing the customer performance under the terms of contract, including service objectives and SLA, operating level compliance and strategic issue resolution
Responsible for revenue generation, contract negotiation and presentation of new services
0-5

years of experience

Managed a team of individuals responsible for supporting the implementation of County Government software:
Recruited, hired and trained the Service Delivery Team including Technical Trainer, Configuration Specialist and Report Writer
Supported Help Desk & Customer Care department as final tier of support
Communicated new requirements to Product Development team and assisted in various aspects of SDLC to implement changes to client's production environment
Conducted all sales demonstrations of Land Record software
Developed standard format for company demos
Provided demonstrations of software both in-person and via webinars
Represented company at industry tradeshows
Led sessions at Aptitude's annual user conferences
0-5

years of experience

Restructured team to gain greater efficiencies by streamlining processes on-shore and off-shore.
Oversaw the day-to-day implementation and operational aspects of the client relationship.
Prepared Statement of Work and Cost Estimates for client requests that were out of scope.
Ensured all Service Level Agreements were met to comply with contractual agreements.
Project lead for Annual Enrollment, which included gathering and documenting requirements creating project plan, facilitated internal and external meetings with the client and vendors.
Worked with client to manage priorities and expectations.
0-5

years of experience

Manage team of 6 IT professional recruiters, creating, training and implementing recruiting plans for hundreds of different companies
Strongly involved in, or in created, several company processes and procegures that improved company performance and team unity
Handle sensitive negotiation regarding employment, pay and, contracts
Focus daily activity to the success of the team not individual efforts creating a team culture that became the most successful team in the company
Perform all duties required for a full recruiting desk as a hands on manager
Manage ad's for all job openings that my team works on
0-5

years of experience
Directly managed field engineering resources that were responsible for execution of network assessments and hardware implementation.
Responsible for scoping project objectives as well as defining success criteria for multiple technology projects.
Defined departmental guidelines and operating procedure for service delivery unit.
Managed internal resource reporting system to aid in client billing process. Implemented reporting summary that streamlined bi monthly payroll process.
Planned and implemented rollout of networking equipment for major banking partner's 62 site branch acquisition. Managed engineering resources.
Responsible for planning and executing roll out of 1400+ site hardware installation at a major banking partner.
Load More
Service Delivery Manager Duties and Responsibilities
The type of organization service delivery managers work for will determine the precise tasks and responsibilities they take on. Based on job listings we analyzed, a service delivery manager's duties typically involve:
Establish Delivery Processes
A key part of the role of a service delivery manager is to establish and refine delivery processes. The goal of streamlining these processes and procedures is to ensure that each customer gets the same great experience from the initial stage.
Supervise Staff
Service delivery managers oversee employees in different stages of the delivery process, even though they may not be their direct line manager. The service delivery manager holds all service departments and employees within these teams accountable for carrying out the required processes and tasks and providing great customer service.
Manage Customer Expectations
This role involves assessing customer feedback and improving procedures accordingly to ensure that great customer service is provided at all times. Service delivery managers typically evaluate a customer's experience against a set of customer satisfaction goals and criteria. When scores fall below these thresholds, service delivery managers conduct additional research.
Create Cost-Effective Systems
A common task for service delivery managers is to ensure that processes are efficient and cost-effective. They aim to find ways to reduce costs without affecting the overall customer experience, such as by removing paperwork from administrative tasks or removing unnecessary steps in the process.
Build Partnerships
Service delivery managers are responsible for building partnerships and liaising with team leaders to determine services, the criteria for the delivery of those services, and how to develop solutions to any issues that arise.
Service Delivery Manager Skills and Qualifications
Service delivery managers are effective communicators, active listeners, and have excellent customer service skills. Typically, employers will require a bachelor's degree in a business-related subject as well as the following abilities:
Leadership

- Service delivery managers have strong leadership skills in order to motivate and lead their team effectively and to ensure that junior employees have the knowledge they need to do their jobs well

Communication Skills

- Service delivery managers possess strong interpersonal skills, which enables them to communicate with their team, give clear instructions, and provide great customer service

Computer Skills

- The administrative side of this role requires good computer skills to analyze data and create reports

Teamwork

- Service delivery managers need to work well as part of a team, to take on tasks during busier periods to help colleagues, and to be of assistance or offer guidance to other members of staff

Detail-Oriented

- This position requires analytical skills and the ability to interpret information from numerous sources to prepare and present reports. For this aspect of the role, being detail-oriented and able to find focused solutions to business problems is useful
Service Delivery Manager Education and Training
The minimum requirement to become a service delivery manager is a bachelor's degree in a business-related subject such as customer relations or retail management. If the position is an entry-level role for smaller retail outlets, the applicant may only require a two-year degree or the equivalent certification. Applicants will find that prior retail or sales experience is beneficial to their resumes, and for environment-specific roles, skills such as knowing a second language may be advantageous.
Service Delivery Manager Salary and Outlook
The median annual salary for service delivery managers is $86,000. Service delivery managers in the 10th percentile earn around $49,000 a year, while the highest paid earn close to $130,000 annually. Some companies offer packages that can reach up to $11,000 from bonus structures based on individual or group performances and profit-sharing opportunities. Commission makes up a large proportion of additional earning potential. Level of experience has the biggest impact on the pay level for this role, along with the location. Many employers offer dental plans and medical insurance as part of their salary package. The Bureau of Labor Statistics (BLS) predicts that the growth rate for this sector is expected to decline by 3 percent through 2026.
Helpful Resources
We've collected some of the best resources to help you develop a career as a service delivery manager:
The Customer Service Solution This guide by Sriram Dasu and Richard B. Chase explains how consumers perceive services and can help anyone working with clients to enhance their customer service level through understanding what factors determine customer satisfaction and the triggers behind customer behavior. The book illustrates why companies who neglect the emotional side of consumer interactions are missing out on great opportunities.
Service Operations Management: Improving Service Delivery This market-leading book offers a comprehensive introduction to the field of service operations management. Building on the basic principles of operations management, the book examines the decisions that managers face in controlling their resources and delivering great customer service.
Purple Griffon This IT service management company may specialize in IT services, but their resources can be applied to a host of different industries. The blog on top 10 tips for service delivery managers has some useful information to take on board, while the resources page is packed with information to utilize whatever sector the role is in.
Customer Service Strategy At the heart of a service delivery manager's role is customer service, and this book by Maurice Fitzgerald provides all the information required to deliver excellent customer service as well as how to put clients at the heart of a business strategy for better results.
Customer Service Cover Letter Examples
Create your own professional resume in just minutes.
Try our resume builder today
Build Your Resume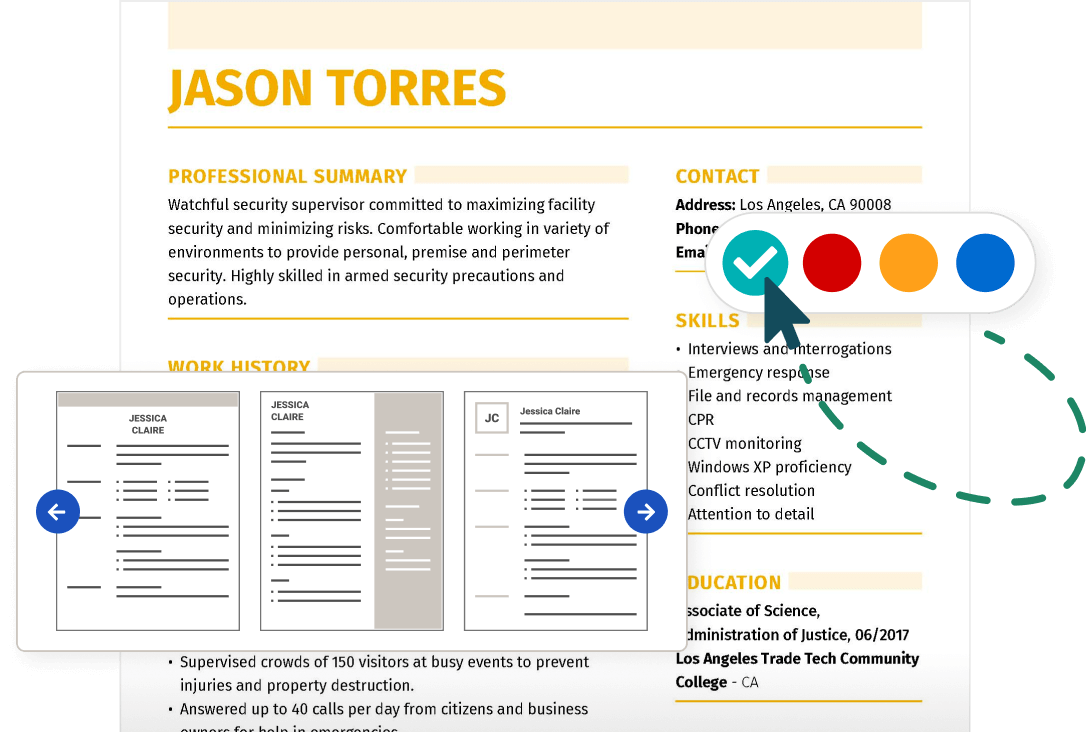 Service Delivery Manager Resume FAQ
What are the responsibilities of a service delivery manager?
Service delivery managers are responsible for delivering services to an organization's clients. Typical service delivery manager duties include leading project meetings, managing client relationships, developing delivery strategies and tracking KPIs. Many delivery managers are also in charge of budgeting.
What are service delivery skills?
The top skills for service delivery managers include:
Communication
Customer service
Budgeting
Teamwork
Conflict resolution
Analytical thinking