Featured in:
More Call Center Customer Service Representative Resumes
Use these Call Center Customer Service Representative samples as a guideline or visit our extensive library of customizable resume templates.
Additional Customer Service Resume Samples
How to Format a Call Center Customer Service Representative Resume
There are three ways to format your call center representative resume. Use the chronological or combination formats if you had steady employment over the last three to nine years. These resume formats use a familiar work history timeline to trace your career growth and responsibilities, which makes it easy for an applicant tracking system (ATS) to scan.
However, suppose you had to frequently change jobs or relocate for personal reasons such as family, education or financial circumstances. In that case, you can use a functional resume to downplay your short work history. This skills-based resume focuses on relevant skills such as customer service, customer account management and remote technical support.
We created two sample job applicants to demonstrate how you can format similar technical skills despite having different work experiences.
Combination or Chronological Resume
6

years in workforce

3

years at this job

HS

Diploma
Work History
Quickly and accurately logs customers' account information, suggests solutions to maintain customer support and ensures seamless transfer to the appropriate customer care teams if a customer experiences repeat issues.
Applies computer skills to navigate multiple tabs, windows and systems.
Easily empathizes and remains patient with difficult callers.
Fields an average of 190 daily calls to help resolve customer issues ranging from technical support customer concerns to billing issues.
Functional Resume
3

years in workforce

6

months at this job

AS

Business Management
Professional Skills
Customer Service
Easily empathizes and professionally communicates with callers.
Suggests solutions and logs attempts to maintain customer support and ensure seamless follow-ups.
Fields an average of 190 daily calls to help resolve customer concerns. Issues can range from simple technical support, troubleshooting or billing issues.
Account Management
Quickly and accurately log customers' account information.
Uses computer skills to navigate multiple tabs and interact with account management software and chat windows.
Call Center Customer Service Representative Resume Samples
No results found
0-5

years of experience

Accountable for scheduling appointments for employers to obtain licenses and certification needed for various occupations. Specific duties consisted of collecting payments, sending receipts, and score reports to proper department, securing software, testing environment, and completing special projects assigned by manager.
Maintain a high-volume workload within a fast paced environment. Assisted an average of 550 clients in any given week and consistently met performance benchmarks in all areas (speed, accuracy and volume).
Helped company attain the highest client service ratings (as determined by external auditors) - earned 100% marks in all categories including communication skills, listening skills, problem resolution and politeness.
Completed voluntary client relations training to learn ways to enhance customer satisfaction and improve productivity.
0-5

years of experience

Worked in a busy call center environment handling high call volumes of about 300 to 400 incoming calls per day
Managed the escalated service concerns received from brokers, employer contacts and account managers
Maintained relationships of both internal and external clients.
Submitted requests to the proper department to prevent re-occurring issues and recommend improvements in the process and procedure.
Analyzed reports on improvements to bring effectiveness to the department
Educated clients on the program as well as navigation of the website
0-5

years of experience

In a fast-paced inbound/outbound call center processed customer and sales
representative request for order entry, returns, credit issuance, tracking,
delivery and invoicing in a timely manner via phone, internet, email and fax.
Negotiated with suppliers to expedite product shipment and backorders.
Proficiently and professionally responded to customer and sales representatives questions pertaining to orders, product availability, backorders, price, products and services, procedures and policy.
Researched more complex issues regarding delivery follow-up, order tracking,
Processed credit card payments for orders and managed accounts receivables.
Assisted customers in navigating the companies website, and placing orders online and trouble shooting any technical issues.
Initiated investigation of order entry errors, damaged product, and return discrepancies, working closely with other departmental teams to ensure corrections were processed accurately and timely.
Promptly and methodically responded to customer inquiries to identify and resolve issues with initiative and good judgment.
Performed a variety of concurrent tasks, handled escalations, time critical issues, maintained time sensitive records and created reports.
0-5

years of experience
Answered, screened and processed over 200 calls daily using a call management system and web-based communications.
Improved call management database efficiency by changing and updating contact information.
Performed quality assurance and reported incidents/errors to Supervisor.
Trained new employees to incorporate an efficient screening process.
0-5

years of experience

Resolved customer issues ranging from phone technical support to billing questions
Worked well with a team of 12 people
Maintained attendance expectations
Maintained expectations regarding call quality and resolution time
Multi-tasked systems while providing service and resolving customer issues, upgrades, etc.
Received several perfect customer feedback ratings
0-5

years of experience

Managed 50 accounts, half being multi million dollar accounts. Heavy phone responsibility, averaging 50-75 calls a day. Responsibilities included logging faxes, emails, phone calls and directing them to the proper C.S.Reps, writing Quotes and issuing Credits, over seeing deadlines and expedited order. Worked closely with sales reps and management of their accounts.
Worked closely with our national warehouses operations managers correcting mistakes, tracking shipments, freight quotes, handling damage claims, stock levels
Coordinate and oversee expedite short work notices
Responsible for 2 out of the top 5 grossing national accounts
Administered logging procedures which included faxes, emails and web orders
Carried out requests and delegated work to customer services agents
0-5

years of experience
Assisted in the supervision of 25 call center agents as well as the call center's daily operation
Assigned daily responsibilities and monitored reservations taken by call center agents
Scheduled and assigned town car services domestically and internationally for customers daily pick-up
Assisted customers in opening accounts and updated passenger information for new and existing clients
Maintained an end of shift report for management review
0-5

years of experience

Achieved 100 percent customer service quality score within 30 days of employment
Responded to 75-100 inbound calls per day in high call volume environment
Registered candidates seeking professional certification in various fields for national exams
Processed credit card and electronic check payments utilizing company database and software
Established rapport with clients while providing information concerning test requirements
0-5

years of experience

Sold upgrades to existing Dish Network customers.
Assisted customers by telephone, mail, and in person with inquires and directed customers to the appropriate sales area.
Set up dates for equipment installation.
Arranged for repair and replacement of defective items covered by warranty.
Notified customers when service was completed and accepted payments.
0-5

years of experience

Recruited over 1,000 future potential students by interacting with them via phone informing them of career options and benefits of Tiffin University
Responded to and handled customer complaints and inquiries in a timely manner
Maintained a polite and professional telephone manner
Developed personal organization and multitasking skills in a fast paced environment
0-5

years of experience
Managed a high-volume of calls from policyholders
Responded to customer inquiries via telephone concerning Health Plan benefits,
Provided premium quotes and executed online policy changes
Uses computerized systems for tracking, documenting information, obtaining up- to-date and accurate information regarding health plans
Assisted department in first contact resolution goals, complaint resolution
Responded, researched, resolved, and provided feedback to internal and external members, purchasers, contracted providers & vendors
Excellent attendance
Consistency maintained >90% customer service satisfaction via quality control
6-10

years of experience

Daily phone and E-mail communication with clients, Insurance and Account Representatives, to ensure customer satisfaction.
Data entry of client contact/vehicle information.
Coached new Customer Service Reps on how to improve quality of their reports.
Proofread and corrected Customer Service reports (100-150 daily) for national "How's My Driving" service. Logged and transmitted reports to clients.
Received inbound caller complaints/compliments on commercial drivers.
0-5

years of experience

Consisting of inbound and outbound calls to clients interested in real estate seminars.
Fast paced working environment that calls for proper phone etiquette to ensure quality customer service.
Exceeded daily productivity standards which included high call volume and appointment setting.
Problem solved by clarify client issues and implementing solutions.
Showed excellent verbal and written communication skills.
0-5

years of experience

Handles a high influx of inbound/outbound calls within a dynamic call center environment.
* Manages multiple priorities and maintained effective results in a quota driven workplace.
* Responded to customer inquiries and requests and resolved issues efficiently and professionally.
* Exercised strong interpersonal communication skills with customers and fellow staff
* Accepted new assignments with an open, cooperative, positive and team-oriented attitude.
* Utilized multiple call center support applications to efficiently assist customers and agents
0-5

years of experience

Answer phone calls within a call center environment assisting members with their Medicare part D prescription drug plan
Addressed and resolved customer product complaints empathetically and professionally.
Managed customer calls effectively and efficiently in a complex, fast-paced and challenging call center environment.
Conducted performance reviews for all Customer Service Representatives to reduce resolution time and improve customer satisfaction rates.
Improved call center functionality and service capacity by resolving customer complaints efficiently and quickly when a supervisor was not available
0-5

years of experience
Made outbound calls to deliver the prepared survey script in persuading customers to discuss their future travel needs and wants
Rated top representative for two months due to exceeding the amount of surveys expected
Build customers interest in the services offered by the company
Updated the existing database with changes and the status of each customer
0-5

years of experience

Provide sales and support to Home Depot for kitchen refacing and bathroom refacing customers.
Inbound calls to qualify potential customers for in home sales appointments.
Outbound calls to existing database of potential clients.
Outbound confirmation calls to verify that customer is looking for our specific services.
Inbound calls from customers to check their consultant's status.
Verify territories Design Consultant's schedules and availability for over 800 Home Depot stores.
Direct customers to correct Home Depot department if they are not looking for refacing.
6-10

years of experience
Explained and marketed rates for Kaiser Individual Consumer and Medicare Advantage Health Plans; processed payments for these plans
Researched and resolved eligibility and benefit and billing errors
Interpreted and confirmed coverage of services with Traditional HMO and Kaiser's Preferred Provider Option/Point of Service plans including precertification requirements
Provided assistance with Health Plan Rules and procedures to other representatives via internal Help Desk phone line
Load More
Call Center Customer Service Representative Duties and Responsibilities
Call Center Customer Service Representatives must perform various tasks to ensure the successful daily operations of a call center. We reviewed several job listings and found the following among the core Call Center Customer Service Representative duties and responsibilities.
Interact with Customers Receiving orders from customers is a key duty for Call Center Customer Service representatives. This involves entering accurate ordering information into a company's system, providing payment options, processing payments and giving order confirmations.
Process Customer Complaints For complaints, a Call Center Customer Service Representative will take detailed reports and provide resolution for the complaint or concern. This might include working with a call center manager or other personnel if a resolution cannot be made. Explaining company policies could be a part of this responsibility.
Explain Products and Services A Call Center Customer Service Representative must be knowledgeable about the products or services their company provides and have the ability to explain these in detail. This might include sending brochures or handbooks in the mail to interested customers, giving information about warranties, citing product costs or service charges, and giving customers part numbers or descriptions.
Call Center Customer Service Representative Skills
Having strong communication skills and an eye for detail are two crucial skills for Call Center Customer Service Representatives. They should be problem-solvers who can work independently and utilize strong listening, speaking and decision-making skills. The ability to work in a fast-paced environment and to converse with a wide variety of people of different cultural backgrounds are also important. Besides these general skills, many employers might look for potential Call Center Customer Service Representative candidates to possess the following skills.
Core skills
: Based on job listings we looked at, employers want Call Center Customer Service Representatives with these core skills. If you want to work as a Call Center Customer Service Representative, focus on the following.
Adapting to the changing needs of customers
Providing excellent customer service
Applying innovative solutions to various types of complaints and concerns
Maintaining a professional attitude in challenging situations
Advanced skills
: While most employers did not require the following skills, multiple job listings included them as preferred. Add these to your Call Center Customer Service Representative toolbox and broaden your career options.
Be results-driven and respond positively to feedback
Knowledge of Microsoft Word, Windows and other basic computer programs
Ability to multi-task
Call Center Customer Service Representative Resources
If you are contemplating a career as a Call Center Customer Service Representative, you can use additional resources to get more of an insight into this profession. Below, we have provided links to online and print resources that can help shed more light on this particular job and what you can expect when working as a Call Center Customer Service Representative. On the Web
Customer Service Professionals Network Blog - A blog offering career advice, tips and strategies from those working in the customer service field.
Shep Hyken - A customer service expert offers a blog and articles focusing on the customer service profession. Topics include customer service strategies, experiences, building customer loyalty and gaining customer confidence. Industry Groups
National Customer Service Association (NCSA) - An organization designed to provide support to customer service representatives, with tips and strategies for building strong customer relations, educational courses, training opportunities and keynote speakers. International Customer Service Association (ICSA) - Founded in 1981, ICSA provides free weekly webinars, leadership development support and online training resources.
Customer Service Professionals Network (CSPN) - Training, workshops, networking and conferences are among the supportive services provided by this organization. Books
The World of Customer Service 3rd Edition - Reviews the skills and techniques needed to be a successful customer service representative.
The Customer Rules: The 39 Essential Rules for Delivering Sensational Service - Written by a former Walt Disney executive, this book explores ways in which to satisfy customers and provide sincere and consistent customer service.
The Customer Service Survival Kit: What to Say to Defuse Even the Worst Customer Situations - A guide to saying and doing the right things when confronted with challenging situations in a customer service setting.
Customer Service Cover Letter Examples
Create your own professional resume in just minutes.
Try our resume builder today
Build Your Resume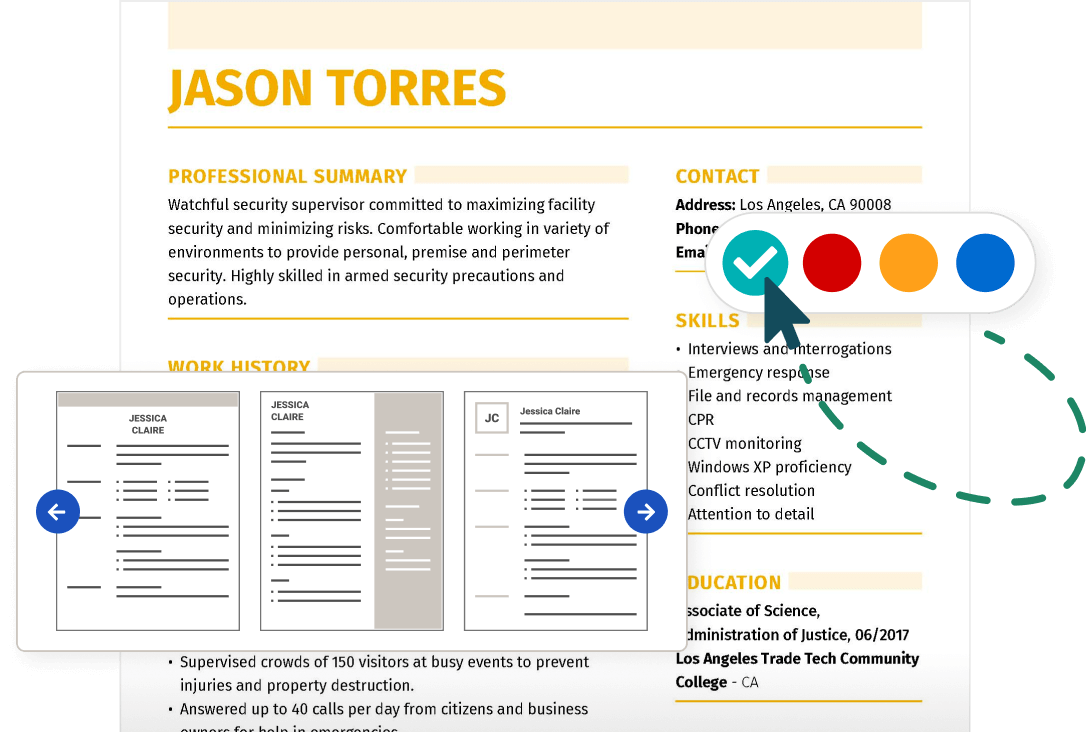 Call Center Customer Service Representative Resume FAQ
How do you format a customer service representative resume?
Most call center customer service representatives should use the tried-and-true chronological resume format. In the chronological format, work history immediately follows the career summary. For each job, beginning with your most recent one, you'll list a few chief accomplishments in bullet points. Focus on adding quantifiable achievements whenever possible since recruiters are always more impressed by specific numbers.
If you're changing careers or lack work experience, you may want to consider using a functional resume or a hybrid resume. The functional format focuses entirely on skills and abilities, always downplaying if not eliminating the work experience section. The hybrid format bridges the gap, giving equal weight to skills and work experience.
For more details on each format type and to learn about margins, typeface and other formatting essentials, check out our resume formatting guide.
What should be included in a call center customer service representative resume?
Any resume for a call center customer service representative should have:
A header with the applicant's phone number and email address.
A 2- or 3-sentence career summary touching on professional highlights.
Your work experience listed in a reverse-chronological order with a few bullet points for each job.
Your formal education as well as industry-standard customer service certifications.
A list of critical hard and soft skills.
What skills should be added on a call center customer service representative resume?
Call center customer service representatives use a range of skills in their day-to-day jobs.
The most important soft skills include:
Comfort operating a telephone
Active listening
Empathy
Friendliness
Attention to detail
The most important hard skills include:
Data entry
Knowledge of computer programs like Microsoft Excel and Word
Point-of-sale (POS) software
Make effective outbound calls
Product knowledge
How do you create a call center customer service representative resume with no experience?
You can land a job as a customer service representative in a call center without having any experience. The key is to utilize the functional resume format. The functional format, also known as a skills-based resume, puts the spotlight on your skills and abilities rather than on your work history, giving you a chance to explain why you're the perfect candidate.
How can a builder help you create a call center customer service representative resume?
Using a resume builder is akin to having one-on-one support from a resume professional — only significantly cheaper. In JobHero's Resume Builder, for example, you'll find dozens of professionally-approved templates that fit different industries and jobs. Builders also offer proper formatting and prewritten suggestions for every section of the resume, from the headers to work experience and education. All you have to do is tweak the suggested text and add a few professional accomplishments to have a resume that's ready for recruiters.