Featured in:
More Team Lead Resumes
Use these Team Lead samples as a guideline or visit our extensive library of customizable resume templates.
Additional Administrative Resume Samples
How to Format a Team Lead Resume
Promote your accomplishments with strategy. Using the right resume format allows you to highlight the parts of your resume that can get you hired. Let's look at these two sample candidates. They have the same skill sets and similar experience but follow different paths. Candidate A shows consistent work history, while Candidate B has employment gaps.
Candidate A can use a chronological resume so recruiters can quickly notice their impeccable employment history. Meanwhile, Candidate B can focus the employer's attention on their skills with a functional resume. We'll highlight their similarities in bold to show how you can format your resume using these two strategies.
Combination or Chronological Resume
3

years in the workforce

1

year at this job

BS

Statistics and Quantitative Methods
Summary of Qualifications for Senior Associate, Team Lead
Partnered with Account and Portfolio Management in 7 global offices serving clients on over $775B of AUM in separately managed accounts (SMA).
Monitored implementation and maintenance of portfolio strategies using a wide range of fixed income securities and derivatives for a variety of portfolio exposures to meet investment policy objectives.
Successfully managed large, time-sensitive projects preventing new regulatory settlement charges toward the firm's forward mortgage-backed securities trading across all client accounts.
Team Lead Resume Samples
No results found
0-5

years of experience

Led mobile software development and launched AMPLIFi Remote in App Store and Google Play Store.
Managed a team of 6 local software and firmware engineers and 6 outsourced engineers.
Created new revenue stream - Mobile POD app with in-app purchase to support 3rd party guitar interfaces.
Implemented Agile Scrum across Software projects and increased velocity (time-to-market) & predictability.
Standardized tools for Version Control, Scrum and reporting across Software & Firmware teams.
Hired software/firmware developers and external contractors to double the team size & product releases.
Promoted from Sr. Software Engineer in Oct'11 to Software Team Lead in Oct'13.
Currently spend 50% time developing cross-platform mobile & desktop applications for iOS, Android, Mac and Windows using C++, Objective-C, Java, SQLite, GoogleTest, cmake, NSIS, cURL, Qt and web services.
0-5

years of experience

Partnered with Account and Portfolio Management in 7 global offices serving clients on over $775B of AUM in separately managed accounts (SMA).
Monitored implementation and maintenance of portfolio strategies using a wide-range of fixed income securities and derivatives for a variety of portfolio exposures to meet investment policy objectives.
Completed two month assignment in Singapore global office effectively training diverse team while rebuilding team morale and efficiency. Selected among competitive candidate pool.
Led the development and implementation of team's complex portfolio exposure reports for sensitive accounts and intricate policy objectives, such as customized foreign currency hedging for the Central Bank of Chile.
Successfully managed large, time sensitive project preventing new regulatory settlement charges toward the firm's forward mortgage backed securities trading across all client accounts.
Led idea generation and collaboration with credit rating team automating 64% of credit impact analyses across accounts resulting from downgrades. Streamlined workflow and wrote macros in VBA.
Decreased 17% of total account reviews by innovating and automating an end-to-end standardized process.
Presented on complex financial instruments, economic concepts, and market updates to colleagues.
Appointed as team lead; interviewed, trained, and mentored analysts, and successfully managed team's work.
Served as technical lead; wrote macros and promptly solved issues for team's morning reports to trade desks.
0-5

years of experience

Supervised a team up to 120 employees providing daily direction to service both internal and external customers
Established work procedures and processes that support company and departmental standards, procedures, and strategic directives
Managed talent through coordinating and facilitating training and identifying development needs
Provided statistical and performance feedback and coaching, and administered performance reviews for skill improvement
Partnered with Human Resources with screening, interviewing, scheduling, and hiring candidates
Built partnership and worked collaboratively with internal resources and external vendors
0-5

years of experience

Directed preparation/execution of a $500M weather satellite launch & early orbit test. Led 160-member team - engaged stakeholders, identified requirements, developed documentation/schedules, facilitated training, and managed operations.
Handpicked to lead 12 government & contractor organizations - successfully launched, tested, & transferred satellite
Coordinated detailed satellite test plan, 25+ working groups/reviews, & 20+ training events with various stakeholders
Rated as top-performer among peers - received Program Office 2013 Quarterly Team Award & 2013 Annual Award
6-10

years of experience

Analyze reports to gauge productivity and sales performance and deliver results to executive management
Implemented automated dialing system for winback and retention campaigns
Identified training possibilities in new hires and ongoing employees and implemented training processes
Maintained productive relationship with IT, Marketing, Commodities, and executive management to ensure sales campaigns went smoothly
Helped build effective scripting for sales campaigns
0-5

years of experience

Awarded employee of the year for 2012 at Atlanta Commercial Credit Services center
Created Excel spreadsheet which automated the manual process of monitoring over 40,000 securities
Assisted credit advisors, credit portfolio, and credit support teams with reducing risk exposure
Ensured collateral accounts are properly pledged in order to protect the banks legal interest
Partnered with commercial and consumer credit teams to generate weekly secured loan reports
Prepared monthly production, quality, risk control, and data validation reports for senior management
Trained and oversaw daily operations of 8 teammates
Worked closely with audit and internal compliance to insure controls are in place and mitigate risk
Drafted and maintained departmental procedures
0-5

years of experience

Led a group of 7 members, provided the training to team members.
Was responsible for editing, modifying content and maintenance of the website.
Developed new strategies for the team to reach its goal.
Monitored team members participation to ensure the training they provided was being put into use.
Managed the flow of day to day operations.
Created reports to update the company on the team's progress.
10+

years of experience

Supervise and analyze account level activity and delinquent reports to reduce billing, payment errors, and delinquent cycles, implement cost reduction strategies, manage vendor contracts, create financial reports for sales management review, and manage facilities for equipment repair, order materials, and in-house telephone system.
Top-producing General Manager in sales, credited with business expansion, revenue growth, and high rate of satisfaction among business/commercial clients while providing excellent customer service.
Managed staff recruitment and development, created client tracking systems, managed all vendor contracts and implemented cost reduction strategies, served as General Manager, as needed.
Analyze operations business model and propose recommendations for cost structure and team member retention.
Implement continual audits and manage Accounts Payable functions using in-house software.
Streamlined administrative workflow procedures, managed overall billing process, and conducted house software.
Created client tracking system, allows sales team to analyze ongoing customer revenue, and aggressively pursued integrated customer relationships in new client orientations.
Performed marketing and service promotions via briefing presentations, flyers, coupons, and cold calls to increase profit.
0-5

years of experience

Managed and provided day-to-day management of eight support analysts. Evaluated and maintained knowledge base for technicians to use. Provided daily, weekly, and monthly analysis of tickets reported through help desk ticketing system. Kept daily record of all incoming call volume per person and tickets closed for month and provided reports to management.
Developed processes, with cross-functional teams, to deliver improved efficiency and effectiveness.
Served as point-of-contact for escalation of all issues related to multiple teams as well as for special requests.
Worked with human resources and talent acquisition teams to document onboarding of new hires and terminations.
Led daily IT "Flash" meetings to review progress on major incidents, security issues, and aging tickets.
Worked closely with senior management team, reviewing potential issues affecting aging tickets, new hires, and terminations.
Load More
Customer Service Team Lead Duties and Responsibilities
While a customer service team lead's daily responsibilities vary between businesses, our research shows that they have several consistent core duties:
Coordinate Customer Service Team The primary responsibility of a customer service team lead is managing a team of customer service personnel. They may work in a call center or in an office, coordinating their team throughout their shift. If a customer service team provides 24-hour support, the customer service team lead manages employee schedules and ensures that the department is adequately staffed during peak times. Additionally, a customer service team lead also answers team members' questions and provides advice.
Provide Direct Customer Support A customer service team lead responds directly to customers who need assistance. They may answer phone calls or emails from customers to provide quick resolution of issues and questions or may provide assistance to a team member. Customer service team leads tend to provide more direct customer support during the department's busiest times, but also assist customers throughout their shift.
Review and Resolve Escalations If a customer service team member is unable to resolve a customer's question or complaint, they usually escalate the call to a customer service team lead. The team lead then identifies a solution to the customer's query or directs them to another department that can provide assistance. Managing escalations requires significant customer service skills and diplomacy to ensure that the customer is satisfied.
Evaluate Team Members Many customer service team leads conduct periodic reviews and evaluations of team members. Team leads monitor employee performance and note areas for improvement, often using an employee evaluation rubric and then meeting directly with the team member to discuss their performance. A customer service team lead may also make recommendations to HR departments if an employee is consistently not meeting expectations.
Support Process Improvement Customer service team leads improve overall department and organization efficiency and performance by identifying opportunities to enhance internal processes. They may gather data related to customer contact and interactions and use this data to prepare reports and analyses of which processes are working and which can be improved.
Train New Hires Many customer service team leads train new hires in their departments. They work closely with new team members to instruct them on company policies and best practices for resolving customer calls. Additionally, customer service team leads monitor new team members' activities and performance during the first few weeks of training and onboarding to determine where further training is needed.
Customer Service Team Lead Skills and Qualifications
Customer service team leads tend to be active, hands-on managers, able to effectively oversee and direct team members while providing excellent customer service. Companies typically hire candidates with at least a high school diploma, prior customer service experience, and the following skills:
Team leadership - customer service team leads manage teams that can range from a few people to large departments, so effective team coordination and organization skills are vital
Performance evaluation - customer service team leads should also have some experience with employee evaluations to successfully manage their team's growth and performance
Conflict resolution - customer service team leads must quickly and effectively resolve customer issues, particularly when a customer is unhappy with the company's product or service
Problem-solving skills - this role also requires significant problem-solving skills, as a customer service team lead needs to assess the situation when a customer calls or emails and rapidly arrive at a resolution
Communication skills - this role relies heavily on both written and verbal communication when interacting with customers and directing team members
Customer Service Team Lead Education and Training
While this role does not typically have any formal education requirements, most customer service team leads do have at least a high school diploma or GED, and many complete an associate's or bachelor's degree. A degree in communications can be especially useful in this role. Customer service team leads often have extensive experience in customer relations and may start as members of a company's customer service team before taking on additional responsibilities in the team lead role.
Customer Service Team Lead Salary and Outlook
While the Bureau of Labor Statistics (BLS) does not provide salary estimates for customer service team leads, it lists a median annual salary of $32,300 for customer service representatives. Glassdoor reports an average annual salary of $37,703 for customer service team leads, based on 8,587 reported salaries. The BLS estimates that employment for customer service representatives will grow 5 percent by 2026, with the majority of job growth in call centers.
Helpful Resources
If you're interested in finding out more about a career as a customer service team lead, we found many resources on the web for further reading: International Customer Service Association - this professional group provides resources and career development opportunities for customer service personnel across industries
The Service Culture Handbook: A Step-by-Step Guide to Getting Your Employees Obsessed with Customer Service - learn how to motivate customer service team members and deliver exceptional customer service "
5 Tips for Effective Leadership in Customer Service" - find out what makes customer service team leaders effective and discover best practices for motivating and organizing a customer service department
Customer Service Training - Kimberly Delvin's comprehensive guidebook explores the impact of customer service on profitability and provides tips and advice for training customer service team members
Administrative Cover Letter Examples
Create your own professional resume in just minutes.
Try our resume builder today
Build Your Resume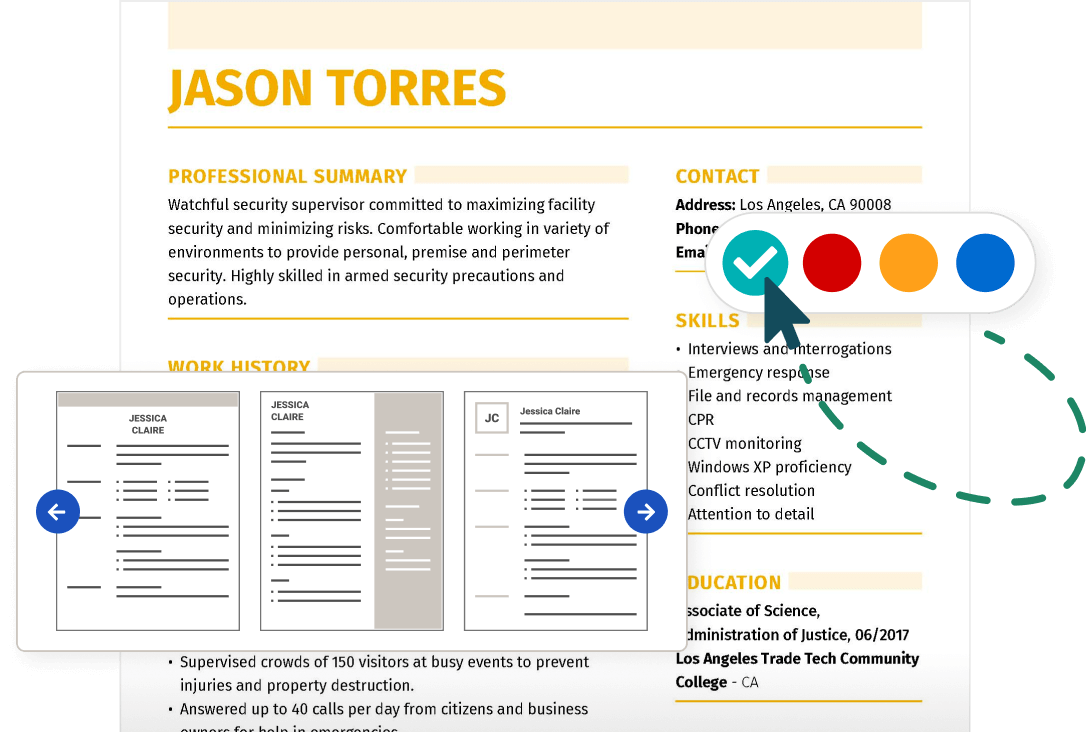 Team Lead Resume FAQ
How do you describe a team lead on a resume?
An administrative team lead is detail oriented and dependable. They have the ability to encourage their staff and form strong relationships. They are motivational and provide inspiring candidate training. Team leads are also knowledgeable in financial reporting and are experienced in managing a diverse team of people. These leadership qualities can include conflict resolution and superb business management.
Ensuring you mention the above aptitudes plus detail how you excel at the role is a sure way to describe your role as a team lead on your resume.
What are the duties of a team leader?
A team leader's main duties include:
Organizing work
Communicating goals
Delegating tasks
Leading by example
Allocating resources
Conflict resolution
Managing project progress
Team leaders push their people toward an end goal. While this role is similar to that of a project manager, team leaders also bring mentorship and inspiration to their team.
What are the qualities of a good team leader?
The best quality of a team leader is to empower their team to achieve both collective and individual goals. With instruction and training, they span from creating in-depth personal development programs to simply understanding how your team members function.
A good team leader is less about authority and more about being a motivational resource to help others to succeed.
Integrity and honesty are also critical traits of a good leader. Learning to give credit where it's due and keeping promises are part of an outstanding team lead. These qualities create a healthy work environment where workers are satisfied with their jobs and less likely to leave.