Featured in:
Industrial engineers use principles of technology and engineering to eliminate wasteful and inefficient processes in a production environment. They focus on reducing costs, promoting safety, utilizing efficient materials, and saving time and energy. They're responsible for analyzing processes, determining areas of improvement, communicating effectively, creating documentation, and implementing training for new procedures.
A successful industrial engineer should have strong math and communication skills and encompass a strong desire for efficiency and organization. Job candidates need a bachelor's degree in industrial engineering or a related field, such as general engineering, economics, or production design and manufacturing.
Studying resume samples and examples are a great way to get inspiration for your own. Study our library of examples today!
One extra step to impress a manager: A growing number of hiring professionals read cover letters to determine whether they'll interview a candidate or not. Use our cover letter templates to craft a complete application that lands you the interview.
Industrial Engineer Duties and Responsibilities
While the day-to-day duties of an industrial engineer are determined by their employer, there are many core tasks associated with the role. Based on our analysis of job listings, these may include:
Develop Process Improvements
By analyzing processes and data, industrial engineers develop, communicate, and implement process improvements, technological upgrades, and existing procedure automation.
Analyze Processes
Industrial engineers aggregate and summarize information from a variety of sources, then communicate their findings as appropriate. By utilizing analytical skills, areas of improvement can be more easily identified.
Train Staff
If a new process is implemented, it is the responsibility of the industrial engineer to train production staff for standardization. This can include developing instructions and manuals for employees.
Develop and Manage Process Documentation
These engineers assist with the development of documenting action items to ensure problem resolution.
Industrial Engineer Skills and Qualifications
Successful industrial engineers are strong communicators and natural problem-solvers. They should also be energetic, detail oriented, and skilled with math. The ideal candidate has strong analytical capabilities and is familiar with managing multiple processes. Employers prefer candidates who possess the following abilities:
Communication skills - industrial engineers are strong communicators. This is essential because it's crucial to effectively demonstrate to colleagues why suggested process improvements are essential to organizational effectiveness
Continuous improvement - it is important that industrial engineers always look for continuous improvement opportunities. This mindset helps ensure an organization is operating as effectively as possible without losing more time or money
Attention to detail - many tasks assigned to industrial engineers require a high level of detail and organization (i.e., analytics, training, process implementation, etc.). It is crucial that someone in this role can multitask while paying close attention to details in a deadline- and goal-driven environment
Adaptability - industrial engineers typically work as a member of several teams, which requires flexibility and adaptability. Candidates interested in this role should be comfortable working in a matrixed environment
Critical thinking - these engineers are responsible for solving problems and creating new systems to remove inefficiencies. Dealing with these issues and identifying the right approach to a problem area requires logic and strong reasoning skills
Industrial Engineer Education and Training
A bachelor's degree in industrial engineering or a related field is typically required for this career. Industrial engineers work in many industries, as containing costs and maximizing efficiencies is extremely important. Some of these industries include manufacturing, technology, consulting, retail, and healthcare. On-the-job training covering specific processes and policies is typically offered by employers.
Industrial Engineer Salary and Outlook
The Bureau of Labor Statistics (BLS) lists the median annual wage for industrial engineers as $85,880. The organization also suggests that employment is projected to grow 10 percent by 2026, which is faster than the average for most occupations.
Create your own professional resume in just minutes.
Try our resume builder today
Build Your Resume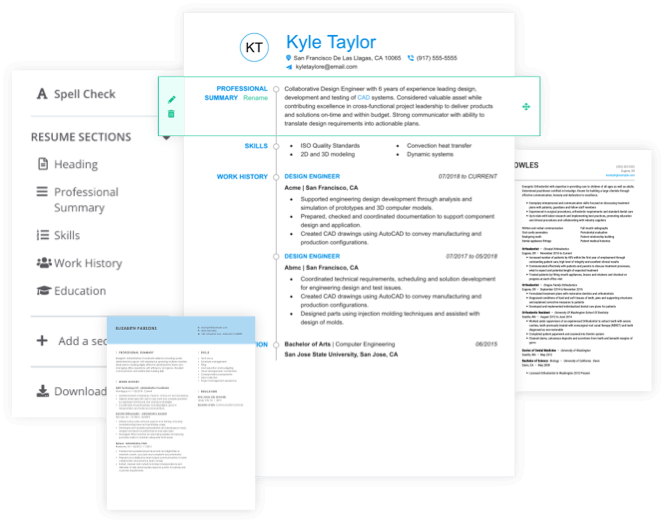 Helpful Resources
There are many helpful resources available for those interested in careers as industrial engineers. Please review the links below for valuable information and the latest industry news:
Industrial Engineer Resume Help
Explore these related job titles from our database of hundreds of thousands of expert-approved resume samples: