Featured in:
More Quality Manager Resumes
Use these Quality Manager samples as a guideline or visit our extensive library of customizable resume templates.
Additional Quality Control Resume Samples
How to Format a Quality Manager Resume
Most online applicants benefit from using a chronological or hybrid format. Your quality manager resume is more likely to pass applicant tracking systems (ATS) by using these standard resume layouts and section headings.
However, suppose you're applying for an in-person role and wish to draw attention to your certifications, technical skills and short-term contract roles. In that case, you should consider a functional resume format.
Let's take a look at two sample candidates and how they displayed their qualifications in each type of resume format.
Candidate A — Combination or Chronological Resume
Quality Manager — Quality Control
10 years of experience
4 years at this job
HS Diploma
Work Experience
Coordinates with project stakeholders to process daily reports covering 10 weekly projects.
Partners with the project team to understand and execute documentation specifications.
Works with project stakeholders to ensure timely deliverables with ample quality assurance and testing time.
Implements, trains and manages the quality control plan from all team leads.
Candidate B — Functional
Quality Manager — Quality Control
3 years of experience
1 year at this job
HS Diploma
Professional Skills
Quality Control
An active ICC or OSHPD inspector with a current California State Certification.
Experience developing and managing quality control plans.
Coordinate with internal testing agents as outlined in the quality control plan.
Partner with the project team leads to understand the project specs and execution kickoff and delivery.
Collaboration
Work with project stakeholders to ensure timely deliverables.
Closely track and maintain a project deficiency log.
Quality Manager Resume Samples
No results found
0-5

years of experience

Reported to Plant Operations Manager and responsible for all Quality Assurance functions, ISO 9000/14000 Certifications, and managed the QA staff of six direct reports. Managed $750K budget.
Reduced number of customer (SCAR) claims issued by 88% (from 56 to 7), over a 5 month period.
Introduced QS 9000 APQP & PPAP tools to the New Product Development process.
Controlled external quality failures by addressing the root causes of monthly PPM spikes.
Improved inspection methods, equipment, managed ISO 9000 system; and launched ISO 14000.
0-5

years of experience

Delivered 25% reduction in process fall-out by implementing a documented employee quality-training program.
Chaired monthly safety meetings while driving safety training and maintenance of OSHA compliance reporting.
Spearheaded establishment of teams responsible for quality assurance data collection, corrective action and internal audit validation and verification.
Served as primary quality and production liaison to support key personnel and clients, coordinating all phases of order management, production and ensuring quality standards were consistently met.
Promoted to Human Resource Manager.
0-5

years of experience

Re-built Aerospace Quality Management system maintaining compliance with aerospace requirements. Lean Manufacturing Developer and facilitator.
Designed and implemented process level audit program, reducing internal identification and traceability quality issues.
Reduced scrap 20% initiating tool and die inventory control program.
Led Lean Manufacturing project reducing packaging and shipping errors.
Developed and Deployed Process Improvement Roadmap program
Re-initiated safety and quality training for all operations personnel in compliance with process instructions.
0-5

years of experience

Design/ Machine/ Repair Shop, of Composition/ Injection Molds for the Automotive Industry
Supervised, trained and assisted 2 inspectors and a Documentation Control Clerk
Developed and Maintained the QS-9000 Level II Quality System
Created a common Corrective Active System between 9 [company name] Plants
Member of Kaizen Team Activities to streamline processes and increase efficiency
0-5

years of experience

Responsible for the Plant Quality Assurance Program
Supervised Compliance Officer (Product Safety, Regulatory and document control) and Hourly QA Technicians (5)
Reduced the potential for and the financial impact of customer returns by management of a steadfast Root Cause Corrective Action/Preventive Action (CAPA) Process to address supplier and customer issues
Optimized material recovery, identified process issues and initiated corrective actions through effective facilitation of the Material Review Board
Ensured product safety and customer compliance via effective Good Manufacturing Practices (GMPs)
0-5

years of experience

Serve as Quality Manager/ SQF Practitioner for a 3rd party logistics company. Lead the development and implementation of Food Safety Fundamentals and the Food Safety Plan. Oversee the development, implementation, review and maintenance of the SQF 2000 System. Take appropriate action when ever needed to maintain the integrity of the program. Communicate to relevant personnel all information to ensure the effective implementation of the SQF 2000 System
Effectively train essential employees in HACCP principles and SQF principles which meet the CODEX guidelines and all aspects of the HACCP system.
Continuous improvement tracking and posting of established key performance indicators maintained the trend analysis of customer satisfaction, responded to customer complaints
Developed and managed the integrated pest management program, GMP, PPE and safety
0-5

years of experience

Primary responsibilities include quality systems oversight of four [company name] manufacturing sites, standardization of quality processes, competency evaluation and training of site quality managers, quality liaison between corporate and manufacturing sites, customer relationship building, tracking and trending of quality metrics, monitoring of compliance with TS16949, project management, site support, report any applicable safety issues per Tread Act requirements (Transportation Recall Enhancement, Accountability and Documentation), participation with the [company name] Product Safety Action Committee
Integrated quality personnel into production teams to create process ownership
Developed revised problem solving training process with step by step approach for non-professions on the production floor to increase problem solving efforts
Introduced Supplier Management Process to compliment supplier development
Developed and Implemented comprehensive FY15 quality objective guidelines for sites to drive coordinated continual improvement using the Toyota A3 process
Developed and Implemented first regional quality skills matrix for all quality personnel to establish baseline for skills expectations and development planning
Driving IPPM implementation and expansion at regional sites to reduce CPPM and CONQ
Received [company name] Chairman's Award for Quality Achievement
10+

years of experience

Design and Manufacture of in dash displays for heavy truck and electronic contract manufacturing)
Maintain registration of the quality system through annual surveillance audits by the registrar.
Conducted root cause analysis and the development of corrective action plans, resulting in an overall Defect Per Million Opportunities (DPMO) rate of 34 on tested products.
Analyzed the inspection data from multiple inspection operations and establish improvement programs that reduced the cost of production rework by 78%.
Management Representative for the ISO 9001 and ISO/TS 16949 quality system.
Coordinated the Advanced Product Quality Planning (APQP) activities, the development of Control Plans and Failure Mode and Effects Analysis (FMEA).
Scheduled and conducted internal quality system audits
Reported the performance of the quality system to senior management at quarterly reviews.
Organized PPAP submissions to tier one and tier two customers, with no PPAP rejections for product or documentation.
6-10

years of experience

Managed and directed five union quality technicians and employees in the machine shop, maintenance, tool crib, assembly cells and shipping departments. Interfaced actively with production, quality and scheduling employees to expedite material throughout the manufacturing process. Prepared proposals and competitive bids for capital projects and interfaced directly with corporate quality engineering and upper management staff.
Directed all quality activities in the plant.
Developed training grids to cross train employees.
High degree of customer and vendor contact.
Reviewed and updated ISO-9000 procedures, work instructions, inspection and test instructions
Worked with all departments to develop and implement corrective action.
Facilitated Corrective Action meetings.
Reduced scrap by 75 percent
Achieved on time delivery 98.5 percent or better
Enforced the quality accountabilities of everyone in manufacturing, including supervisors and hourly union personnel.
0-5

years of experience

Oversaw mechanical testing and quality control for the production of biologic products for research and preclinical projects
Audited batch records from previously conducted studies for completeness and compliance
Created, modified and controlled hundreds of documents as part of a cGMP quality control
Produced a functional prototype for electronic process control including barcode inventory
0-5

years of experience
Participated in the creation of the first Quality Management department within the company
Ensured that quality standards are followed in the development, delivery, and execution of field impacting
Lead cross-functional project teams to provide a field-oriented perspective as a means of ensuring successful
Managed, evaluated and developed 16 Quality Managers
Created new reporting platform to communicate audit results to corporate and field partners
2014 observed an increase compliance of 154% in company initiatives audited
0-5

years of experience

Developed the roadmap for the improvement, communication, and enforcement of quality best practices and expectations throughout Intel's supply chain. Created concept and overall program theme utilizing Intel requirements and expectations to drive continuous improvements throughout the FAB material supply chain.
Defined commitment and execution strategy to sustain a continuous supply of goods and services, incorporate process control and change management, management communication, and process improvement strategy.
Delivered key note address entitled "The Customer Perspective" at a supplier recognition event to communicate supply chain management's vision to industry supply chain decision-makers.
Initiated and completed project to analyze Silicon shipping methods to determine quality risks and understand costs across multiple supplier and Intel locations.
0-5

years of experience

Wrote company quality manual, specifications and procedures.
Established quality training program and trained all employees on ISO 9001:2008 compliance and reporting procedures, monitoring successes and failures and providing remedial training when necessary.
Investigated and analyzed failures, suggested corrective /preventative actions.
Developed and maintained computer database tracking system to identify non-conformances.
0-5

years of experience

Initiate occupational injury and accident management program to reduce high risk occupational behaviors
Implemented procedures and processes that increased the safety rating from a management composite score of 89% to 96%
Integrate management team through action research profiles on occupational safety practices at employee workplace
Engage employees through management support programs to build a positive safety culture
Monitor personnel, equipment, and maintenance aimed at improving employee safety, product quality, customer services, and on-time-delivery of services
0-5

years of experience

Initiated Quality Management System that reduced customer complaints by 36%, reduced loss dollars and notably raised company gross profit.
Senior member of Strategic Management Team responsible for setting company-wide goals and objectives.
Developed and implemented a corrective and preventive action program (CAPA). Proactively initiated a Customer visit program that contributed in delivering what Customers value and a reduction in Customer complaints.
Developed company-wide proactive training programs, which educated, coached, motivated and counseled staff to ensure performance goals, are achieved. Empowered plant personnel to make accept/reject decisions.
0-5

years of experience

Created Quality System based off ISO9001 to meet customer requirements of our solar and integrated shelter customers.
Responsible for maintaining concrete system standards (Corporate Quality Manual, NPCA & ACI)
Responsible for National Integrated Shelters Quality system at 3 plants.
Helped develop corporate cloud based electronic inspection forms and reporting metrics
Created CAPA database
0-5

years of experience

Quality Manager over a Tier 2 Injection Molding and Assembly plant
Managed the calibrations of gages, developed Control Plans, completed PPAP's, performed part layouts using various gages and a CMM, and completed corrective actions
Monitor production quality, and drive continuous improvement thru statistical methods
Improved relationships with customers through Quality Improvement and scrap reduction processes
Began employment as a Manufacturing Supervisor supervising twenty seven people and the assembly of the instrument panel / armrest for the Mercedes Benz M-Class
0-5

years of experience

Continuous Improvement Projects Manager until promoted to Quality Manager.
Developed multiple projects for improved productivity using Lean Manufacturing.
Improved process controls, controlled documents, and procedures.
Maintained all regulatory compliance for the Building Industry and Municipalities
Managed all Builder Claims and Corrective Actions.
0-5

years of experience

Direct the quality program and manage processes to ensure continuous improvement in quality metrics, including customer issues, cost of quality, and scrap for customers such as Ford, GM, Chrysler, Toyota, and Honda.
Develop and implement improvement processes through collaboration with cross-functional teams consisting of employees in production, engineering, and quality.
Successfully reduced scrap by 70% on highest part by cost.
Collaborate with plant manager to devise and execute strategies to exceed metrics, reduce costs, and achieve both short and long term organizational objectives.
0-5

years of experience

Promoted to Quality Manager and acquired additional responsibilities, including handling all Labor Claims.
Provide direction to Quality Technicians on communicating effectively with Purchasing Personnel, dealing with defective supplier products.
Ensure that Nonconforming Material Reports are closed accurately for accounting to process debit memos; resulting in $300 to $1200 average charges per NCMR back to suppliers.
Led Plant successfully through TS 16949 Renewal Audit during the last 3-year cycle with small department.
Analyze Scrap Report monthly and focused on high scrap items to reduce and maintaining low scrap in the plant; shared information with the Production Managers and work force during Plant Meetings.
Communicate problems in monthly Plant Meetings to maintain scrap level under 3% of Direct Labor.
Perform Document Control responsibilities such as archiving, maintaining document spreadsheet, changing document authors, managers and approvers.
Review Labor Claim documentation and parts as needed, before Tech Service is sent reports to make decisions regarding approving or denying.
0-5

years of experience

Hired to develop and implement ISO 9001 QMS system in order to present company for sale.
Audited several suppliers to correct/ implement CPAR.
Implemented ISO 9001 and 17025 standards to comply with market requirements.
Met regularly with end users to understand market needs from service and sales perspective and developed tailored plans cooperatively.
Audited suppliers for ISO 17025 and 9001 compliance.
10+

years of experience

Managed inspectors in performing incoming, in process and final inspection.
Maintained ISO certification, writing the ISO compliant QMS.
Performed vendor pre-qualification assessments, hands on daily activity.
Using proven procurement negotiation skills, negotiated supplier contracts that minimized costs.
0-5

years of experience
Using Lean Manufacturing and Six Sigma principles, processes were evaluated and improved to create as much as 60% faster turnaround and 50% more profitable manufacturing results.
Pulled from previous ISO Certification experience to initiate and maintain standards and procedures as part of an API compliant Business (Quality) Management System for a global oilfield tool manufacturing company.
Identified non-conforming parts/tools as an opportunity to implement a complete Quality Control/Inspection system.
During the transition from in-house manufacturing to commercial manufacturing, used interdepartmental opportunities to introduce necessary culture change.
Collaborated with Engineering team to create and implement a Design Control process, Material Review Board (MRB) meetings, and Document Control review, and assisted in reviewing drawings for new/revised parts prior to engineering release.
Reviewed drawings for new/revised parts prior to engineering release.
0-5

years of experience

Managed a lab technician and Integrated Pest Manager
Handled various customer issues ranging from specification requests to foreign material issues
Lead role in multiple audits including AIB, BRC, General Mills, and internal Horizon Milling
Maximizing profits through effective wheat and flour blending and working with customers on flour specifications
Active role in the facilities Safety and Plant Conditions Wildly Important Goal's
Partnered with mill operations and tech services to establish new customer specification to assist the mill in operating efficiently
Conducted Corporate Food Safety and Regulatory Affairs audits and both internal Horizon Milling
0-5

years of experience

Maintains Quality Management Systems (QMS) to help ensure that the products consistently meet applicable requirements and specifications. Overseeing all activities and tasks needed to maintain a desired level of excellence. This includes creating and implementing quality planning and assurance, as well as quality control and quality improvement.
Audits - Identifying gaps and measuring effectiveness of an organization quality management systems
NCRs - Investigating and addressing trends with internal and external non-conformance
CAPAs - Leading the development and implementation of corrective action and preventive measures to achieve quality targets
Interface with manufacturing and engineering teams to ensure that products produced comply with all in process quality monitoring metrics and final product quality attributes
Develop, administer and maintain quality assurance procedures and activities required to ensure that the company's processes and products are in compliance with applicable quality standards and requirements
6-10

years of experience
Implemented ISO 13485 and FDA regulations at [company name] sites worldwide
Trained internal auditors and led Internal Audit Team
Managed Notified Body program, including qualification of registrar and roll-out of program globally to achieve a unified Quality System Certification.
Managed Corporate Document Control function.
Managed Record Retention program (Corporate Headquarters and local sites).
0-5

years of experience

Balancing ongoing improvement of Quality Management System with Production Planning, Training, and other
Management level business decisions to facilitate daily operations
Ensure ISO 9001:2008 re-certification with no audit findings, Q1 2015
Initiate Opportunities for Improvement within company and with suppliers utilizing Corrective and Preventive
Communicate directly with all Production staff as well as Executive Management to plan daily and weekly
Responsible for all training of new and existing staff as needed in all Production and Quality areas
Promoted from Technician to Quality Manager within nine months of hire
Work with customers to efficiently resolve quality issues and concerns through Corrective and Preventive
0-5

years of experience

A leading manufacture of HDPE containers used for transportation of UN classified hazardous materials, pharmaceutical and food products.
Utilized Infinity Statistical software for mold qualification and process performance.
Developed ISO related documents as needed and document control using QPMS software.
Responsible for new production introduction utilizing TMM manufacturing and Infinity software.
Conducted customer audits. Customers included Food and Pharmaceutical manufacturers.
Strong customer relations skills used for processing customer complaints, product development and audits.
Maintained all GMP requirements as defined by customers and FDA.
Ensured compliance with UN regulatory requirements for the transportation of hazardous materials.
10+

years of experience
Quality Manager, responsible for the quality of all products in a successful and continuously growing business.
Developed and maintained all Quality Requirements for components and assemblies.
Technical liaison with customers regarding the condition of their components and proposed repair methods.
Proficient in Microsoft Office; Word, Excel, PowerPoint, Projects, Publisher, Outlook.
Excellent interpersonal, written and verbal communication skills.
Troubleshooting and analytical responsibilities for continuous improvement.
Successful preparation and readying of plant by implementing procedures and policies in becoming ISO 9001 compliant.
0-5

years of experience

Responsible for 4 QA Lab Associates and 3 QA Technicians in QA Lab: Testing incoming raw materials, in-process and final product testing, including process audits
Manage Document Control system and passed 2 ISO-9001: 2008 certification audits with no non-conformances
Establish inspection procedures, sampling test methods and product quality assurance
Developed Supplier Audit program for external vendors
Leader of the Behavior Based Safety Team to reduce safety recordable incidents
Summarize data and issue final project quality reports to customers
Preparing and controlling budgets and capital projects for Quality department.
Sponsor of Vital Few project to support cost reduction and continuous improvements, such as the Process Area Performance Dashboard for real time production feedback
0-5

years of experience

Apply quality tools, methodologies and procedures in ensuring quality services to customers.
Initiate and establish quality assurance standards conforming to NADCAP/AS9100/OEM specifications
Lead, direct and manage quality assurance department
Ensure continuous quality production.
Process all exterior audits for NDT, NADCAP, AS9100 and customer
Implement and verify conformance to the Quality Assurance System
Procedural development and revise internal procedures as necessary
Perform and document First Article Inspections as per AS9100 & AS9102
0-5

years of experience
Lead a group of 10 employees consisting of: 4 Quality Engineers, Quality Lab Team Leader, Quality Technician, 3 Containment Personnel and Quality Engineering Tech (Documentation)
Present monthly Quality performance to President, Directors, Corporate and Plant Management
Assure Quality Improvement Plans are aligned to Quality Objectives and are implemented according to established timelines to maintain TS16949 certification
0-5

years of experience

Oversaw the implantation of the SQF program in a facility which at the start had limited developed procedures or programs established. Within a 7 month period the facility was able to achieve SQF level 3 certification
Investigate customer complaints and establish trending data to identify deficiencies in programs or procedures as well as overseeing the establishment of preventative actions.
Responsible for overseeing all quality programs which includes the verification and validation of food safety, quality and sanitation programs established within the facility.
Conduct quarterly food safety and quality meetings in order to review any food safety/quality issues in the facility. Designated as the facility HACCP/Quality Team Coordinator.
Perform facility internal audits and set up corrective action plans to address non-conformances
Develop SOP's and SSOP's for the facility
0-5

years of experience
Responsible for monitoring all hospital risk, patient safety events, and reporting necessary information to the appropriate regulatory agencies, including oversight of all aspects of the occurrence reporting cycle
Created and maintained all clinical policies, procedures, plans, and forms, with any other department crossover and oversight
Provided physician support and education for Electronic Medical Record documentation
Continued responsibilities as Performance Improvement Nurse responsibilities
0-5

years of experience

Responsible for overseeing quality inspectors in chassis division plants 19 & 26
Responsible for hiring personal for quality team
Worked with production managers & quality managers at Plant 45 on quality of product supplied to chassis divisions
In training to become Director of Quality for Chassis division
6-10

years of experience

Implement and maintain a quality system that conforms to all customer and ISO 9001 standards
Liaison with customers, sales, & production to provide specific SPC and statistical data concerning products and technical assistance for each group
Perform internal audits of key processes for multiple plants in accordance to ISO 9001
Develop new products and more efficient production processes
Supervise employees in quality related work
0-5

years of experience

Responsible for quality assurance in the manufacture of products, implementation of new products/processes and to maintain close relationships with customers to identify, assess and resolve quality issues.
Coordinate corrective action activities utilizing Six Sigma tools, provide PPM performance data and risk assessment to Plant Manager and Director of Quality.
Develop and implement quality systems to support ISO compliance and ISO Management Representative
Support compliance with external customer requirements, including customer visits.
Supervise and manage one Quality Engineer and eight Quality Specialists.
0-5

years of experience

Visual inspection on all welds, dimension checks on fit-up, make sure welders are welding to code and visual on all paint jobs.
Perform Inspection test on welds including Mag particle testing, UT testing.
Go over MTR'S, make sure welders are welding to code, and put job books together.
Estimate and Quote all job costs including, material, man hours, paint costs, and assembly.
Work thoroughly with ASME code, ISO 9001, API 4F.
Write, prepare, sale, and send proposals with the total cost of the jobs.
0-5

years of experience

Supervise the Quality Control functions at two facilities to ensure compliance with customer requirements and company specifications.
Interpret quality specifications and communicate to all applicable departments.
Maintain all pertinent records in order to adequately monitor quality performance and standards.
Review Customer complaints with appropriate plant department to assure corrective action measures are applied to prevent reoccurrence.
Supervise 24 auditors, 6 analysts, reports and findings along with recommended corrective action plans.
Develop and install various quality programs and coordinate customer partnerships.
Interact with customers and customer service representatives to solve problems and foster strong customer relations.
Maintains Quality Management System.
0-5

years of experience

Management of Quality Assurance department in a 3PL environment, leading and developing a team of audit representatives, analysts, and supervisors in four local warehouses.
Leadership of efforts to implement 5S methodology throughout the distribution center operation.
Optimization of reporting functions to enhance productivity reporting of quality and audit inspection results.
Manage special projects to increase customer satisfaction and increase SLA achievement across client operational demand.
0-5

years of experience
Quality Manager for 12 locations on the west coast.
Standardized Quality Metrics for SSCC.
Developed and implemented Quality System across 85 + locations.
Converted manual data collection systems to electronic.
Developed 12 Plant Quality Resources into "Process Improvement Managers".
0-5

years of experience

Manage Wi's 13485 ISO certified quality system and represent Wi for ISO and customer audits.
Meet with project teams on progress, compliance, design reviews and risk analyses.
Control external standards, quality, project and training documents.
Manage internal audit team, schedule, reports and CAPA actions resulting from audits.
Organize CAPA boards, ECN reviews and quarterly Quality Management Reviews.
Perform and maintain calibration and preventative maintenance systems for equipment.
Write, train and execute documents for processes; IQ, OQ, PQ, Gage R&R, PFMEA, DFMEA, Protocols, SOPs, WIs, Project PERT, Gantt and Org Charts.
Contact suppliers and customers in regards to quality subjects.
0-5

years of experience

Technical Representative for all claims or customer complaints.
Circle grid failing parts to find deficiencies in dies.
Maintain a strong knowledge on stamping, welding, forming, and other manufacturing techniques.
Management Representative responsible for managing and guiding all internal audits, supplier audits, 3rd party Registrar audits, and customer audits.
Complete internal audits on organization functions within the organization.
Management representative and program developer for ISO/TS 16949, A2LA (ISO 17025), and ISO 14001
Assist in development of EPS pickling line.
0-5

years of experience

Review new business, renewals and endorsements for errors and missing coverage's.
Send change request for errors and requested changes.
Send communications to insured via email or mail regarding their policies.
Answer insured policy questions and refer to producer when necessary.
Bill policy transactions.
Download and research policies, endorsements and billing on carrier web sites.
Print ID cards and proposals
0-5

years of experience

Develop CMM and Inspection Processing scanning programs and procedures for developmental stages of production.
Develop programs to suit customer specific procedures.
Program tolerances of .0002.
Calibrate and troubleshoot CMM and PC DMIS 2013 software and programs.
Train personnel in PCDMIS Programming, CMM Maintenance, and GD&T
Upgrading QMS to include internal measures and customer regulations.
Served as the Lead Quality role in a multi-million dollar developmental program
Mentor peers and subordinates in QMS, Physical Measurements, and GD&T
0-5

years of experience

Manage all facets of quality pertaining to the manufacturing / fabrication of various styles of trailers; including incoming verification of parts and materials, in process auditing, control of non-conforming materials, and final inspections.
Writing and implementing process procedures, as well as training employees to those procedures.
Documenting data and maintaining traceability of materials.
Perform investigations, determining root cause, and issuing corrective actions (both "in house" and supplier)
Maintain Warranty database
Assure conformance to various codes including D1.1 and ASME
0-5

years of experience

Charged with implementing data governance and data quality program for state health care exchange entity in order to address costly data quality problems.
Drive initiatives to improve customer data quality to save mailing and tracking costs
Governance over migration of PHI and PII (health care enrollment data) into new database system
Development of Executive Quality Dashboard. Phase 1 metrics involving carrier to exchange enrollment reconciliations
Regular executive level presentations
Building data dictionaries, data life cycle diagrams
0-5

years of experience

Responsible for providing 8D reports to customers regarding failure analysis and corrective actions for returned product.
Black Belt project leader for redesigning returned material process.
Lead internal auditor for ISO 9001 Quality program.
Track quality trends to address systemic design or process deficiencies.
0-5

years of experience

Manage budgets for the delivery of various tools parts and machine necessary for the launches of new engines within the corporation
Manage SBU engineers to perform everyday tasks such as ordering products from various vendors
Deal with suppliers to keep them on a schedule to complete the projects as quoted
Approve requisitions, overtime, pool vehicles, receipts and quotes
Project costs for new and upcoming projects (equipment, machinery, tooling, conversions and updates) to go before the board for approval
0-5

years of experience

Perform ISO 17025 accredited calibration of temperature sensors and electrical testing equipment
Perform internal quality system audits and liaise third party accreditation assessments
Conduct customer site calibrations in various industrial environments
Interface with customers and give advice based on findings
Perform IT system and network maintenance
Load More
Quality Manager Duties and Responsibilities
Work With Suppliers to Set Quality Standards for Raw Materials Before Quality Managers inspect finished products, they inspect the raw materials used in production. They visit supplier sites to make sure the raw materials meet industry and government standards before the buyer on their team places an order.
Oversee Product Development Process Quality Managers work closely with the product development team to create a system for developing a product that complies with all industry and government quality assurance standards. They also monitor the production floor to ensure all phases of the production process stay up to standard.
Hire, Train and Manage Quality Assurance Team Members This duty is the managerial aspect of this position. Quality Managers are involved in the hiring and onboarding process for all quality assurance team members. They have to create and implement a training program based on the specific needs and standards of their employer. They also have to manage employee concerns and keep them inspired to produce their best work.
Develop Product Inspection Systems Based on Industry and Government Standards This is the Quality Manager's primary responsibility. They have to create a replicable procedure for inspecting products and the production process based on the specific standards of their industry. They then have to teach this system to their team and make sure they follow it for all inspections.
Document and Remedy the Cause of Product Deficiencies Product deficiencies happen. It is the responsibility of the Quality Manager to document when these deficiencies occur so they can conduct statistical analysis to determine a course of action to fix them.
Quality Manager Skills
Quality assurance roles, such as the role of Quality Manager, are mostly technical positions, but the managerial duties of this particular position require soft skills as well. First off, Quality Managers need to be experts on the products they are responsible for inspecting. Determining the quality of a product requires intricate knowledge of how the product works. Secondly, Quality Managers have to be systems-oriented. A big part of their job role is creating systems for product inspection. If the system is bad, defects may go unnoticed. Finally, Quality Managers have to be team-orientated. Not only do they have to collaborate with the product development and supply purchasing teams, but they also function as the leader of the quality assurance team. In addition to these traits and areas of knowledge, the following skills are necessary to get hired as a Quality Manager.
Collaborating with product development team to develop production processes
Testing finished products for functionality using product expertise
Developing quality inspection procedures based on knowledge of industry and federal standards
Keeping quality assurance team happy and productive using interpersonal skills
Documenting and analyzing product deficiency incidents
Quality Manager Education and Training
Quality Managers have a Bachelor's degree in Business Administration, Engineering or a similar production-related field. The more important quality for this position is experience in the quality assurance field. Much of the knowledge required to succeed in this role comes from years of working as an entry-level quality assurance employee.
Quality Manager Resources
If you see yourself building a career in the field of quality assurance, then check out this list of resources below.
American Society for Quality - The American Society for Quality is the leading organization in the quality assurance industry when it comes to professional certifications. They offer 18 different certifications, many of which can help Quality Managers advance in their career.
Society of Quality Assurance - The Society of Quality Assurance is another general organization for quality assurance professionals. They have an excellent resource section that includes numerous regulation references for a variety of industries. They also have a career development section dedicated to helping members find jobs.
Quality Magazine - Quality Magazine is the premier print publication in the quality assurance industry. Keeping up with the digital age, they have built a digital library of each issue, which is available to those who subscribe. It has articles on quality assurance strategies and the latest industry news.
Quality Line - Quality Line is a production line consulting firm with over 25 years of experience helping clients raise the quality of their production processes. Their blog contains both fresh and archived articles applicable to Quality Managers.
The Handbook for Quality Management, Second Edition by Thomas Pyzdek and Paul A. Keller - This book is the go-to quality management resource for those trying to earn their Certified Manager of Quality/Organizational Excellence certification from the American Society of Quality. It is considered a must-read for those who want to succeed as a Quality Manager.
Quality Control Cover Letter Examples
Create your own professional resume in just minutes.
Try our resume builder today
Build Your Resume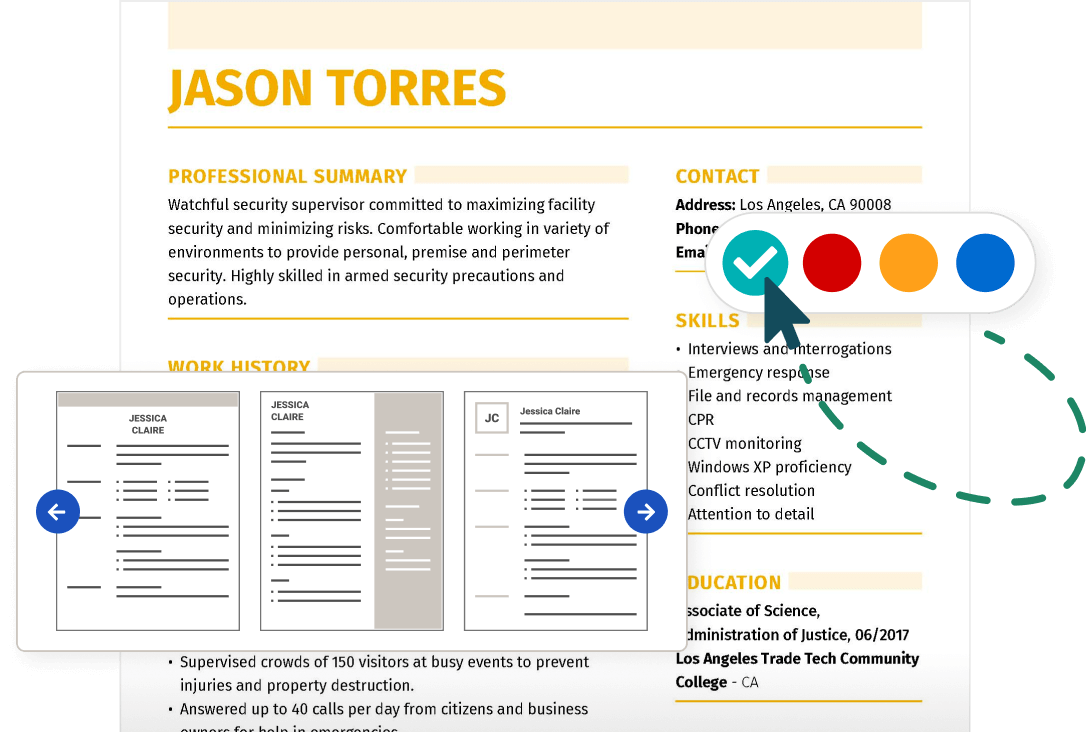 Quality Manager Resume FAQ
How do you write a quality manager resume?
You can use our general resume writing guide or to write a compelling quality manager resume template. After creating this starter resume, you can personalize it based on the following resume writing tips:
Scan each job ad for resume keywords: These resume keywords take multiple shapes, such as repeated mentions, underlined text, highlighted responsibilities or slightly rephrased responsibilities in numerous places. These resume keywords are the key to scoring well on applicant tracking systems (ATS) and getting to real hiring managers.
What are the responsibilities of a quality manager?
Your responsibilities as a Quality Control Managers may include following tasks:
Monitor employees and work zones to ensure they meet safety and production standards.
Analyze and recommend adjustments to production or assembly processes.
Conduct quality control by examining and approving finished products.
Identify and discard flawed products.
Operate and maintain inspection equipment or software.
What should I put on my resume for a quality control position?
Quality control relates to maintaining a productive, effective production process. As a prospective quality manager, your resume could benefit from showcasing the following skills or accomplishments.
Effective training management that ensures proper product knowledge across all team members.
Low discard or defective product percentages.
Effective equipment maintenance and knowledge that cut down on equipment downtime or failure.
Knowledge of various inspection equipment such as coordinate-measuring machines, alignment gauges and 3D scanners.
Your resume could also benefit from these highly requested resume skills.