Featured in:
More Tutor Resumes
Use these Tutor samples as a guideline or visit our extensive library of customizable resume templates.
Additional Teaching Resume Samples
How to Format a Tutor Resume
Showcase your top credentials with the right format. The type of format that you choose will depend on the years of experience you have as a tutor. Let's look at the following job seekers. Even though they share similar skills and work experience, they have different career paths. The first candidate is experienced, while the second is brand new to the workforce.
The first candidate can put a spotlight on their work history by using a combination or chronological resume to highlight their professional employment. The second candidate can use a functional resume to focus on selling their skills and knowledge instead of their history. We'll highlight their similarities in bold to show how you can format your resume targeting skills and experience.
Chronological Resume
6

years in the workforce

2

years at this job

BS

Criminal Justice
Work History
Tutor, Varsity Tutors
April 2020- Present, Boston, MA
Tutor
Taught subjects including math, science, social studies, geography and English.
Assessed and documented students' progress using Cayen Systems SST Provider Training Guide.
Effectively communicated students' immediate academic needs to the director.
Functional Resume
10

months in the workforce

10

months at this job

BA

Spanish
Professional Skills
Teaching Skills
Created higher learning opportunities for students with weak study areas.
Prepared weekly lesson plans to help students prepare for their courses.
Implemented and ran activities for a group of up to 20 children.
Multilingual Skills
Designed a lesson plan to support Spanish, French and Portuguese language learners.
Prepared multilingual tutoring sessions according to the student's strengths and weaknesses.
Coordinated with other colleagues to provide reading and writing lessons in more than eight languages.
Tutor Resume Samples
No results found
0-5

years of experience

Provided academic assistance for students K-8 through Cincinnati Supplemental Educational Services Program Subjects
Adapted teaching style to unique needs of students.
Subjects included math, science, social studies, geography and English.
Assessed and documented student's progress using Cayen Systems SST Provider Training Guide.
Effectively communicated student needs to Director.
0-5

years of experience

Provided assistance to students with weak study areas.
Assisted students in acquiring better understanding of targeted weak areas within a subject or a subject as a whole.
Prepared weekly lesson plans to help students prepare for their courses.
Implemented and ran activities for a group of up to 20 children.
Generate discussion questions to stimulate topic conversations between students.
Analyzed and maintained records of student's progress to teach individual needs.
Committed to teamwork.
0-5

years of experience

Assisted writing center with record-keeping and filing; including handouts, session records and materials. Created and updated writing center publications, including handouts and newsletters; conducted orientations and other presentations about the services offered in the writing center.
Administered academic guidance and tutoring to undergraduate and graduate (including ESL) students.
Edited and provided constructive criticism regarding students written assignments.
Improved students' writing skills and ability to identify and correct their own writing problems.
Coordinated the daily activities of the writing center, including but not limited to supervising writing center staff, overseeing scheduling, and procurement/purchasing; assists in any necessary tasks to support the Director and mission of the [company name].
0-5

years of experience

Monitored progress, assessed program status and identified student's issues in a timely manner.
Prepared objectives and outlines for courses of study, following curriculum guidelines or requirements of the state and schools.
Collaborated with other teachers and administrators (management) in the development, evaluation, and revision of elementary school tutor programs.
Planned and conducted activities for a balanced program of instruction, demonstration, and work time that provided students with opportunities to observe, question, and investigate.
Planned and administered instruction to school aged children of various multi-cultural and diversity groups.
Held gifted/talented students accountable for their project participation.
Ensured that tasks/projects were completed on schedule and within a timely manner.
Reviewed work and assignments for overall completeness of quality and efficiency
0-5

years of experience

Individually tutored 25 different kindergarteners for an average of 10 min/day.
Read with and assisted 20 different second graders in a one-on-one setting.
Tested, tutored and tracked progress of 3 first graders for 30 min/day.
Served as a liaison between students, teachers, and staff.
Participated in and helped organize multiple school-wide events.
0-5

years of experience

Tutor students in English and Math to meet their goals assigned
Scheduled tutoring sessions with parents
Build relationship with the parents in order to better understand the student needs and to give them feedback
Executed lessons that were assigned to the student based on their educational needs
Helped students review and understand previous lessons to make connection with new lesson
Encourage students to participate and complete the assignments given
0-5

years of experience
Organized, planned and delivered workshops to help students prosper in college
Provided academic advising to students; Explained campus programs
Created events to increase multiculturalism on campus
Maintained retention and satisfaction survey rating of 85%
0-5

years of experience

Offered assistance with developing study strategies
Prepared tutoring sessions to ensure the tutee's academic development
Assessed the tutee's progress throughout tutoring sessions
Participated in tutor training and development sessions
Helped individual students prepare for exams like the SAT, ACT, GED
Wrote individual tutoring plans in accordance to the individual needs of students
Maintained confidential student record
Researched and recommended prudent textbooks and learning materials
0-5

years of experience

Organized activities, meals and education models for children in my care
Collaborated with parent on [company name] approach
Developed multiple age appropriate levels of activities
Monitored youth activities for safety and wellness daily
Created rules and regulations for youth and assessed their effectiveness
0-5

years of experience
Supervised 20-50 students ages K-6 daily after school and assisted with homework
Explained math, reading, and writing into easier to understand concepts
Communicated updates on students' progress to parents and teachers
Planned art activities for students waiting for pickup/finished with homework
0-5

years of experience

Highly skilled in providing academic assistance to assigned students individually and in groups.
Hands on experience in creating and implementing individual student based tuition programs.
In depth knowledge of the procedures necessary to provide students with a better understanding of subject areas.
Provided assistance to students with weak study areas.
Assisted students in acquiring better understanding of targeted weak areas within a subject or a subject as a whole.
Maintained confidential student record.
Work effectively with students with diverse learning needs and cultural backgrounds.
0-5

years of experience

Tutor Doctor, Veteran Affairs Office
Provided personalized assistance for my disabled USAF veteran client.
Demonstrated knowledge of social research methodology and practices through editing my client's work for grammar, formatting, and content.
Motivated the client to stay on task and ensure that all deadlines were met.
0-5

years of experience

Outstanding Tutor Award - nominated by supervisors November 2013
Clarified material for students of general, organic, analytical and health science chemistry
Assisted students through homework problems and concepts
Aided students in examination preparation
0-5

years of experience

Provide fundamental, academic instruction to elementary level school aged children on a basis for proactive purposes.
Implement pre- made lesson plans, helping students understand the concepts using a variety of activities.
Work with students in small groups of 3 to 4 to help develop their basic reading and writing skills
Helped students raise their overall grade by at least 3 points.
0-5

years of experience
Worked with students in small groups of 3 to 4 to help develop math and reading skills
Provided support for students in math with emphasis on problem solving skills
Encouraged students to develop academic confidence and self-sufficiency
6-10

years of experience

Tutor students in grades 3-12 whom are out for school for behavior, academic or medical reasons.
Teach all the core subject areas including Math, Science, Social Studies, English and Physical Education.
Attend IEP meetings to discuss each student's progress and future goals.
Proctor Regents and Midterm exams when needed.
Provide the school district with each student's quarterly attendance, grades and progress reports.
Provide reports and make recommendations to administration and parents to assist in proper placement back into a school setting.
0-5

years of experience

Structure and execute two grant-funded summer education programs simultaneously, meeting the needs of children Kindergarten through 5th grade and gaining the attention of a local new station
Complete lessons and projects with groups of 5-10 children living in urban settings, encouraging learning through reading and creativity
Analyze academic data for over 100 children in order to develop a tutoring schedule and identify the individual needs of each child
Provide one-on-one attention to struggling learners, enabling them to reach or exceed grade level expectations
Design the summer schedule for the structure of the entire club
0-5

years of experience

Tutored several chemistry students for an hour at least two times a week
Helped students with their homework
Explained complex concepts to students
Reviewed course material
Undertook Tutor training classes which taught effective communication skills, how to ask leading questions, and detect personal issues in students, etc.
0-5

years of experience

Assist children with class content, homework, and tutorials by providing academic guidance
Have children participate in enrichment and motivational activities that make college attainable
Assist children with any subject, from math to language arts by working on their critical thinking
Provide individual help to children in need of extra guidance, including those of Spanish speaking origin
Help children gain organizational and study skills
Assist teachers with grading and teaching
10+

years of experience
Served as teacher and tutor in all subjects for elementary, middle school and high school.
Facilitated testing for California Achievement Test and PASS Test.
Planned and provided specialized instruction including experiments and labs.
Ensured that all the state standards were maintained.
Maintained cumulative student files and accessed progress.
Provided instruction in group cooperative setting.
Tested curriculum on CD-Rom for Kinetic Math Pre-Algebra.
10+

years of experience

I have privately tutored a total of 28 kids ranging from 4th to 12th grade. Currently tutoring: 6
I primarily tutored high school kids with ACT and SAT Prep.
Primary Tutoring Subjects: Math and Science.
Coached basketball and baseball for the high school boys' team.
Organized practices and games for NCP of about 10 to 25 boys.
Coordinated games and tournaments with other coaches from Chicago public school leagues.
0-5

years of experience

Full time tutor for Pre-Calculus through Calculus II students
Tutored in varying Science classes
Worked with a very diverse student population with a wide range of Math and Science skills
Mentored students and advised on pursuing educations in STEM areas
Work cooperatively with other faculty to successfully manage large groups of students
0-5

years of experience

Taught and tutored math and reading to students.
discussed with students on their academic problems
Proved the solutions regarding math subject
Maintained friendly relationship with students as well as inspire them
Planned the lessons and deliver them efficiently to the students
0-5

years of experience

Tutored children with basic reading comprehension.
Responsible for the attendance and accountability of each child while on duty.
Provided care and supervision for each child within the tutoring program.
Maintained a daily progress report on each child's reading skills.
0-5

years of experience

Instructed children and young adults in areas of educational deficit
Helped build confidence and self-esteem in students
Encouraged students to reach their goals
Cleaned the classrooms and other janitorial duties after each day is finished
10+

years of experience

Teach subjects on a one-on-one basis to students in their homes
Specialized in mathematics and standardized testing
Able to teach, explain, and create new learning concepts in multiple ways for the student to learn
Tutor training for standardized tests
Online reporting systems and 1099 bookkeeping
Extended knowledge of the entire education system in Georgia
0-5

years of experience
Maintain an organized environment conducive for student learning
Assist in student comprehension of applied engineering and mathematics
Assist [company name] faculty with maintenance of facilities
0-5

years of experience
Worked with Chinese high school students on Mandarin reading and writing.
Focused on Mandarin Grammars.
Evaluated students' writing skills and helped students with critical thinking.
0-5

years of experience
Over 400 hours of tutoring experience
Tutor all math related courses from elementary level math to masters level finance and accounting
Average student enrolled in school increases math scores by 2 letter grades
Average test preparation student (STAAR, SAT, ASVAB) increases score by 125%
0-5

years of experience
Tutor 6th - 8th grade students at local middle schools once a week
Provide assistance with all subjects, including English, History, Science, and Mathematics
Create specified tutoring plans for the students
Keep track of students' progress and alter tutoring plans accordingly
Create lasting, mentoring-type relationships with students
Load More
Tutor Duties and Responsibilities
Tutors carry out a variety of duties depending on the organization they work for. Based on job listings we analyzed, these duties typically involve:
Schedule Appointments Whether working for an organization or on a freelance basis, tutors maintain a schedule of their appointments to ensure availability at the right times and prevent overbooking.
Prepare Sessions After planning what material a session will cover, tutors prepare handouts and study materials. This can include creating additional instructional materials for students who need extra help or identifying areas that a student is struggling with and building a lesson around those topics.
Grade Assignments From essays to quizzes, tutors typically assign tasks or homework that students complete and prepare for in their own time. The tutor then grades these assignments to assess progress and ensure that the student fully understands the topic.
Communicate with Parents or Supervisors Tutors regularly update the student's parents, supervisors, or school personnel about how the student is getting on, which areas they have improved on or need extra help with, and any study skills that the student needs to develop.
Maintain Records of Progress Tutors document the hours spent tutoring each student. They also record each student's progress and any other relevant notes on their performance.
Tutor Education and Training
Tutors commonly have a bachelor's degree in education or the subject they're teaching, although they can come from a variety of backgrounds. It's possible to become a tutor simply by being a more educated student, such as advanced high school students tutoring elementary school students. Thorough knowledge of the subject being taught is vital, and some previous experience with teaching or tutoring can be advantageous.
Tutor Salary and Outlook
The median annual salary for tutors is around $35,000, according to PayScale. Tutors in the 10th percentile earn around $17,000 annually, while the highest paid earn close to $70,000 a year. The higher end of the pay spectrum includes bonuses of up to $9,000. Skills and experience affect pay for this role, and very few employers offer dental plans and medical insurance as part of their benefits package.
Helpful Resources
We've collected some of the best resources to help you learn how to develop a career as a tutor:
The Tutor Coach - written by an experienced private tutor, this blog covers all aspects of working as a private tutor, from the necessary experience to building a client list. It also features interviews with others in the industry
The Bedford Guide for Writing Tutors - now in its eighth edition, this guide includes more exercises and activities than ever before, preparing tutors with the right strategies and principles for working with writers whether online or face-to-face. This book includes tools on common writing, grammar, and punctuation problems, and how to best resolve them
A Training Guide for College Tutors and Peer Educators - this training guide presents relevant and research-based methods for supporting students, and the practices and strategies needed to become a successful tutor. It includes plenty of examples and problem-solving scenarios, so readers can fully prepare for everything from planning sessions to assessing a student's learning
Be a Great Tutor: The Inspiring Guide to Tutoring All Ages - this easy-to-follow book is beneficial for new and experienced tutors. It includes contributions from experienced professionals who explain how to apply skills in reading, writing, studying, and preparing for tests
Teaching Cover Letter Examples
Create your own professional resume in just minutes.
Try our resume builder today
Build Your Resume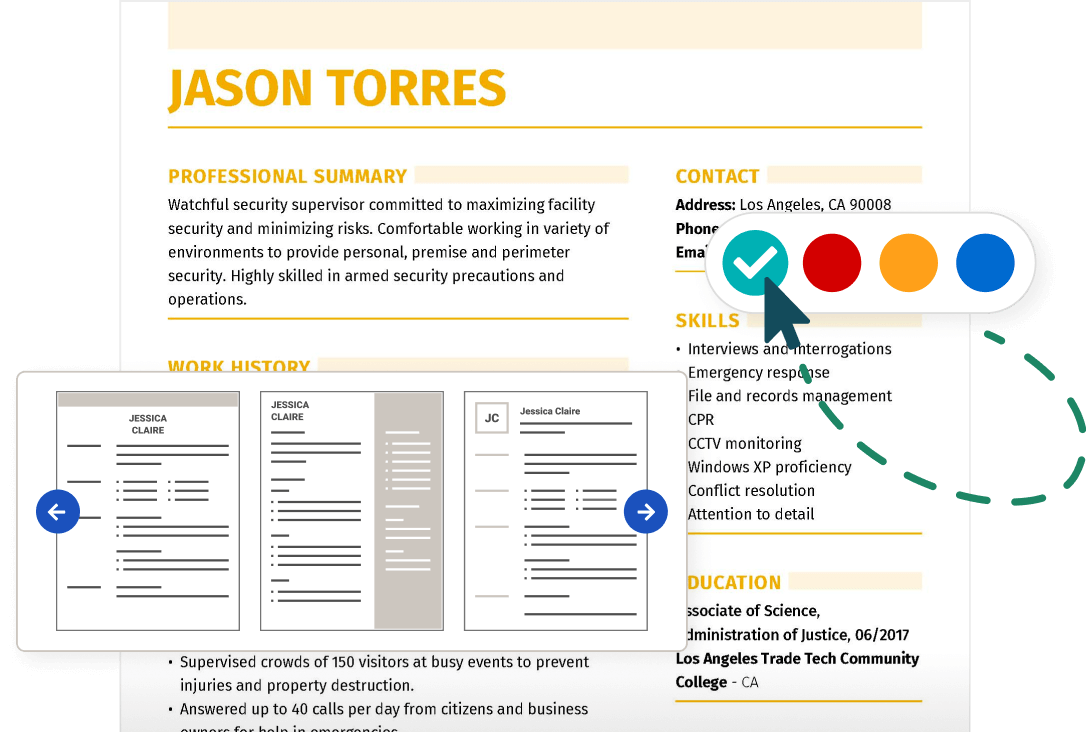 Tutor Resume FAQ
What is required of a tutor?
A tutor typically needs at least a high school diploma and becomes a subject matter expert. They master the knowledge they intend to teach through academic courses or self-study.
Tutoring helps students strengthen their subject comprehension and boosts their confidence.
Tutors provide individualized learning plans, helping students who struggle to understand a subject to master it. Students can range from elementary school children to college-level adults.
What do tutors charge per hour?
Tutors charge by the hour. Rates are usually based on the tutor's experience, the type of tutoring they're offering and the amount of time spent with the student.
Depending on the subject matter and the tutor's experience level, hourly rates can range from $15 per hour to $100.
Your price can vary according to your specialty, experience and the company you're working for. Full-service tutoring is also another option which can be more extensive and involves more customized assistance for college applications and test prep. For the best rates, you should have teaching experience with a subject-specific certification or above-average grades in related courses.
How can I become an online tutor?
The online tutoring business is expanding very quickly, making it a good option for many tutors to reach a wider clientele.
Do your research and analyze different niches to decide which type of student you'll be targeting. This can range from elementary students, high school, college and continuous education for adults.
Once you've identified your niche, you can set up an online presence through myriad ways. There are niche specific websites where you can offer your services, such as Tutorpace, which offers live classes for mathematics, chemistry, biology, economics, statistics and accountancy. You can also create your own online platform by creating your own website using a service like Squarespace, Wix or WordPress.
Alternatively, you can list your services on Fiverr or UpWork, or contact schools directly to have them promote your services to their students.
Before you start tutoring online, ensure you solidify your teaching methods by creating engaging topics through slides and interactive online tools. Being prepared to give a stellar tutoring session is what will have students coming back to book more sessions with you and get you referrals for even more clients.