Featured in:
More Saleswoman Resumes
Use these Saleswoman samples as a guideline or visit our extensive library of customizable resume templates.
Additional Sales Resume Samples
How to Format a Saleswoman Resume
Most saleswomen would be best served with the tried-and-true chronological resume format. Among the three resume formats, this type is popular with recruiters because it clearly lays out a candidate's work history, beginning with the most recent job. This layout shows how a career arc has progressed, picking up more responsibilities and successes along the way.
An alternative format may better serve candidates without substantial work experience. Functional resumes showcase skills rather than professional experience and is perfect for career changers and recent graduates. Meanwhile, combination resumes put skills and experiences on relatively equal footing.
The candidates below reveal how these approaches differ. Candidate A has been working in sales for 12 years straight, making her a perfect match for a chronological resume format. Candidate B worked in sales for nine years before taking an extended break. She's back in the workforce and hopes to highlight her earlier experience in a prominently featured skills section via a functional resume.
Chronological Resume
12

years of experience

6

years at this job

HS

High School Diploma
Work History
Sales Representative, Viking Mobile
03/2017–Current, Muskogee, OK
Created new sales strategies for suburban women, frequently exceeding sales goals by 40% in key territories.
Improved an existing Microsoft Excel database to make it easier for the sales team to pull product information as needed.
Generated weekly sales reports for executive leadership to track new leads and sales targets.
Functional Resume
10

years of experience

1

year at this job

BA

Psychology
Professional Skills
Sales Process
Developed innovative sales strategies and persuasive techniques to regularly exceed monthly sales targets by more than 20%.
Helped the leadership team identify new opportunities in profitable sales territories, finding five customers who became top 20 buyers.
Product Knowledge
Created a proprietary database in Microsoft Excel to make it easier for sales leaders to call upon product information systematically.
Attended six online courses to expand my knowledge of consumer electronics and home appliances.
Saleswoman Resume Samples
No results found
0-5

years of experience
Helped manage over $5,000 in inventory daily and replenished merchandise.
Greeted customers and provided friendly help while building customer relationships, resulting in an increase in customer satisfaction.
Worked in high intensity situations with ~40 customers in the store and maintained good customer flow.
0-5

years of experience

[company name] is a specialized odd store selling products and solutions for the house
Counseled customers depending on their specifics demands
Organized and optimized the shelving and merchandising
Helped deciding on new products implementation
0-5

years of experience

Posted ads, interviewed, hired, and trained new employees on business and how to present products to customers.
Provided in-home service to customers.
Advertised and marketed products.
Appointment based and door-to-door sales.
Assisted customers with questions and equipment.
Filed paperwork of all employees.
Managed team, supervised employees, assigned duties.
Inspected equipment and handed out equipment.
Answered phones and effectively communicated business principles to interested prospectors.
0-5

years of experience

Handled all debit/credit and cash transactions.
Provided great customer service
Highlight, facial, threading, manicure, pedicure, shampoo, cut, style, and color hair.
Resolved conflicts, and determined salaries.
Handled all cash transactions.
Provided great customer service.
Handled all transactions and cashier and customer service.
0-5

years of experience
Welcomed customers and listened to their needs
Used a consultative selling process to match the best vehicle to the customers' needs
Achieved up to 10 vehicles sold per month
Top 3 salesman in 1 year
0-5

years of experience

Key holder responsible for opening and/or closing store
Was responsible for placing shipment orders and verifying shipments received as well as daily cash and deposit duties
Maintained clean, well organized storefront and specified product placement for quick sales
Kept records for inventory, product rotation, sales journals, etc.
Became knowledgeable about products in order to assist customers in the selection process
0-5

years of experience
Provided the best customer service while selling merchandise.
Organized files and incoming merchandise.
Maintained and restocked Inventory.
0-5

years of experience
Provide administrative and executive support within busy office.
Recognized for high quality work, organizational strengths and exceptional customer service delivery.
Resolution of customer complaints and customer service issues
Created databases and spreadsheets that improved inventory management and reporting accuracy. Along with new daily and weekly time sheets for email and internet use
Excelled within deadline-intensive environment, ensuring the accurate, under cost and on-time completion of all projects.
0-5

years of experience

Responsible for providing courteous, knowledgeable service to clients.
Communicated inventory issues/concerns to operations or leadership.
Maintained standards of cleanliness and organization within the cashier zone.
Engage clients in appropriate conversation while completing transaction.
0-5

years of experience
Inform about and sell customers kitchenware
Make daily appointments and travel throughout NYC to demonstrate products
Achieved outstanding sales recognition in the first 2 weeks
0-5

years of experience
Met weekly sales goals by providing excellent customer service and establishing rapport with existing and prospective clients.
Followed up with clients via telephone and email.
Developed business strategies and leveraged extensive network of contacts.
0-5

years of experience
Trained new employees on associate job including cashiers, inventory, and displays.
Lead point of contact to assist customers with all questions and concerns.
Managed social media accounts to maintain a strong following.
0-5

years of experience

Seek clients and provide information to interest them in buying products.
Acquire customer feedback and relay to relevant authorities.
Assist customers by providing knowledgeable consultations and demonstrated applications.
Maintain merchandize standards in order to aid fascinating shopping experiences.
0-5

years of experience
Demonstrate product knowledge and complete transactions
Adept at managing accounting procedures
Maintain stock levels to ensure timely availability of products
Exceeds monthly sales goals and achieves commission
Responds to customer comments and complaints professionally
0-5

years of experience
Handled money transaction with cash register.
Arranged displays and clothing.
Assisted customers with questions and concerns.
0-5

years of experience
Initial contact at front desk for all patrons of the store
Capable of meeting all customer needs as efficiently as possible
Responsible for the daily accounting and money management of the business
Accountable for opening and closing the tanning salon
0-5

years of experience
Suggested products for a variety of clients
Took inventory and stocked the store
Cashiered and answered calls
0-5

years of experience
Persuade and convince customers
Advertise merchandise
Perform great customer satisfactory
Load More
Sales Cover Letter Examples
Create your own professional resume in just minutes.
Try our resume builder today
Build Your Resume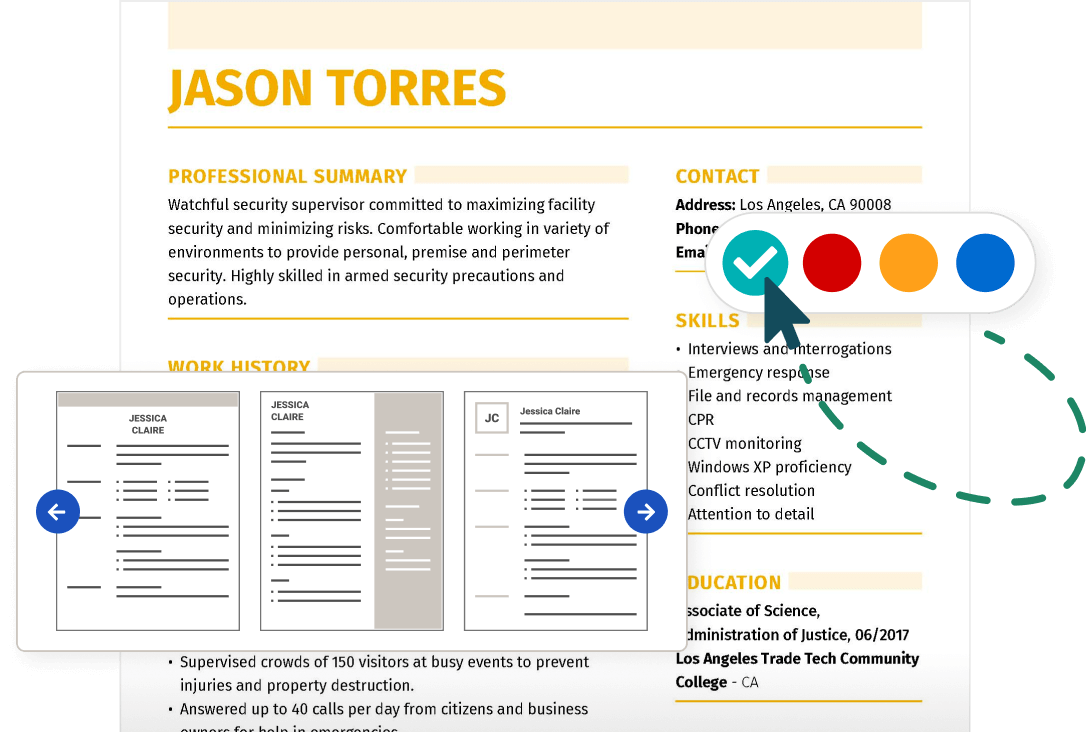 Saleswoman Resume FAQ
What should a saleswoman put on a resume?
A saleswoman should make sure to cover the following points on her resume:
Contact information, including name, phone number and email address.
Work experience, beginning with the most recent position. Make sure to include bullet points that highlight quantifiable achievements for each job (e.g., "exceeded sales quotes by X.")
Education, including professional sales certifications.
Skills, being cautious to mention both soft skills (communication, collaboration) and hard skills (CRM software, Microsoft PowerPoint).
Professional summary or resume objective, encapsulating your skills and career achievements in a few sentences, such as highlighting the number of sales leads you generated in a previous role.
What is in a saleswoman's job description?
The duties and responsibilities in a saleswoman job description may include the following:
Execute the marketing plans created by the sales director.
Source sales leads by cold calling and following up with existing customers.
Identify new sales sources that have the greatest potential for growth.
Exceed weekly, monthly and quarterly sales targets.
Provide exceptional customer service by building relationships and sharing product knowledge.
What are your skills as a saleswoman?
The skills a saleswoman uses daily include:
Active listening
Written and verbal communication
Persuasion
Confidence
Relationship-building
Product knowledge
CRM databases
Microsoft Excel