Featured in:
More Sales Development Representative Resumes
Use these Sales Development Representative samples as a guideline or visit our extensive library of customizable resume templates.
Additional Sales Resume Samples
How to Format a Sales Development Representative Resume
Sell yourself with the best format. There are different ways to format your resume depending on your years of experience. Let's look at these two sample job seekers to see how they leveraged a different resume format to highlight their individual strengths. Both of them have the same skills and work history but are at different career stages. The first shows steady employment, while the second candidate shows a number of short jobs.
The first candidate can use a combination resume to highlight their steady employment. The second candidate can highlight their skills and shift the attention away from short-term contracts with a functional resume. We'll highlight their similarities in bold to show how you can format your resume using these two strategies.
Combination Resume
uild up our sales departments' pipeline.
Qualified over 260 opportunities that led to valid sales. The estimated cost of revenue is over $5 million dollars total for all sales.
Functional
Sales Development Representative
4

years in the workforce

11

months at this job

BA

Screenwriting
Summary of Qualifications
Booked sales meetings for prospective clients and exceeded goals in every quarter employed.
Started as the first SDR and helped to increase lead generation from less than 10 per quarter to over 100.
Created SDR training program and trained, developed and supervised all new hires at the position.
Assisted with various miscellaneous tasks around the office that the startup culture demanded.
Sales Development Representative Resume Samples
No results found
0-5

years of experience

Provided exceptional customer experience via inbound, outbound, and lead transfer calls.
Analyzed residential houses for solar energy based off roof size, material, pitch, usage history, and credit.
Exceeded consistently daily, weekly, and monthly metrics working to be a consistent top performer in my company.
Assisted in training over six different classes of development representatives.
Generated and qualified prospective leads in order to build up our sales departments' pipeline.
Qualified over 260 opportunities that led to valid sales. Estimated cost of revenue is over $5 million dollars.
0-5

years of experience
Booked sales meetings for prospective clients and exceeded goal in every quarter employed
Started as first SDR and helped to increase lead generation from less than 10 per quarter to over 100
Created SDR training program and trained, developed, and supervised all new hires at the position
Assisted with various miscellaneous tasks around the office that the start up culture demands
0-5

years of experience

Serve as a consultant and contact for 45 stores across various channels in the Columbus area by providing product updates,
implementing store execution, and assisting on store floors during holiday periods
Assist the regional trainer and market manager in delivering large-scale trainings that consist of interactive demonstrations,
Grew my market from 86% attainment to an average of over 100% YTD, with highest achievement being 158% YTD, and as a result maintained a top five representative spot in YTD attainment for six consecutive weeks in Q2
Analyze sales growth and opportunities in territory through internal data in order to create a monthly schedule and have a
Developed a training plan for third party representatives to increase Whirlpool appliance sales in Costco stores and online
Implemented a "blitz strategy" through the use of routing software, which decreased representative travel time and aided in the successful displaying of point of purchase material in retail stores
Assisted in the creation of an optimization strategy for US territories through data analysis and excel database restructuring of sales figures
0-5

years of experience
Top sales performing rep for multiple months, having been #1 out of 40 others
Produced 210 leads and 61 closes totaling a monthly recurring revenue of $7,027
Meet and exceed daily activity expectations of 150 calls and two hours of talk time
Strategically self-sourcing leads via top verticals and social media
Create and deliver qualified opportunities to Account Managers
Manage and track progress and activity in Salesforce.com
0-5

years of experience
Generated an average 5 net-new meetings per week to create 8 new opportunities each month
Consistently out-prospected my peers by 2x reaching out to 10-20 new accounts per week with compelling news and quotes to engage C-level executives
Consistently ranked #1 or #2 for highest level of KPI's on sales teams by sending 65-80 personalized emails and making 125-175 cold calls per week to C-level executive
Surpassed closed-business quota per month in 2016
Hit or exceeded pipeline generation quota of 15 meetings with 6 net new opportunities per month in Q3 2016 (113%, 100%, 200%)
0-5

years of experience

Executed new business opportunities by setting up introductory calls with targeted businesses
Conducted high-volume outreach campaigns of 100 daily cold-calls and 120 monthly email blasts
Researched and maintained up-to-date information on marketing and assigned leads
Utilized Salesforce, MixRank, and LinkedIN to implement prospecting strategies
0-5

years of experience
Developed cold and warm leads with eye for opportunity development and expanding business within existing accounts
100% quota attainment for qualified appointments passed on to territory reps
Oversaw roll out and training of Marketo for entire sales team and SFDC integration
Consistently completed highest number of activities per week in the company
Set company record for shortest training period (began calling after two days)
0-5

years of experience

Lead a team of 10 people from multiple departments to deliver 5 milestone projects
Identified 50 customer leads that turned into over 40k in sales
Determined customer credit risk through careful analysis of outstanding accounts receivable and credit references for accounts with sales of 10k or higher
Worked with the marketing team to develop new marketing collateral and materials as part of direct
0-5

years of experience
Sold Amazon Web Services, Amazon's hosted cloud computing platform, to strategic and new accounts.
Managed the sales cycle from prospecting to closing calls with contacts such as end users up to C-Level.
Played key role on territory team in 2015 that achieved 116% of its $116M quota.
0-5

years of experience
Averaged over 100 cold calls per day and set up 3-4 meetings per day for product demos
Worked on Salesforce daily to manage sales efforts
Managed customer accounts and scheduled product demonstrations
Achieved sales goals consistently
0-5

years of experience
Introduced new lead generation for [company name] clients allowing sales representative to have access to hundreds of high quality leads.
Sourced prospects on leading sales and marketing solutions such as: Zoominfo, DiscoverOrg, and Linkedin Sales Navigator.
Created Salesforce metric reports for client and reviewed reports on weekly calls.
Completed [company name] First 42 Training Program.
Mentored newly hired SDR's on sales training development and techniques.
SchoolCity
Comport Technology Solutions
0-5

years of experience

International Cyber Security Company
Employed Salesforce.com to find and qualify valid opportunities, as well as manage personal pipeline
Assisted in training co-workers on best practices
Achieved understanding of IT landscape and cultivated use-case examples relevant to individual organization's needs
0-5

years of experience

Cold call into automotive shops to sell [company name] software.
Consistently maintain my quota for setting demonstrations and winning deals.
Complete a minimum of 75 calls per day.
Manage my book of business utilizing Salesforce.com as a CRM.
Present information over the phone about the product so that potential customers would agree to a demo with an account executive.
Successfully completed and passed all sales training courses.
0-5

years of experience
Specializes in Database, Middleware, and Integration solutions for Mid-Size accounts throughout NM, MT and CO up to $500m in revenue. Exceeded metrics for three consecutive quarters.
Collaborates directly with C-Level Executives, IT Directors/Managers, and other IT personnel to optimize ROI by uncovering
Develops technical solution and sales proposals, exceeding pipeline and progressing deals throughout the sales cycle.
0-5

years of experience

Responsible for the sales operations which included reaching out to perspective clients, provided detailed work, assisting with customer service and an expert in using op-tool & Salesforce.
Qualified leads.
Assisted with customer needs.
Chatted and reached out to perspective clients.
Utilizing Salesforce by creating leads & reports.
Made over 60 cold calls a day.
Help create and managed accounts.
0-5

years of experience

Respond to inbound leads generated by content marketing efforts
Qualify leads for sales team to identify Budget, Authority, Need, and Timing
Actively use Salesforce.com to manage the lead generation process
Meet and exceed monthly sales quotas
Research, Organize and Interpret Sales & Marketing Data
Fast paced and highly interactive role that requires calling 50+ contacts per day
0-5

years of experience
Used Salesforce to contact and pre-qualified 60-70 prospects daily.
Collaborated with Marketing Department to create and deliver monthly campaigns to drive revenue.
Engage decision makers or current customers to targeted leads to begin sales process.
Scheduled 10-15 meetings for the account managers daily.
0-5

years of experience
Research, identify, qualify, disqualify and generate new partnership opportunities
Build high business rapport through phone/email correspondence to create and maintain pipeline
Methodically qualify, build, and manage an accurate sales pipeline; maintain a high volume of activity including outbound calls, emails, & social selling
Consistently responsible for top revenue generation among Sales Development team
Meet high activity metrics, including: creating prospects, qualifying leads, call volume, leads worked
Manage progress of prospected accounts to ensure accurate timeline and address any on-boarding questions
0-5

years of experience
Documented user pain points, created competitive analyses, and developed long-term strategy for a new channel of business.
Worked directly with business system and development teams to drive
Worked with leaders within the sales and technology organizations to determine the key performance indicators to judge channel productivity and effectiveness.
Worked full-time as a sales development representative; responsible for handling the inbound leads for three separate business units.
0-5

years of experience
Work closely with sales teams to schedule qualified demonstrations, meetings, build pipeline, and produce real business opportunities in accordance with approved sales management guidelines.
Prospect for new business through a high volume of cold calling and following up with prospects as previously identified.
Identify qualified prospects and navigate company structures to identify key decision makers and influencers.
Keep accurate records in our CRM and build client profiles by updating client information and managing sensitive client and prospect data.
Learn, understand, and apply the LexisNexis value proposition and our world-class business processes. Master all phases of our training and development program
0-5

years of experience
Called business to business talking to VP, President, and facilities managers to schedule meetings for Executive Sales Team
Utilized Excel, Salesforce, Gmail, and Word on a daily basis
Regularly met and exceeded my quota of 85 calls per day
0-5

years of experience
Top performing sales rep for consecutive months (out of over 60 employees)
Exceeded daily goal of 150 cold calls or 2 hours talk time to have closed deals from prospects
Had an average of 48% for qualified leads to Close Ratio
Helped manage to build morale and motivation with team members to build sales revenue
Conducted over the phone presentations to explain the benefits we would provide to them
Maintained a strong relationship with prospects and coordinated daily appointments
Prospecting leads through self-sourcing main verticals and targeted markets
Persuaded clients the importance and the benefits our SaaS product will do for them
Managed client accounts using CRM with Salesforce
0-5

years of experience
Targeted small to medium sized businesses to initiate [company name]' sales process through cold/warm calling, marketing emails, etc.
Nurtured client relationships alongside account executives with excellent verbal and written communication - maintained through Salesforce CRM
Coordinated and controlled all client to [company name] interaction and communication
0-5

years of experience
Generating interest in Podio through contacting and qualifying Marketing-generated leads
Exceed monthly/quarterly sales goals
Promoted to Team Lead in October
Assist in managing social media (Facebook, Twitter, Instagram and Blog)
Helped start and promote a Podio Ambassadors program
0-5

years of experience
Contribute to growth and development through forecasting, reporting, customer database maintenance and data entry, correspondence, and communications
Connect with prospects from multiple companies via cold-calling, networking, e-mail/e-marketing, and utilizing Internet information sources
Establish superior customer service relationship and professional communication skills
0-5

years of experience
Organizing daily tasks of emails, phone calls, texts and note taking
Performing a minimum of 50 professional phone calls per day
Recording call data through SalesForce, Google Docs and Microsoft Excel for analysis of monthly goals
Scheduling appointments with customers through Microsoft Outlook and SalesForce
Ensuring effective communication with higher ups (Sales Specialists, Reps, Managers)
Creating a positive and encouraging environment within the Department of Sales
Sourcing potential clients and making cold calls to hit daily/weekly/monthly goals
0-5

years of experience
Inside sales representative solely focused on outbound prospecting multi-location businesses
Generate leads for business sales representatives thru prospecting using tools such as Zoom Info, Hoover, and Salesforce.
Follow-up with lead provided by marketing, responsible for emailing and calling prospects in order to qualify which business sales representatives should spend their time with.
0-5

years of experience
Conducted high volume business to business prospecting calls with C and D level executives
Executed outbound campaigns for 3rd largest Microsoft cloud partner
Drove attendance to marketing events, online webinars, and product demonstrations
Worked with Marketing team to coordinate email cadences
0-5

years of experience
Make 80-100 calls into leads each day to generate opportunities and build pipeline.
Create mass email campaigns
Handle backend work for my sales reps such as creating opportunities, accounts, uploading leads and general administrative work in Salesforce and excel.
Develop strategic accounts and targeting leads with resellers and alliance partners.
0-5

years of experience
Managing inbound leads
Qualifying leads and arrange a time for a demo with the sales team
Attend trade shows and manage the booth
Work with the Marketing team on how to attract more traffic to the website
Become adept at identifying key prospects and key stakeholders within accounts
Cold call into strategic accounts as requested by Sales Reps
0-5

years of experience
Called around to different business owners, trying to help market their business
Created solutions for business owners to expand their business
Help business owners gain exposure through social media
Complete work through Sales Force
Website Optimization
Create ways for business owners to show on the front page of Google, for their particular area
0-5

years of experience
Made cold calls to generate leads for Apperian
Averaged 100-120 activities a day
Utilized LinkedIn and Zoom info while account mapping
0-5

years of experience
As a key member of the sales team, I assist our clients with merchandising and managing inventory to create a dynamic and lucrative shopping environment.
Sell monthly promotional items and place new marketing items into customers' stores.
Work with Accounts Receivable to collect checks and cash from customers and work out any billing issues
Load More
Sales Cover Letter Examples
Create your own professional resume in just minutes.
Try our resume builder today
Build Your Resume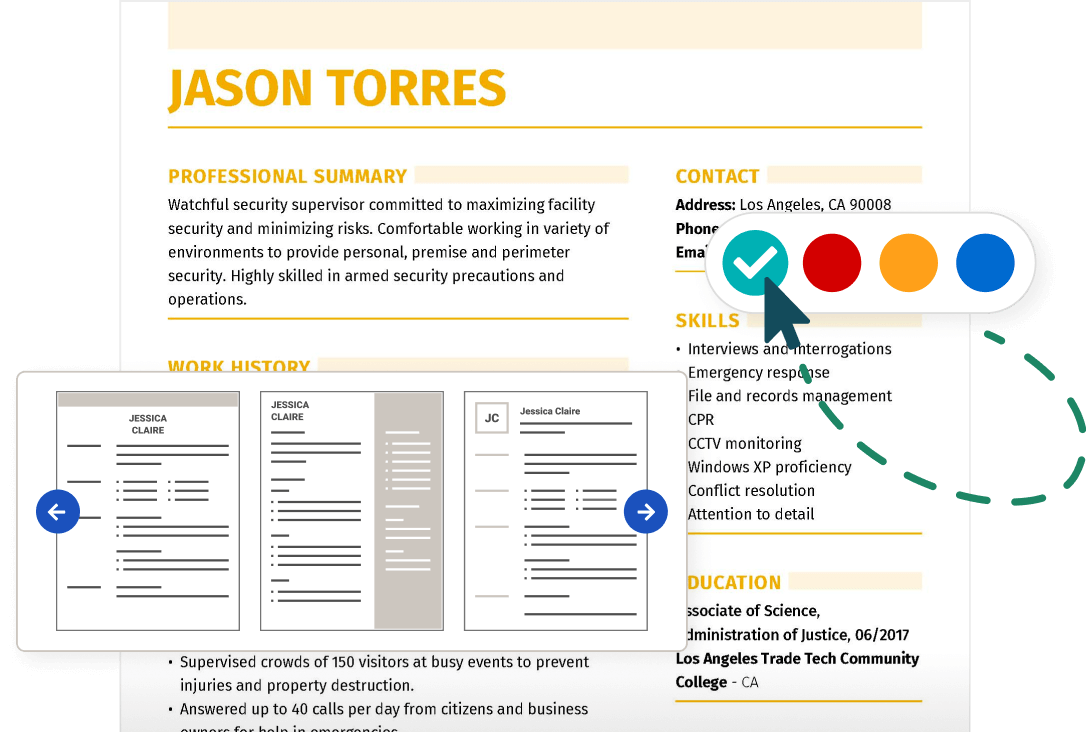 Sales Development Representative Resume FAQ
What should I put on my resume for a sales development representative?
Sales development representatives are responsible for expanding a company's customer base. They use strategies to identify prospects and they initiate the first outreach with potential customers. Their goal is to help book meetings and fill the pipelines for the sales team. As such, these are the eight most important skills to include on your sales development representative resume:
ROI and data analysis
Lead conversion
Sales pitches
Presentations
Lead qualification
Relationship building
Tactful communication
Running campaigns
How do you describe sales representatives on a resume?
You can describe yourself as a sales development representative in a professional resume summary like this:
Experienced sales representative who serves customers by selling products and meeting their needs. Services existing accounts, obtains orders, and establishes new accounts by planning and organizing daily work schedules. Takes pride in developing and sustaining relationships with the existing customer base through rapport building as a personable and trusted representative.
What does a sales development representative do?
Sales development representatives (SDRs) are inside sales representatives who focus solely on sales prospecting. Unlike sales executives who close new deals, SDRs reach out to new leads to qualify prospects.
They perform extensive research about the prospect and company before getting in touch with them since they are the first face of the company. They have ample understanding about the industry, sales processes and the competition to make meaningful negotiations.
They create Key Performance Indicators (KPIs) based on the number of qualified opportunities or sales qualified leads they garner every month.
In short, they ensure that the sales team has qualified leads to achieve company goals.
What skills should you put on a sales resume?
Sales professionals use a wide variety of skills to make a sale and maintain organization in their workplace. These skills can be further developed with workshops, seminars and on-the-job experiences.
You should have hard skills to help refer to the process of your sales while also having a mix of soft skills to build and maintain relationships.
Here are the most valuable skills you can include in your sales resume:
Sales software proficiency
Product knowledge
Active listening
Verbal communication
Setting goals
Organization
Time management
Strategic thinking