Featured in:
Retail sales supervisors work in retail environments as full-time employees. Because this is a management position, people in this career work with little to no supervision. The retail sales supervisor works with sales associates and customers on a daily basis. Their duties also include creating marketing campaigns and maintaining store profitability. People in this position must be detail-oriented and have excellent problem-solving skills. Retail sales supervisors often work nights, weekends, and holidays. Travel and continuing education often go hand-in-hand with this career.
Need cover letter guidance? Add a cover letter to your resume using our cover letter formats how-to guide and add value to your resume.
One extra step to impress a manager: A growing number of hiring professionals read cover letters to determine whether they'll interview a candidate or not. Use our cover letter templates to craft a complete application that lands you the interview.
Retail Sales Supervisor Duties and Responsibilities
Retail sales supervisors may be assigned a number of duties depending on the store or chain they work for, but some responsibilities are the same everywhere. These core duties include the following tasks:
Hire and Train Sales Associates
Retail sales supervisors are in a management position and are ultimately responsible for their sales staff. This means that hiring and training new sales associates is a necessary function of the job. They also supervise sales associates to make sure they are performing their job duties well.
Create and Implement Marketing Plans
A good retail sales supervisor will keep the store's profits high and keep selling merchandise regularly. This means that developing marketing strategies and putting them into use is essential. This may entail creating mailers, launching online advertising campaigns, and promoting in-store sales to get customers interested in available products.
Maximize Profits
Retail sales supervisors set and meet sales goals to keep profits flowing at a high level. This requires checking items that aren't selling as well and adjusting pricing or marketing strategies as necessary to get those products moving out of the store.
Continuing Education
In many cases, retail sales supervisors will participate in ongoing training by attending leadership conferences, sales seminars, and similar events. This may require some travel, but reimbursement is available for work-related expenses like these.
Maintain the Sales Floor and Inventory
The retail sales supervisor works closely with inventory systems to make sure that popular items are being restocked on shelves and that less popular items are not being ordered in large amounts. Keeping the sales floor attractive and appealing is an ongoing duty to keep merchandise moving out of the store.
Retail Sales Supervisor Skills and Qualifications
Retail sales supervisors must have strong management and leadership abilities, in addition to good customer service and sales experience. In this position, employers look for candidates who possess the following qualifications:
Attention to detail - the retail sales supervisor is ultimately responsible for the store's inventory and for keeping sale shelves stocked, so they must be well-organized and detail-oriented
Salesmanship - the supervisor fills in for sales associates who are out sick, on vacation leave, or on break, which means that a background in sales is essential
Customer service - there will be times when the retail sales supervisor must step in to mediate and smooth over customer problems, so experience in customer service is a big help
Leadership skills - because the retail sales supervisor is a management position, a background in management or leading others is highly desired
Marketing skills - the main goal is to sell products and keep profits high, so experience in marketing plays a key role in retail sales
Retail Sales Supervisor Education and Training
All employers will have their own educational requirements for retail sales supervisors, but people in this position generally have a bachelor's degree in marketing or a related field. Employers also look for candidates who have a background in sales. In some cases, a lot of sales experience can make up for a lack of degree.
On-the-job training for retail sales supervisors will be somewhat limited. After you are familiarized with the store, the stockroom, and the various inventory systems used, you will be expected to carry out your duties with little to no supervision or assistance.
Retail Sales Supervisor Salary and Outlook
On average, the median pay for retail sales supervisors and managers is $117,960 annually, according to information from the Bureau of Labor Statistics. People in this position make around $56.71 hourly. Job forecasts predict that career openings for retail sales supervisors will rise 7 percent by 2026, which is about average. In 2016, there were 385,500 jobs available in this field.
Create your own professional resume in just minutes.
Try our resume builder today
Build Your Resume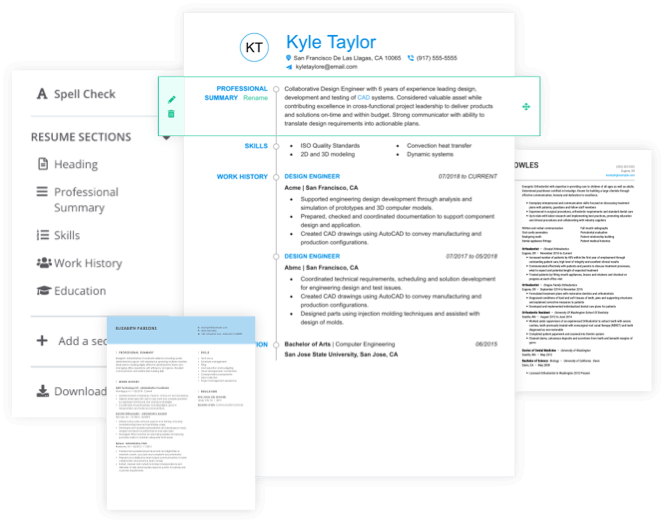 Retail Sales Supervisor Helpful Resources
Become a more effective retail sales supervisor by turning to these helpful resources, which can help you improve your managerial and salesmanship skills:
Retail Sales Supervisor Resume Help
Explore these related job titles from our database of hundreds of thousands of expert-approved resume samples: