Featured in:
More HR Business Partner Resumes
Use these HR Business Partner samples as a guideline or visit our extensive library of customizable resume templates.
Additional Human Resources Resume Samples
How to Format an HR Business Partner Resume
Choosing the correct format for your HR business partner resume is an essential step in your job search. Most HR business partners should use a chronological resume, which emphasizes work history and is the most common format. This format allows you to show an employer you've taken on greater responsibility throughout your career.
However, there's no one-size-fits-all approach, and some job seekers should use an alternative resume format, such as the functional or combination. The functional format highlights skills and qualifications, downplaying work experience, while the combination format balances skills with professional experience.
Let's take the candidates below as an example. They share many skills and career highlights but have taken dramatically different career paths. Candidate A always works full-time for established companies, working his way up the corporate ladder. Candidate B often works contract positions and took a few years off to spend time with his family. The former chose a chronological resume, while the latter opted for a functional one. Any overlapping skills in their resumes are in bold.
Chronological Resume
13

years in workforce

4

years at this job

BBA

Management and Human Resources

MBA

Human Resources Management
Work Experience
HR Business Partner, Global Logistics Inc.08/2018–Current, San Diego, CA
Provided HR support to over 400 employees, managers and executives across three different sites.
Led the rollout of a leadership program across two sites and 20+ managers to formalize and increase the adoption of a new performance review system.
Led a compensation realignment initiative for 200 highly compensated wage earners; instituted base caps in place of incentive compensation, directing the implementation of the corporate mandate.
Conducted hundreds of compensation assessments, including promotions, reclassifications, merit increases and job offers.
Partnered with business leaders to create a new people strategy centered on diversity, equity and inclusion.
Functional Resume
5

years in workforce

6

months in current role

BA

Psychology

MS

Management
Areas of Expertise
Compensation
Oversaw a compensation realignment initiative for dozens of highly-compensated earners.
Skilled in compensation assessments, from reclassifications and promotions to merit increases and job offers.
People Strategy
Have provided HR support to 300+ employees, managers and executives across two offices.
Established a leadership program to encourage using a new performance review system.
Knowledgeable in a variety of effective diversity, equity and inclusion programs.
HR Business Partner Resume Samples
No results found
0-5

years of experience

Promoted to manage daily business operations, performance, P&L, and strategy, including coordinating performance and revenue monitoring. Leverage analytics and collaboration with executive staff to define core objectives and business mission. Foster an environment of continuous process and staff improvement. Oversee monthly staff evaluations and any necessary one-on-one coaching, corrective actions, and training programs. Build a world-class leadership team through mentorship and management development, focused on decision making, problem solving, and conflict management. Orchestrate all aspects of staffing and recruitment, ensuring the talent and skills necessary to create a leading workforce of motivated, qualified personnel. Liaise with third-party vendors for payroll.
Transformed a failing operation to deliver $5 million in revenue for FY13, boost customer quality ratings to 88%, and realize a 77% on-time delivery rate.
Further boosted performance for FY14 with revenue improving $1.5 million, quality rising to 91%, and on-time delivery increasing to 97% via introduction of departmental SOPs and resolution of safety / quality issues.
Outperformed NADCAP / AS9100 audit expectations with minimal findings via excellence in training, documentation, and processes.
Launched a wholly new program with more streamlined HRIS, benefit, vacation, and compensation standards.
Negotiated a major reduction in fines from the Department of Ecology, dropping from […] to $29,000 by demonstrating compliance with DOE standards and implementation of corrective activities and training.
Motivated personnel to rise above the standard by introducing on-the-spot performance incentives.
0-5

years of experience

Responsible for 50 client accounts averaging approximately 4,500 worksite employees. Tasked with the design of comprehensive HR solutions that sustain key business requirements and align with the organizations short and long term business objectives. Analyze and diagnose issues; proactively resolve matters through organizational interventions and strategic solutions. Develop and implement vital business and HR strategies, fundamental programs, and processes that drive business results through effective leadership and change management. Collaborate across the organization in design and development of top initiatives.
Conducted business needs analysis to isolate problematic errors that were driving up costs. Created an action plan, the return on investment saved the company nearly $150,000 after one year.
Review current business practices and recommended solutions for higher efficiencies. Such as evaluating succession plans, preparing for growth or reductions in force.
Established successful relationships with C-level and management to enable change and drive employee engagement.
Played an integral role in evaluating compensation and performance and creating recommendations to drive higher productivity.
10+

years of experience

Partner with line executives and management to proactively address business issues related to work force development, employee engagement and productivity. Responsibilities include providing advice and counsel on multiple initiatives, maximizing all HR programs and cycles, and recommending solutions to complex employee relations and HR issues. Partner with other HR functions to drive and leverage all HR programs including performance management, compensation, executive and employee development, succession planning, work force optimization, staffing and benefits.
Prepared and conducted on-going training for the organization on key issues and trends such as; remote team building, creating a high performance culture, employee engagement, immigration, performance management, and handling difficult conversations
Initiated a 5 minute drill process to review key staffing decisions and help with organizational talent planning
Program Manager for site-wide development to enhance women's leadership and communication skills including roll out of the "Taking the Stage" program for over 100 women
Created new manager orientation training. Received Central Region 212 Award for this work; work was adopted as a best practice and deployed for use across [company name]
Effectively managed multiple resource actions reducing headcount 3-7% per year
0-5

years of experience

HR Business Partner supporting Nutrition & Health's Global Innovation and Strategy & Business Development teams. In addition, support a Business Unit R&D team.
Created talent management plans to align with a short and long term strategic plans.
Created and executed plans to integrate teams into the new organization, including organizational
Developed and implemented quick, frequent surveys to assess employee attitudes to inform
Analyzed employee engagement scores, created action plans to increase employee engagement.
0-5

years of experience

Managed the HR function supporting 350 employees across the US and Canada.
Led integration efforts for 1,000 acquired employees; created job alignment and salary architecture for the organization.
Facilitated talent review and calibration sessions with business leaders to improve organizational effectiveness.
Advised on compensation matrix to ensure top talent was retained and rewarded within a pay for performance structure.
Accountable for workforce planning; developed pipeline of talent to improve utilization of intellectual capital.
Partnered with leadership to resolve complex employee relations issues; conducted effective and thorough investigations keeping all cases out of litigation.
Analyzed trends and metrics to develop solutions and programs aimed at creating a sustaining company culture; facilitated several "lunch & learns", developed mentoring opportunities, organized town halls and implemented team building events to improve engagement and morale.
0-5

years of experience

Led $11M transformation with executive leadership in Enterprise Program Management.
Designed and implemented a comprehensive talent management strategy that drove significant business results that enabled the successful completion of multiple enterprise projects that directly enhanced patient care.
Designed and implemented a college recruiting strategy to attract and develop IT professionals to create an employer of choice brand.
Implemented compensation strategies that promoted retention efforts and reduced turnover rates
Designed and facilitated leadership training to minimize legal risk to the organization and further develop leadership skills.
Led career tracking initiative with the VP of IT Security which enhanced employee satisfaction and promoted the career longevity of the IT Security department.
0-5

years of experience

Restructured the reporting process to increase accountability, streamline the expense reporting, and annual appraisal processes
Created Team Talk Portal for expats and locals to connect, seek guidance, exchange ideas and updates.
Independently negotiated an agreement with the Heartland Community College for a series of training programs which saved approximately $100,000 for the business unit.
Guided managers and employees on immigration laws and US employment norms.
0-5

years of experience

Provided executive level HR direction, strategy and counsel for over 3,000 employees in the Consumer, Business and Media Sales divisions. Developed and grew relationships with senior Sales management to act as advisor; demonstrated extensive understanding of Sales area.
Championed organizational design review that resulted in 5% reduction in middle management positions saving over $50m annually.
Provided strategic direction in management training resulting in improved performance and morale.
Maximized employee buy-in, ensured smooth transition of Optimum West during sale to Charter.
Developed plan to reduce HR staff by 60% through centralized job roles and organizational structure.
0-5

years of experience

Kemper Services Group - in a shared services environment, provided support for Chattanooga Unitrin Direct group along with Kemper and Unitrin Specialty home workers for the South Central region
Member of project team that combined HR functions for three business units
Partnered with business unit customers to assist in meeting business unit objectives by managing employee relations issues and providing training, both customer-requested and HR initiated
Assisted managers in the areas of talent management, employee recognition, performance management, employee coaching, etc.
Assigned projects: Exit Interview Coordinator (prepared executive summary of exit interview statistics for business unit), Inappropriate Email Coordinator, and Workers Compensation Coordinator for Unitrin Direct
0-5

years of experience

Supported executives reporting directly to the CEO and their global teams including CFO, Legal Counsel, Corporate Marketing, as well as The Americas Sales and Service group (North America, Mexico, and South America), and the Americas Sciences group. Worked in a heavily matrixed environment.
Provided strategic and operational support to a team of approximately 350 employees.
Provided design and implementation of organizational development programs including Talent Management resulting in a training program for managers in writing development plans for high potential and high impact employees as well as plans created for levels director and above.
Designed global, multi-media New Employee orientation program.
Member of the FEI Learning Council providing guidance and input on global learning programs, vendors, and program quality. Delivered internally developed programs.
Significant Employee Relations responsibilities including global and local issues.
0-5

years of experience

[company name], where every connection counts is an electronic manufacturing organization with over 100,000 employee globally and segment focus on Transportation Technologies, Network Solutions, Fiber Connectivity, Industrial Solutions, Green Industrial Solutions and Consumer Device Technology.
Strategic HR business partner for Wireless, Engineering, Customer Care, Marketing, Finance, Product Management division, supporting 400+ employees both onsite, field and globally. Heavy involvement in ER investigations, TEOA, UW and Wellness activates for site
Led division succession initiatives to attract, identify, develop and retain ongoing talent to drive cultural change. 125 successor candidates identified
Increased overall philanthropic contribution for site by 10% which was recognized by the local UW chapter and media. Raised over $30,000 in charity and division donations of 250 volunteering hours in 2009.
TEOA and HR Quality champion. Streamed line and created various HR processes and quality documents for audit and compliance
Expert with VISA, Green card, H1B employment sponsorship programs. Saved over $300,000 annually by introducing innovative policies around immigration
Heavily involved in merger and acquisitions. Currently working on TE BNS merger to CommScope. Lead HR on various work-streams aligning policies and incentive programs to CommScope
6-10

years of experience

Served as HR support for corporate office and energy consulting group. Held responsibility for on-boarding and off-boarding employees, coaching managers, investigating and responding to employee issues, and answering employee questions regarding HR, benefits, and payroll. Helped develop documentation and hold open enrollment meetings for employees. Worked with vendors and IT group to ensure eligibility files were set up and processed accurately. Ensured all data was properly entered and maintained in HR system. Trained new HR Business Partners and provided backup when needed. Filled in for Benefits Administrator. Acted as Training Coordinator, scheduling both management and compliance training for employees. Provided HR support for both union and non union employees at all locations.
Participated as key member of the Implementation Team to set up new HRIS system.
Assumed additional responsibilities and role as HRIS Administrator for ten months.
Collaborated closely with Benefits Manager to create new benefits package for non-union employees.
Created new vacation policy to align time off benefits for employees coming in through acquisition.
Developed HR processes and forms to ensure compliance and consistency throughout company.
Subject Matter Expert for other HR Business Partners regarding company policies, benefits, and systems.
Continuously maintained a compliant HR department by providing accurate EEO, AAP, and VETS reporting.
0-5

years of experience

Transferred into this role for further professional development and to gain exposure to another side of the business. Responsible for partnering with management at Navajo Mine to maximize organizational effectiveness by developing its workforce and influencing the culture and performance of the organization while managing a workforce reduction. Responsible for providing advice to employees and managers on the effective execution of people processes including workforce planning, talent management, employee/labor relations, recruiting and retention.
Developed the workforce reduction strategy throughout FY14 due to a 30% reduction of coal production; managed the activities of the reduction with an effective execution that resulted in no grievances and no disruption to the operations of the business
Designed and managed the 1 and 5-Year Business Plans for the HR Department to include overseeing the budget of the Department; lead, coached and mentored team members to ensure delivery against performance targets
Facilitated workforce planning, headcount budgeting and the three-month rolling short-range forecasts for Navajo Mine ensuring alignment with organization design
Managed the investigation and resolution of Code of Conduct violations, including matters related to policy issues, grievances, legislative compliance; provided management guidance on disciplinary actions, and coordinated performance improvement plans to close gaps; responsible for replying to all claims filed with the Office of Navajo Labor Relations and the EEOC
Attained Six Sigma Green Belt Certification by working on a project to aid managers in better addressing unfit for duty issues, ensuring employees were fit to perform the essential functions of their roles, and reduce the number of workers' compensation claims
0-5

years of experience

HRBP to Technology Solutions and Product Development organizations (300 employees). Provide HR leadership and consultation to employees and leaders at all levels of the organization. Build and maintain a valued advisor relationship with leaders.
Research and resolve various employment related issues and provide coaching and counseling to minimize escalation.
Partner and support in the analysis, planning, implementation and communications relating to organization design and changes. Ensure the structure designs enable business performance while mitigating risks.
Assist leaders with drafting comprehensive job descriptions, market data review and ensure proper FLSA classification.
Researched, created and executed first Internship Program and Mentoring Program. Established criteria for internship program and built relationships with local colleges and universities. Drafted communication for Sr. Leadership approval.
Researched, created and implemented formal recognition and informal recognition program. Led employee engagement survey, conducted focus groups and defined outcomes.
Managed 2 direct reports.
Manage all aspects of immigration process for 17 employees in various immigration statuses' and partner with designated law firm.
0-5

years of experience

Provided HR support and guidance for multi-functional client organizations including manufacturing, engineering, business operations, security, and ethics with various locations and employee levels
Current client groups include production operations (300 salaried employees, VP highest level) and air vehicle engineering (300 salaried employees, Director highest level)
Partner with client leaders to manage culture change efforts across the site to drive increased business results through organizational alignment and accountability
Advised and partnered with client organizations in full realm of HR to include but not limited to leadership selections, employee relations, performance management, rewards and recognition, organizational structure, manpower fluctuations, and any other special HR initiatives/projects
Partnered with site Labor Relations to address represented employee concerns and ensure positive union engagement and relations with leaders
Facilitated and redesigned format for monthly site executive staffing manpower review
Trained and coached leaders/employees on HR initiatives and system tools informally and through formal training class facilitation
Managed site intern program of approximately 30 interns across the site
10+

years of experience

Employed with AXA since January, 1999 - HRBP to the Retirement Savings Group; Individual Annuity Sales Force, Customer Service, Business Development and the Funds Management Group. Collaborate with and support senior leadership team in the effective delivery of talent management objectives including the performance management program. Deliver feedback from the business to HR areas, as appropriate, on the effectiveness of programs and policies, provide change management leadership to guide clients and senior leaders on how to effectively navigate new HR programs and policies, create change management plans to support revisions to the business organization structure. Responsible for full-cycle recruitment process for client group, managing vendor relationships and creating diverse sourcing methods. Identify HR metrics relevant for reporting to the business on workforce planning initiatives.
Responsible for conducting all employee relations' investigations for the Individual Annuity business comprised of 500 + employees. Determine impact and consult with management team on recommendations. Partner with the law department team on complex investigations. Conduct learning and development sessions on Security Awareness, Conflict Resolution and Negotiation Skills regularly. Proficient and demonstrated understanding of company policies, procedures, state and federal laws, with the ability to apply the knowledge to multiple situations.
Supported Chief Marketing Officer & EVP; implemented business transformation process for Customer Marketing and Innovation Group; identified current state of the organization, provided tools and guidance on re-assessing talent, created recruitment strategy, conducted a corporate climate study to measure the level of engagement within the group which involved interviewing select employees, determining trends, communicating findings to management, created action plans for implementation and directed job elimination activities as necessary.
Created and implemented AXA's first Diversity Summit, bringing together thought leaders from various industries to share best practices and challenges around diversity and inclusion, led a team of 6 over period of 5 months in strategy creation, defining objectives, speaker list, activities, logistics and also played the role of session host with 95% satisfaction rating.
Designed and conducted focus groups with Sales Desk employees with the goal of understanding ways to increase the diversity of the internal and external sales force population. Provided results to senior leadership and implemented action items including review of Sales Desk compensation, creation of Sales Desk recruiting brochure and recommended conducting a presentation at non-traditional recruiting source - Women's Bond Club event.
AXA/MONY Integration: Participated on Transition Planning and Selection Team, documented hiring procedure for employee job elimination / re-hire processes, revised/updated materials and consistently collaborated with leadership team.
0-5

years of experience
Provided HR support to over 400 employees, managers, and executives located across three different sites.
Conducted compensation assessments, including promotions, reclassifications, merit increases, and job offers.
Partnered with recruiters and managers to identify, interview, and select qualified candidates aligned to business needs.
Coached managers through performance reviews, terminations, reorganizations, and reductions in force.
Led classroom and online training classes for new managers and conducted new leader assimilation sessions.
Investigated and resolved employee relations matters, including policy violations and leadership accountability issues.
0-5

years of experience

Partner with business management and employees to deliver training, manage employee relations issues, conduct recruitment, manage international movements, review compensation and all HR life cycle processes. Direct responsibility to population including Digital, Enterprise Computing, End User Computing, Quality Assurance, Security, and Data Center employees in California, Arizona, Missouri, Connecticut, Ohio, Jamaica, Mexico, and Brazil.
Led Leadership Development Pillar team (comprised of managers) aimed at increasing overall organizational maturity in hr processes and strategy - ensuring ownership by management and commitment to closing gaps
Conducted refresh trainings for 200 employees on Talent Assessment, Development Planning, Behavioral Standards and Performance Evaluations, as tools and practices changed
Managed 47 international transfers in 2013
Partnered with global HR Leads on a monthly basis to ensure people plans were tracked and executed
Technology lead within the HR team, managing the employee facing SharePoint site, digital operations board, regional metrics and reporting, survey administration, and excel modeling
Guided and advised business partners through annual talent assessments, succession planning and calibration discussions, proactively pipelining for future openings
Approved and facilitated the administering of three cycles of the performance management review process ensuring timely, fair and clear employee evaluations
Completed position review with Compensation CoE for IS/IT positions to ensure market appropriateness, internal equity and FLSA accuracy
6-10

years of experience

Accountable for employee relations that drove engagement, improved morale, and promoted company culture; full cycle recruiting, onboarding and new hire orientations. Responsible for the administration of benefits (Medical, Dental, Vision, 401k), leave of absences (FMLA, CFRA, Sick Leave, and Bereavement); and managing workers compensation cases. Collaborated with all levels of management in a multi-state structure to develop business strategies; update all existing job descriptions, develop new job descriptions; provide counsel regarding employment and wage and hour law, compensation, and FMLA status question.
Managed company Wellness Program to further education and understanding of Wellness principles for all employees. Coordinated company-wide interactive wellness events.
Trained Management in basic ergonomic evaluations in order to prevent minor repetitive injuries.
Performed I-9 audit; documented errors/corrections to be compliant with federal requirements.
Prepared staff for future career growth through coaching and development planning and techniques.
Eliminated waste and streamlined paper-based processes and forms by converting to electronic versions.
Significantly reduced operational overtime costs by 90% through development and implementation of Lean Process efficiency improvements
Reduced financial loss by 10% through the development and implementation of risk management practices
Reduced vendor costs by 5% by negotiating fees and the development and implementation of vendor performance management monitoring tools.
0-5

years of experience

Administered various human resources plans and procedures for all of the Direct Channels groups, inclusive of the call center in New Jersey.
Implemented new personnel policies and procedures and prepared and maintained employee handbook policies.
Trained employees on new, quarterly incentive program and administered compensation program.
Provided employee relations counseling, outplacement counseling, and exit interviewing.
Partnered on the decommission of departments within the Direct Channels lines of business.
0-5

years of experience

Hybrid role as O&TD Manager responsible for HR projects driving organizational effectiveness and leadership development in addition to SR. HR business partner to two senior leaders and their organizations.
Responsible for the development & implementation of a new Power & Water leadership development program for hi-potential employees ready to move to Executive level (focused on emerging regions).
Led the roll out of a leadership program to 33 global sites and over 1000 managers to drive culture change around Simplification.
Partnered with Diversity leader to launch P&W diversity council including Sr. Leadership responsibilities and 2014 imperatives.
Led lean action workout around staffing process to reduce time to fill and remove non value added steps.
Selected as GE campus recruitment leader with Syracuse University to recruit top students for GE Leadership programs and establish targeted recruitment strategy with SU Career Services.
0-5

years of experience

Strategic HR Business Partner to Vice-President & Controller (the Americas). Advised leadership team of finance directors on corporate HR policies and procedures as well as compensation planning, performance and succession planning.
Led strategic alignment among 8 senior finance executives, supporting over 75% of finance customer base over a 12-month period
Implemented salaried personnel reduction initiative covering over 1,100 Finance employees
Planned, coordinated, and conducted All Employee Executive Update Meetings for over 700 attendees
0-5

years of experience
Assessed global organizational needs; used data to align HR initiatives with business strategy.
Partnered with business leaders to create the overall People strategy, including diversity and inclusion actions.
Coached executives and leaders to improve individual and team performance; assessed, analyzed data, and proposed recommendations.
Partnered with business unit leaders around organization development interventions, including team building, organizational trust, vision creation, organization assessment, organization redesign, and change management.
Developed and project managed on-boarding and integration program, including hiring manager templates, tools, and resources website.
Created retention tool for managers to proactively identify and mitigate flight risk of high potential and diverse employees.
Managed organizational health survey project; drove over 80% response rate, analyzed data, generated reports, and presented findings to leadership.
10+

years of experience

Provided HR management and oversight to multiple Hertz administrative facilities in Oklahoma City and Mobile, Alabama with a staff of 33 direct and indirect reports. Responsibilities included employee recruitment and retention, HR and EEO training of management, worker's comp administration, employee activities, and employee problem resolution for 3000+ employees in the separate operations.
Key member of team that included operations management in opening satellite call center with 500+ employees within three months.
Teamed with other HR professionals to develop company-wide online exit interview questionnaire including summary report generation.
Coordinated assessment center process for all supervisors and team leaders in order to determine strengths and areas needing development.
Achieved compliance following OFCCP EEO Compliance Audits conducted every four years during entire tenure in position.
6-10

years of experience

Aligned with VPs and Directors to support implementing strategic workforce planning in support of business objectives.
Coached managers, provided team building support and work collaboratively to build metrics that measure and move the business. Identified business and people needs in order to help managers develop long term solutions.
Contracted with HR Centers of Excellence, including Organizational Development, Training, Talent Acquisition, Compensation and Benefits to develop strategies to support change management, associate development and process improvement.
Provided human resources employee relations support for corporate functions, including IT, Legal, Finance during periods of major reorganizations, off shoring efforts and acquisition activities.
Coached, counseled and developed associates at all levels, including senior leaders to build high performing teams.
Project managed and implemented various training programs, including change management workshops, diversity training, team building workshops and worked with SHRM to bring an in-house training program for HR professionals.
Fostered new diversity initiatives, including building diversity business case and support new employee resource groups.
6-10

years of experience

Managed HR and led cross-functional teams for multiple practices in a rapidly growing international business consulting firm. Applied strategic planning, business priorities, and management skills to achieve critical HR deadlines while maintaining high quality standards.
Designed and implemented strategic programs in total compensation and talent management and architecture with key metrics and policies for successful initial public offering. Resulted in Huron designated as one of "Best Firms to Work For in 2006" by Consulting Magazine.
Led teams focused on increasing consulting staff by 200% a year. Integrated acquired businesses and opened/closed multi-state/country operations helping drive 20% revenue growth goals.
Spearheaded People Councils of high potential staff, leading initiatives including: experienced hire orientation, engagement feedback, project shadowing, and strategic mentoring. Programs identified best practices and expanded companywide.
Performed comprehensive employee engagement surveys and utilized results to integrate action plans that delivered key improvements of 30% in retention and 5% in productivity.
Led development and introduction of flexible retirement program that retained key leaders and insured strategic knowledge transfer.
Initiated and defined target revenue metrics for top two levels of consultants. Revenue plan used as model for other practices.
0-5

years of experience

Responsible for the implementation of HR strategic initiatives using continuous quality improvement methodologies to support workforce planning, retention, talent acquisition, on-boarding, training and development, succession/replacement planning, leadership development, performance and compensation management, non-union awareness, HRIS Data Management, teammate satisfaction, organizational effectiveness and federal/state legal complaints/issue resolution supporting 7 Divisional Regional Operations Directors and their staffs of over 1,000 teammates in 5 states, 65 centers.
Member of divisions Leadership Cabinet responsible for the governance of the division.
Implemented large-scale, time bound, highly visible and confidential HR initiatives to the division.
Developed division's first On-boarding Platform for Senior Leadership Team members.
Managed recruitment activities/recruiter to support the Division-improved hiring manager communications and shortened cycle time.
Developed Divisions first HR communications platform; brand, style and tone.
Managed HR portion of an unwelcomed acquisition ensuring retention of top talent.
6-10

years of experience

Independently managed the recruitment process for restaurant operation professionals with a focus on sourcing and on boarding "Top Talent", for multi-brand and multi-regions. Sourced, interviewed and selected candidates; administered background investigations and reference checks. Managed company's online applicant tracking system.
Partnered with Leadership Team to accurately identify needs and create effective sourcing strategies to generate a diverse pipeline of qualified candidates.
Passionately express the company's business structure and culture to candidates who exhibit behavior consistent with the vision and values of the corporation.
Negotiated offer packages and transition of new employees into the organization.
Hired over 500 restaurant leaders with a retention average of 96% while staying within staffing budget.
Organized and facilitated round table discussions with hired personnel to identify areas of potential improvement around the hiring/training process and improve retention.
Established strong recruitment processes, documentation and tools to monitor and control assignments.
Created/implemented the Internal Development process to drive internal growth.
Assisted with developing and conducting Training Programs within company.
Conducted exit interviews with candidates to gain knowledge of our short falls in candidate selection.
Consistently exceeded KFC/YUM Brands Staffing goals since in position.
0-5

years of experience

Joined with technology executives and global senior management to support 600 employees.
Led a compensation realignment initiative for 200 highly compensated wage earners; instituted base caps in place of incentive compensation, directing the implementation of the corporate mandate at the BU level.
Joined with leadership to implement an aggressive talent up-skill exercise that recreated 100+ roles and jump-started talent acquisition efforts targeted at top-tier firms.
Navigated complex immigration challenges associated with the Employ America Workers Act.
0-5

years of experience

Recruited to report to VP of Human Resources and to design Talent Management program to help open new company locations in the Central and Gulf States of the US as well as other locations, guiding management on a full spectrum of HR operations, systems and programs.
Saved recruiting expenses by implementing company's first employee referral bonus program.
Systematically upgraded the bottom 10% and raised the bar on overall company performance by designing and implementing new performance management process while efficiently handling all HR Business Partner workplace issues for 500 employees.
Successfully drove alignment and high performance in a high growth, highly dynamic business environment by designing/implementing new on-boarding, performance management, and employee engagement initiatives.
Reduced benefits costs by 15% annually through meticulous recordkeeping and ensuring that company did not pay for benefits for which employees were ineligible.
Created a flexible and well-received tool after introducing company's first formal performance review program.
Designed and implemented company employee handbook.
Implemented DOT drug testing policy and regulations for organization.
PeopleSoft Implementation and train managers and HR Service Center on payroll, HR, benefits and manager self-service
0-5

years of experience

Consults with company leaders to set direction and problem solve by providing creative and analytical business alternatives. Provides support to the organization from both a field practitioner and strategic level perspective. Evaluates appropriate company philosophy and policy to apply to HR related activities and helps to develop working action plans that bring immediate and sustained change. Acts as a knowledgeable and resourceful Business Partner by providing hands-on support across field locations throughout assigned territory.
Conducted leadership needs analysis within first month of employment and delivered appropriate training
Immediately established respectful and trustworthy relationships with all branch locations within territory
Contributed to change management on major company initiatives
0-5

years of experience

Primary HR Business Partner for C level Executives within Global FT Technology and Franklin Capital Corporation "FCC"; participated as an active member of the leadership team.
Built collaborative partnerships with CIO, CTO and their direct reports along with HR management to design and introduce programs that supported people and business goals, met the needs of clients, and enabled a competitive position in the market
Strategic Partner and primary advisor in the development of Project Management and Business/Systems Analysis Career Paths and associated required Competencies
Advised senior management on complex Employee Relations issues and consulted/guided final decisions
Proactively analyzed business results and HR metrics to identify areas of opportunity and developed appropriate HR solutions
Facilitated leadership development and succession planning discussions down to mid management levels; fostered professional talent development reviews and encouraged rotational opportunity activities
Proactively influenced senior management on global issues and workforce planning/recruitment strategies
Sought out to participate in developing solution strategies for enterprise-wide globally impactful issues
Oversaw the global talent acquisition process for Technology Management level openings
0-5

years of experience

Provided tactical HR leadership and consulting in unionized manufacturing plant with 450 Union and Salaried employees.
Established open and effective partnership with the Union and Management and improved labor relations.
Handled grievance investigation and resolution while minimizing quantity escalated to arbitration.
Communicated and administered policies and procedures ensuring fair and consistent application.
Managed Worker's Compensation claims and investigations during monthly claim reviews with vendor.
Increased employee engagement by fostering open communication, planning activities/recognition, promoting career development, and offering health and wellness initiatives.
Led selection and recruitment initiatives and developed a plant-specific on boarding program by streamlining with Shared Services.
Analyzed applicant flow data and compiled affirmative action plan to ensure government compliance.
Managed activities impacting performance appraisals, salary planning, wage reviews, conflict resolution, disciplinary actions, job
Supported community sustainability by planning various activities (i.e. clothes drive, food drive, Christmas Eve toy drive).
0-5

years of experience

Responsible for driving talent development by the development of HPTi's coaching culture, manager development, performance, and workforce retention initiatives. In addition, responsible for the management of the HR business services resources and processes including benefits and compensation, human metrics, employee relations, on-boarding and termination programs.
Integrated 500+ employees from HPTi into DRC in the areas of performance management, leadership development, compensation, policy and programs, HRIS and benefits. Increased retention through focus on manager communication. Maintained 83% retention 1st year through DRC/HPTi integration.
Designed and implemented Career Highway (a Helios award-winning career development program).
Designed and executed a company-wide leadership and performance-coaching program. Provided individual coaching and training to program managers.
Developed and executed both junior & senior level performance management documents, closely linking company mission, values and goals to performance, career development and rewards.
0-5

years of experience

Strategic Business Partner to EVP of Global Sales and SVP of Strategy & Field Operations.
Leads HR team supporting Professional Services, Enterprise, Government, Small & Medium Business Sales and Operational Support Teams.
Global Lead for Sales restructure and realignment resulting in increased efficiencies and capacity for worldwide sales organization.
Consults regarding all Human Capital needs including Employee Relations, Recruiting, and Organizational Development.
Led efforts that reduced Attrition and improved Employee Satisfaction.
Utilized strong matrixed partnerships to reduce Time-to-Hire metrics.
0-5

years of experience
Designed and led leadership effectiveness program to enhance collaboration and communication for a newly formed team (10 Directors/1VP), which improved business engagement and employee satisfaction survey results
Lead for reorganization within IT, specifically partnering with senior leaders (VPs) to manage processes and ensure compliance with global laws and protocols
Full-coverage HR support (e.g. yearly merit/bonus, day to day employee relations, performance management, change management, and leadership training) to help client reach overall IT and organizational goals
Learning and Development focal for Technologies HR, ensuring consistency of development across Technologies and adherence/alignment with [company name] Learning and Development programs
Support 3 IT SVP, and their leadership teams
0-5

years of experience

Serves as the HR point of contact for over 300 professionals in multiple locations within the Advisory service line National Advisory business unit. The practice areas are high growth, very dynamic and extremely fast paced.
Works with leaders to implement HR initiatives that support the business strategy and related outcomes.
Ensures that HR strategies, programs and initiatives are implemented and communicated throughout various parts of the organization efficiently, accurately and at the proper time.
Tailors HR strategies and programs related to compensation, on boarding and talent management to fit the needs of clients.
Plans, facilitates and executes the performance management process.
Consults with leaders and employees on a comprehensive range of HR issues to influence outcomes that benefit our people and our business.
Handles and resolves complex employee relations issues consulting with leaders and the legal team as necessary.
Leverages detailed reporting on headcount, compensation, and other people related metrics to coach leaders when making key talent and human capital planning decisions.
0-5

years of experience

Responsible for collaborating with 1 manager and 4 supervisors to address employee issues regarding morale, peer interaction, performance deficiencies, poor conduct, policy violations, and ethical violations.
Developed and track HR related business metrics by collecting, analyzing and summarizing data
Conduct FLSA testing to determine exempt status
Evaluated and analyze existing practices, procedures and policies for improvement; develop/recommend revisions to/and or new practices, procedures and policies.
Pooled resources with HR team members in the administration of tasks and other activities
Standardized over 250 job descriptions to support global initiative of a centralized compensation system
0-5

years of experience
Serve/Lead various cross-functional teams focused on staffing, performance management, organizational improvement, compensation, employee relations, EEO and all other areas of the organization's strategic HR initiatives for a workforce of 200 software professionals.
Created and spearheaded 2 different strategic approaches to staffing that won the Line of Business an extra $750,000 in a 6 month period.
Construct and maintain monthly HR metrics including Equal Employment Opportunity, employee engagement, talent pipeline, regrettable losses, and voluntary turnover.
Composed an international staffing process that successfully placed 30 repatriating employees in a 3 month time frame.
Formulated robust training plans for 120 employees in a 1 month period.
Constructed/maintained 5 Wiki pages for the team to track 100+ candidates throughout the hiring process.
Collaborated with points of contact across multiple lines of business to successfully place 25 'at risk' employees within a 2 month period.
Managed budget of $250,000 for 3 Lines of Business for quarterly incentive programs.
HR Lead responsible for streamlining staffing reducing time between interview and offer from 17 days to 24 hours.
Conceptualized/employed a Quick Reference Guide that led to reduced time of employee reward/recognition from 4 months to 1 month.
0-5

years of experience
Executed processes in all HR functions, including staffing, onboarding, training, performance management, benefits and culture assessments.
Led cross-functional working groups and acted as key partner for pay and benefits, employee relations, learning and development, talent acquisition and other HR departments.
Planned, developed and implemented strategic HR initiatives.
Managed cyclical processes, and created and executed new routines.
Responded to immediate business needs and employee issues, facilitating delivery of HR solutions.
Served as subject matter expert on HR policies, communicating recommendations and providing guidance on HR processes.
0-5

years of experience

Responsible for providing Human Resources leadership and support across multiple functions for the Corporate office as well as consultative support to all U.S. locations.
Managed a staff of four: Payroll Manager, Payroll Administrator, Sr. Recruiting Specialist, and Staffing and Development Specialist.
Provided guidance and support and advised managers and employees in the areas of performance management and coaching.
Managed employee complaint investigations and disposition.
Managed HR Administration including policy creation and adherence, communications, staffing, on-boarding, separations, and off-boarding.
Developed and delivered training across the organization on coaching, performance management, emotional intelligence, MBTI, communication, harassment and other compliance related topics.
Responsible for global Organizational Review process including succession planning.
Ensured legal compliance in all appropriate areas.
0-5

years of experience

Provided business metrics for Managers, Directors and VPs to identify key trends and analysis to align HR priorities with business needs
Produced compensation reports and analysis of client groups and for new hires
Assisted in two acquisitions by completing due diligence and planning change management
Worked with the company during SEC filings to take company public (9/2005)
Managed upgrade to Taleo 7.0
Worked on implementation of the new HRMS; completed current state, future state and worked on gap needs analysis
Responsible for communication and training of changes to benefits and policies
Processed payroll twice monthly communicating all HR transactions including: new hires, terminations, transfers, promotions salary changes, commissions, bonuses, referrals, and personal updates
Wrote reports from HRIS for EEOC, stock option grants, benefits censuses, HR metrics, salary reports and as needed by managers
Managed participation in company compensation survey (Culpepper Survey) and worked with an outside consultant on creating formal compensation philosophy
0-5

years of experience
Provided HR Business Partnership and OD support to senior leadership in Engineering and Operations
Drove org structure changes to enable better efficiencies: strategy exercises, role changes, new leader assimilation, culture audits
Helped improve our recruiting and employment branding: website branding, tech talks, etc.
Redesigned the awards and recognition program to help drive retention and morale
0-5

years of experience
Supported the US Operations consisting of 300+ employees in Legal, Portfolio Management, Finance and Facilities.
Worked with managers and staff on employee relations issues, including compliance/legal issues, progressive discipline, and ensuring appropriate documentation.
Facilitated working sessions and interventions with managers and/or team members to ensure proper working relationships.
Provided management, oversight and monitoring of the annual performance review process.
Facilitated the implementation and revision of corporate policies to ensure compliance with applicable laws.
6-10

years of experience

Senior HR Generalist accountable over 500 sales managers and employees from Maine to Florida. Work closely with VPs, Directors, and HRBPs in a strategic partnership.
Designed succession planning process, resulting in a better identified and qualified internal advancement talent pool.
Researched, built and delivered new performance management feedback model for use by management. Stressed clarity of expectations and improved employee engagement and productivity.
Implemented quarterly strategic personnel assessment meetings with senior leaders. Created a talent planning process and tracked employee progress. Reduced average employee advancement time from 24 to 18 months.
Researched, designed and implemented a retention process. Reduced turnover of hi-potential employees 50%.
Subject matter expert for compensation redesign project. Trained and coached managers on how and why we had to change so they were able to explain to employees.
Mentor and develop employees through one-on-one coaching to identify career options and create action plan.
0-5

years of experience

Functioned as onsite HR representative and lead during the BoxTone acquisition, managing all communications.
Responsible for the onboarding of all former BoxTone employees to [company name] employees ensuring 100% compliance within all areas of HR.
Assist with the development of initial and post integration organizational structure.
Single point of contact for all East Coast employees driving, communicating and implementing [company name]'s best practices and corporate culture.
Work to resolve employee and organizational issues and challenges that resulted from the acquisition and integration.
Led the migration of all BoxTone HR functions to the corresponding functional areas of Good Human Resources in the corporate headquarters.
Assist with onboarding and integration for two other companies that [company name] acquired since my joining the team.
0-5

years of experience

Senior HR Business Partner at a 1,000+ employee unionized aluminum manufacturing plant
Responsible for all labor relations activities with United Steelworkers Union
Grievance resolution, contract administration, responding to ULP's, coordination of disciplinary actions, contract negotiation preparations
Reduced ULP charges from 40 to 2 over three year period
Reduced grievances from 1,000 to 200 over three year period
Training and development of supervisors and managers
Reduced Short Term Disability caseload by 30%
Provide HR support for exempt employees
Developed and implemented actions identified from employee surveys to improve employee engagement, communication and training
0-5

years of experience

Provided Human Resources support to the global technology and operations business units. (approximately 2,500 employees)
Responsible for executing annual HR programs such as performance management, succession management, merit planning and global equity administration in all countries of operation and ensuring consistency globally in all sites.
Responsible for talent acquisition and driving the workforce plan in each BU across the globe.
Responsible for administration of sales plans for global sales and account management teams.
Served as the senior HR consultant to the EVP of technology and the SVP of Global Hospitality Solutions.
Led and a team of HR managers in the US, EMEA and Latin America.
Led global diversity initiatives and work with local/country HR on various compliance programs.
0-5

years of experience
Consult with clients and Sr. executives in setting performance goals and objectives for their groups and lead talent planning
Council and train executives how to handle tough employees and lead performance 360 process for vice presidents and directors. Led remote focus groups in EMEA and APAC
Conduct exit interviews and identify people trends to notify HRBP and management to keep abreast of human capital needs
Play a key role in Performance Management, Talent Planning, Salary Planning, Employee Engagement Survey administration
Led team and implemented knowledge share forum for 30+ members of the corporate HRBP team
Served as a liaison between HRBP team and SAP org management team
0-5

years of experience
Partner with leaders in Operations and Sales to identify, develop, implement and communicate HR programs and initiatives.
Consult with senior leadership on workforce planning, organizational effectiveness and change management. With the guidance fro my Director, have led the design and execution of multi-department restructures.
Solely responsible for facilitating employee relations within business units working with managers, employees, and our corporate and outside counsel as needed.
Contributing as SME to the implementation of a new HRMS (Workday).
Currently project managing a new HiPo program, as well as continued project management of the Internship Program and D&I program developed and launched in my former role.
Load More
Human Resources Cover Letter Examples
Create your own professional resume in just minutes.
Try our resume builder today
Build Your Resume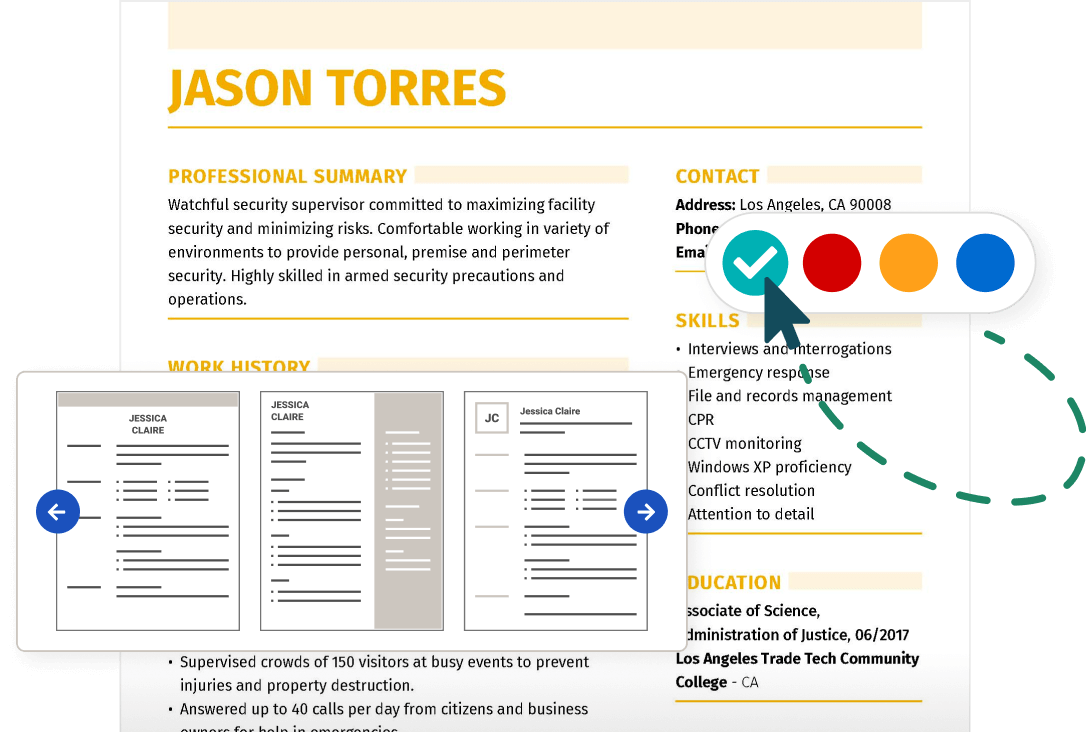 HR Business Partner Resume FAQ
What does a business partner do in HR?
HR business partners ensure the policies and procedures throughout a company align with its business objectives. Unlike other HR roles, business partners focus less on compliance and administration. Instead, they work closely with the C-suite executives to ensure the business goals and HR policies are aligned.
The day-to-day tasks of an HR business partner include:
Consulting with leadership about HR matters.
Providing feedback on HR policies.
Analyzing trends and metrics to inform programs.
Managing and allocating HR funds.
Supporting employee productivity.
What are the top three competencies you look for your HR business partner to possess?
Research suggests the top three competencies for HR business partners are:
Business knowledge. Their ability to understand business imperatives makes business partners stand out from other HR roles. You want someone who comes in to have a business background or at least in-depth experience working with senior leadership teams.
Change management. After surveying a company's departments, HR business partners frequently advocate for changes to programs, policies and procedures. Skill in managing the transition is critical.
Data fluency. Straddling the line between two data-driven groups (human resources and C-suite executives), business partners must be able to collect, analyze and interpret data, sharing findings across departments.
How to write an HR business partner resume?
When you sit down to write an HR business partner resume, follow these steps:
Write down your contact info.
Analyze the job description and highlight keywords related to your previous positions.
Write a thorough list of your work experience, including highlights of your responsibilities and achievements in bullet-point lists.
Add a professional summary or resume objective.
Build a skills section, making sure to include soft skills and hard skills.
List your education.
Consider additional, optional sections like volunteer work, certifications and special projects.
Proofread the resume before you submit it.
If you're unsure where to start, you should use our Resume Builder, which walks you through the process step by step.