Featured in:
More HR Generalist Resumes
Use these HR Generalist samples as a guideline or visit our extensive library of customizable resume templates.
Additional Human Resources Resume Samples
How to Format a HR Generalist Resume
Depending on the length of your HR experience and practical training, you can use one of three resume formats: chronological, functional and hybrid.
The functional resume is skills-based and a strong option if you're recently changing careers, relocating or freshly out of related training. Use this resume format to prioritize transferable skills and experience related to a generalist's main duties, like Candidate B below.
However, if you're an experienced HR generalist with over three years of experience, use the hybrid or chronological resume, like our sample Candidate A. This resume uses a familiar layout and standard resume section headings to score well with applicant tracking systems (ATS) and hiring managers.
Candidate A — Hybrid or Chronological Resume
HR Generalist
10

years of experience

2

years at this job

BS

Human Resources
Work History
HR Generalist, Pear Inc.
June 2020 - current
Supported compliance projects related to anti-harassment training, new manager training and internal department security training.
Helped identify and screen potential job candidates before referring 6% of applicants to related departments.
Partnered with office managers and department heads to arrange off-site team bonding events.
Candidate B — Functional Resume
HR Generalist
1

year of experience

8

months at this job

BS

Human Resources
Professional Skills
Human Resources
Oversaw the hiring and onboarding process for five key departments: product, finance, data analysis, development and search engine optimization.
Process exit materials related to departing employees.
Oversaw the successful, accurate transfer of employee records from a dated in-house program to Workday.
Interpersonal Skills
Maintained employee trust by honoring confidentiality.
Partnered with the executive leadership team to arrange employee advancement programs such as cross-department outings, mentorship programs and special speaking engagements.
Identified employees with similar interests and encouraged interoffice friendships and mentorships.
HR Generalist Resume Samples
No results found
6-10

years of experience

Managed all aspects of leave administration, disability programs, training programs, and health benefits for over 300 employees.
Educated and advised employees on group health plans, voluntary benefits, and 401(k) plan.
Developed, launched and administered new hire orientation program for 100 temporary employees and 25 full time employees annually.
High-impact communicator effectively presenting and conveying information with customers, team members, and top tier executives.
Maintained accurate employee records using PeopleSoft.
Managed and monitored compliance of the Affirmative Action Plan.
Member of the company labor relations committee during negotiations.
0-5

years of experience

Hired to provide coverage while Human Resources Director out on Short-term Leave
Supported compliance projects college wide for receipt of updated MA State policies (conflict of interest, sexual harassment, drug-free workplace) and MCAD (MA Commission Against Discrimination)
Coordinated MCAD and HAVEN training for employees of college
Created new Manager Guide
Provided customer service to all employees including new hires for Spring 2015 semester
0-5

years of experience

Responsible for payroll for 40 retail locations (approximately 670 employees) in the southeast. Assisted managers with employee relations by following progressive discipline policies. Processed Workers Compensation Case Management, Unemployment Claims and hearings. Conducted Orientation for new hires. Prepared the department for new store location openings. Attended store hiring events. Was main contact for professional employment organizations. Processed promotions, rate changes, terminations and other changes affecting human resources payroll.
Managed the company's transitional payroll processing with very short notice.
As part of the "Team", helped to process the converting to paperless application
Guided new providers through transition of Payroll, Benefits, and other modules.
Developed new procedures for the HR Department.
Trained Site Managers in Human Resources/Payroll.
0-5

years of experience

Responsible for daily HR/Administrative support to Executive Director, Recruiters, Clients, Employees and Candidates
Answered multiple phone lines, greeted candidates
Reviewed applications and paperwork/collected all necessary documents
Conducted employment verification, reference checks, criminal backgrounds, credit checks, RN/LPN license checks and administered drug screens
Screened resumes, scheduled and conducted interviews, composed Congratulatory Letters
Payroll/Invoicing/Bank Deposits/Accounts Payable
Assisted clients with job orders, post jobs on website
Maintained electronics surveys - Survey Monkey - client and candidate based
0-5

years of experience

Partnered with VP, HR Operations and Director, Diversity & Inclusion initiatives.
Managed different HR projects and operations. Provided support to [company name] Capital Markets employees globally.
Maintained strong relationships with vendors while tracked schedule of [company name]'s Diversity & Inclusion events.
Ensured that project deadlines are met. Compiled HR metrics from SAP.
Responsible to process invoices and managed annual budget for Diversity and Inclusion events.
Attended team meetings and provided assistance to other HRBP that supports different financial division as needed.
0-5

years of experience

Manage multiple customer sites with more than $215,000 revenue per week. Imbedded in the customer's HR function, partnering with Business Unit Managers to coordinate and develop training, HR projects and strategies. Hands on with ER investigations, safety, communications, site audits, recruiting, site events and business development.
Successfully repaired customer relationships
Created a customized new-hire orientation process for multiple customers
Developed an annual Wellness Event
0-5

years of experience

Partnered with employees and management to communicate various HR policies, procedures, standards and regulations.
Processed terminations, leave of absence requests, promotions, internal transfers, contractors and new hires.
Conducted weekly new hire orientations for full-time EE, company temps, agency temps and interns.
Assisted in full recruitment such as placing ads on internal/external job boards, arranging interviews, making job offers and organizing start dates. Maintained Ceridian HR system by posting new position, updating changes, and tracking applicant information
Partnered with HR Business Partner in EE relations, Workers Compensation and Leave of Absence administration.
Managed HRIS and compiled reports from database.
Organized training schedules for new and existing staff and kept training records up to date.
Assisted in the training and development of the Successfactor tool.
Supported HR Business Partner in performance and Talent Management process.
0-5

years of experience

Processed and maintained employee personnel records (new hire paperwork, I9's, status changes, terminations, performance appraisals.)
Generated HRIS statistical and ADHOC reports such as turn-over stats, benefit eligibility, employee stats and other reporting as requested.
Administered employee health and welfare benefits (New Enrollments, Open Enrollments, COBRA, Life Insurance, AD&D, STD, LTD and 401K). Kept Summary Plan Descriptions updated.
Administered the Employee Discount program, Employee Recognition and Tuition Reimbursement programs.
Trained new management on benefits, policies, procedures and laws.
Coordinated special employee events such as cancer walks, picnics, etc.
0-5

years of experience

Reporting to VP of Human Resources, supported client population of 400 across all corporate functions.
Managed all staffing issues resulting from relocation of corporate headquarters from Norwalk to Cary, North Carolina
Counseled managers on staff discussions regarding retention
Conducted and counseled employees through business group relocation and closure and conducted termination /exit discussions
0-5

years of experience

Assisted with administration of company-wide human resources policies, procedures, and practices in accordance with corporate, federal and state legal requirements.
Recruited and interviewed candidates; provided management with hiring recommendations.
Coordinated the hiring process, including but not limited to conducting pre-employment background, drug screening and reference checks, negotiating salary offers, and issuing job confirmation letters and other internal communications. Conducted new hire orientation.
Maintained applicant information in the Application Tracking System "Ultimate Software", ensuring jobs are up-to-date and complete.
Assisted/reviewed with Managers on employee relations verbal/written.
Communicated, prepared for and enrolled employees in company benefit plans.
Maintained, audited personnel files, I-9's and 401K enrollment and beneficiary forms.
Coordinated administration of Family Medical leave and Workers' compensation.
Assisted with administering Wellness Program through the implementation of monthly initiatives and Annual Health Fair.
Effectively interfaced with all levels of employees in the organization.
Represented [company name] at local job fairs.
6-10

years of experience

Recruited exempt and non- exempt employees throughout Northern and Southern California guided new employees and management to a full spectrum of HR operations, systems and programs.
Administered medical dental and life benefits
Managed HR records, benefits-enrollment meetings, resolved conflicts between employees and insurance carriers, coordinated health fairs to promote employee wellness and performed exit interviews.
Worked with senior management to create HR policies and procedures; created group benefits databases; and developed orientation, training and incentive programs.
Managed leave-of-absence programs and personnel records; handled HR generalist workplace issues.
0-5

years of experience
Enhanced overall hiring process in collaboration with hiring managers (application review, I-9, e-verify, background checks, license health license verification, skills review, orientation)
Screened, interviewed applicants and hired caregivers & staff in accordance with regulatory standards and established hiring practices and procedures
Worked collaboratively with department managers and executive leadership to develop and implement specific people programs, policies, processes, and systems.
Utilized caregiver technology to appropriately document all caregiver HR related activities in a timely and detailed manner and communicating these activities to key stakeholders
Assisted with the management, development, and implementation of existing and new rewards and recognition programs and initiatives
Supported per diem workforce regarding employee relations, required training, license renewals, employment verifications
0-5

years of experience

Strived to provide exceptional service while establishing a reputation of being a trusted, impartial and confidential resource for guidance, training and investigations.
Processed employee payroll and implemented new reporting tools to become best practices company wide.
Created and managed a variety of reports and queries using LAWSON system reporting tools.
Completed daily entry of employee status changes and benefit changes per qualified life event. Provided ad hoc reports for specific departmental needs, maintained system integrity by running queries and data analysis.
Coordinated open enrollment for benefits, as well as worked to implement a company sponsored wellness program for employees to received preferred, discounted pricing on health insurance.
Assisted in the implementation of company performance management system, SuccessFactors.
Conducted conflict resolution, harassment, sexual assault and diversity training. Provided guidance to employees and management regarding workplace concerns. Partnered with senior leadership to implement a management by objectives performance review system for positions in scope of the initiative.
Conducted group "information sessions" as a method for recruiting Admissions Associates by reviewing the role and the responsibilities of the position offering brief interviews on the spot for those interested which increased efficiency for all involved in the hiring process.
0-5

years of experience

Large volume recruitment, advertise, interviewed and processed (verify background and references)
Managed all incoming HR inquires and delegated, as needed
Researched, gathered and responded to subpoenas, NLRB, DOL and EEOC charges and claims.
Adhered with the guidance set forth for intermittent and block FMLA, ADA and company LOA practices
Assisted launch and point of contact for location for online onboarding system (Lawson, ADP & Talentlink)
Assisted the Site and HR Managers with projects and reports, as needed.
6-10

years of experience

Responsible for benefits administration for 200 full time employees including enrolling new employees, COBRA letters and tracking and annual open enrollment. Handle all the unemployment claims for 8,000 full and part time employees. This includes responding to claims in a timely manner, appealing adverse decisions, appearing by phone for hearings and tracking all claims. Administer the 401k plan which includes twice yearly open enrollment, processing hardship withdrawals, answering employee questions about the program and working with third party administrator to ensure all laws and policies are being adhered to. Recruiting for 173 locations using job sites, job fairs and local employment departments to drive applicants to the stores. Work with local department managers to recruit for Corporate office, screen applications and conduct interviews with potential candidates. Work closely with Payroll, Employee Relations and Risk departments. Member of the employee activities committee. Utilized ADP and Workday software.
Created a checklist and sample new hire packet for managers at 173 locations to follow in order to speed up the submission of paperwork and improve accuracy
Spearheaded a project to convert thousands of employee files from paper to electronic. Hired and trained a team to prep and scan files, determined which files would be scanned from off site locations
Worked closely with management and third party administrator to close out current 401K plan and roll eligible employees to the new company plan.
0-5

years of experience

Streamline recruiting methods that allow for efficiency and reporting capabilities
Created new process that reduced time to hire and allowed for tight hiring deadlines to be met
Prescreen and interview candidates; check references and background checks; onboard employee from start to finish
Conduct new hire orientations and training one on one
Process all new hire paperwork into HRIS and review all certifications and education
Assist with employee relations and any other duties as needed
0-5

years of experience
HR Generalist for the Test Lab of 32 employees and HR Intern for the Hydraulics Division Headquarters
Hired four full-time technicians and managed the entire recruiting and onboarding process with an average time-to-fill of 24.5 days
Executed and analyzed two managerial effectiveness surveys to improve 2010 employee engagement survey results
Conducted six team-based round table discussions to increase recognition and feedback in the Test Lab
Synthesized and linked technician benchmarks for five salary bands with the [company name] Leadership Model
Coordinated a schedule of activities to improve how supervisors coach and develop technicians
Reinvigorated and steered the Hydraulics Wellness Team; analyzed campus Wellness survey data to recommend
Created and implemented a standardized training of 20 cross-functional lessons for a pilot sales development program
0-5

years of experience

Schilling Graphics provides silk screen products for the automotive, construction, architectural, container, and electronics industries.
Conducted new employee orientations
Assisted with developing interview questions for prospective employees and conducted interviews of said candidates
Reviewed employee complaints and ensured accurate and timely documentation of the concerns, or issues
Assisted with compensation and pay rate reviews
Posted and advertised open positions and worked with recruiters
Administered and explained benefits to employees
Served as a liaison between insurance company and employees
Verified employee references, extended job offers, and completed required paperwork
Recommended, developed, and scheduled training courses
6-10

years of experience

Human Resources Generalist
Managed HR functions including payroll and benefits administration for 120 employees.
Developed recruiting and policies and procedures, and managed recruitment (scheduled interviews with interview team and candidates, greeted candidates and escort them to interviews), hiring and on boarding.
Created job descriptions and made sure that all employees know their responsibilities and duties.
Created individual career maps for all employees and ensured professional development by organizing learning and development trainings.
Worked together with an IT company to create an HRIS data base system which included information related the contracts - hiring date, position, wage, benefits, payment date, work experience, sick days and leave days, education, last employments, promotions, address/residence. Assist in data collection and analysis of HR system.
Managed annual performance professional evaluations
0-5

years of experience

Provide full range of day-to-day HR support to over 150 parishes including staffing, employee relations, performance Management, organizational development, benefits and compensation, and training and development.
Ensure compliance with rues and regulations
Generate regular, standard and ad hoc reports, templates, dashboards, scorecards and metrics on training attendance reports, hiring and turnover, exit data and tenure, disability and leave of absence trends in diagnosis, employee engagement and turnover/exit data, staffing speed to hire and quality of hire.
Manage to HRIS process and serve as subject matter and technical expert on entries and data changes.
Trained and developed HR/Parish bookkeepers on the CHRIS database and conducted in house training for 150 parishes and HR staff.
0-5

years of experience
Hired as second human resources employee for startup company that grew from 50 to 250
Managed full cycle talent acquisition process including sourcing, interviewing, background and reference checks, new hire paperwork, and onboarding for employees ranging from hourly to senior executives.
Instrumental in designing exit interview process, implementing applicant tracking system, and writing company's HR policies for its first employee handbook.
Processed payroll for 200+ employees, accounting for benefits, liens, child support, and various deductions, in addition to worker's compensation, unemployment and harassment claims.
Created material for and presented six company-wide HR policy training events.
Coordinated and recruited at various college career fairs.
Assisted in formation of firm's Wellness Committee and inaugural wellness fair, in conjunction with an effort to reduce company's insurance costs.
Conducted extensive internal I-9 audit.
0-5

years of experience

Handled 50-60 calls per day from employees in HR call center environment
Administered various human resources plans and procedures for all company personnel; assists in development and implementation of personal policies and procedures
Administered health and welfare plans as well as works with retirement plan
Processed required Documentation to ensure accurate record keeping and proper deductions
Conducted new employee orientations to ensure employees gain an understanding of benefits
Counseled employees (and potential employees/applicants) on plan provisions so that individuals can make informed decisions on benefits
Led the creation of a recruiting and interviewing plan for each open position identifying effective sources. Efficiently and effectively assist in filling open positions
Coordinated implementation/ maintenance of Human Resource Information Systems (HRIS)
0-5

years of experience

Scheduled and conducted interviews for potential employees in the medical field, interviewing applicants on consistent set of qualification
Evaluated applicants by discussing job requirements and applicant qualifications with Implementation Specialists
Facilitated on-boarding activities for new staff including advance communications regarding first day expectations
Utilized tracking portal to monitor applicant on boarding progress
Maintained current employee files, including staff counseling forms, and certifications
Worked with HR VP on implementing employee benefits
Worked with Blue Cross and Blue Shield, United Healthcare employee benefits
Revised employee contracts and non-competes
Conducted payroll for 300 plus employees
0-5

years of experience

Cultivating collaboration and streamlining communication with the HR department and 650+ employees across eight sites to increase performance and morale
Working collaboratively to co-author key sections in the policies and procedures manual, outlining performance expectations, policies, benefits, PTO and operational regulations
Utilizing sound judgment to manage complex and sensitive issues and in accordance with operational protocol
Conducting research and analysis of current trends to identify and implement improve recruitment techniques
Recognized with the P.I.G. Award for excellent service
Significantly increasing efficiency with the implementation of a seamless on-boarding strategy to improve training and internal communication
Spearheading a transformational full-cycle recruitment project to secure high caliber employees six weeks ahead of schedule
0-5

years of experience

Processed bi-weekly multi-state payroll utilizing ADP's Workforce Now. Reviewed time cards, coordinated with managers/employees to ensure all time card discrepancies and/or time off requests were submitted efficiently. Processed all new hires, terminations, transfers, merit increases, on call pay, bonuses, wage garnishments, and voluntary deductions to ensure accurate payroll processing.
Administered various employee benefit programs: medical, HSA, dental, vision, disability, life insurance, COBRA, & 401k. Determined employee eligibility, distributed and communicated benefits through new hire orientation, ensuring all employees met enrollment deadlines. Acted as a liaison between employees and insurance companies to resolve issues pertaining to employee benefits.
Managed all aspects of Leave of Absence cases (i.e. FMLA, CFRA, PFL, etc.) notified employees of their eligibility, rights, and responsibilities. Processed all appropriate documentation, ensuring company remained in legal compliance.
Assisted with Worker's Compensation claims: completed incident reports, directed employees to health care facility, filed claims, worked with employees and insurance carrier to assure all claims were processed in a timely manner.
Served recruiter with recruitment/on-boarding efforts for exempt and nonexempt positions. Screened resumes, scheduled/ interviewed candidates, prepared offer letters, administered drug & background screenings, and conducted new hire orientation.
Assisted HR Director in providing guidance to management and employees regarding employee relation issues: conducting investigations, performance improvement plans, and recommending effective resolutions.
Arranged, executed company events such as open enrollment, flu shots, birthday celebrations, holiday parties, and other company-sponsored events.
6-10

years of experience

Promoted to fulfill a broad range of HR functions, including recruiting, administering benefits, managing HR records and coordinated health fairs to promote employee wellness.
Administered policies and procedures relating to all phases of human resources activity including benefits, recruitment, training and development, employee performance, evaluations and appraisals and conduct exit interviews.
Performed benefits administration to include the process of onboarding, annual open enrollment, assist in employee claims, resolve discrepancies with employees, payroll and/or benefits provider and communicated benefit information to employees.
Coordinated recruitment effort for exempt and nonexempt personnel, students and temporary employees including job postings, candidate review and scheduling of interviews.
Conducted all new hire orientations, background checks, maintained affirmative action program and EEO report annually as well as maintain confidential employee records and reports.
Supported payroll department by processing and maintaining payroll operations including ensuring proper employee deductions are in place for medical and dental insurance, 401k and other deductions, update employee changes in salary and status, and verify TLO for nonexempt employees.
0-5

years of experience

Directly responsible for employee relations, workers' compensation and safety, and leave of absence administration for store, warehouse, and corporate employees
Administering benefits enrollment and 401(k) plans
Develops and executes strategies for recruiting and performance management
Responsible for management of payroll administration and recruiting team members
Researched, selected, and negotiated implementation of new HRIS system
0-5

years of experience

Provided HR support to the frozen and grocery brand Presidents, VPGM's and direct reports
Facilitated Talent Management discussions with executive leaders for all brand marketing positions
Managed and coordinated logistics of the MBA Brand Leadership Development Program
Worked closely with leadership team to determine new organization structure during streamline
Facilitated Performance Management Plan ratings and compensation distribution for yearly merits and bonuses
Experience with PeopleSoft and Success Factors
0-5

years of experience

Established job requirements and skill competency criteria used in hiring process.
Assisted applicants in completing paperwork and other minor formalities
Assisted employees in sorting their issues related to work environment, employment relations, HR regulations and policies, promotions, performance reviews and payrolls.
Participated in designing the induction and orientation program for new employees.
years of experience
Answered an average of 50 calls per day by addressing customer inquiries, solving problems and providing new product information.
Support sales reps in opening new accounts and upgrading existing service.
Quickly and effectively solve customer challenges.
Maintain quality control/satisfaction records, constantly
Helped drive sales goals and achieve monthly quotas.
Managed and reviewed filing and office systems.
0-5

years of experience

Managed HR program/services for as many as 900+ personnel including Equal Opportunity, Compensation & Benefits, Employee Development, Employee Services and Classification Staffing.
Supervised as many as 20 HR personnel
Develops policies, procedures, standard operating instructions and internal directives to coordinate all Human Resources activities within the established priorities and resources available.
Conducts internal HR investigations involving Manager/Employee, Employee/Employee Disputes while developing practical & effective solutions for all parties.
Ensures and strict compliance with all Corporate and DoD-mandated procedures.
0-5

years of experience

Revamped HR department from the ground up for staffing agency specializing in the coal mining industry.
Travel to mine sites to conduct new hire orientation and training programs.
Proficiently manage HR operations encompassing new hire processing, onboarding, training, staff assignments, MSHA compliance, policy development, grievances, payroll, and benefits administration.
Leverage strong multi-tasking skills to support HR needs in corporate office, among field supervisors, and a satellite office in Illinois.
After only three weeks in role, improved and facilitated new hire training classes.
Administer quarterly random drug testing for all employees, new hire drug and alcohol screenings, and reasonable suspicion testing.
Championed comprehensive audit to review 3,000+ I-9s; trained staff in proper I-9 completion and led corrections to achieve compliance with United States Citizenship and Immigration Services requirements.
Currently leading transition to new and improved payroll system set to launch summer 2015, as well as implementation of E-Verify to reduce mistakes with I-9s.
Actively support HR personnel with child support orders, wage garnishments, and medical support orders.
Conduct investigations regarding theft, harassment claims, and payroll discrepancies.
Maintained excellent business continuity during substantial lay-off of 250+ employees.
0-5

years of experience

Serving as HR to six dealerships in the metro area, with over 600 employees in a variety of job titles, pay schedules, and benefits options.
Use of Docuware, PeopleSoft, JobRouter, ADP, Google +, Dropbox, Skype, AnyMeeting, and other software programs.
Oversee all New Hire needs: Training, Best Practices, and implementation of all federal and state guidelines.
Acts as a liaison with employees and corporate payroll division, benefits division, and with specific vendors used.
Manages all vacation/sick/absent forms
Managed all garnishments
Exercised ability to revamp the previous administrator's office system, resulting in proven higher levels of efficiency, attention to protocol, and an easier system for management amongst the dealerships. System has since been adopted to other dealerships within the region.
0-5

years of experience
Managed several Human Resource functions such as employee relations, policy and procedure interpretation, employee discipline, compliance.
Managed administration of a broad spectrum of benefits and activities including flexible benefits plans, 401(k), cash balance pension, 5500 filings, termination of pension and 401(k) plans, tuition reimbursement, paid time off, FSA, LTD, and STD.
Developed and managed COBRA administration process. Recovered $70,000 in COBRA premiums.
10+

years of experience

International audio engineering development team
Managed all administrative and human resource duties for the entire company
All accounting, including AR and AP, purchase orders and invoicing
All banking needs including processing domestic and international wires
Completed all company insurance renewals including property, worker's comp, general liability, health, dental, vision, and life
Administered and processed all 401k and payroll
Monthly budget planning and processing expense reports
0-5

years of experience

Prepare and maintain job postings, position vacancies reports, and employment records related to hiring, separations, leaves, and promotions.
Responsible for verification of I-9 documentation and maintaining I-9 files for 200+ employees.
Maintain personnel files in compliance with applicable legal requirements.
Provide assistance with employee training and development and new employee orientation.
Interpret, explain, and respond to inquiries regarding employment.
Maintain and audit HR records on a quarterly and annual basis.
Serve as point of contact for employee benefits and manage the benefits enrollment and termination process.
0-5

years of experience
Managed entire scope of hourly and professional onboarding and offboarding process for 225+ employees in 24/7 multi-shift operation environment at the Orlando Emulsion Plant and the Winter Haven Distribution Service Center.
Created Best Practice projects such as the SOP Cross-Training Matrix and "Self-Hire" DSC program.
Created Absenteeism Tracking process that increased efficiency in accurate record-keeping and properly administered corrective actions timely
Conducted Adverse Impact Analysis quarterly for both sites in addition to month-end regional reporting
Partnered with other Department Management to create Corrective Action process relating to quality, attendance, performance
Created Onboarding Team with department members to best introduce new team members to company culture and proper training
Organized charity events including Stop Hunger Now, Adopt-A-Highway, blood drives, Toys 4 Tots, Feed the Homeless
Organized employee social events including company 5k, Annual Kick-Off breakfast and meeting, Fleet Driver Banquet, Corporate Executive Visits, company annual outing such as Universal Studios and Fun Spot visits.
Served as Quality Champion for Manufacturing shift team as well as conduct employee weekly training sessions.
Provided tours of facilities for corporate executives, internal and external customers, vendors, etc.
0-5

years of experience

Building effective recruiting strategies through the use of social media; created a LinkedIn Employees Group for NFM during my first month; consistently posting updates on Facebook, Yammer and Twitter -recruiting passive candidates.
Forming partnerships with community foundations to create resources for talent sourcing.
Serving as the HR contact for more than 30 department managers to recruit and hire qualified candidates and to process internal staff changes.
Handling FMLA and Benefits/Compensation needs for more than 20 departments
Organizing on-site career fairs bi-monthly and conducting bi-weekly orientations.
Training and developing in-coming recruiters
Nominated for [company name] President's Award 2015
0-5

years of experience

Responsible for the recruiting and selection of the company to employ, place and/or transfer managers, professionals, technicians, manufacturing associates and support staff.
Identify sources for candidates, initiate and maintain relationships with outside sources (employment agencies, social media, recruiters, job fairs, job boards, etc.)
Developed processes and procedures for recruitment and pre-employment
Conduct all pre-employment testing and validation including drug screening, background checks and employment verification.
Coordinate and process onboarding of new hires including offer letters, orientations, I-9 and E-verify.
Process and data entry into HRIS system.
Process 401K hardship and withdrawals and maintain 401K program. Serve on [company name]'s 401K committee.
0-5

years of experience

Gather, maintain, approve or deny workplace accommodations and personal leave of absences
New Hire Orientations and questions with benefits, vacation, and other Human Resource questions
Review I-9 Information
Assist with job fairs, walk-in interviews, and pre-screen testing and phone screens for recruitment
Investigate and resolve employee concerns, harassment claims, and employee relations
0-5

years of experience

Implements human resources programs by providing human resources services, including talent acquisition, staffing, employment processing, compensation, health and welfare benefits, training and development, records management, safety and health, employee relations and retention, AA/EEO compliance, and labor relations; completing personnel transactions.
Develops human resources solutions by collecting and analyzing information; recommending courses of action.
Completes special projects by clarifying project objective; setting timetables and schedules; conducting research; developing and organizing information; fulfilling transactions.
Prepares reports by collecting, analyzing, and summarizing data and trends.
Protects organization's value by keeping information confidential.
Complete E-Verify for all new hires throughout the organization
Complies with federal, state, and local legal requirements by studying existing and new legislation; anticipating legislation; enforcing adherence to requirements; advising management on needed actions.
0-5

years of experience

Partnering with business operations to ensure a complete understanding of business needs and objectives and resolves HR issues.
Responsible for and/or serves as a HR liaison for employee relations
HR support for over 1000 employees located in various locations
Research employee records and system issues and provide a corrective action plan to HRIS team.
Overseeing and completing special project such as data audits, system audits and onboarding employees
Performs a wide variety of personnel and clerical tasks in such areas as employee record and benefit.
Provide data for various auditors such as Sarbanes Oxley, Department of Labor, OFCCP, and DCCA.
0-5

years of experience

Support human resource initiatives and contribute to achieving business goals by delivering outstanding service.
Provide guidance to management on human resources policies, practices, and overall effectiveness.
Administer various human resources plans and procedures for all company personnel.
Assist in the development and implementation of personnel policies and procedures.
Prepare and maintains employee handbook and HR policies and procedures manual
Review and develop job descriptions.
Represent company for unemployment compensation hearings and EEOC investigations.
0-5

years of experience

Full cycle recruitment and new hire on-boarding
Employee events and strategic design of the employment brand
ATS implementation to improve applicant workflow as well as capturing source analytics
Benefit administration including open enrollment and COBRA
Documented all HR processes related to payroll and benefits
Maintained and updated HRIS
0-5

years of experience

Companywide Recruiter for all 12 locations (320 employees) including Southern/Northern California and Phoenix.
Full cycle recruiting for VP, exempt and non-exempt positions. Saved the company $50k + in recruiting fees. Have saved the company $38k as of May 2015
Company representative for all job fairs
Manage agency relationships including contract negotiations and on-boarding new agencies
Responsible for new hire orientations, on-boarding paperwork, benefit enrollment, performance evaluations, disciplinary actions, terminations, and investigations for Los Angeles Region, Inland Empire, San Diego and Phoenix locations.
Responsible for Union grievances, disciplinary actions, seniority lists, layoffs and recalls
Manage projects such as, annual company picnic, customer service week, Holiday celebrations, etc.
Implemented employee suggestion program
Assist with Leave of Absence and worker's compensation
0-5

years of experience

Partner with leadership and 3rd party company to support management in field offices on issues that affect performance, compliance and ethics, and employee relations to foster a fast-paced environment. Provide high quality coaching and advice, manage complex personnel matters including policy violations, performance issues, employee complaints and grievances, conduct investigations, prepare reports and recommendations for remedial actions and respond to requests for information. Perform final review of all disciplinary and termination actions, manage semi-annual performance management review process, and ensure compliance with employment law and HR policies. Perform research, trend analysis and training programs.
Act as knowledgeable consultant to managers, influencing and coaching at all levels, resolving conflicts, handle complex Employee Relations issues including FMLA/ADA –reasonable accommodation.
Act as a Subject Matter Expert (SME) in relation to Employment & Labor Law & HR-related matters.
Advice & coach managers on performance management and providing effective performance feedback.
Manage the hiring process, pre-screen candidates, schedule & conduct face-to-face interviews; manage and track employee data including salary and new hire administration, promotions, transfers, etc.
Manage Employee Handbook, policy updates; design/facilitate employee training programs.
Develop & implement workforce planning strategies, supervise/mentor subordinate staff.
0-5

years of experience
Utilized quantitative & qualitative methods to evaluate programs/operations to provide feedback on growth metrics.
Handled full-cycle high volume recruiting for seasonal project.
Carried out day-to-day leadership guidance for data entry team and business unit.
Coached and counseled performance and work behaviors.
Load More
Generalist Duties and Responsibilities


Specific duties and responsibilities may vary depending on the organization a generalist works in, but there are several core tasks associated with the job, including:


Handle Staff Recruitment and Retention

Generalists develop strategies for recruiting new employees, create job postings, reach out to potential candidates, and perform job interviews. They conduct background checks and handle paperwork for new hires. Generalists also create strategies to retain employees and complete exit interviews when employees quit or get fired.


Provide Employee Orientation and Development

Generalists offer orientation programs to new employees to get them acquainted with company policies and procedures as well as handle any onboarding training. Development activities for existing employees include doing performance reviews and helping employees maintain their skills through online or on-site training as needed.


Maintain Employee Information

Generalists are responsible for keeping the company's organizational charts and individual employee data current. They update employee data when the company hires new workers and when existing employees have changes to their personal data or exit the company.


Manage Employee Payroll and Benefits

Processing employee pay, ensuring the accuracy of wage and tax calculations, and distributing paychecks are all part of a generalist's job. They also fill out federal, state, and local tax reports for the company regularly. Managing benefits programs for insurance, paid time off, and retirement plans are also common tasks.


Handle Employee Relations Issues

When an employee faces harassment, discrimination, or other conflict with coworkers or management, a generalist provides guidance, fills out any necessary paperwork, and helps offer conflict resolution. Generalists may also set up programs to prevent workplace problems and inform workers of appropriate conduct.



Generalist Skills and Qualifications
Their broad range of job duties requires generalists to have good multitasking, communication, and organizational skills. Employers look for a bachelor's degree and up to a few years of prior HR work experience. They often seek generalists with the following skills:
Understanding of HR management – a generalist role requires extensive expertise in recruitment, benefits and compensation management, employee relations, and performance management
Computer skills – managing electronic employee records, filing paperwork and documentation online, creating online job posts, and searching databases all require generalists to have good computer skills
Conflict resolution – whether two employees argue over a project or discrimination issues happen, generalists need to successfully resolve conflicts between employees while adhering to employment regulations and policies
Interpersonal skills – strong interpersonal skills help generalists when interviewing potential hires, managing conflict, or simply interacting with others in the organization
Decision-making skills – generalists make important decisions to hire or fire workers as well as choose training programs and benefits options
Generalist Education and Training


The most common path to becoming a generalist is to earn a bachelor's degree in HR or business. Both majors provide a general business education in topics such as business strategy, HR management, and leadership. However, HR programs have more specialized coursework in recruitment, employee development, benefits management, employment law, and employee relations. Some employers prefer generalists with certification from the Society for Human Resource Management or HR Certification Institute. Available at different levels, these credentials require meeting varying HR education and experience requirements.


Generalist Salary and Outlook


Generalists, classified as HR specialists by the Bureau of Labor Statistics (BLS), earn a median yearly wage of $60,350. The 10th percentile of generalists make around $35,800, and the highest earners make over $103,570 a year. Depending on the company, full-time generalists can receive generous medical insurance packages, paid time off, and retirement plan options.

The BLS expects generalist employment to grow at an average rate of seven percent through 2026. Outsourcing and technology can cut jobs in the HR field, although companies will still need generalists to help with employee benefits and ensure HR laws get followed. HR firms may offer the most abundant jobs, and HR certification can improve job prospects.


Helpful Resources


Here are some resources to get you started on your career as a generalist.


Society for Human Resource Management – the SHRM provides a wealth of resources in all areas of HR and tools for writing job descriptions, performing interviews, and completing HR forms. It also offers online and on-site learning opportunities, industry certifications, worldwide events, networking opportunities, and industry news


The Essential HR Handbook – focused on helping HR professionals avoid legal issues, this guide by Sharon Armstrong and Barbara Mitchell offers practical tips on managing employees and hiring new talent. It also offers advice on how to effectively counsel poor-performing workers and use compensation packages that offer fair pay and reward hard workers


HR Certification Institute – known for offering well-known HR certifications for professionals at all levels, this organization provides outlines of exam content, preparation materials, and details on maintaining certification


The HR Answer Book: An Indispensable Guide for Managers and Human Resources Professionals – this guide uses a question and answer format to address common issues HR professionals encounter in selecting and retaining the best employees and keeping good working relationships among them. Other topics include competitive benefits packages, employment law, discharge procedures, and workforce reorganization


Human Resources Cover Letter Examples
Create your own professional resume in just minutes.
Try our resume builder today
Build Your Resume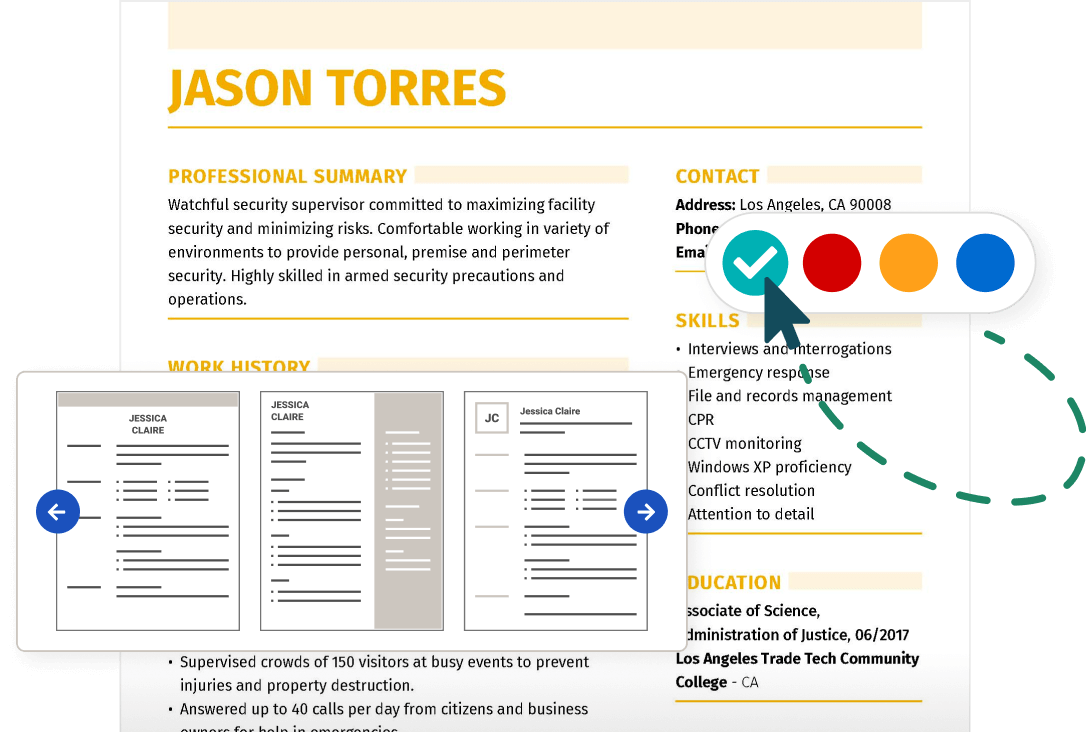 HR Generalist Resume FAQ
What should an HR generalist put on a resume?
Your HR generalist resume needs to demonstrate your practical experience with the following key skills:
Verbal and written communication
Interpersonal and conflict resolution skills
Strong organization and data maintenance
Attention to detail
Time management
Analytical problem-solving
Confidentiality
Familiarity with digital office suites such as Microsoft Office or Google Workspace
What are the responsibilities of an HR generalist?
Your daily responsibilities as an HR generalist may include the following:
Hiring and interviewing potential employees.
Scheduling annual training related to business ethics, sexual harassment, safety training and leadership training.
Working with department heads to schedule annual reviews, bonus allotments, promotions and raises.
Onboarding new hires.
Managing pay, benefits, personal time off and leave.
Offboarding employees and conducting exit interviews.
Organizing and attending employee investigations, disciplinary meetings and terminations.