Featured in:
More Research Analyst Resumes
Use these Research Analyst samples as a guideline or visit our extensive library of customizable resume templates.
Additional Finance Resume Samples
How to Format a Research Analyst Resume
A well-structured resume format is what puts the spotlight on your most marketable skills and experience. Each type of format leads hiring managers straight to either your skills or best accomplishments, depending on your expertise and years of experience.
For candidates with experience, the chronological resume format showcases their work history first. On the other hand, entry-level candidates or job seekers with career gaps can show off their skills and volunteer work with a functional resume format.
Let's take a look at two job candidates. The first candidate uses the chronological resume to show 20 years of work history, while the second candidate shows nine months and can still impress recruiters with a functional resume.
Chronological Resume
20

years in workforce

4

years at this job

AS

Early Childhood Education

BA

American Studies
Work Experience
Research Analyst, Strategic Resolutions Experts
February 2019 - Present, Las Vegas, NV
Develop and maintain the research team's procedure documentation, including authoring procedures that adhere to federal rules and regulations.
Facilitate training sessions for the New Hire Research Analyst.
Develop and maintain the call center's Customer Satisfaction Survey.
Analyze results of customer satisfaction surveys and create reports for management.
Performed quality assurance of incoming calls and reported findings to team leaders.
Functional Resume
9

months in workforce

9

months at this job

BA

Economics
Professional Skills
Analytical Skills
Analyzed, interpreted and converted statistics into charts and graph reports to present findings at local meetings.
Reported findings to supervisor and funding agency by writing effective reports.
Increased study enrollment by 200% through the design and implementation of an incentive program.
Market Research Skills
Researched market trends, conducted surveys and analyzed competitors.
Created marketing analysis and interpretations for senior management.
Used operations data to develop pricing models for new products.
Research Analyst Resume Samples
No results found
0-5

years of experience

Successfully coordinated a community research project by effectively adhering to study guidelines.
Recruited and trained interns to conduct data collection at study sites
Developed and managed a database in MS Access to gather and streamline the information throughout the department.
Analyzed, interpreted and converted statistics into charts and graph reports to present findings at local meetings.
Reported findings to supervisor and funding agency by writing effective reports.
Increased study enrollment by 200% through the design and implementation of an incentives program.
0-5

years of experience

Managed a team of 90+ abstractors nationwide for document retrieval for various banking institutions and financial lending institution.
Ensured and maintained projected service level of 95% or better in the form of estimated time of arrival of document retrieval and delivery.
Contacted over 50 abstractors on a daily basis for the status of the document retrievals.
Multi-tasked proficiently between two computer systems simultaneously in order to complete daily tasks as well as answer corporate communication.
0-5

years of experience

Analyze accounts to ensure the account is accurate within the administrators system and the insurance carriers system
Maintained a positive relationship with 10 insurance carriers
Developed and maintained the research teams procedure documentation, including authoring procedures that adhere to federal rules and regulations
Facilitated training sessions to the New Hire Research Analyst
Developed and maintained the call centers Customer Satisfaction Survey
Analyzed results of customer satisfaction surveys and created reports to management
Performed quality assurance of incoming calls and reported findings to team leaders
6-10

years of experience

Investment management firm with $2 billion AUM, specializing in alternative investments and advisory services for institutional and private clients.
Quantitative Research Analyst covering equity, fixed income, commodity and alternative investment
strategies, hedge fund performance, asset allocation and macroeconomic forecasting.
Collaborated with the CEO to systematize the investment approach by formulating the firm's first and subsequent annual investment outlooks.
Part of a two-person team that launched the Tactical Asset Allocation Fund. Developed the fund's
Participated in all stages of hedge fund manager selection for the firms' fund of funds.
Co-authored four research papers on investment theory in The Journal of Investing and The Journal of Wealth Management, which raised the firm's profile. Profiled in the "Featured Authors of this
Served as a reviewer for articles submitted to The Journal of Wealth Management.
0-5

years of experience

Managed end-to-end primary consumer and customer research studies to support customer-centric decision-making throughout the organization. Worked both collaboratively and independently to design and execute research projects (both qualitative and quantitative).
Reactivated Customer Advisory Panel, increased size by 264%, and maintained a 36% response rate. Insights gained are used to build business intelligence and guide business decisions.
Conducted company's first brand image study that enhanced understanding of company brand perception compared to competitors. Results are being used to support future corporate branding initiatives.
Designed series of qualitative research projects that produced guidelines for store development to use when relocating, remodeling, or expanding stores.
Designed series of quantitative research projects that investigated the company's private brand awareness. The results were implemented into the buying, merchandising, signing, and pricing strategies.
Maintained Industry size and tracking study that enabled business decisions and planning to be based upon valid and reliable descriptions of the sewing and craft markets.
Supervised online customer satisfaction and website usability research programs. Results were used to optimize the online user experience for customers.
0-5

years of experience

Prepared system and self-authored written responses, adhering to Chase's guidelines and polices
Researched and resolved mortgage loan accounts received from customer complaints in foreclosure
Identified search terms within documents as part of an internal investigation mandated by the OCC
Developed working relationships with various functional and servicing areas such as legal and compliance
Maintained litigation status for an excess of 70,000 loans and organized for easy retrieval for chase attorneys
Assigned 100-300 loans daily for an complete and accurate search of mortgage and home equity records
Simplified project procedures by employing prescribed strategy rules for analyst to follow and complete
Managed search process which included quantitative and qualitative screening for accounts in open and closed litigation
6-10

years of experience

Performed research and due diligence on outside investment management firms. Conducted searches for new managers through screening, selection, and review of RFPs. Monitored more than 25 strategies with assets of more than $40 billion on multiple Prudential platforms. Produced detailed research reports and timely written comments on firms and investment strategies. Counseled financial advisors and regional personnel on investment-related issues. Acted as a liaison with key proprietary and non-proprietary money managers, ensuring that critical information is disseminated across the firm.
Successfully completed five manager search initiatives within a year for portfolios ranging from $100 million to $550 million. Met highly aggressive target dates, resulting in enhanced client satisfaction.
Analyzed and presented a sensitive manager review, resulting in convincing evidence that the manager should be given more time to improve performance. The manager subsequently improved performance and remained active on our investment platform.
Evaluated high profile investment/portfolio manager departure and disseminated recommendation on status, ensuring that key clients and other internal constituents remained informed.
Contributed to automation of critical presentations used to support board reporting.
Improved client and analyst awareness by producing timely analysis of sub-asset class performance drivers and risk characteristics.
0-5

years of experience

Used Google Analytics, WordPress, Silverpop, Salesforce, and multiple social media platforms to collect relevant online activity data and translated them into key performance metrics
Automated data aggregation to reduce data processing time from 12 hours to 2 hours
Analyzed web activity to generate a highly efficient dashboard to support C-level executives
Scrutinized detailed web activity to provide feedback on site utilization to web designers
Managed and coordinated participation in various national marketing events
0-5

years of experience

Assisted department director in evaluating global GDP and current account balance forecast
Replicated the productivity growth analysis in "What is driving the 'African Growth Miracle'?" prepared by Margaret S.
Investigated and simulated the declining oil price's impact on inflation based on models for 16 large economies
Contributed to January 2015 Global Economic Prospects report
0-5

years of experience

Developed and delivered marketing models for quantitative analysis support, strategy advantages/issues, and other requested analysis to sales and executive management in business development decisions to grow existing revenue stream beyond $200M.
Created business development presentations that identified new verticals for revenue growth.
Developed and implemented methodology in providing competitive analysis on various companies for new or existing accounts.
Forecast analyst utilizing various market research reports, report trend analysis, and other various mediums to project revenue forecasts and revenue timelines.
Intellectual property analyst utilizing market research to stay abreast of licensee's competitive position by tracking key financial figures, market share, product offering, etc.
Primary interface between internal departments and licensees resolving licensee inquiries and licensee's compliancy with agreements' reporting and payment obligation.
Filed provisional patent application (September 2014).
0-5

years of experience

Employed qualitative marketing research techniques to help clients understand their customers more fully and make well-informed business decisions
Utilized spreadsheets and statistics to analyze significant patterns within clients' customer bases
Presented the results of complex analysis in easily understandable Excel and PowerPoint documents, allowing clients to quickly engage with the findings
Wrote customized profiles from in-depth personal interviews to succinctly and effectively tell each interviewee's story
Generated factually-supported recommendations for clients, highlighting promising areas for growth
Especially experienced with analyzing market trends in the health insurance and financial industries; most recently completed projects for Kaiser Permanente and Thrivent Financial
0-5

years of experience

Recruited hundreds people to participate in market research studies through phone calls and emails.
Analyzed company's database on a daily basis to find prospective clients for market research studies.
Conducted phone interviews on behalf of Fortune 500 companies.
Inputted specific information for registering consumers into the computer's tracking system.
Updated the database regularly and participated in different projects as requested by my supervisor.
0-5

years of experience

Promoted within 18 months to project lead, managing a four-person research team
Managed operations for a Department of Defense national advertising tracking survey,
Integrated data from multiple sources and used advanced statistical analyses to develop
Presented findings to Department of Defense personnel and advertising stakeholders to inform media and budget planning
Led successful nine-month initiative to improve Department of Defense tracking survey to provide more actionable feedback while meeting ongoing project deliverables
0-5

years of experience

Prepared proprietary surveys and performed quantitative data analysis of results for Cerulli Research Reports, Cerulli Edge Series, and individual client requests regarding Intermediary Distribution and International Money Management.
Managed and maintained relationships with over 2,000 domestic and international survey research contacts including Wirehouses, and
Maintained, restructured, and analyzed 3 party data for use with proprietary research.
Developed and enhanced survey database system and survey contact management system.
0-5

years of experience
Was responsible for the management of 5 junior analysts extracting and interpreting both quantitative and qualitative data that facilitated overall decision making and contributed to increased profit margins.
Assessed, identified and resolved complex inquiries on external and internal research data for cross-functional departments on a case-by-case basis
Developed tactical plans that contributed to the further development of research functions.
Maintained liaison with asset managers, to assess the effectiveness of implemented strategies for research.
Participated in weekly team meetings to develop better plans and revise proper protocols to meet objectives.
Analyzed emerging markets, created comparable models that utilized financial ratios that aided profitable stock selection, accomplishing an increase in ROI of 37.5%
Prepared and gave presentations to governance committees regarding institutional research, investment practices policy issues, client enrollment and projection trends.
0-5

years of experience

Supervision and responsibility for between three to six employees
Responsibility for data quality and new research area identification
Detailed research on corporate sustainability issues amongst publicly traded companies, as well as processing and summarizing said research in an accurate and efficient manner
Data analysis and quality control concept design, implementation, and management
Developed a dynamic research issue identification process that allowed for increased flexibility and decreased implementation time for newly identified research areas
Independent systems design that increased efficiency of projects in several departments
Improved efficiency of key project by over 20 percent via Excel-based solutions and UI improvements
Designed, managed, and trained employees on a new research quality control system that improved new employee error reduction and allowed for data analysis solutions to be implemented in the future
0-5

years of experience

Profiled over 300 companies raising their data quality score and qualifying them as buyers for the CEO.
Conducted due diligence of over 50 companies for acquisition or partnerships.
Met with the CEO weekly to discuss strategies for scaling a company to the next stage.
Provided research and any necessary preparation to the CEO for meetings and business strategy.
Assisted in B2B software demos with prospective clients.
0-5

years of experience

Hired as Research Analyst I; promoted to Research Analyst II, then on to Senior Analyst
Conducted market research to maintain accuracy and veracity of nationwide, web-based commercial real estate database
Monitored and analyzed leasing and sales transactions for commercial real estate brokers, investors, and developers
Assigned to develop and maintain relationships with specialized high-end clients
Provided support, advice, and guidance to broad base of client subscribers
0-5

years of experience

Joined this retail company of beach and clothes apparel in Georgia as the Intern of retail management and advanced to Market Research Analyst in 18 months. Broad scope of responsibilities, including strategic marketing planning, competitor and market analysis, sales forecasting, and pricing.
Conducted market research to determine customer needs and impressions of goods and services, analyzed results and prepared reports and appropriate marketing recommendations and conclusions.
Created strategies for the introduction of new goods and services and the expansion of existing services, participated in overall departmental strategic planning and management activities.
Analyzed competitor pricing and formulated pricing strategies, product mix discounts and special combination values.
Spearheaded the timely roll out of new products to targeted market segments and followed up with in-store marketing activities and related sales activities.
0-5

years of experience

Extracted, transformed, and loaded large amounts of unstructured data for database integration for monthly
deliveries
Focused on analyzing market information and market trends to identify business needs, contribute to product improvement, and gain insight into focus markets
Wrote sophisticated SQL queries to extract data and build complex models
Conducted ad hoc research and analysis for customer-centric projects to maintain and satisfy customer relationships
Used PL/SQL to develop procedures to automate tasks, improve the quality of products, and streamline future
Experienced in leading teams of analysts on high priority projects
Created and maintained reports for management and clients as well as contributed to technical reports and white papers
6-10

years of experience

Served as a research analyst specializing in open source analysis. Used a wide variety of methods and tools to find and then analyze information on areas and issues of interest. Excellent team member able to respond quickly and accurately to specific client needs.
Solved a client need by using a variety of tools to identify, collect, and analyze photographs and videos on the web.
Tracked and assessed global conflict indicators.
Provided concise summaries of academic research to the analytical community.
Presented preliminary analysis of the value of socio-cultural information on operational success using historical data identified at the National Archives.
Principal Investigator for an internal study that assessed the development and state of socio- cultural and human terrain analysis within the defense and intelligence communities.
Co-authored white papers and responded to government proposals.
6-10

years of experience

Developed practical research-driven sales analysis, strategies, and presentations for account executives stressing the importance of cable advertising to current and potential clients.
Provided qualitative and quantitative audience information and recommendations to sales executives
Geographic analytics specialist created research-driven maps (population density, audience distribution, sales distribution, zones) that demonstrated the value of cable advertising to potential clients
Provided valuable automotive sales analytics to account executives through the applications of Polk Insight, RegTrak and sales analysis maps - MapPoint, Map Info
Correlated subscriber counts and penetration figures
Trained incoming sales executives and support team in the availability and application of all research tools
Assisted in the organization and administration of the marketing research database and maintain a library base of relevant sales tools
0-5

years of experience

Used machine learning algorithms to develop and cross-validate models to predict clinical trends in R
Built complex statistical models in SAS and R for longitudinal studies
Created a complex pipeline in SAS and SQL to manage and clean large datasets for data analysis
Automated data quality reports and visualizations for analysts and investigators using SAS, SQL and Excel
Used clustering to inform sampling methods for data validation and quality control
Led professional development workshop on advanced data visualizations for Arbor Research employees
Presented work regularly to collaborators, including technical and non-technical audiences
Wrote, edited, and prepared manuscripts for publication
0-5

years of experience
Appraised and underwrite properties, prepared proposals in iMpact2 software
Performed long-term property analysis using Argus
Research sale and rent comparables using CoStar and other sources
Researched all information surrounding tenant reputations, S&P and Valueline ratings, etc.
0-5

years of experience
Developed analytical tools to accurately measure prospect giving ability and trends using Raiser's Edge fundraising software
Compiled, evaluated, and synthesized data for rating and assignment of prospects
Created and maintained analytical reports on the Annual Fund, Special Scholarships, Prospect Management, and Stewardship to assist in the cultivation of current donors and new prospects
Identified potential donors of principal gifts, major gifts, and strategic initiative programs to Vice President and Executive Director of Development
Collected financial, biographical, and philanthropic information and compiled detailed profiles on lead prospects
Managed 3 prospect researchers and 2 data entry staff
0-5

years of experience

Led weekly meetings to discuss/teach relevant models of behavior/intervention
Executed research modeling risk seeking behavior in males
Conducted literature review and generated references for publication
Instrumental in achieving greater than 20% year-over-year growth for our store for two consecutive years
Subject matter expert in every category at the retail level
25+ sales and service awards
6-10

years of experience
Consolidated open-source digital imagery, maps and data into geospatial databases for multi-agency customers
Integrated and synthesized multi-source information into an analytic database used by technical operations officers
Utilized knowledge of SQL to query and quality check analytic content and new version upgrades to an agency-wide intelligence database
Authored numerous intelligence highlights used for briefs to multi-agency principals
Submitted detailed collection requirements to appropriate field elements
0-5

years of experience
Crafted questionnaires tailored to specific clients' needs while minimizing survey bias
Provided in-depth analysis of survey data for political and non-political clients
Conducted messaging and demographic analysis to help clients build a strategy for success
Computed statistical regressions and applied predictive analytics to forecast public opinion trends which helped clients make informed decisions for both the long term and in real-time
Utilized data visualization techniques for presentations and provided clients with deliverables as soon as surveys were completed
Built stratifications for weighting based on Census and SOS data, purchased sample files for projects, and used DOSBox to make sure surveys were error-free and would be read properly to participants
Synthesized qualitative research from focus groups, published white paper reports and memorandums for clients and the public
6-10

years of experience
Composed over 200 fundamental research reports on publicly traded equities for a $50 million hedge fund.
Researched ideas with a heavy use of forensic accounting, bottoms-up analysis, and valuation techniques.
Consulted with other analysts and management teams, as well as engaged in direct channel checks for research.
Presented best research ideas to investment council and portfolio manager for entry into hedge fund portfolio.
Continually monitored and updated investment recommendations to clients and portfolio manager.
Provided input in selection of securities to enter hedge fund portfolio.
Directly managed interns that provided additional support for the research process.
Assisted in other areas given the small size of the firm, including marketing and operations.
0-5

years of experience

Worked directly with clients and internal technical groups to fulfill contract requirements.
Wrote macros in SAS and Excel to produce large amount of re-creatable tables that could be applied to multiple projects.
Produced statistical tables and reports tailored to specific client needs.
Wrote SAS code to merge, analyze, and extract specific statistics from large surveys and their respective databases.
Developed and programed data collection instruments for telephone, web, and mail based efforts with clients and technical staff.
Managed multiple million and hundred thousand dollar projects at once of varying methods and subject matters.
Wrote methodological and analytical reports tailored to specific project and client needs.
Used mapping software to present housing satisfaction and demographic data graphically.
0-5

years of experience

Helped leadership with decision-making through research, analysis, and evaluation towards various company programs/projects
Facilitated in advancing the culture of impact-driven program design
Utilized strategic thinking to construct company documents addressing impact, sustainability,
Assisted in creating an atmosphere of open communication and by liaising with other
Contributed to elements of initial pre-investment research, analysis, and evaluation needed for new programs and projects
0-5

years of experience
Conducted usability testing via field work/remote testing for corporate clients
Created actionable storytelling deliverables and co-presented results to all levels of organization
Developed recruiting screeners, proposals and study documents
Dramatically improved participant outreach process by creating a recruiting protocol, utilized creative data sourcing strategies and developed relationships with internal partners
Developed and enhanced in-house customer management tool to maintain historical data and research participant contact information, which provided team with an efficient process of managing relationships with customers and internal partners
0-5

years of experience

Conducted primary and secondary research
Analyzed qualitative research and developed creative PowerPoints showcasing research
Translated quantitative data into easy-to-understand reports
Edited and proofread reports worth $2,000
0-5

years of experience

Support strategic plans of the company by providing research information on new investments, resulting in our transition to Exchange Traded Funds.
Generate daily, weekly, and monthly investment spreadsheet analysis on all tracked positions to ensure investment suitability and profitability. Report all findings to management.
Provide all S&P, Morningstar, Moody's, and Quantum Online investment reports for producers as requested.
Create and manage sales opportunities for the Supplemental Benefits Workplace Marketing Program generating an average of $200,000 per year in new revenue.
Develop a CRM and lead management system, to assist producers in turning leads into sales opportunities, increasing closed sales by 20%.
Perform all required market analysis to select ideal strategic locations for Federal Benefits Programs both in and out of state identifying 8 new markets in 2013.
Generate all PowerPoint presentations including all graphics for both client facing and internal applications. Manage and set up all audio and visual equipment for presentations.
0-5

years of experience
Performed data gathering for internal software programs
Compiled required information and performed initial analysis
Executed thorough analysis of raw data
Drafted correspondence to clients
Maintained and updated records in internal database
0-5

years of experience

Researched and wrote grant opportunities for [company name] clients.
Assisted in the development of proposals and project documentation including statistical charts and graphs.
Performed environmental assessments on topics as diverse as social services, behavioral health and fine arts.
Conducted focus group sessions and workshops.
Provided program design and expertise on public health issues.
6-10

years of experience

Applied statistical and analytical techniques to improve selection processes in identifying unique qualities of cotton plants to develop into new, marketable varieties
Experience in primary data collection to improve research methodologies
Utilized critical thinking skills to gain perspective in analyzing the cotton industry; considering the demands of growers, mills and consumers in developing new varieties of cotton
Developed superb organizational and communication skills, working independently as well as collaborating with the research team
Managed groups of up to 15 workers
0-5

years of experience
Enhanced company's social media marketing communications activities
Assisted in the performance of the clients' market research and analysis projects
Hosted and facilitated research groups in assessing market for clients such as Microsoft & Oracle
Sought and provided information to help companies determine their position in the marketplace
Wrote and managed the distribution of surveys and questionnaires
Met with clients to negotiate and agree on research projects
0-5

years of experience

Fundamental analysis of 20 stocks representing 58 segments in the Industrial Technology space
Increased team coverage list 25% (16 to 20 companies) during my first six months at the firm
Perform in-depth research, build & update financial models, draft research reports for deep dives, company announcements, earnings releases, ratings changes and proprietary channel checks
Author initiation reports and deep dives including investment thesis, business drivers, industry outlook, intrinsic valuation, relative valuation and financial analysis
CFA Level II candidate, Series 7, 63, 86, 87 licensed
0-5

years of experience

Provided instruction in doctoral research courses that incorporates current teaching methodologies, technologies, and research that reflects advances in specific areas of the discipline. Supported review processes for evaluating overall quality, scientific merit, and ethical integrity of doctoral research. Proficient with Microsoft Office software and SPSS. Managed a $2 million inbound call center with a staffing level of 40 FTEs and 250 student workers.
Incorporated relevant research resources and experiential activities to support lectures and learning outcomes.
Stimulated discussions and participation in the online and/or on-ground classrooms.
Provided research support and protocol guidance through the review board processes to study alignment, research methodologies including quantitative, qualitative and mixed method designs and analytic approaches.
Pursued an ongoing research and publication agenda.
0-5

years of experience

Performed operational tasks as needed including calendaring and data entry, using Microsoft Office, and proprietary database software. Performed ad hoc data analyses upon request.
Consulted with clients (internal and external) via email and phone correspondence to identify business needs, and define technical requirements that will meet those needs.
Coordinated work with Services Command Center team members and other global and in-market [company name] teams to maintain partnering agency relations.
Administered the development and communication of new and changing policies and/or procedures.
0-5

years of experience

Performed departmental cost allocation, managed budgets and wrote RFPs, RFIs and grants proposals ranging from $100,000+
Established internal control measures and procedures to comply to government regulations, project timelines and grant application criteria
Process review coordinator
Managed staff by reviewing and employee performance
0-5

years of experience

Key analyst on a startup value & special situations product (generalist approach)
Built value-oriented statistical model for investment idea generation: design, implementation/coding, maintenance & operation
Interviewed company management and industry experts in person or on investor conference calls
Analyzed corporate financial statements, filings and events
Managed team's "sell-side" relationships and summer intern junior analysts
0-5

years of experience

Completed short-term and long-term analyst advisory research requests for hospital leaders across the country
Conducted primary and secondary research for membership community
Analyzed survey data from hospitals nationwide
Authored journal articles for monthly newsletters
Worked collaboratively with research team
Performed ad hoc research/written request as needed
0-5

years of experience
Performed statistical analysis and data management for clinical research using the SAS software
Designed clinical studies and collaborated with other investigators on the design of clinical trials
Drafted research manuscripts for journal submission
Worked on the maintenance of a clinical registry/database
0-5

years of experience

Appointed member of the Foreclosure and Eviction Hold Management Committees engineered to halt pending foreclosure sales and upcoming evictions in the event of an identified procedural error
Real-time transcriptionist of committee meeting proceedings for future review by bank and federal regulators
Analyzed internal processes to detect errors that had caused borrowers financial injury and categorized these observations according to the perceived level of harm
Assisted Deloitte, the Independent Consultant, in designing an end-to-end process flow and functional structure, propelling a 65% efficiency improvement
Collaborated with upper-level management and colleagues in the research, identification, and resolution of mortgage backed securities issues
Utilized evolving procedures, critical thinking, and teamwork to analyze loan servicing files, documentation, and information in the interpretation of complainant allegations
0-5

years of experience
Researched, analyzed, and interpreted files of the Federal Bureau of Investigation to identify pertinent information requested by specific customer government agencies
Performed research of a variety of criminal and general investigative records
Collected, organized, and reviewed information for accuracy and completeness and utilized other databases to verify or discredit provided information
10+

years of experience

I conduct research and analysis for business development teams. I deliver business insights for strategic planning, product marketing and competitive analysis. I also identify industry trends, best practices and subject matter experts.
Project Manager and Lead Analyst for (Confidential) Web Service
Provided marketing and business analysis in retail, web and mobile services, user acquisition, and identified global expansion opportunities.
Identified information gaps within product marketing and business strategies
Quantified user acquisition model for market entry that resulted in a more targeted business plan
Research contributions resulted in increased understanding of the current state and market size of seismic sensing opportunity, including identifying potential partners and competitors.
Provide research and market analysis, future trends and opportunities, competitive analysis, value chain, SWOT, Porter's 5 Forces analysis, and other strategic frameworks that resulted in faster decision making, more effective business plans, and go-to-market strategies.
Manage project scope and budget by collaborating with external primary and secondary research suppliers.
Maintain and develop knowledge of market research tools and data tools to effectively retrieve, analyze and construct market research reports and presentations.
0-5

years of experience

Market Research and Consulting firm specializing in local television news research for television stations located nationwide
Daily updating of various data tracking spreadsheets in order to track market performance on a day to day basis
Create and analyze quarterly client reports to help clients better understand their market as well as to form marketing plans to garner the highest market ratings share possible
Assist senior analysts with creating and analyzing weekly market reports that are presented to clients and field representatives to keep sample sizes up to date
Create and analyze Ad Hoc research reports to address client concerns and questions
Utilize Nielsen's database tools to mine, collect and formulate research reports to be analyzed and presented to clients
0-5

years of experience

Communicate findings from health and wellness research reviews and survey analyses through one-on-one client consultations, publications, conference presentations, and webinars
Support partner accounts through the development of action plans for over 50 university clients based upon evaluation of survey data, client goals, and research-based best practices
Evaluate over 300 outcomes-based research studies using innovative methodology to map high-risk alcohol
Collaborate with institutional researchers, key campus stakeholders, and experts in the field to identify
Lead new research studies from start to finish: creating analysis plans, designing survey tools, collecting
Manage annual research summit event for 200+ attendees including budgets, vendors, staff, and partners
Load More
Finance Cover Letter Examples
Create your own professional resume in just minutes.
Try our resume builder today
Build Your Resume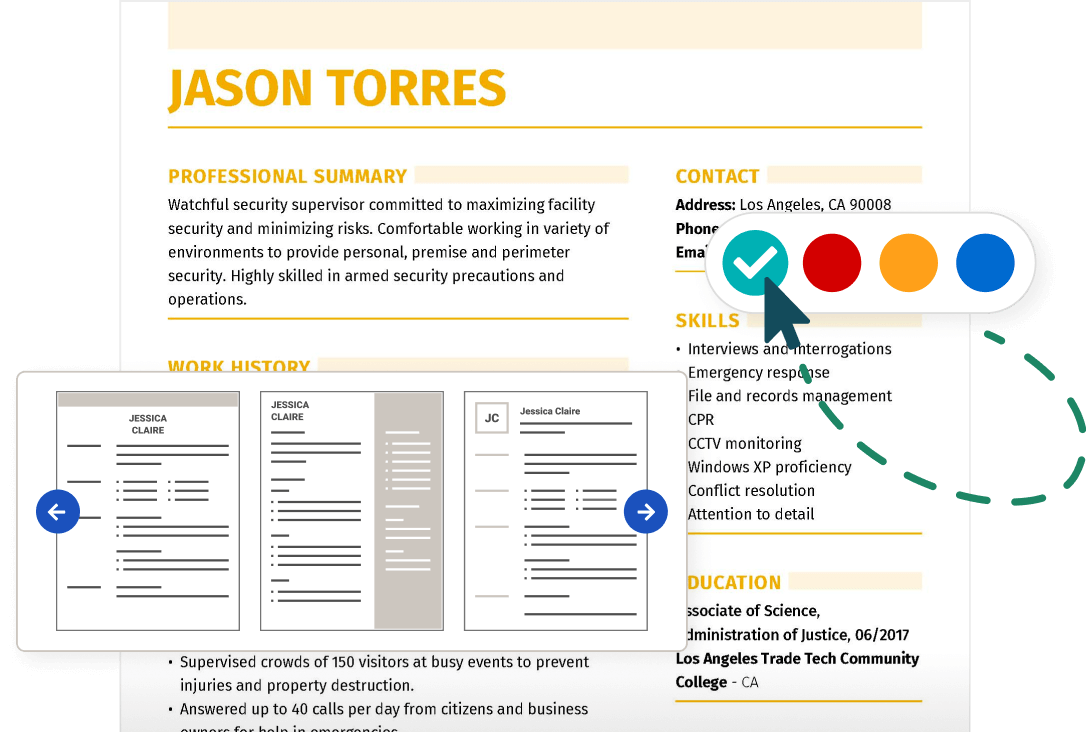 Research Analyst Resume FAQ
What are the responsibilities of a research analyst?
A research analyst researches and conducts analysis to help improve daily operations. Their responsibilities include collecting, testing and interpreting data to guide the business's decision-making.
A research analyst will be needed in areas such as marketing, business operations and finance.
A successful research analyst relies on mathematical skills. They are avid problem solvers and must have great written and verbal communication skills.
Are research analyst jobs in demand?
Research analysts are in high demand. They play a major part in a company's marketing strategy.
In fact, the U.S. Bureau of Labor Statistics (BLS) anticipates that job growth for market research analysts will increase by 23% from 2021 to 2031.