Featured in:
More Service Desk Technician Resumes
Use these Service Desk Technician samples as a guideline or visit our extensive library of customizable resume templates.
Additional Customer Service Resume Samples
How to Format a Service Desk Technician Resume
You can use one of three formats for your service desk technician resume - the chronological, hybrid or functional resume formats. We recommend the chronological or hybrid formats if you have over three years of steady, relevant IT experience. These formats use highly recognizable and detailed work history sections to describe previous jobs and their related responsibilities. As you can see, Candidate A uses the hybrid format to highlight their eight years of experience and the steady growth of their remote and in-person experience.
However, Candidate B is a relative newcomer to the professional world. They have two years of experience from their practical IT training classes and a six-month apprenticeship. These short bursts of experience might make them seem like a risky hiring choice, so they use the functional resume to prioritize their practical IT support computer service skills over a lack of long work experience.
Hybrid Resume
8

years of experience

3

years at this job

BS

Computer Science
Work History
Service Desk Technician, CyberChase Inc.
June 2020 - present, Menlo Park, CA
Work with customers, address issues, and manage customer concerns and requests over the phone and in person.
Identify and document trending and systemic issues: propose resolutions to associated stakeholders.
Provide advanced technical analysis and troubleshooting skills, attention to detail, and consistent resolution of IT problems.
Functional Resume
2

years of experience

1

year at this job

BS

Information Technology and Information Systems
Professional Skills
IT Support
Provide effective and efficient customer service and support with the ability to multitask.
Provide general technical guidance to the local users to support all IT services.
Write technical articles, solutions and how-to documentation for support and end users.
Maintain appropriate technology, computer security, and safety training.
Computer Skills
Proficient in working with Windows and Linux operating systems.
Experienced using the ServiceNow ticket management system.
Intermediate knowledge of account management systems
Service Desk Technician Resume Samples
No results found
0-5

years of experience
Responded to and resolved support tickets in a timely matter. Closed out an average of 40-60 issues per day.
Troubleshot IT related issues (hardware, software, network, peripherals, VPN) for VA healthcare professionals nationwide.
Conducted online research, and diagnostic activities to investigate and resolve problems with hardware and software.
Provided first point of contact support to end users with professionalism, timeliness, and accuracy.
0-5

years of experience
Recorded technical issues and requests. Diagnosed and resolved problems. Escalated issues as appropriate.
Interact with all levels of staff to resolve various technical issues with personal computers, medical research computers, printers, and conference room equipment. Contact vendors as appropriate for maintenance in accordance with company contracts.
Maintain and report hardware inventory on a monthly basis in accordance with corporate requirements.
Format and image computers for company use. Add computer to the DNS utilizing Active Directory as needed.
Primary point of contact for equipping new hires with appropriate desk setup. Activated ports as needed and installed additional software upon request.
Streamlined the computer setup process from an average of 2 hours per computer per user down to 15 minutes.
0-5

years of experience
Provides first level assistance for defined problems and escalated tickets as necessary.
Tracked calls and documented problems into issue tracking software, consults knowledge database to optimize resolutions and follows through on resolution with callers.
Provided PC hardware and software support to end-user
Installed PC and related peripheral equipment for end-user
Maintained statistical reports and documentation, including problem/trouble and departmental statistical and effectiveness reporting
Set up user accounts, process move, transfer and user change forms
0-5

years of experience
On-call troubleshooting as well as deskside support
Provided assistance with office moves and installation of laptop/desktop workstations
Handled over 60 service requests/ incidents per week, resolving at least 75% of calls handled
Assisted end users through email, phone and walk-ins
Provided hardware assistance from laptops keyboard swap to reimaging laptops/desktops
Provided after-hours assistance
0-5

years of experience
Maintained enterprise network for the MITSC West domain for the US Marine Corps.
Provided troubleshooting for user workstations, telephones, peripherals, networked printers/scanners, and cellular devices.
Provided software troubleshooting and administration for proprietary software as well as Microsoft Office, Windows 7, Internet Explorer, Java, and Adobe.
Was the sole technician on site during weekend hours and assisted VIP clients with computer and cell phone issues.
Provided customer service to a network of 100,000 users as well as users in other Enterprise networks.
0-5

years of experience
Set up VTC Conferences for Military events U.S Army Reserve & meetings out of the country
Deployed and installed Laptops, desktops, monitor's printer's mobile devices for users and the military divisions.
Completed and resolved over 10 Tickets daily to resolve technical issues including software failures hardware malfunctions.
Answered phone calls assisting customers with claims legal assistances help with the military websites and applications and other resources.
Made sure military publications & forums were updated on EJAWS website.
Resolved over 10 or more tickets dealing with Accounts databases database access application access.
Monthly assignments making sure announcements and photo announcements were posted made the military EJAWS DVD orders the review of accounts approval/rejection of new accounts.
0-5

years of experience
Administered Microsoft Windows Servers 2008/2012.
Performed hands-on installation, configuration, and managed windows servers.
VMware server migration.
Managed SQL database backups.
Spear headed all software roll-outs to company employees.
Handled all employee desktop purchases, setups and configuration.
0-5

years of experience

Provide quality support to the internal and external user community from 889 sites used by over 47000 employees by troubleshooting and escalating issues to 2nd level support. Deploy and troubleshoot desktop/server/network hardware, operating systems and applications. Receiving and responding to customer problems received via the ServiceNow / Remedy ticketing system, phone, email, chat, text and web based ticketing portal. Monitor tickets escalated to ensure they do not breach SLA. Work directly with 2nd level support to resolve issues.
Install, configure, and troubleshoot cisco VPN and certificates for remote users
Install Adobe, Outlook, Printers, Java, etc. software for remote users
Troubleshoot and configure email accounts for users on blackberry, IPhone, android
Train new hires on the weekend monitoring of AS400 Systems running warehouse management systems: WM Manhattan, TOPEX, TCS
Provide network troubleshooting to sites using Net flow and checking for power issues
Monitor datacenter alert system on the weekends for proper temperature and other issues
Monitor mail-in databases for alerts/emails to create tickets and troubleshoot problems
Manage Outages for site down issues by notifying upper management via page gate notifications and monitor conference calls to engage further support as needed.
0-5

years of experience
Subject matter expert and escalation point for service procedures, email folders and processes, AMDOCS case processes.
Assisted Service Desk managers with administrative duties, providing work designations and assignments as necessary.
Coordinated and lead training sessions for NOC employees and new hires.
Creating training documents for NOC procedures.
Created cases and ordered parts for customer issues with theater projection, servers, network switches, and flat panel displays using AMDOCS ticketing system.
Level 1 Support for servers, switches, digital projector hardware/software, digital signage hardware/software network issues
Handle a high volume of inbound/outbound telephone calls and emails to customers/vendors.
0-5

years of experience
Provided training and mentorship to peers and junior level technicians, during work and non-duty hours.
Applied advanced diagnostic techniques to identify problems, investigate causes, and recommend solutions for Microsoft Windows operating systems, both thin and thick client, file management, profile, and Active Directory issues.
Demonstrated advanced enterprise support knowledge for hardware, software, application, and network problems.
Demonstrated capability in establishing administrator and service accounts.
Reviewed existing technical solutions for improvements and efficiencies.
Developed self help fix-it tools for automating ESD procedures.
Created system technical documentation for knowledge sharing
Monitored activities of incident outages for Incident, Problems and Change Management for the ESOC Service Desk
0-5

years of experience
Created service tickets using ConnectWise for service requests, recording the technical nature of the request, user(s) involved along with contact information, and determined the level of priority for each ticket created.
Generated a monthly Service Item report that was exported to an Excel spreadsheet which was then modified and added to a master file used to generate Pivot tables.
Created and managed new user accounts based on role using Microsoft Exchange and disabled users in NextGen EHR as required.
Created a learning module to instruct new users and refresh veteran users in computer literacy, service request submission, and basic troubleshooting steps.
Implemented new user workstation setups complete with peripheral hardware such as printers and scanners, and necessary software to perform daily tasks such as Microsoft Outlook, Trend Micro Antivirus, and NextGen EHR.
Headed a hardware replacement project documenting the number and location of computers/thin clients to be replaced, coordinated with the client for scheduled downtime for the replacement by site, and verified that the equipment worked properly with a final verification by the user.
Created a Procedures guidebook for the installation and workstation setup of a basic user, including procedures for printer installation, software installation of specific programs according to role, and a checklist to document and verify set up completion.
Provided effective communication with various users as well as executive staff with regard to service request progress, coordination of down time and agreed outages, and impending changes affecting completion of any service tickets.
0-5

years of experience
Provide customer service to incoming caller requests, services, and incidents in an ITIL environment utilizing Bomgar remote control software.
Record and track all assigned service desk incidents for problem resolution. Ensure all tickets contain accurate information for escalation to upper tiers or applicable teams for further troubleshooting.
Provide a positive customer-focused service in a high call volume environment while meeting service level agreement standards.
Support an Active Directory and Microsoft Windows 7 and Windows 10 enterprise environment.
Troubleshoot laptop and desktop machines remotely for LAN/WAN connectivity by understanding TCP/IP networking protocols.
Maintain confidentiality of clients' protected health information and business records for a company that serves +26 million members.
Work effectively and communicate clearly in a high-stress, team environment. This ensured quick notice of major ticket escalation.
Receive constructive criticism and participate in cross training to improve skills through performance metrics and one-on-one monthly evaluations with supervisors.
0-5

years of experience
Serves as a Tier 1 Helpdesk Administrator for the Air Force Enterprise Service Desk (ESD) supporting 500,000+ personnel for all Air Force bases worldwide
Troubleshoot, research, and resolve end-user hardware, software, and networking problems
Remotely assists, troubleshoot and perform application installations
Performs password resets and unlocking and enabling accounts
Escalate unresolved end-user problems to appropriate tier using Remedy trouble ticketing system
0-5

years of experience

Enterprise Service Desk provides front line support for IT services, systems and operations. A central point of contact for enterprise-class IT service support, outage notifications, and information dissemination.
Provided password resets via email and phone.
Provided website support for training website.
Provided course support when website would not record the course as complete.
Provided support to other admins for course issues, transfer of users, and running reports.
0-5

years of experience
Collect information from callers and ensure that tickets are promptly and accurately documented in Remedy so that up-to-date information is available at all times
Perform password resets on applicable systems
Utilize the knowledge base to guide callers through resolution of reported issues
Respond to service requests, incidents, and problems received via phone, email or fax
Manage and coordinate urgent and complicated support issues
Remote in callers computer to further assist with technical issues
0-5

years of experience
Provide exceptional incident resolution for POS equipment and software, including registers and their components, networking equipment, office computers, personal computers, mobile devices, and VPN methods using Cisco AnyConnect an Citrix Receiver (Stores & Corporate).
Document incident details and resolutions into Service Desk incident management system (BMC Remedy).
Support is done over the phone and email while utilizing remote tools (Dameware)
Support for mobile devices is completed through the application Mobile Iron.
Gained experience in using and repairing Microsoft Outlook.
0-5

years of experience
Support and troubleshoot HP products such as printers and computers
Ensure client/customer satisfaction
Dispatch tickets to appropriate departments with severity and priority levels
Collaborate with colleagues to improve the process of the help desk.
Used a ticketing system called Service Center.
Handled 30-50 calls per day.
Use Active Directory to manager user accounts, such as permissions, contact information, passwords, and account lockouts.
0-5

years of experience
Respond to requests for technical assistance via telephone and email.
Diagnose, troubleshoot and resolve technical hardware and software issues for Arvest associates
Train new Service Desk Technicians
Log all reported technical issues, resolutions, and customer contact
Setup and maintain Audio and Video Conferences
0-5

years of experience
Perform all duties that a full service/help desk role entails including deskside and remote properties.
Set up, suspend and terminate users in active directory and many other in house and third-party systems.
Document all major processes in a shared knowledge base.
Lotus Notes administration
Basic Citrix administration
Order, configure, and troubleshoot Android and iPhone smartphones and configure email.
0-5

years of experience
Serve as the first point of contact for customers seeking technical assistance over the phone or email
Perform remote troubleshooting through diagnostic techniques and pertinent questions
Follow up and update customer status and information
Provide accurate information on IT products or services
Identify and suggest possible improvements on procedures
0-5

years of experience
Performed troubleshooting and repairs on devices including Macs, Windows Desktops and laptops, Tablets and phones both android and IOS for fourteen different client environments
Vetted and updated SOP's
Performed basic upkeep and maintenance on desktop, laptops, mobile phones and tablets
Performed data transfers
Data migrations
Built and deployed all new incoming laptops and desktops
Built quotes for clients
Performed ConnectWise and track-it ticket maintenance
Provided on site desktop support to clients when requested
Aided in the company wide upgrade from Windows 7 to Windows 10
0-5

years of experience
Provide technical support by communicating via phone, email and chat with internal and/or external clients requiring assistance or information.
Utilize software solutions and personal knowledge and troubleshooting skills to identify possible resolutions.
Remote control desktops to resolve technical issues
Handle inquiries and resolve concerns to ensure client satisfaction.
Handle client communications using incident handling, escalation, quality measurement procedures, and work instructions.
Adapt to changes in user demands, work environment, and changes to processes or requirements.
Consult with Senior Support Specialists as needed to respond appropriately to the client.
0-5

years of experience
Handled an average of 500 calls and 150 emails a month in a high-volume enterprise call center environment.
Worked with remote software like Bomgar and VNC Viewer, Active Directory, Service Now, SAP, Ultipro and Microsoft Office Suite.
Responsible for troubleshooting point of sales machines, servers, desktops pc's, laptops, iDevices, mobile phones, printers, phone systems, battery back-ups and wireless access points.
0-5

years of experience
High volume call center taking 25-35 calls per day
Handle RA and VPN Request to remote employees giving step by step instruction
Front Line Support for ticket that cannot be resolved by other Tier I Technicians
Trained and certified in numerous VA rules and regulations handling classified information
0-5

years of experience
Monitor automated and end user incident and outage reporting.
Provide direct customer support when required.
Create and track tickets from initial trouble report through resolution.
Diagnose problems and validate network problems.
0-5

years of experience

Help-Desk phone support
PC Anywhere (Altiris) remote assistance and remote software deployment
Install and troubleshoot network and local print devices
HP Service Manager workflow ticket creation
SCCM remote software deployment
VPN and Intranet troubleshooting (Login scripts, network drives)
0-5

years of experience
Extensive use of HEAT ticketing system and prioritizing tickets accordingly.
Troubleshoot in-store servers and SIP mobile servers remotely.
Assist 135 stores with IT issues and mobile device issues.
Extensive use of DameWare remote control as well as Bomgar remote control.
Extensive use of Active Directory creating distribution lists and security groups.
Troubleshoot POS (Point of sale) machines.
Monitor performance of Internet using PRTG.
0-5

years of experience
Diagnose, troubleshoot and resolve various hardware and software related issues.
Provision desktops, laptops, emails and work desk/cellphones for end users.
Provision & manage new users using Active Directory and Microsoft Exchange Server.
Assisted with team projects implementing Wifi Access on Piers & Point of Sales software on the Cruise Ships.
Routine maintenance of office equipment printers, scanners, ticket scanners/printers, projectors, etc.
Delegate ticketing request as needed based on tier level.
0-5

years of experience
Organize the HPH Service Desk so that all incoming HPH support calls are dealt with in a timely and effective manner.
Ensure that all incoming IT support calls are recorded accurately.
Prioritize outstanding IT support calls and schedule in order of prioritization to the relevant IT Support Technicians.
Analyze and resolve urgent 1st line support calls when escalated via the HPH Service Desk. This could be over the telephone or where appropriate a visit to the end user and update the HPH Service Desk system as appropriate.
If required, to undertake the duties of an HPH Service Desk Operator.
Promote good practice in the use of IT hardware and software.
Provide advice and demonstrate use of software and hardware to end-users.
Keep all HPH hardware safe and secure.
Perform occasional other tasks as and when requested to do so by the HPH Services Senior Management
Monitor status of WAN links and carry out basic investigations prior to reporting any issues to HPH Senior Management
0-5

years of experience
Support and knowledge of up to fourteen different projects
Administrate user accounts in Active Directory
Administrate user accounts in Skipjack, BOI, MASS Access Control and Crystal Reports
Monitor a variety of different devices for problems and assess the problems and how to resolve the issue. Dispatch technicians as needed.
Remote diagnostics of a variety of servers and devices using Dame Ware, Remote Desktop, VNC and telnet. Troubleshoot devices
Professional phone support for merchants, clients and the public.
Use of Metrix 4, 5.2, 5.3, 5.4 and Jira ticketing systems to open calls and dispatch assignments
Working both in a group as well as unsupervised
0-5

years of experience
Support desktop break/fix trouble tickets according to department SLA's
Conduct repairs on desktops, laptops and some printers
Setup AD Accounts and Setup BitLocker Encryptions for PCs
Windows Restore, Windows Startup Recovery, Re-image PCs
Respond to incidents/requests in person, email, or over the phone
Set up new or replacement desktop computing equipment and order warranty parts
Service Now and Easy Vista ticketing system
0-5

years of experience
Troubleshooting software issues including Windows operating systems, MS Office products and proprietary systems
Tasks include end user support, license tracking and performing PC maintenance, upgrades and configurations.
Familiarity with various Windows operating systems, MS Office products, networking environments, Internet applications, including Internet Explorer, Internet connectivity methods, including virtual private network (VPN), dial-up and broadband
Remote in software and formal ticketing system.
0-5

years of experience
Service Desk Experience and Remedy Enterprise
Daily systems management experience
Documentation creation/modification experience
Excellent troubleshooting skills and know-how
Great communication skills
Great customer service skills
Excellent interpersonal skills in handling contact with end-users, staff, customers and suppliers
The ability to follow troubleshooting documentation and support any myriad of issues throughout the environment
Works well in groups and is able to collaborate with remote personal at various skill levels to ensure proper consistent troubleshooting is performed.
0-5

years of experience
Provide day-to-day support for the end user community for multiple areas within the BGE IT departments, in particular providing support and troubleshooting for the desktop environment, managing communication between BGE and the Help Desk vendors, and identify areas of improvement
Maintain software and OS patching is current across the enterprise
Support hardware and software for desktop clients, as well as troubleshoot various internal application issues
0-5

years of experience
Remote troubleshooting through advance diagnostic techniques.
Follow-up and update customer status and information.
Remote network configuration and setup through TCP/IP and VPN technologies.
0-5

years of experience
Under moderate supervision, provided the initial response to problems submitted to the Service Desk
Served as Level I support for desktop, network, and telephone issues. Acted as member of 7x24 service team in this regard.
Maintained, analyzed, troubleshoot, and repair computer systems, hardware and computer peripherals.
Documented, maintained, upgrades or replaced hardware and software systems.
Supported and maintained user account information including rights, security and systems groups.
Provided quality assurance for new technical capabilities prior to delivery to the customer.
Logged, assigned, escalated, and resolved problems reported to desktop support area.
Learned the software being used to run the business to be able to assist customers in resolving problems.
0-5

years of experience
Provides hardware and software support, both physically and remotely, of PC's and network/telecommunications system infrastructure equipment for 37 Prince William County government agencies; Respond to approximately 50 service calls per day.
Install, configure, upgrade, and troubleshoot problems related to hardware, software, and other equipment.
Manage user network accounts through active directory.
Accurately and thoroughly document all incidents into the tracking system.
Advise and assist users on how best to utilize system.
Manage user identification and password accounts and other necessary security support.
Familiar with and diagnose compatibility issues with Offender Management Systems.
Experience imaging laptops, desktops, and tablets with Windows 7 and 10 operating systems images and software.
Experience writing technical documentation including the creation of knowledge based articles for instructions on software installation and troubleshooting.
Develop technical instructional material for staff
0-5

years of experience
Manage Engine Administrator
Equipment purchases and management
Software installation and deployment package creation
Project management and work
0-5

years of experience

Complied with documented procedures for IT service restoration by adhering to ESD policies and procedures relative to problem analysis and resolution.
Excellent Customer Relationship skills through communications, tone, knowledge, and respect while engaging via phones, web tickets, and other communications media.
Good writing skills relative to etiquette, clarity, concise information gathering, feedback, and written documentation during troubleshooting activities and resolution.
Ability to independently understand, troubleshoot, and resolve many types of Service Requests.
Ability to use Active Directory everyday to properly resolve issues with customer profiles, passwords and home directories
Ability to learn all facets of the ESD's process oriented environment.
Knowledge of the Microsoft Windows desktop operating systems and administrative tools.
Knowledge of Enterprise support hardware, software, network connectivity and applications.
Provided accurate and detailed documentation of the IT problem, analysis and resolution actions performed during the IT restoration process.
Accurately and completely capture Customer and Incident data within the service request tracking system.
Registry Editor / Registry Operations
0-5

years of experience
Provided phone and remote support for [company name] employees
Used ITSM to log tickets
Used SCCM for remote support and pushing software installs
Worked with site support for local issues and troubleshooting
0-5

years of experience
Troubleshooting and problem solving of database issues that arise while working concurrently with multiple priorities.
Responsible for supporting various databases (SQL, Oracle and MySQL) and ensuring their availability.
Communicate with the clients or DBA for any issues that require their assistant.
0-5

years of experience
Provide Level II Tech Support
Managed Day to Day issues within Service Desk
New User Creation and Exit User Processing
Setting up Computers for users.
0-5

years of experience
Confident in troubleshooting computer errors
Confident in using help desk ticket software
Confident in solving problems in a timely matter
Confident in working under pressure
0-5

years of experience
Main responsibilities when in the service tech role was trouble shooting operating system/hardware/driver/ and mobile application issues. Remotely connecting to on- shore and off-shore clients was necessary to provide solutions to repair these issues. Maintaining daily volume targets was an absolute must to maintain daily goal targets, which required a large team effort. In 2016 I had the highest call, and chat volume received and resolved of the 17 analysts on the service desk. I still maintain the highest chat volume resolved and received in one day.
Main responsibilities of the metric analyst role was to provide end of week, daily, and monthly reports, and any daily report requests to upper management and senior leadership focusing on first contact resolution, and other goal targets. The creation and design of new reports in Excel and Power point was essential to present this data.
Data gathering from running scripts in different databases was also part of the metrics analyst role. The use of pivot tables in Excel and collection and retention of chronological data was also my main responsibilities. I was the only metrics analyst on the [company name] service desk which required direct contact with upper management, and senior management/leadership.
Load More
Customer Service Cover Letter Examples
Create your own professional resume in just minutes.
Try our resume builder today
Build Your Resume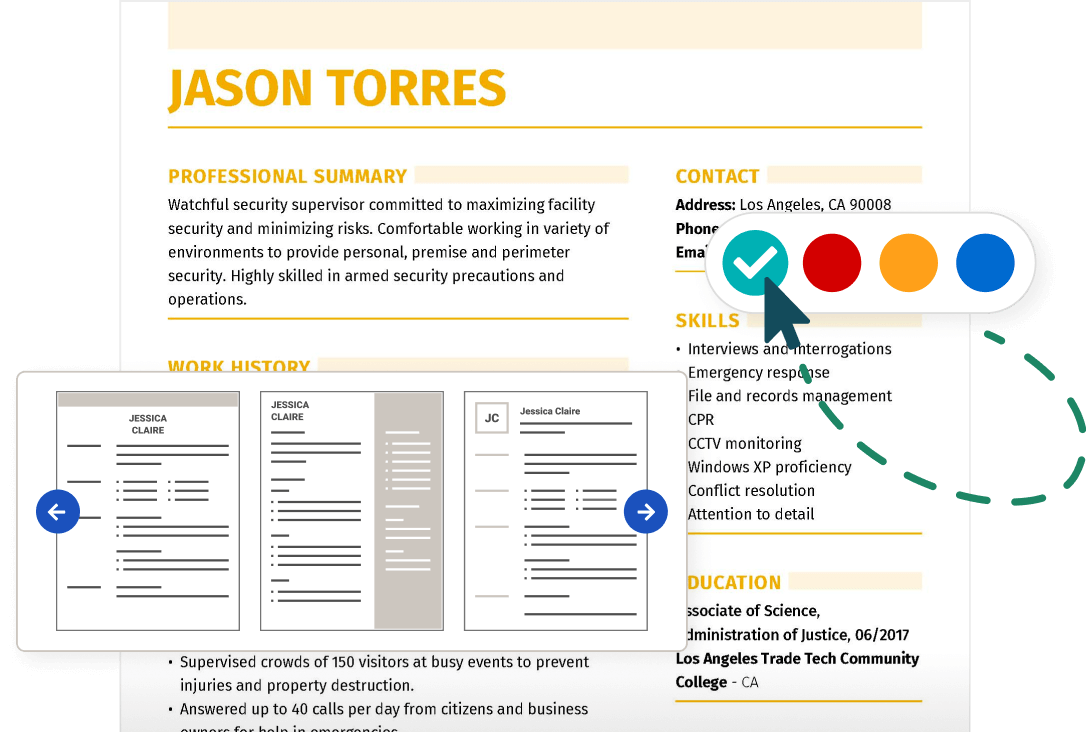 Service Desk Technician Resume FAQ
How do you describe a service desk on a resume?
Your service desk resume should include examples of these common responsibilities. Use quantifiable numbers such as the number of employees or customers you support, the budget you oversee, or the speed at which you close repair tickets.
Answer and process incoming phone calls.
Manage multiple phone lines.
Analyze technical problems and provide remote diagnostic support.
Follow up on problem-solving processes and provide alternate solutions as needed.
Manage on-site and remote technical needs.
Forward complex repair requests to the appropriate parties.
Run remote diagnostic tests.
Troubleshoot equipment and software.
Submit repair and replacement requests.
What skills do you need to be a help desk technician?
The following skills can help your successfully navigate your responsibilities as a help desk technician:
Attentive listening skills
Problem-solving skills
Analytical thought process
Customer service experience
Written and verbal communication
Technical knowledge of hardware, software and operating systems
Patience
Ability to simplify complex technical solutions
What should I put on my resume for a service help desk?
We previously mentioned what specific skills and responsibilities you should highlight on your resume. However, your desk technician resume could see a boost of interest if you mention the following nuanced skills where accurate and requested.
Remote debugging
Network architecture maintenance and repair
Project management software such as Zendesk or Jira
Phone bank support
Network security maintenance
Programming languages such as Python