Featured in:
Sales associates are the front-line employees of any business with brick-and-mortar retail locations. Every industry that sells to customers employees sales associates; many specialize in one industry. These industries include but are not limited to, fashion, home improvement, food and beverage, electronics, and telecommunications. Sales associates are retail employees, so they have to work evenings, weekends, and holidays. The plus is that those who work on commission benefit from busy stores during the holiday season. The people who are most satisfied with this position have a true passion for what they sell. Sales associates usually work 40-hour workweeks, although they may work a lot of overtime during the holiday season. They also may see their hours get cut during the slower months.
Sales associates work under the guidance of a retail supervisor. According to the National Bureau of Labor Statistics, the demand for retail workers, which includes sales associates, is going to grow 2 percent through 2026.
Our certified resume writers have created a library of resume samples to show you exactly what a strong resume looks like. Use them as-is or customize them to your needs.
One extra step to impress a manager: A growing number of hiring professionals read cover letters to determine whether they'll interview a candidate or not. Use our cover letter templates to craft a complete application that lands you the interview.
Sales Associate Duties and Responsibilities
Sales associates have many duties and responsibilities, which vary depending on one's industry. We analyzed a handful of sales associate job descriptions to come up with the following list of the most common sales associate duties and responsibilities:
Participate in Product Knowledge Meetings
Sales associates participate in regular meetings that inform them of the features and benefits of the latest products. These meetings may involve role-playing games to practice using product knowledge in a customer setting.
Answer Customer Questions
Not only do sales associates have to answer customer questions, they have to maintain a consistently positive attitude while doing so. They also have to know when to ask their manager for assistance.
Arrange Product According to Company Visual Standards
All retail stores have a visual merchandising strategy. Sales associates are responsible for maintaining that strategy by straightening items on the sales floor throughout the day.
Collaborate with Stock Team yo Replenish Floor
Sales associates have to be in constant communication with the sales team. In some retail locations, both the stock and sales team wear headsets that allow them to communicate without the sales associate leaving the floor. Sales associates need to be able to describe a product by its SKU and style code.
Perform Basic Housekeeping Tasks during Opening and Closing the Store
These tasks include things like sweeping, mopping, windexing doors and mirrors, wiping down counters, emptying sensor bins, and taking out the garbage.
Process Sales Using Point of Sale Software
Sales associates use point of sale software to process customer payments. This responsibility involves adding items near the register and capturing customer email information.
Sales Associate Skills
Sales associates have to be experts in whatever they sell. Those who work in fashion have a knowledge of style and textiles, while those who work in home improvement have a knowledge of various building materials. Sales associates also need to know how to explain the features and benefits of a product in a way that entices the customer. Patience and a positive outlook on life are key to succeeding as a sales associate. Sometimes one encounters a nasty customer and it takes thick skin to not let it affect one's day. Besides these traits and areas of knowledge, the following skills are needed to obtain employment:
Learning the features and benefits of new and current products through actively participating in team meetings
Using spatial awareness to monitor the behavior of multiple customers at a time
Selling products to customers using sales skills and product knowledge
Maintaining products on the sales floor to company visual standards using strong attention to detail
Collaborating with other sales associates and manager on duty to provide an optimal customer experience
Sales Associate Tools of the Trade
Headsets – headsets and walkie-talkies are used by sales associates to communicate with each other and the stock team
Point of sale software -used to facilitate customer transactions
Pricing and labeling gun -used to print labels and mark promotions
Sales Associate Education and Training
All knowledge required to be a sales associate is required through on-the-job-training. They only need a high school diploma or equivalent to get hired.
Sales Associate Salary
According to Glassdoor, the national average salary for sales associates is $24,809. The low point of this scale is $19,000, and the high point of the scale is $48,000.
Create your own professional resume in just minutes.
Try our resume builder today
Build Your Resume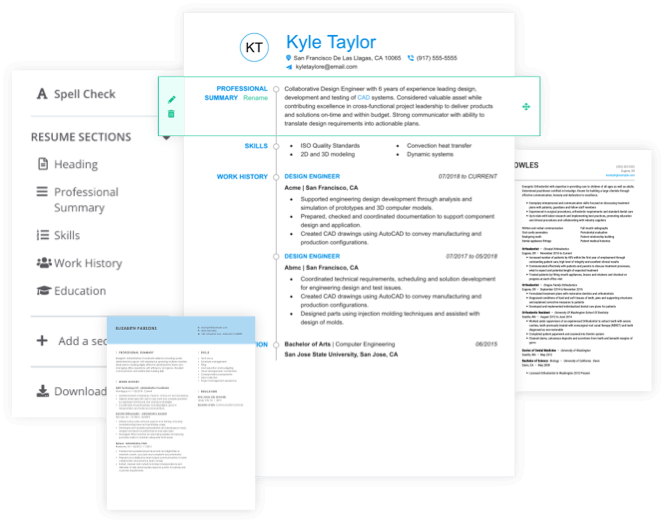 Sales Associate Resources
If you think a career in sales is for you, check out this list of resources for sales associates.
Sales Associate Resume Help
Explore these related job titles from our database of hundreds of thousands of expert-approved resume samples: