Featured in:
Radiology techs take medical images to help radiologists or physicians diagnose injuries and illnesses. This job is perfect for service-oriented people with warm personalities and a knack for engaging with patients. It also suits active individuals who don't mind being on their feet for extended periods of time. Radiology techs generally work in a hospital setting or a private office and report to a doctor or radiologist. Most work at least 40 hours per week, if not more. Radiology techs often take on-call duty, which can include evenings, weekends, and holidays.
Our team of certified resume writers have created a library of resume examples to show you how to craft a strong resume. Study them to learn to write your own.
Boost your resume with an extra click. Our cover letter templates match our resume templates' designs for a cohesive application. Use a template in our builder to help you quantify and expand upon the experience from your resume and impress employers.
Radiology Tech Duties and Responsibilities
Job duties will vary depending on the specialization, such as mammography, computed tomography, or radiation therapy. However, these core responsibilities are present across the entire field:
Use Medical Imaging Equipment
Radiology techs assist physicians or radiologists in using medical imaging equipment, such CT and MRI scanners. They check that patients are positioned correctly then take high-quality images of bones, organs, tissues, or other parts of the human body. These images help doctors make accurate interpretations and diagnoses.
Educate Patients
A radiology tech is responsible for educating patients and their families about radiology procedures. Any questions or safety concerns that the patient might have should be thoroughly answered. Occasionally, they are also asked to help interpret and explain results.
Prep Exam Room
Before the patient arrives, the radiology tech checks that everything is in order for the appointment. Equipment should be prepped and ready to go, surfaces should be sterilized, and any data from the previous patient should be filed away.
Document Information
Radiology techs are responsible for keeping careful and detailed notes on each patient and appointment. They record test results and patient notes in a computer for the next visit.
Report to Physician
Radiology techs maintain close contact with the physician or radiologist they're working with, which includesreporting test results or patient concerns to the physician in a timely and professional manner.
Radiology Tech Skills and Qualifications
Radiology techs are passionate about helping others and are comfortable working in a fast-paced environment. An associate's degree, a state license, and the following skills are generally required to succeed in this career:
Radiology equipment operation - radiology techs understand how to operate various types of radiology equipment, such as X-ray, MRI, and mammography machines. They must also know how to tell when equipment is malfunctioning
Computer skills - recording patient data is an essential job, so radiology techs must have decent computer skills
Interpretation skills - radiology techs are often asked to assist doctors or radiologists in interpreting data and checking images for errors or overlooked information
Attention to detail - an acute sense of detail helps radiology techs maintain a safe environment, take accurate images, and accurately interpret results
Interpersonal skills - in addition to frequent communication with doctors and radiologists, radiology techs must also treat patients with compassion and courtesy
Tools of the Trade
Medical software (such as DICOM and MEDITECH)
Imaging equipment (including X-ray and ultrasonography machines)
X-ray darkroom equipment (like film processors)
Radiology Tech Education and Training
Radiology techs need a high school diploma and an associate's degree in radiologic technology. Once fully trained and educated, they must get certified by the American Registry of Radiologic Technologists. Although requirements vary by state, radiology techs are generally required to obtain additional state licensure. Prior experience isn't mandatory, but one year of experience working in the field or in a hospital is advantageous.
Radiology Tech Salary and Outlook
According to the Bureau of Labor Statistics, median salary for a radiology tech is $57,450 per year. The lowest-paid radiology techs earn around $35,805 per year, while the highest earners take home upwards of $65,000 annually. Most radiology technicians also receive additional benefits, such as life, health, and dental insurance.
The job market for radiology techs is expected to grow by around 13 percent between now and 2024, which is above average compared to other careers. The aging baby boomer population may also contribute to even more growth in the field.
Create your own professional resume in just minutes.
Try our resume builder today
Build Your Resume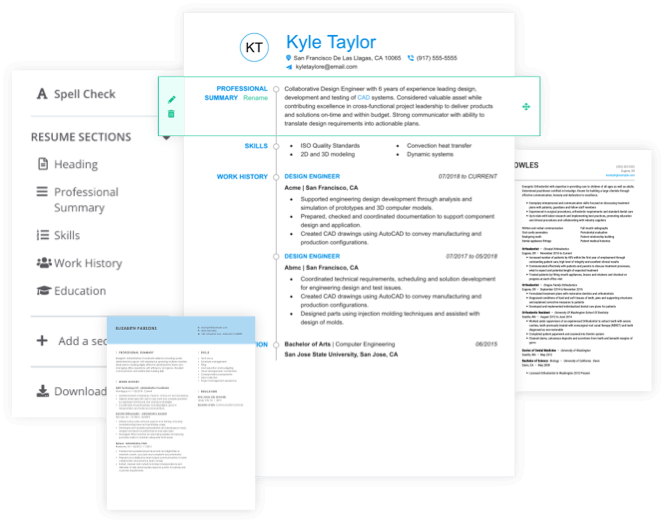 Helpful Resources
There are a variety of helpful tools available to help you begin your journey towards becoming a radiology tech or simply to help you build on your existing knowledge. Check out this list of top-notch resources to get you started:
stay up to date with fieldrelated news and learn about earning credentials to further your career
Jeremy Enfinger details the stepbystep process of becoming a radiology tech, from choosing an accredited school to navigating the job market
an international organization of radiologists and other medical professionals with over 54,000 members worldwide
RadTechBootCamp
a blog geared towards aspiring radiology techs, complete with helpful articles and online courses
Theresa S. ReidPaul's guide on radiologic technology covers topics that directly correspond to the ARRT certification exam
Radiology Tech Resume Help
Explore these related job titles from our database of hundreds of thousands of expert-approved resume samples: