Featured in:
From installing new software to monitoring network security, an IT generalist covers various tasks in a company IT department without specializing in any one area. Ideal candidates for this occupation are tech-savvy, love the challenges of repairing and updating computer systems, and are not afraid to take on many roles on a daily basis. Armed with a knowledge of many areas of computer technology, IT generalists often assume supervisory or leadership positions. Working as an IT generalist is typically a full-time job; they work in the IT departments of all industries.
Need cover letter guidance? Add a cover letter to your resume using our cover letter formats how-to guide and add value to your resume.
Boost your resume with an extra click. Our cover letter templates match our resume templates' designs for a cohesive application. Use a template in our builder to help you quantify and expand upon the experience from your resume and impress employers.
IT Generalist Duties and Responsibilities
Regardless of the type or size of the company in which they are employed, IT generalists basically perform the same major duties. We have studied several job listings for this occupation and found the following to be the responsibilities most commonly listed:
Install New and Upgrade Software
IT generalists keep a company's system updated with the latest software. They evaluate systems upgrades and new software, install and implement this software, and run tests to ensure compatibility and to address any issues with new or upgraded applications.
Provide Systems Support
It is typically up to IT generalists to provide technical support to both in-house and remote users. This includes handling issues that the first-level technical support staff could not resolve and troubleshooting specific systems errors and issues. IT generalists also train support staff in the use of hardware and software associated with company systems.
Establish and Maintain Network Security
It is of utmost importance for companies to maintain network security to keep their systems running smoothly; to this end, IT generalists continually monitor network security, evaluate existing security programs, update antivirus software, and run scans to ensure network integrity.
Oversee Disaster and Recovery Plans
Companies must always be prepared for power outages, surges, and other disasters that can adversely affect their data and computer systems. IT generalists create, implement, and maintain recovery plans to ensure that all pertinent information is saved and can be retrieved in the event of a disaster.
Create Activity Logs for Upgrades and Maintenance
IT generalists generally keep records of systems upgrades and maintenance. They keep track of when upgrades are available and due to be installed, when maintenance needs to be performed, and what improvements have been made to IT infrastructures.
IT Generalist Skills and Qualifications
The most effective IT generalists are strong problem-solvers and leaders with highly capable technical skills. The following skills are commonly mentioned in IT generalist job listings:
Computer skills - from knowledge of computer operating systems to the application of programming skills, IT generalists display a broad range of IT and computer skills
Customer service skills - whether they're solving problems for in-house users or consumers, IT generalists provide consistent customer service, ensuring customer satisfaction at all times
Attention to detail - IT generalists are cognizant of every detail that goes into network security, software upgrades, and other tasks to avoid potential issues and downtime for company computer systems
Troubleshooting -IT generalists test systems and evaluate issues to find problems within a computer system and to make repairs as needed
Multitasking - IT generalists might oversee an upgrade project, resolve an issue with a computer system, and answer questions from a first-level staff member, making multitasking an essential skill
Team player - collaborating with IT tech support staff, software engineers, programmers, and other IT personnel is important for IT generalists
Organizational skills - keeping adequate and organized files on systems upgrades and maintenance schedules as well as problem resolutions is a high-priority responsibility for IT generalists
Tools of the Trade
Tools and equipment that IT generalists must be familiar with include:
Databases (Oracle, Sybase, SQL Server)
Programming languages (Java, HTML, XML, SQL)
Networking technologies (VLANs, firewalls, VPN, DNS)
IT Generalist Education and Training
In most cases, employers seek candidates who hold a bachelor's degree in computer science, information systems, management information systems, or a related area. Many of these four-year degree programs contain classes in networking technologies, network security, database management, computer programming, and software development. Though not required in many instances, it could be helpful to possess specific certifications, such as those in Cisco or CompTIA networks, to begin or advance in this career.
IT Generalist Salary
According to the Bureau of Labor Statistics (BLS), IT generalists and related professionals earn an annual median salary of $87,220. Those in the 10th percentile earn a yearly salary of $53,110, while those at the other end of the spectrum can make as much as $137,690 annually.
IT generalists employed in manufacturing firms and in computer systems design tend to realize the highest mean annual wages in this field, at $106,700 and $95,580, respectively. Professionals employed in New Jersey ($102,310), California ($101,440), and the District of Columbia ($101,240) make the highest yearly mean salaries in this field.
Employment growth is expected to be nine percent through 2026, the BLS reports. Continued technological advances, such as mobile technology, and reliance on IT are believed to be the main reasons for companies seeking the services of IT generalists. There were more than 600,000 individuals employed as IT generalists or in similar occupations in 2016.
Create your own professional resume in just minutes.
Try our resume builder today
Build Your Resume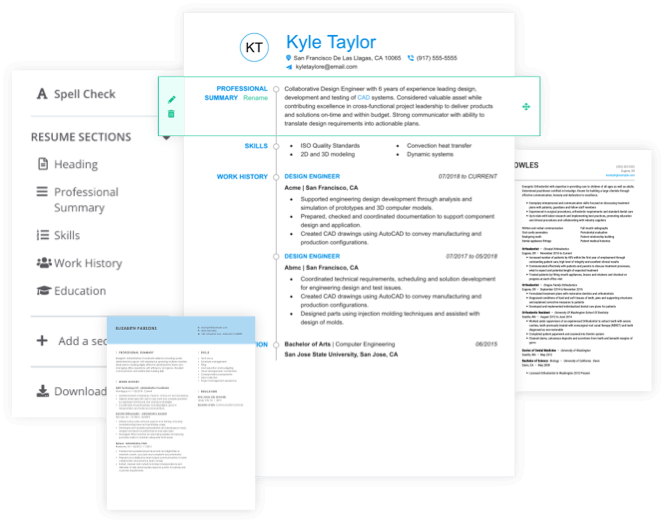 Helpful Resources
Want to know more about what it takes to become and work as an IT generalist? Take a look at the resources provided below to get more insight into this career option.
IT Generalist Resume Help
Explore these related job titles from our database of hundreds of thousands of expert-approved resume samples: