Featured in:
Funeral directors are responsible for organizing funerals and running the day-to-day operations of funeral homes. They hold several meetings with the families of the deceased to determine funeral details and guide them through the process. Much of their time is spent on paperwork and event coordination, as they must complete several documents for clients and follow a tight timeline for funerals, even handling many at the same time. In addition to these duties, funeral directors take care of financial accounts, employee training, inventory monitoring, and other internal functions. Work hours can be irregular, since they must be on-call at all times. Many funeral directors describe their career as challenging yet meaningful.
Studying resume examples is a great way to get inspiration for your own. Study our library of example today!
Impress your future boss! According to a 2020 survey, most hiring managers read cover letters for candidates they're considering interviewing before making their final decision. Make a cover letter that seals the deal with our professionally designed cover letter templates.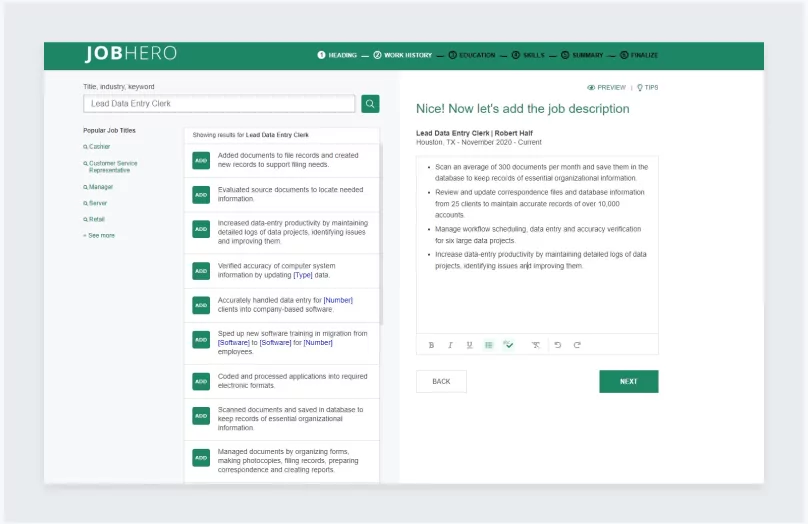 BUILD MY RESUME
Funeral Director Duties and Responsibilities
While a funeral director's day-to-day duties are determined by where they work, there are many core tasks associated with this role. Based on our analysis of job listings, these include:
Consult with Families
Funeral directors talk to the families of the deceased regarding funeral arrangements, communicating with sensitivity and tact to help them make informed choices. This involves exploring cremation and burial options, conceptualizing obituaries or memorial videos, and explaining the necessary procedures and cost breakdowns.
Coordinate Funerals
It's up to funeral directors to coordinate funerals in light of the family's preferences. They oversee all logistical details, from reserving the venue to arranging for clergy members. Since their main priority is ensuring that the funeral runs smoothly, those in this role must be alert at all times during the proceedings, and they should follow industry regulations.
File Legal Paperwork
Part of preparing for funerals is filing legal paperwork such as life insurance and Social Security forms. Funeral directors are in charge of interviewing families for relevant information and obtaining, filling out, and submitting these documents on time.
Manage Business Operations
Funeral directors manage various aspects of a funeral home's day-to-day operations. They commonly monitor the company's finances and inventory, working alongside accountants to maintain records, make purchases, organize payroll and tax processing, and prepare budgets. Other duties may include creating marketing plans and analyzing business needs.
Supervise Employees
Since this is often a senior position, funeral directors supervise and delegate tasks to full- and part-time employees. In addition to providing training regarding funeral policies and procedures, they also take an active role in the recruitment of specialized staff members, such as embalmers and funeral attendants.
Funeral Director Skills and Qualifications
Funeral directors need emotional maturity to work with families who are experiencing loss. Beyond this, they must be proactive and dependable, with a knack for logistics. In addition to state licensure, employers look for funeral directors who have the following skills:
Organization skills - because funeral directors usually only have a short period of time to plan funeral arrangements and handle complex documents, they must be excellent organizers who can foresee obstacles and coordinate efficiently with other people
Interpersonal skills - funeral directors must be able to communicate well with families who are grieving or in a state of emotional distress. They should be compassionate and empathetic, listening well and attentively responding to the family's needs
Project management - comfort with project management is crucial to this role. In order to meet deadlines consistently, funeral directors must take a strategic approach, optimizing processes and monitoring deliverables from staff members
Business acumen - funeral directors may take on several business functions, including sales, marketing, HR, and operations. They must be able to switch fluidly between these roles and make informed decisions based on industry knowledge
Knowledge of legal procedures - those in the funeral industry must comply with strict federal and state regulations. Funeral directors must constantly update their knowledge and adapt to changes accordingly, whether they involve paperwork or more hands-on aspects of the job
Tools of the Trade
Funeral directors often use the following tools to accomplish their tasks:
Funeral home software (PROCession, MiMS Elite, CSII 2000)
Legal documents (cemetery property deeds, insurance and social security forms)
Funeral equipment (caskets, urns, crematories)
Microsoft Office (Word, Excel)
Funeral Director Education and Training
Many funeral directors have an associate's or bachelor's degree in mortuary science or a related field. Alternatively, they may acquire certification through vocational schools or accredited institutions. While employers do not look for specific educational credentials directly, regulations specify that all funeral directors must possess state licensure, which requires classroom training and a long-term internship. In addition, they must pursue learning opportunities every year to maintain their licensure.
Funeral Director Salary and Outlook
According to PayScale, funeral directors make a median annual salary of around $45,000. Funeral directors in the top 10 percent of earners receive as much as $71,000 every year, while those in the lowest 10 percent make as little as $30,000.
In terms of job outlook, the Bureau of Labor Statistics (BLS) predicts employment growth of 5 percent for morticians, undertakers, and funeral directors. The main drivers of this growth are an aging population and the increasing popularity of preplanned funeral rites among the middle-aged.
Create your own professional resume in just minutes.
Try our resume builder today
Build Your Resume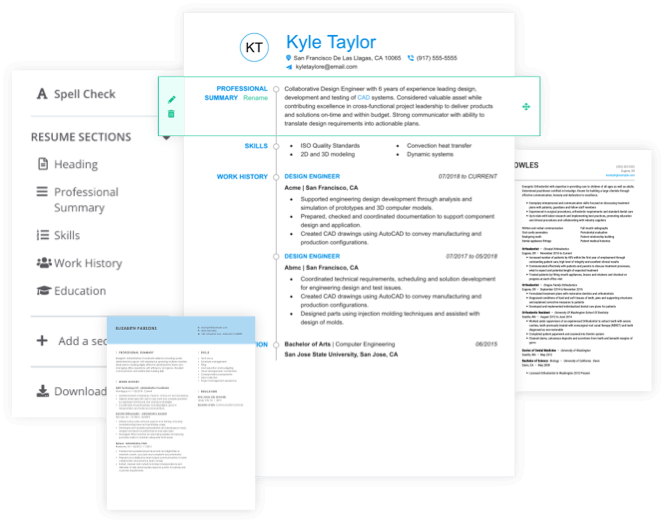 Helpful Resources
Read through the following resources to learn more about the role of funeral director and what you can do to pursue this career path:
Funeral Director Resume Help
Explore these related job titles from our database of hundreds of thousands of expert-approved resume samples: