Featured in:
Operations supervisors oversee all activity of a specific department or area in a company. They observe and analyze overall efficacy of the department and ensure things are moving smoothly. They also report their findings to upper management as needed. Operations supervisors report directly to the director of the department they supervise. They work full-time hours and may need to work overtime as needed to ensure their department hits previously-set goals. Operations supervisors may work in any number of different settings, depending on the industry in which they work.
Studying resume samples and examples are a great way to get inspiration for your own. Study our library of examples today!
One extra step to impress a manager: A growing number of hiring professionals read cover letters to determine whether they'll interview a candidate or not. Use our cover letter templates to craft a complete application that lands you the interview.
Operations Supervisor Duties and Responsibilities
The specific duties and responsibilities of operations supervisors may vary widely depending on the company for which they work. We analyzed recent job postings to compile the follwing core tasks required of operations supervisors regardless of the industry or company:
Supervise Employees
Operations supervisors are responsible for leading and supervising a group of employees. The number of employees depends on the department, but operations supervisors should be able to adjust their supervision style based on how many employees they have in their department.
Evaluate Employee Performance
After supervising employees, operations supervisors are responsible for evaluating their performance and delivering feedback, positive or critical, depending on the employee and the situation.
Report on Department Metrics
Operations supervisors report on department metrics to department directors and other upper management. They also develop strategies and methods to increase metrics and performance.
Perform Department Administration
When they aren't managing employees or reporting on department performance, operations supervisors are handling other administrative tasks. These can include planning the department budget, overseeing inventory, or even motivating employees.
Provide Advanced Customer Support
Operations supervisors are responsible for elevated customer support for the customers who have requested to speak to managers or someone with more authority. They find solutions for the customers who feel like they have no other options.
Operations Supervisor Skills and Qualifications
Operations supervisors are able to see the big picture and can formulate overarching strategies to improve departmental performance. This includes helping individual employees succeed at their own professional goals. Employers tend to hire operations supervisors who have direct experience in the department that they will supervise. Some employers may also only consider candidates who possess education in business administration. Successful operations supervisors also demonstrate their ability with these skills and qualifications:
Team Leadership Experience - Successful operations supervisor candidates have demonstrated experience in leading a team. This doesn't necessarily need to come from a supervisor position but may be demonstrated in the form of leading a project with fellow co-workers
Administrative Management - Operations supervisors are familiar with managing the administrative aspects of a department. They know how to create budgets and analyze performance
Project Management - Operations supervisors know how projects start and end, and they know how to ensure projects are completed successfully and in a timely manner
Interpersonal Communication Skills - As a team manager, operations supervisors communicate their desires and feedback in an efficient way. This may take the form of verbal and written communication
Problem-Solving Skills - Operations supervisors are often presented with problems and expected to fix them using solutions of their own making. As such, successful candidates should be comfortable with thinking of creative solutions to both simple and difficult problems
Tools of the Trade
Successful operations supervisors are adept in an office setting and use:
Department and Industry-Specific Tools
Performance Management Software – (Namely, ClearCompany, Employee Engagement)
Microsoft Office Suite
Operations Supervisor Education and Training
When searching for a new operations supervisor, employers mainly look for candidates who have direct experience in the department where the role will be filled. Ultimately, there are typically no formal education requirements for operations supervisors other than a high school diploma or GED. However, some employers may want to see candidates who have a bachelor's degree in business administration, but this happens infrequently and those requirements will be listed clearly in the job posting.
Operations supervisors may need to go through additional training, but the assumption is that most candidates will know a lot about the job specifics since they've worked in that department or similar departments in the past.
Operations Supervisor Salary and Outlook
PayScale lists the operations supervisor's annual median salary at $54,592, although this salary can vary greatly depending on industry and experience. Operations supervisors with more experience are usually in the top 10 percent of earners and can make as much as $81,000 per year. Those with little experience can expect to earn as little as $38,278 per year. Operations supervisors can also expect to receive decent healthcare benefits, along with a good amount of sick and vacation days, depending on company policy.
Create your own professional resume in just minutes.
Try our resume builder today
Build Your Resume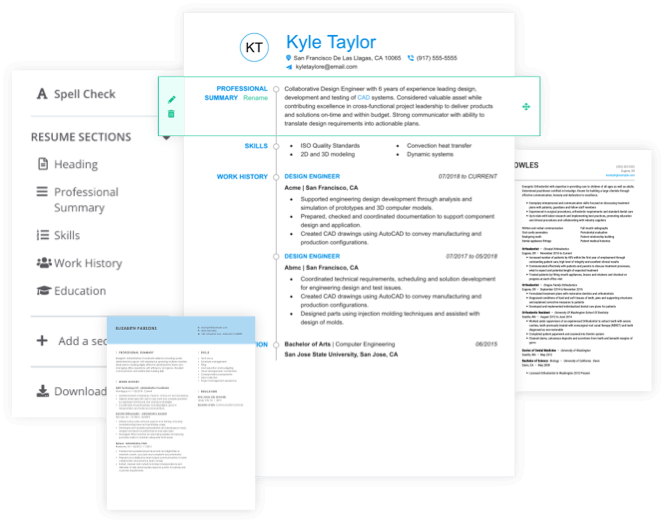 Helpful Resources
Read through some of these helpful resources to learn more about becoming an operations supervisor and how to succeed in this role:
Operations Supervisor Resume Help
Explore these related job titles from our database of hundreds of thousands of expert-approved resume samples: