Account Managers play a crucial role in the success and growth of a business. They interact often with clients as they seek to maintain and expand their organization's customer base. Account Managers are tasked with ensuring client satisfaction and act as the primary point of contact between an organization and its customers. They handle complaints, process orders and track payments. Another key responsibility for Account Managers is selling new clients on the products or services offered by their employer. This involves running advertisements, calling leads and meeting with prospective clients, among other strategies.
Successful Account Managers are self-driven, organized professionals who thrive in a fast-paced, competitive sales environment. They are skilled communicators who can genuinely connect with their clients. Account Managers must be thick-skinned problem solvers who can maintain a positive attitude in the face of rejection.
The questions an employer asks during an Account Manager job interview seek to determine whether a candidate has the right mix of skills, experience and temperament to excel at the job. If you're interviewing for an Account Manager position, here are the types of questions – along with the type of responses an employer is looking for – that you're likely to encounter.
Want to add value to your job application? Using a professional cover letter builder can help you stand out from the competition. Use ours to build a stand out letter that will get you noticed.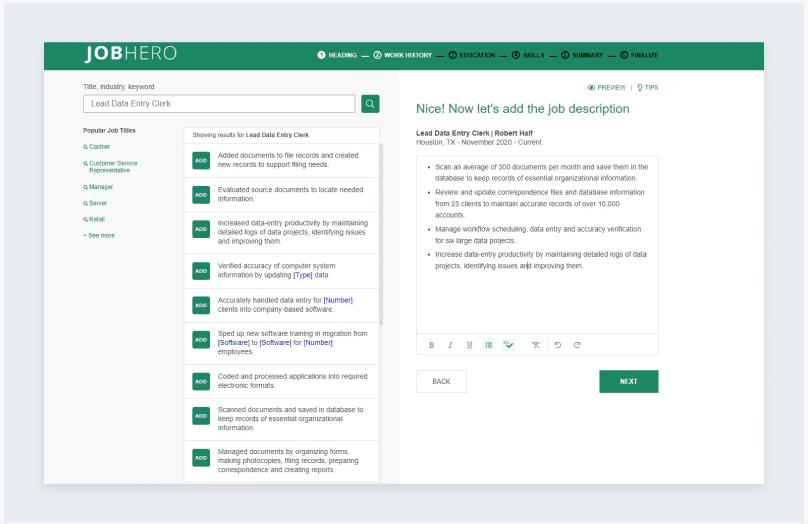 BUILD MY RESUME
Featured in:
What makes a successful Account Manager?
In asking this question, an interviewer is trying to determine whether your understanding of the skills and personality traits that make for a successful Account Manager jibe with their own. Pick three to five points on which to elaborate. Be sure to review the job posting and description as you prepare for the interview so you can tailor your answers to what the employer is looking for.
How do you manage your email?
Ostensibly about email, this question actually seeks to gain insight into how organized you are. Having a system for managing your email demonstrates a degree of planning and organizational skills, which are both fundamental to the role of Account Manager. Even if the interviewer prefers a different system, the fact that you use one is key here. The worst answer you could give to this (or a similar question) is saying that you have none.
How do you plan your day?
Similar to the email question, in asking about how you plan your day an interviewer is trying to get a read on how organized and systematic you are. In your answer, you should be able to briefly take the interviewer through a typical day. Again, what is most important is to demonstrate that you have a consistent approach to the duties of the day. At the same time, though, you don't want to appear rigid. Part of your answer should include strategies for handling unexpected situations that crop up.
How do you meet your targets?
This straightforward question gives you the opportunity to outline the methods you use to meet work-related goals. Your interview preparation should include rehearsing a brief summary of your go-to strategies, specifically in the context of how you can apply them to the position for which you are interviewing to boost revenue for that company.
Describe a time when you didn't meet a goal.
If you've been working in sales for any amount of time, there is a high likelihood that you failed to meet a quota or benchmark of one type or another. So the interviewer is not expecting you to claim that you've never missed a goal. Instead, they want to gain insight into how and why you missed a target, what you learned from the experience and how you applied what you learned to avoid repeating the failure. Make sure your answer demonstrates professional development on your part. If you do have a perfect track record, be ready to discuss any near misses and the strategies you have employed to avoid them.
Tell me about a time in your career when you faced rejection. How did you handle it?
Rejection is part and parcel of working in a sales position. Choose an anecdote that either describes how you were able to turn initial rejection into something positive, or that demonstrates how you were able to handle being rejected without taking it personally and burning a bridge. The key is to demonstrate a measured, professional response to rejection.
How are your relationships with past employers, colleagues and clients?
Being able to form and maintain strong, positive relationships is crucial for Account Managers. Maintaining professional relationships with the people you have worked with and for in the past speaks volumes about your interpersonal skills. You're not going to be best friends with every former colleague, but you should aim to describe a few positive relationships you've been able to maintain since moving onto new opportunities.
What do you know about our product or service?
Your interview prep should have included extensive research about the company and what it sells. You should be able to describe, with a confidence, the company's products or services. Furthermore, you should be able to identify some key selling points and explain why clients or customers should do business with that company, rather than with a competitor. Be prepared to deliver a mock pitch for the product during the interview.
Why should we hire you?
This is your opportunity to reiterate your qualifications while demonstrating how they would benefit the prospective employer. Be sure to have a well-crafted elevator pitch that succinctly outlines your skills, track record and how you can apply them to this company.
Whether you're new to the workforce or an experienced professional, JobHero is here to help you make the most out of your career. Come to us for resume samples for thousands of jobs, cover letter samples and an array of other helpful career resources.