If you want to pursue a career in sales emphasizing personalized hours, consider becoming a vendor. This career guide explains the skills and personality traits needed to excel in this field, average pay rates and job prospects.
Boost your resume with an extra click. Our Resume Builder features matching resume and cover letter templates to help you create a comprehensive application. According to a 2020 survey, cover letters can play a huge part in convincing hiring managers to offer you an interview.
Our certified resume writers have created a library of resume samples to show you exactly what a strong resume looks like. Use them as-is or customize them to your needs.
Want to boost your resume? Your Jobhero subscription comes with a complimentary cover letter builder. Once you choose a cover letter template, the builder will suggest job-specific skills and prewritten entries, allowing you to save multiple letters for various applications fast.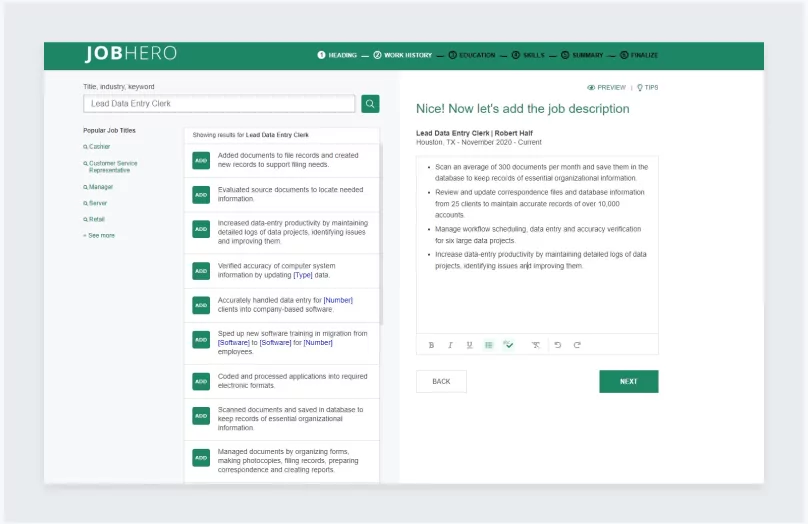 BUILD MY RESUME
What Does a Vendor Do?
A vendor sells goods or services to companies, individuals or both. Some vendors are self-employed and own businesses, while others work for companies and in stores, shopping malls, sporting events and fairs. Additionally, many vendors sell items online or by mail.
Typical responsibilities of a vendor include:
Regularly evaluate potential and current suppliers on product price, quality, speed of delivery and distribution centers.

Describe products or services to clients.

Write accurate product descriptions.

Order and keep track of inventory.

Monitor and collect incoming/outgoing payments to suppliers and clients.
How Do You Become a Vendor?
A vendor's daily responsibilities vary based on their place of employment. Most suppliers seek job candidates with a bachelor's degree in business administration, business management, finance or supply chain management.
To be a self-employed vendor, you must take the following steps to own and operate your business.
1
Identify an open market opportunity.
Look to your local market. Is there anything that people want or need in your area? Do you have existing connections to help you supply and meet that potential demand? For example, can you connect struggling restaurants with catering businesses? Can you supply locally sourced produce at a weekly farmer's market? Can you help furnish professional workspaces? Can you operate and stock a fleet of vending machines?
2
Determine your business identity and goals.
Once you tap into a potential market, it's time to form your vending company. Choose a business name and file a trademark registration. Open a professional business account, file for a business loan or secure private funding.
3
Familiarize yourself with all the necessary software.
Brush up or train in budgeting software, logistics software or office software suites like Microsoft or Apache. You can find helpful courses through your local library, community colleges or online education sites like MasterClass or Udemy.
4
File the appropriate legal paperwork.
The legal paperwork and required business permits, tax permits or vendor licenses will vary based on your state or country of operation. However, you'll most likely need the following documents to run a vendor business legally:
Sales tax permit
Tax certificate
Business license from the state, county, parish or country of operation
Vendor's license
Business banking account
5
Network with purchasing managers and potential clients.
Nurture your existing suppliers and client relationships to maintain steady cash flow and carefully court new business connections for future growth. You can do this by attending local conventions or conducting regular market research to see where you can further expand your vendor business or service area.
Running a private vendor business is risky. If you're worried about financial commitments or cannot secure a loan, consider applying to open vendor positions. Due to recent market trends, most employers are cutting down on staff. The Bureau of Labor Statistics (BLS) reports a 6% decline in private hiring, losing 29,500 jobs over the next decade.
Despite this decrease, the BLS does predict 47,400 projected job openings per year as veteran vendors retire and leave the labor force. Our Resume Builder offers job-specific suggestions based on competitive job market trends to help you successfully compete for these vendor job openings.
Vendor Skills
Being a vendor requires many soft, intersocial skills; persuasion is essential because you must be able to convince clients to purchase your offerings, or you will not be successful.
Vendors must be able to work long hours, often standing, and be required to keep a positive attitude even if they are tired, stressed or overworked. The following skills are crucial to conducting business.
1
Communication skills like speaking and listening to employers, colleagues and customers.
2
Organizational skills such as keeping track of inventory, orders and receipts.
3
Marketing, including advertising and promoting the business and related products.
4
Critical thinking to consider and offer solutions related to shipping delays, budget restrictions, or changes in consumer demand.
5
Attention to detail, actively listening to customer needs and monitoring weekly order statuses.
1
Sales skills to sell your offerings.
2
Writing skills, such as writing product and service descriptions.
3
Supply management and inventory.
4
Develop procurement policy and procedure.
Insights from a Vendor
Yan Kriv, owner of Love To Snack, LLC and the greater LA Area distributor for Dippin' Dots Ice Cream shared his insights about a career as a Vendor.
What is the common career path for a Vendor? What should someone consider before becoming a Vendor?
From my experience I can't say definitively that there is one universal way of becoming a vendor. There are no university degrees or college courses to complete, so this career path is arrived upon mostly through trial and error. If you have an ability to recognize market needs and high demands for products, you are well qualified to become a very successful vendor. All you need is a way to find a cost efficient product, and put your marketing skills to use. The most successful vendors that I know are self-driven people who won't take no for an answer, and are willing to take the risks of being self-employed with uncertain fluctuations in income.
What type of person excels in this job?
In my opinion the skills required to succeed in this profession are simple - the person must be goal-oriented, detailed, self-sufficient, results-driven, and outgoing. Ninety percent of success attained in this field comes from being friendly, understanding of your customers' needs, and being service-oriented. There is no better advertising than a satisfied customer.
What are some of the most important skills for a Vendor to have?
I think the most important skills in being a good vendor are being a good listener and identifying your customers' needs; not being too pushy but being assertive in reaching your own financial goals and needs from that particular customer. Being a good, tactful and respectful negotiator - as a vendor you're always negotiating, either your low purchase price or the higher selling point to your customer.
Hard skills you need are patience and respect. You need to respect your customers' guidelines and timelines, but also have patience in order to wait for the results to come in.
What do you find to be the most rewarding aspect of being a Vendor?
The most rewarding aspect of being a vendor is being self-employed, having no authority to answer to, and having a flexible schedule. Also, making a big sale and profiting from it financially makes me feel that I am doing my job as a provider for my family, and giving my kids everything that is entailed in the American dream.
How Much Do Vendors Get Paid?
Vendors are typically paid hourly, with the average being $10.68 per hour in the U.S. The lowest paid Vendors earn $8.63 per hour; while the highest paid make $20.08 hourly.
Top 10 States for Vendors Salary
Vendors in the following states make the highest median hourly wage in the U.S.
Vendor Resources
For more information about becoming or working as a Vendor, check out these resources.
On the Web
Association Alliance
Helps promote vendors to potential and existing clients within their respective industries.
Blogs
Content 26 Blog
Helps vendors learn to launch a successful e-commerce strategy, integrating Amazon, syndication, and translation.
SalesBlog
Sales writer who strives to help each of his readers reach his/her full potential as a salesperson.
Books
The information in this article comes from the Bureau of Labor Statistics, job postings and other online sources.