Featured in:
More Training Manager Resumes
Use these Training Manager samples as a guideline or visit our extensive library of customizable resume templates.
Additional Training Development Resume Samples
How to Format a Training Manager Resume
Your training manager resume can fit into one of three formats — your choice depends on whether you want to lead with your experience or skills. If you're going to highlight a steady timeline of promotions and managerial responsibilities, use the chronological or hybrid resume. The chronological resume is ideal if you have over 10 years of experience: This format features the lengthiest work history section so you can highlight each promotion over the last decade.
Since Candidate A has some management experience but less than a decade of experience, we used the hybrid resume. This format uses a reverse-chronological timeline to describe previous jobs and responsibilities but places a simple skills list above the work history. This helps Candidate A highlight their technical training skills to help buoy their experience.
Candidate B recently graduated from college and worked two one-year internships to gain real-world experience. Although they have highly-specialized academic knowledge, they need more practical experience than the first candidate. We chose the functional resume for two reasons. This format strips most detail from the work history section and limits it to job titles, employers and years of employment. The technical training knowledge gets redistributed to highly customizable skills sections that help Candidate B highlight their training, organization and computer skills.
Hybrid Resume
7

years of experience

3

years at this job

BS

Human Resources
Work History
Training Manager, University of California
April 2020 - present, San Francisco, CA
Co-develop new provider community engagement training.
Work on complex social service program integration support for a diverse group of new and existing adjunct professors and support staff.
Design, conduct, manage, evaluate and inter-collegiate assistance programs in partnership with state-run educational institutions and organizations.
Collects enrollment data, maintains education curricula inventory and evaluates training program results.
Functional Resume
2

years of experience

2

years at this job

HS

High School Diploma
Professional Skills
Training and Organization
Train nonexempt warehouse associates through on-site optimization practices and safety regulations.
Apply knowledge of adult learning principles, coaching skills, and innovative learning solutions to elevate the skill set of our associates and influence performance
Identify training needs and recommend appropriate solutions through data analysis and by observing trainers, trainees and on-site leadership. This strategy resulted in a 32% increase in inventory accuracy.
Computer Competencies
Familiar with Microsoft Office Suite, i.e., Word, Excel, Access, PowerPoint, Slack, Outlook.
Use inventory software to leverage data to analyze and assess the impact of the training and development programs.
Training Manager Resume Samples
No results found
0-5

years of experience

Developed and carried out training programs encompassing basic and advanced sales, prospecting and marketing techniques, as well as leadership development for 270 Managers and Recruiters across 57 offices in 3 states
Significantly improved the departments performance indicators- 50% improvement within 6 months
Developed and maintained a […] budget with no discrepancies
Generated an optimal training deployment plan covering 3 states and over 300 people with a cost avoidance of $62k in travel cost
Implemented tracking and accountability controls to ensure follow through of all processing requirements and aligned technical training drastically improving retention 100%
Briefed top level management on status of training program and future plans
0-5

years of experience

Provided professional training expertise and training authoring experience for a call center company who had never had a training manager
Reduced on boarding time by 30% by systematizing training approach across all call centers
Developed 10+ process and procedure documents, allowing call center agents to perform their tasks in a consistent, repeatable manner
Created a 100% repeatable methodology for administering performance assessments for new hire trainees at all call center sites
Diagnosed call center agents' performance challenges and create additional training to address the challenges
Contributed to a 90% on-time launch efficiency for new programs by developing and delivering accurate, sound calling scripts and training materials
0-5

years of experience

Review admissions calls, providing coaching and feedback to advisors and leadership. Coach and develop admissions team, utilizing conversion metrics and analytics. Develop and deliver training for internal staff and partners. Interact and calibrate with partners, senior management, and leadership. Prepare and analyze internal and external quality reports for management.
Increased overall application conversion rates from 11% to 23% on a goal of 15% within thirty days by restructuring coaching sessions, opening discussion with advisors, and holding individuals accountable for metrics.
Improved company-wide Quality Assurance scores from 75% to 81% within a span of six months by regularly conducting coaching, calibration, and training sessions.
Created robust and interactive training manual for admissions team delivered through LMS Canvas.
Assisted with the implementation and training of new CRM SalesForce and new phone system I3 Interactive Intelligence.
6-10

years of experience

Managed $18M annual salon operating budgets for 30+ salons in Illinois, Wisconsin, Michigan, Iowa, and Minnesota.
Orchestrated multiple new salon openings in Illinois, Wisconsin, and Tennessee.
Facilitated training and development for new salon leaders.
Collaborated with District, Store, Human Resource, and Salon Leaders to drive profitable sales.
Coached exceptional customer service to differentiate and promote the company brand.
Helped recruit new salon leaders and stylists.
Partnered with Store Leaders to coach the bottom 25% of Salon Leaders to improve their performance.
0-5

years of experience

Manager on Duty responsibilities included providing effective proactive efforts and proper reactive resolutions with guests, table touches, cash handling and deposits, and completing opening/closing checklists
Facilitated recruitment events and coordinated new associate orientations, training, and scheduling
Contributed to the development of the site team; managed and measured the success of the training process, collaborated with site leaders on all training activities, and provided in the moment coaching, action plans, and performance management for associates
Built relationships with the team across all levels and acted as a conduit of collaboration between front of house and back of house
Participated in four site openings as a Corporate Trainer; led and developed teams of 20 and successfully trained over 1,800 associates
Received the 2014 [company name] Star Award for Brand Standards as a result of being nominated by peers
6-10

years of experience

Managed the training staff of the Richmond and Washington DC centers, including interviewing, hiring, training, and professional development
Led by example, achieving an average instructor score in excess of 9.85/10
Developed an instructor staff that consistently ranked among the top five centers among more than 300 locations worldwide
Managed multiple projects including curriculum development and instructor career progression plans
Served as a consultant on numerous Access, Excel, and SharePoint projects
0-5

years of experience

Air Force Achievement Medal, Unit Training Manager of the Year, Korea Service Medal
Education and Training program manager for 220 personnel; utilizing the Instructional System Design process
Created ancillary training course; teaching 77 personnel correcting over 100 safety/training errors, implemented across Osan AB
Led 60 member on-the-job training record transition ensuring 220 certifications validated across the Wing.
Hand selected by top leadership as Training Manager of the Year for outstanding training efforts during deployment
0-5

years of experience

Accountable for providing assurance and monitoring reviews, validating process efficiency along with benchmarking best practices while providing the results and outcomes to various business units. Ensure that issues identified from internal monitoring activities are the subject of agreed action plans with relevant business management and follow up to ensure that actions are completed satisfactorily and in a timely manner. Responsible for the designs, implementation and evaluation of training programs.
Developed and maintained operational quality program which provides management with assurance that key service levels and policies are being adequately managed.
Designed and deployed a successful Business Continuity Plan which addressed event that could negatively impact operations. Oversaw three successful drill and two emergency events include an ice storm and bomb threat.
Introduction of learning needs analysis to identify the knowledge, skills and competencies.
Developed Leader In Training (LIT) Development program which identifies emerging leaders and through a 12 month program, work to build the most critical skills for success at each leader level.
Winner of 2015 ICMI Best QA/Customer Experience Program
0-5

years of experience

Simultaneously managed all store operations while performing duties as district training manager, including training new management level employees.
Recruited and trained all new employees to ensure complete understanding of the Signature Cache Experience.
Developed local marketing and outreach events to promote new client growth.
Achieved a 12.8% increase in sales, #5 in the company, through development of new strategies and events.
Reduced inventory shrink from over 3% to .02% by overseeing inventory and maintaining high store organization levels.
10+

years of experience

Trained and oversaw the training over 2500 new employees in three separate departments
Managed a team of 15 trainers implementing Verizon Telecom account management procedures
Designed and implemented courses for instructors to train new employees on customer service software
Managed a team of Quality Specialist to audit calls for quality assurance to client specifications
Conducted status meetings of class progress, quality assurance results, and updates to customer service goals with the client and management
Drafted training manuals for implementation in courses. Revised manuals as necessary for process improvement and changes in customer service goals.
Adapted standard language for Spanish customers using "power phrases"
Improved business practice by overseeing implementation of custom software aiding agents in appropriate protocol
0-5

years of experience

Managed and delivered training to 600 new associates, management and sales associates for two regions.
Conducted 95 courses on management, sales techniques, gap analysis, AS400 and Kronos time scheduling.
Analyzed and interpreted company reports and gap analysis to improve profits of districts and regions.
Reduced turnover and improved regional performance by 20%.
Implemented management and associate certification and assessment programs.
0-5

years of experience

Orchestrate the daily operations of the store with a focus to improve procedures. Drive sales, create exceptional customer experiences, and train, develop, and evaluate employees. Protect, enhance, and develop the Brand, encourage and demonstrate product knowledge, and connect with the community.
Coordinated all activities related to the June 20 grand opening of the store
Designed and merchandized product placement in store; Tasked with ordering
Conducted 100+ interviews; hired 40+ employees
Trained and developed employees in preparation for grand opening.
Delivered biannual performance evaluations to 60+ employees.
Load More
Training Development Cover Letter Examples
Create your own professional resume in just minutes.
Try our resume builder today
Build Your Resume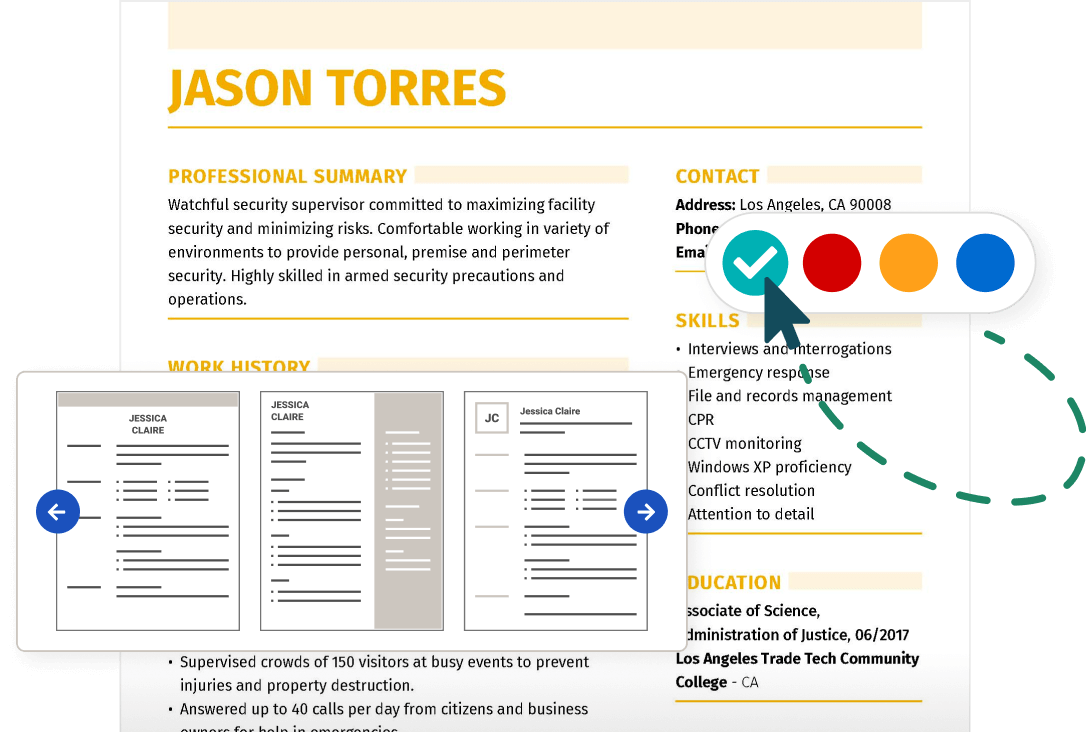 Training Manager Resume FAQ
What are the responsibilities of a training manager?
A training manager identifies and monitors training needs across a department or corporation. They respond to those needs by planning, creating and implementing hands-on training programs, policies and procedures.
How do I list my training skills on my resume?
You can list your training skills under three strategic resume sections: the resume summary, work history and skills sections.
Resume summary or objective: This professional introduction can impress a hiring manager in the first seven seconds of their review. Use quantifiable data like the number of employees trained during a set period or the specialty training courses you planned and created.
Work history: This reverse-chronological timeline describes specific tasks and accomplishments by listing your past jobs, employers and dates of employment. Build off your resume summary by adding related but unique skills.
Skills: This last section uses a simple bulleted list to highlight six to eight more unique skills related to the open job post. Avoid repeating the same skills mentioned in the previous two sections so that your one-page resume has more impact.
Visit our resume writing guide or professional resume examples to see how other job seekers list their career-related skills.
How do you describe a manager's role on a resume?
Use the following technical skills to describe your training manager experience under your resume.
Verbal and written communication skills.
Ability to understand and explain training processes.
Comfortable leading and moderating large groups.
Plan and implement in-depth training programs.
Organize files and training materials.
Launch and troubleshoot projectors and interactive tools like tablets or mobile devices.
Knowledge of Microsoft Office Suite or Google Drive.
You can also use valuable social skills related to team building, teaching, or communication to boost your resume. We researched multiple job openings to create a master list of the most requested resume skills to help you tailor your resume.