Featured in:
More Ice Cream Server Resumes
Use these Ice Cream Server samples as a guideline or visit our extensive library of customizable resume templates.
Additional Food Service Resume Samples
How to Format an Ice Cream Server Resume
As an ice cream server, you can take one of two approaches to formatting your resume. If you have less than three years of experience, use a functional resume to focus on skills related to your food handling and customer service knowledge. Candidate A uses this format to create multiple sections dedicated to skills and their relatedresponsibilities while downplaying a lack of experience with a shortened work history section. For example, they listed ice cream specialties such as blending ingredients or making rolled ice cream under food handling to demonstrate rare skills.
We recommend a work history format like the chronological or hybrid resume if you have over three years of experience, like Candidate B. These two formats create a chronological timelineof your previous jobs and help you highlight the gradual growth of your job responsibilities and skills.
Functional Resume
2

years of experience

1

year at this job

HS

High School Diploma
Professional Skills
Food Service
Serve ice cream, sundaes, ice cream cake and coffee beverages.
Maintain a clean food prep station, serving areas and equipment.
Assist in preparing and cooking fresh waffle cones, marshmallows and ice cream cakes.
Customer Service
Collect money for customer transactions.
Made ice cream cones, milkshakes and other customer orders according to their requests.
Provide customers with local ingredient and nutritional product information when asked.
Hybrid Resume
4

years of experience

3

years at this job

AS

Statistics
Work History
Ice Cream Server, Cold Scoop Creamery
June 2019 - present, Silverton, OR
Serve ice cream, sundaes and coffee beverages to an hourly average of 42 guests.
Processed transactions via POS system.
Assist in food preparation and storage.
Occasionally helped out in sister store when locations were short on staff.
Ice Cream Server Resume Samples
No results found
0-5

years of experience

Created specialized ice cream combinations
Provided many forms of customer service
Utilized POS systems to perform financial transactions
Maintained store cleanliness and appearance
Assisted in food preparation and storage
Assisted at sister store as well as delivered supplies to both stores
Helped train new employees of in using equipment
0-5

years of experience

Served ice cream, coffee beverages and pastries.
Maintained a clean work environment; performed closing and opening duties
Promoted the brand and offered positive customer service
Explained local ingredient sources, the importance of sustainability, and product nutritional information with a focus on gluten-free and dairy-free foods.
0-5

years of experience
Collaborated with 4 to 5 other employees to complete various opening and closing duties to keep the ice cream shop up to code
Made ice cream cones, milkshakes and other orders for customers according to their requests
Collected money for customer transactions
0-5

years of experience
Provided excellent service to customers by greeting them with a smile and responding quickly and efficiently to their requests
Effectively handled cash register, including cash, debit and credit card transactions
Maintained cleanliness of store to exceed customer standards
Promoted cheerful work environment for customers and coworkers
0-5

years of experience

Managed employees ensuring a productive workspace
Took inventory of and placed orders maintaining a functional stock of supplies
Prepared food for cleaned workstations keeping a clean and sanitary environment
Trained employees on all levels of operations within - Handled sales and customer interactions
0-5

years of experience

Take customer orders
Served ice cream, foods, and beverages to customers
Worked on cash register to receive payments and return changes.
Performed cleaning duties such as sweeping, mopping, washing dishes, and keep equipments and facilities sanitary.
0-5

years of experience
Managed a team of 15 servers, created master calendar and schedules for employees
Placed orders and served customers
Operated the cash register
Interviewed, hired, and trained new employees
Responsible for opening and closing the Ice Cream Shop
Responsible for checking inventory
Placed orders for shipment and signed for new shipments when received
0-5

years of experience

Scoop ice cream to use to the scooper to put as many scoops for ice cream along with how to scoop the ice cream when the ice cream is hard or not
Bus tables cleaning up after customers leave our establishment to get ready for the next set of customers
Customers service skills which include accurately measuring ice cream and adding tax
Serve food if there was not a server available I would be the server that is if the kitchen was open
Knowledge of products which includes customizing orders based on allergens and calories
0-5

years of experience

Assisted with opening and closing restaurant.
Greet and sat customers to their seats as well as assisted co workers with serving drinks and menus.
Prepared different desserts upon customers request.
Assisted with answering phone calls to take to-go orders.
Used register to complete customer's payment either by cash or credit card.
0-5

years of experience

Managed cash drawer and count back correct amount of change
Customer service including, be friendly and responsive to customer needs in a fast paced environment
Completed daily cleaning tasks in a timely manner
Trained new employees to make desserts and food
0-5

years of experience
Ensured customer satisfaction, processed orders, and addressed complaints
Managed financial transactions
Prepared and handled food
0-5

years of experience

Performed daily tasks to keep the store up to health code
Prepared ice cream deserts for patrons
Managed point of sale transactions
Received an award for excellent customer service
0-5

years of experience

Welcomed and greeted customers
Ensured that orders were repeated for accuracy
Operated cash register to process payments
Stocked store supplies and sanitized work and customer areas
Accommodated customers' needs and wants
Assisted in taking and preparing orders for customers
0-5

years of experience

Monitor food distribution, ensuring that meals are delivered to the correct recipients and that guidelines, such as those for special diets, are followed.
Clean or sterilize dishes, kitchen utensils, equipment, or facilities.
Examine order to ensure that they contain required items.
Take food orders and relay orders to serving counters so they can be filled.
Stock service stations with items such as ice, napkins, or straws.
Prepare food items, such as ice cream or beverages.
Record amounts and types of special food items served to customers.
Total checks, present them to customers, and accept payment for services.
0-5

years of experience
Welcome customers and fulfill orders
Responsible for washing of dishes and replacement of ice cream pans
Fulfill cake orders by constructing and decorating with ice cream
Sell pre-packaged ice cream and pre-made ice cream cakes
Cashier/Cash handling
0-5

years of experience

Received goals with manager in daily meeting
Managed time quickly and efficiently
Helped co- workers with quick and enjoyable service
Handled responsibilities during busy hours
6-10

years of experience
Helped to train new employees
Cash handling
Greatly improved customer service skills
Gained more knowledge about food safety and sanitation
0-5

years of experience

Scooped Ice Cream
Restocked Ice Cream & Other Supplies
Helped Customers and Cashed Out Transactions
Maintained Clean/Organized Work Area
Prepared Smoothies
Prepared Milk Shakes
Served Soft Serve
Worked With Different Recipes to Make Deserts
0-5

years of experience

Take and prepare to-go orders. Inform patrons of establishment specialties and features.
Operate cash registers to accept payment for food and beverages.
Perform cleaning duties such as sweeping, mopping, and washing dishes, to keep equipment and facilities sanitary.
Balance receipts and payment in cash registers when closing.
0-5

years of experience

Provided excellent customer service
Handled cash transactions while working a register
Served ice cream and waited on tables
Prepared and cooked food
Stocked merchandise
Maintained cleanliness of store
0-5

years of experience

Customer service
Handled money and used cash register
Kept workplace clean and sanitized at all times
Carried in new 5 gallon tubs of ice cream
Took out garbage at the end of the night and thoroughly cleaned the shop
6-10

years of experience
Meet or exceed daily sales goals
Sort hundreds of donated items into categories for placement in store and shipping
Stock products and price at a rate of 80-100 items per hour
Collaborate with team members and management to maintain store appearance
Run cash register and bag merchandise accurately and efficiently
Greet customers and help them find merchandise
0-5

years of experience

Ice Cream Mixer
Fast pace working environment where you have to communicate with your customers and sing.
Provided quality customer service throughout the day and listening to their request on what to add into their ice cream.
Had to stand throughout the day
The best experience I got from working at [company name] is Multi-Tasking, you had to mix ice cream, make smoothies, cashing customers out, and sing at the same time.
0-5

years of experience

Local favorite Ice Cream Parlor
Prepare and serve soft drinks and ice cream dishes, such as ice cream sundaes, milkshakes, ice cream cones, banana splits, and flurries using memorized recipes and methods or following directions to ensure a consistent product
Clean glasses, soft serve machine, milkshake mixer, and all surfaces
Verified and totaled customers payment and returned change accordingly
Thank customers for their business and ensured they were satisfied with their service
0-5

years of experience

Kept the restaurant neat, stocked and clean.
Prepared new ice cream flavors every week.
Responsible for monetary duties at cash registers.
Made certain that customers were receiving the help they needed in a timely manner.
0-5

years of experience

Welcoming the guests with proper verbiage and probing for their food order politely
Tabulated guests purchases and handled large transactions
Responsible for accuracy of register
Maintained cleanliness of establishment
Opened and closed store
0-5

years of experience
Created specialty ice cream creations for customers
Made waffle cones
Interacted with and provided excellent customer service
Used cash register daily
0-5

years of experience

Serve desserts, hot dogs, and drinks to customers.
Administer gift cards and refunds.
Clean trash bins and tables in the yard.
Fill large orders for ice cream flavors.
Helped to eliminate the problem of missing money by reporting a coworker.
0-5

years of experience

Taking customer's orders
Making ice cream dishes and other frozen desserts
Preparing hot foods, making cakes and cleaning
Working register
0-5

years of experience

Handling money
Working with people
Increasing sale of ice
Supervision of children from ages 6-12
0-5

years of experience
Obtained a Food Handling Health Card
Served and took customer orders
Performed monetary transactions
Purchased and restocked supplies
0-5

years of experience

Responsible for opening and closing the store. Includes set up, break down and keeping track of the register.
Supervised other employees
Served customers
Applied coupons and returns when needed
0-5

years of experience
Used manual register
Maintained and up to date inventory log
Served customers in a timely manner
0-5

years of experience

Greet guests as they enter [company name]
Help guest with orders and samples
Learn menu to provide adequate service
Keep freezers well stocked
Keep store clean and clear tables as guests leave
0-5

years of experience
Operate cash register.
Cleaned and maintain work area and equipment.
Track all inventory products and dates.
Responsible for opening and closing the shop
Offer free samples and upsell product.
0-5

years of experience
Served Ice Cream and guests at their tables
Worked on the drive through team taking orders
Took guests orders and cashiered at the front counter
Functioned as a team player to keep the store clean
0-5

years of experience

Make desserts for waiting customers.
Assisting in putting away supplies and stocking appropriate areas.
Cashing out and placing money in correct location at night.
Cleaning and locking up at night.
0-5

years of experience

Customer Service
Money handling and cashier experience
Cleaning and organized of shop
Fast paced Environment
0-5

years of experience

Served customers ice cream, and processed payments with cash register
Stocked items in stock room
Stocked new products to shelves
Organized shelves for orderly appearance
0-5

years of experience

Made ice cream
Prepared hot meals
Worked front register
Wiped down tables, swept floors, cleaned bathrooms
0-5

years of experience
Operating a POS system
Handling money transactions
Providing customer service
Stocking
Managing opening and closing procedures
0-5

years of experience

Waited on customers
Ran food out
Handled money
Ran register
Answered phone calls
Served ice cream
Cleaned up at closing
0-5

years of experience

Provide customers with good customer service.
Maintain a clean working environment.
Took orders for customers.
Stocked the position with napkins, utensils and supplies.
Served ice cream.
0-5

years of experience
Customer Service
Checked in stock daily
Closed store including janitorial work
Continuous janitorial work
Trained new employees
0-5

years of experience
Assist customers with their orders
Manage employees breaks
Made drops/grabbed change from safe
Daily checklist before closing
Cashier
0-5

years of experience
Clean the stone at closing
Serve, and restock ice cream and "mix-ins"
Customer comments, monthly bonuses and personal tips.
0-5

years of experience
Operated cash register
Performed customer service skills
Served Ice Cream
Resolved customer complaints
Counted/Handled money
Load More
Food Service Cover Letter Examples
Create your own professional resume in just minutes.
Try our resume builder today
Build Your Resume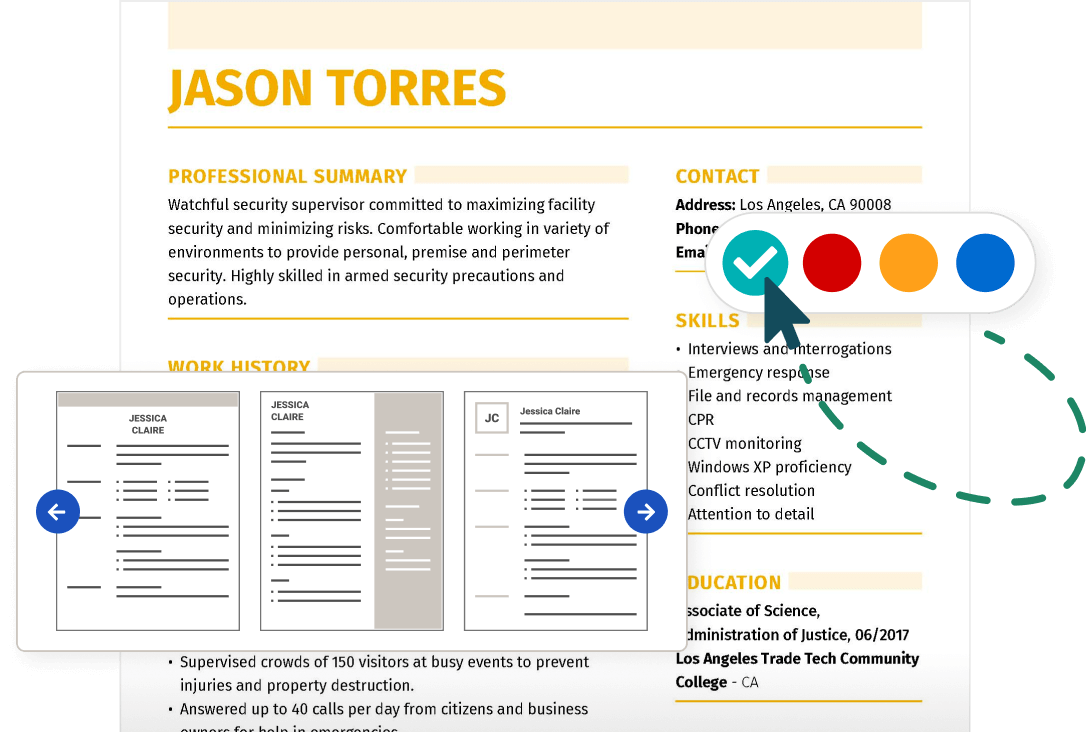 Ice Cream Server Resume FAQ
How would you describe an ice cream server on a resume?
How you describe your experience as an ice cream server depends on what jobs you apply for. If you're interested in working for a new ice cream parlor, focus on your customer service and safe food-handling experiences, such as scooping speeds, order memorization, food preparation or ice cream knowledge.
If you're changing careers, focus on transferable resume skills. These skills relate to your ability to work with others. They can include soft skills like attention to detail, customer service, verbal communication and organization, hard skills like physical stamina, memorization of rules and regulations, or math skills.
How do you explain server skills on a resume?
You can share your ice cream server skills under three strategic resume sections: your resume objective/summary statement, work history and skills sections.
Resume Objective or Summary Statement: This two- to three-sentence introduction is your resume's marketing pitch. You can effectively snag a hiring manager's attention by using this space to describe job-relevant skills such as making stir-fried or rolled ice cream, mixing in toppings or sanitizing service stations.
Work History: This detailed timeline builds on the impression you made with your summary statement. Use this space to describe your serving responsibilities: "Worked in a well-trafficked ice cream shop and processed four-item orders in under three minutes."
Skills: This six- to eight-item list is your last chance to demonstrate your customer service and ice cream serving skills. Avoid repeating previously mentioned skills to create an informative, rounded resume.
Visit our professional resume examples to see how job seekers demonstrate their skills throughout the resume sections.