Featured in:
Journeyman plumbers perform basic plumbing installations or repairs, such as replacing faucets or installing water lines. They are entry-level workers who have recently completed an apprenticeship program and have obtained licensure but are not certified as master plumbers, under whom they typically work until they have achieved this designation. Journeyman plumbers display strong eye-hand coordination; the physical ability to crawl, crouch, and kneel for long periods of time; and effective customer service skills. They work on both residential and commercial plumbing systems. This is usually a full-time position and, depending on the employer, can offer health benefits, vacation time, and retirement plans. Journeyman plumbers might sometimes work evenings and weekends based on workload and emergency situations.
Need cover letter guidance? Add a cover letter to your resume using our cover letter formats how-to guide and add value to your resume.
Boost your resume with an extra click. Our cover letter templates match our resume templates' designs for a cohesive application. Use a template in our builder to help you quantify and expand upon the experience from your resume and impress employers.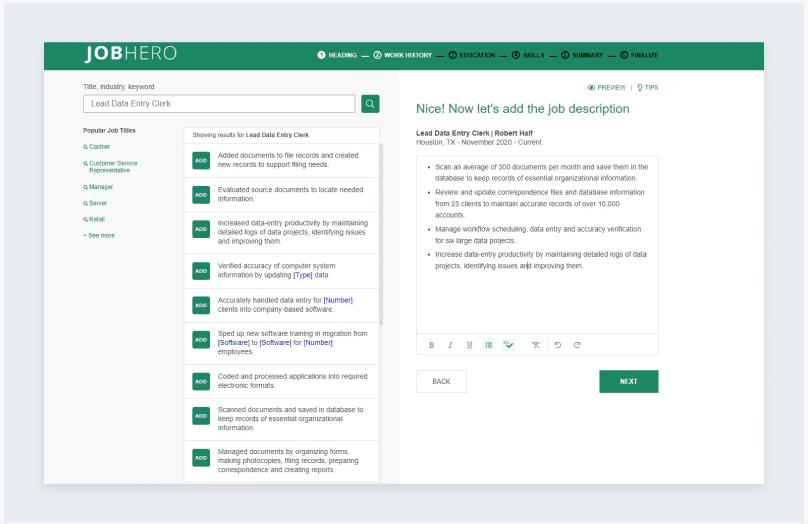 BUILD MY RESUME
Journeyman Plumber Duties and Responsibilities
While a journeyman plumber's day-to-day duties and responsibilities are determined by where they work, there are many core tasks associated with the role. Based on our analysis of job listings, these include:
Install Water Lines
Journeyman plumbers run copper, steel, and plastic PVC water pipes for sewer lines, drainage systems, HVAC systems, and other plumbing systems. They cut and thread lines, use compounds to seal connections, connect valves, and solder pipes as needed. When necessary, journeyman plumbers must bend pipes to fit specific angles using a pipe-bending machine.
Replace and Repair Plumbing Fixtures and Appliances
From kitchen and bathroom sink faucets to showerheads, journeyman plumbers are responsible for repairing and replacing plumbing fixtures. They replace washers and rubber gaskets in faucets and showerheads or replace entire fixtures. Journeyman plumbers also install and repair garbage disposals, water softeners, water heaters, and dishwashers.
Troubleshoot Plumbing Problems
Journeyman plumbers use various methods to detect leaks, determine problems with disposals or dishwashers, and read pressure gauges to measure accurate water pressure. They determine which parts need to be replaced, write up estimates, and discuss repairs and costs with home and business owners.
Perform Maintenance on Plumbing Systems
Journeyman plumbers regularly check systems to ensure proper operations. They inspect toilets, sinks, dishwaters, and other appliances for leaks, replace worn gaskets and O-rings, unclog drains, monitor systems for pressure loss, and adjust water pressure as needed.
Journeyman Plumber Skills and Qualifications
Analytical thinkers who love to work with their hands and pay close attention to details make great journeyman plumbers. Once they have completed an apprenticeship and obtained necessary licensure, aspiring journeyman plumbers will appeal to employers if they possess the following skills and abilities:
Building code knowledge - strong familiarity with building codes and current laws and regulations affecting plumbers is crucial for those seeking to excel in this field
Coordination - journeyman plumbers must have the dexterity and eye-hand coordination to handle and install small washers, nuts, O-rings, and gaskets
Blueprint reading - when involved in new home or building installations, journeyman plumbers must be able to read drawings, schematics, and blueprints to ensure proper installation of new lines and pipes
Troubleshooting - understanding how to check for leaks and determine what needs to be repaired or replaced to keep plumbing systems operational is a must for journeyman plumbers
Organizational skills - keeping tools and work areas clean and orderly and maintaining a proper supply of plumbing parts is a desirable quality many employers seek in journeyman plumbers
Communication skills - from verbally communicating with customers, vendors, and master plumbers to writing up estimates and work orders, communication is of the utmost importance for journeyman plumbers
Customer service - speaking with customers about pricing and repair details and making proper repairs and replacements to keep customers satisfied is a major part of being a journeyman plumber
Tools of the Trade
Journeyman plumbers are familiar with:
Testing tools (pressure gauges, water sensors, leak detectors)
Pipe tools (threaders, pipe benders)
Cutting tools (tube cutters, hacksaws)
Installation tools (pipe wrenches, joint compound, fitting brushes)
Journeyman Plumber Education and Training
No formal education beyond a high school diploma is typically required for aspiring journeyman plumbers; they are only required to complete a four- to five-year apprenticeship program under the tutelage of a master plumber in order to obtain journeyman plumber licensure. It could be helpful to take plumbing courses at a vocational or community college. Many of these programs award a diploma or certificate that can be completed in one year or less. Hands-on training is accomplished through labs and internships through these programs.
Journeyman Plumber Salary and Outlook
As reported by the Bureau of Labor Statistics (BLS), journeyman plumbers realize an annual median salary of about $52,500. Those in the 10th percentile make just over $31,000, while those in the top percentile earn just over $91,000.
Journeyman plumbers working for nonresidential building construction companies tend to make the highest annual mean wages at about $61,000, followed by building equipment contractors at $57,000. Journeyman plumbers residing in Hawaii are paid the highest annual mean wage in the country (over $79,000), followed by those working in New York (nearly $78,000) and Illinois ($77,500).
A 16 percent job growth rate is expected for all plumbers through 2026, the BLS states. Needs in the areas of new construction and the maintenance of older plumbing systems in commercial buildings and private residences are major reasons for this projected employment growth, though normal ups and downs in construction can have a negative impact on this projection.
Create your own professional resume in just minutes.
Try our resume builder today
Build Your Resume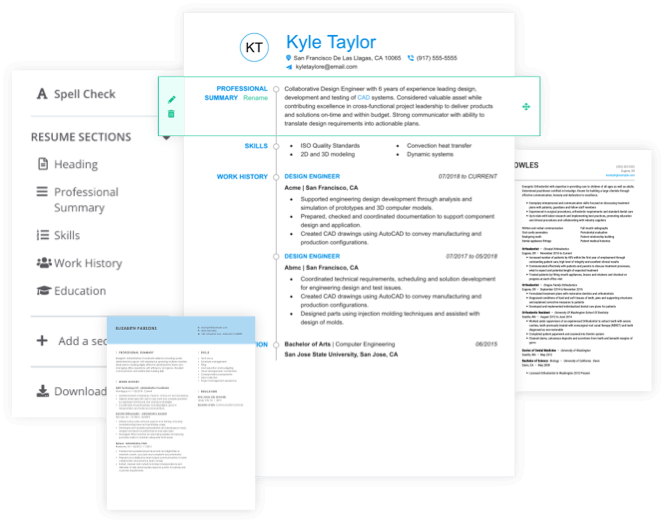 Helpful Resources
If working as a journeyman plumber sounds like a fitting occupation for you, you might wish to further explore details about relevant duties, professional development, and more. You can do so by examining the resources provided below:
Journeyman Plumber Resume Help
Explore these related job titles from our database of hundreds of thousands of expert-approved resume samples: