Featured in:
Mechanic assistants provide support to lead mechanics working in automotive repair shops by directly helping with repair- and maintenance-related tasks. This role provides an excellent starting point for new mechanics to gain familiarity with repair and maintenance processes and best practices while working directly under the supervision of more experienced professionals.
As mechanic assistants gain knowledge and expertise, they can take on more complex tasks within the shop. They may begin with simple duties including oil and tire changes before moving on to replacing parts like hoses and belts or directly aiding in vehicle inspections and the diagnosis of performance issues.
Need cover letter guidance? Add a cover letter to your resume using our cover letter formats how-to guide and add value to your resume.
Boost your resume with an extra click. Our cover letter templates match our resume templates' designs for a cohesive application. Use a template in our builder to help you quantify and expand upon the experience from your resume and impress employers.
Mechanic Assistant Duties and Responsibilities
A mechanic assistant may take on a number of different tasks, but based on postings that we analyzed, they tend to share several core responsibilities:
Support Lead Mechanics
Many of the core duties of a mechanic assistant involve providing direct or indirect support to lead mechanics. They may work on projects under the lead mechanic's supervision or may help out by ensuring that the lead mechanic has ready access to the tools and parts they need to finish repair and maintenance activities. As mechanic assistants gain familiarity with processes and practices, they may ask questions to clarify the lead mechanic's activities or provide information related to their own tasks.
Perform Preventive Maintenance Tasks
In many cases, mechanic assistants conduct routine maintenance activities that don't require a high level of expertise or specialization. A mechanic assistant may change a vehicle's oil, rotate tires, flush and replace fluids, and change bulbs. Early in their career, the mechanic assistant may perform these tasks under the direct supervision of a lead or more experienced mechanic, but they tend to act with more autonomy as they demonstrate their knowledge.
Repair and Replace Automotive Parts
Mechanic assistants repair and replace parts in cars or trucks, including belts and tubes that have worn out or could soon fail. These replacements generally don't require a high level of technical knowledge, but a mechanic assistant may also make more advanced repairs or replacements under the supervision of lead mechanics, such as swapping out engine components or transmissions.
Provide Diagnostic Support
Experienced mechanic assistants provide diagnostic support for lead and senior mechanics. As they begin their career, the mechanic assistant learns about methods for diagnosing vehicle performance issues and eventually gains a thorough knowledge of common diagnostic tests and indicators. Additionally, the mechanic assistant may work with diagnostic tools and provide reports and data to the lead mechanic to assist with repairs.
Maintain Customer and Vehicle Records
Mechanic assistants provide support throughout the shop by maintaining customer and vehicle records, working with printed copies of service records and computerized data. Mechanic assistants frequently create new customer records, gather information related to the vehicle, check registration and insurance information, and ensure that customer and vehicle information remains up to date and reflects recent repair and maintenance activities.
Support Shop Cleanliness and Safety
Finally, mechanic assistants maintain workspaces and promote shop safety by cleaning work areas and removing hazardous materials such as oil, gasoline, or other fluids. The mechanic assistant follows established procedures for safe disposal of motor oil, tires, and other vehicle fluids. They may also conduct periodic checks of equipment and work areas to ensure that they are free of clutter and dangerous materials like broken glass.
Mechanic Assistant Skills and Qualifications
Automotive shops tend to hire candidates with a high school diploma or GED and the following skills:
Automotive mechanics - basic working knowledge of automotive parts and service is very helpful in this role and provides a basis upon which mechanic assistants can build expertise
Diagnostics and troubleshooting - some experience with vehicle diagnostics and problem-solving is also extremely beneficial, as this helps mechanic assistants contribute to the shop's activities
Team collaboration - mechanic assistants provide support to one or more lead mechanics, so they should be able to successfully work in a team setting and coordinate their activities with other mechanics
Attention to detail - this role requires excellent attention to detail, both in providing support to lead mechanics and gaining familiarity with repair and maintenance practices for career advancement
Communication skills - mechanic assistants frequently communicate with lead mechanics to provide them with tools or input. They may also directly interact with customers
Mechanic Assistant Education and Training
While many mechanic assistants begin this job with only a high school diploma or GED, additional education from a vocational or technical institution can help increase employment opportunities. Knowledge of automotive repair and electronics is also extremely helpful.
Because mechanic assistants provide support to lead mechanics, there are significant opportunities for on-the-job training in this role. Mechanic assistants who learn quickly can soon move on to more advanced tasks and work in this role while attaining service technician certification.
Mechanic Assistant Salary and Outlook
The Bureau of Labor Statistics (BLS) does not provide salary estimates for mechanic assistants, but both PayScale and Glassdoor have gathered data related to this role. PayScale found that the average hourly rate for a mechanic assistant is $11.86 based on 27 reported salaries. Glassdoor provides a range of user-submitted salaries, with most falling in the $11 to $14 per hour range.
The BLS estimates that employment for automotive service technicians and mechanics will grow at an average pace of 6 percent through 2026, so mechanic assistants can likely expect to see similar rates of employment growth.
Create your own professional resume in just minutes.
Try our resume builder today
Build Your Resume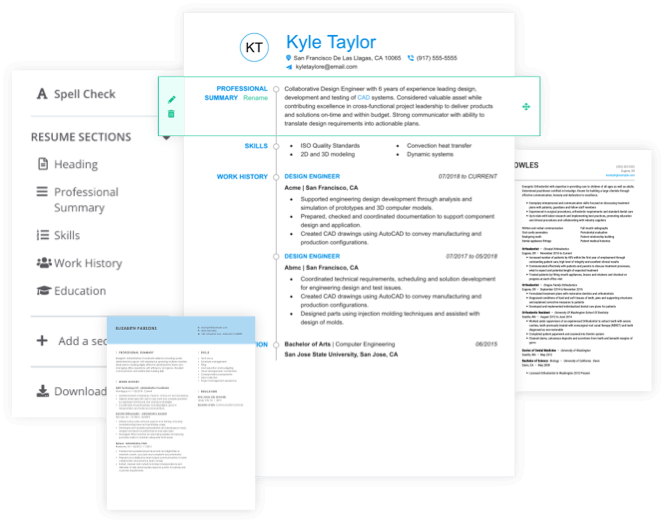 Helpful Resources
We searched the web and found several resources if you're interested in learning more about working as a mechanic assistant:
Mechanic Assistant Resume Help
Explore these related job titles from our database of hundreds of thousands of expert-approved resume samples: