Featured in:
Logistics team leaders support customer service and delivery activities by coordinating and directing teams tasked with shipping, receiving, and storage of goods. They focus on order fulfillment and supply chain coordination, as well as personnel management.
Logistics team leaders need a high level of organization, time management, and attention to detail to ensure that customer orders are prepared and shipped accurately and on time. They also ensure that team members comply with company policies and maintain a high level of safety. Logistics team leaders can work in many locations, including retail shipping warehouses, factories, and transportation hubs.
Need cover letter guidance? Add a cover letter to your resume using our cover letter formats how-to guide and add value to your resume.
Want to boost your resume? Your Jobhero subscription comes with a complimentary cover letter builder. Once you choose a cover letter template, the builder will suggest job-specific skills and prewritten entries, allowing you to save multiple letters for various applications fast.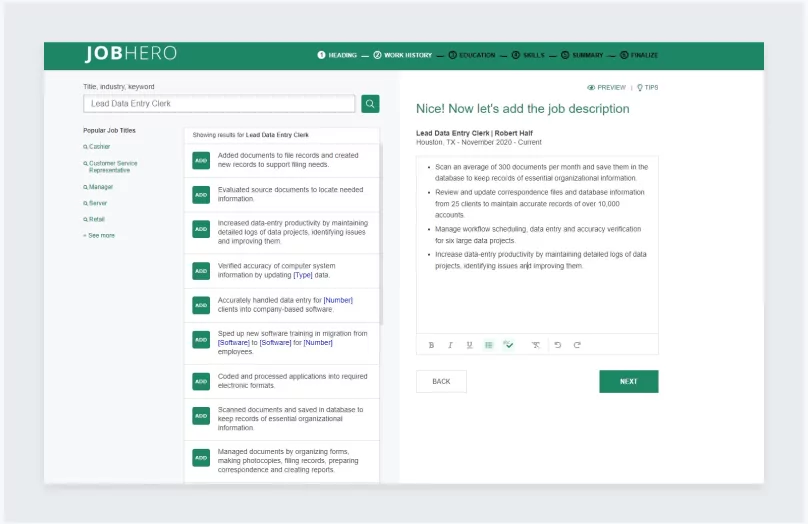 BUILD MY RESUME
Logistics Team Leader Duties and Responsibilities
Logistics team leaders' day-to-day duties vary based on their employer. However, there are some core tasks associated with the role. These include:
Direct Personnel
Logistics team leaders oversee the activities of shipping, receiving, and warehouse personnel. Logistics team leaders develop and maintain schedules, onboard new hires, and set department goals based on company expectations. They also evaluate employee performance to ensure that the entire team runs efficiently while providing guidance to make team members more effective.
Oversee Shipping, Receiving, and Warehousing of Products
Logistics team leaders play an important role in the shipping and receiving processes, directly contributing to warehouse activities during busy periods to ensure a high level of customer service and preventing teams from falling behind during high-order volume time periods.
Monitor Key Performance Indicators
Logistics team leaders support overall performance and efficiency by developing and monitoring key performance indicators (KPIs) throughout shipping, receiving, and warehousing cycles. They review and revise these KPIs based on many factors, including order volume and personnel levels. Logistics team leaders are responsible for ensuring that their teams understand expectations and consistently meet or exceed KPIs.
Manage Inventory Levels
Logistics team leaders manage inventory levels, ensuring that changes in inventory are promptly and accurately recorded in internal supply chain systems. In the case of an inventory discrepancy, logistics team leaders confer with team members and across departments to determine the source of the issue and resolve it.
Report to Management
While logistics team leaders support activities on the warehouse floor, they are also responsible for reporting to management. They may deliver performance reports on a weekly, monthly, or quarterly basis and report back on employee performance and annual evaluations. Logistics team leaders provide management, sales, and finance teams with key information regarding customer fulfillment.
Maintain Safety
Logistics team leaders set and maintain standards for safety within the warehouse. This can involve inspecting facilities and equipment, promptly responding to reports of accidents, and making sure that areas are free of clutter and other hazards. If an accident occurs, logistics team leaders ascertain what happened, maintaining detailed records and providing them to management.
Logistics Team Leader Skills and Qualifications
Highly organized and detail-oriented, logistics team leaders provide excellent direction and oversight for logistics personnel. Companies typically hire candidates with a bachelor's degree, along with the following skills:
Team leadership - effective team leadership helps logistics team leaders motivate, direct, and advise shipping, receiving, and warehouse personnel
Lifting and carrying - because they work in a warehouse setting and may help to load and unload shipments, the ability to lift and carry heavy objects and remain standing for extended periods of time are both important
Record-keeping - logistics team leaders do a great deal of record-keeping, tracking shipping and receiving data and updating inventory
Written and verbal communication - logistics team leaders effectively communicate with team members and management to resolve customer issues and answer questions
Training and assessment - in addition to leading effective teams, logistics team leaders participate in staff training and evaluation to ensure a high level of customer service
Tools of the Trade
Although logistics team leaders tend to work in warehouse settings, they use computer software to monitor shipments and maintain inventory. They need familiarity with:
Logistics software (FreightPOP, ASCTrac)
Database software (SQL, Excel)
Logistics Team Leader Education and Training
In general, logistics team leaders should have at least a bachelor's degree in a related field such as business administration. However, many logistics team leaders start out elsewhere on the logistics and supply chain team and are promoted based on effective performance and demonstrated sound leadership and judgment. There are significant opportunities for on-the-job-training in this role as well.
Logistics Team Leader Salary and Outlook
Logistics team leader salaries vary widely based on company size, the complexity level of the position, and geographic location. Glassdoor estimates that logistics team leaders earn between $46,000 and $96,000 per year, with a median annual salary of $65,486. This estimate is based on reported salaries from more than 3,200 workers in this role. It's worth noting, however, that many more salaries were reported within the lower end of this salary range.
Create your own professional resume in just minutes.
Try our resume builder today
Build Your Resume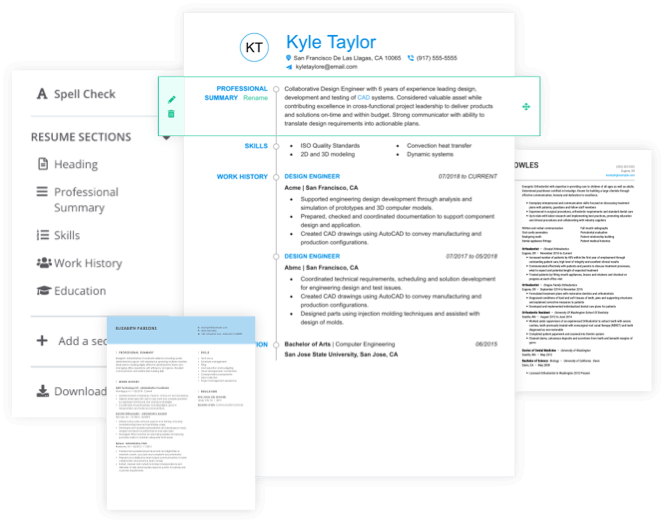 Helpful Resources
We found many resources on the web if you're interested in exploring a career as a logistics team leader:
Read about effective strategies for building and coordinating effective logistics teams and moving from a logistics role into a leadership role.
This useful handbook provides an overview of logistics, warehousing, and transportation best practices rooted in realworld experience.
Global Logistics / Supply Chain Best Practices - To Support and Drive Business Success and Trends
Learn about the central concerns of a global logistics operation and how logistics teams affect the bottom line.
This book explores current topics in supply chain management and logistics, examining what works and what doesn't in a global market.
Logistics Team Leader Resume Help
Explore these related job titles from our database of hundreds of thousands of expert-approved resume samples: