Featured in:
Inventory management specialists help a company ensure it has sufficient inventory levels to meet customer demand while reducing losses and inefficiencies. They are involved in several inventory control processes and help count, examine, move, order, and dispose of stock as needed. They report to management and have an influential role in inventory planning and strategy. This career requires a high school education, the physical ability to move heavy items manually and with equipment, and the willingness to work irregular hours when big shipments come in. Some inventory management specialists work at multiple customer locations and regularly travel.
Need cover letter guidance? Add a cover letter to your resume using our cover letter formats how-to guide and add value to your resume.
Improve your application with a personal message! Your resume may summarize your qualifications, but a cover letter can help you express your professional accomplishments and working style. Pair these cover letter templates with our builder subscription to unlock AI-powered text templates and professional designs that will help you submit a complete application.
Inventory Management Specialist Duties and Responsibilities
Inventory management specialists work in a variety of organizations. Specific duties and responsibilities may vary, but there are several core tasks associated with the job, including:
Load and Unload Items
Using equipment like forklifts and pallet jacks, inventory management specialists unload freight from deliveries and place items in the proper locations in the warehouse. When the company has outgoing shipments, they carefully pack and prepare these items and then place them on the loading dock for pickup.
Monitor Inventory Levels
Inventory management specialists count inventory to determine which items have low or excess stock, and they run comparisons against previous counts with computer software to analyze changes. They also inspect products and stock levels to spot potential problems with theft and damage.
Make Projections and Recommendations
They use information about customer demand and historical data from sales reports and inventory counts to forecast inventory needs. They make recommendations on purchasing stock from vendors, reducing prices to get rid of excess products, and decreasing losses from damaged and stolen inventory.
Order Stock from Vendors
Upon approval from management, inventory management specialists follow the company's purchase request process to replenish current stock and order new products. This requires creating a purchase order with the vendor that details how many units of each item the company needs and includes a calculation for the order price with taxes.
Complete Regular Inventory Reports
In addition to creating reports on current inventory levels when they perform their regular counts, they write special reports that alert management about the main causes of stock outages, overages, and losses. They also create reports to document replenishments and actions taken to clear out unneeded inventory.
Inventory Management Specialist Skills and Qualifications
In addition to being attentive to details to carefully inspect and count items, inventory management specialists need to feel comfortable using spreadsheets and business planning software. Employers hiring inventory management specialists look for a high school diploma, around one year of warehouse work experience, and the following skills:
Understanding of inventory control systems - these specialists have responsibilities for purchasing, receiving, tracking, storing, and managing inventory, so understanding how inventory control systems work is crucial
Warehouse equipment operation experience - inventory management specialists need training and experience to safely move items using equipment such as forklifts and pallet jacks
Math skills - in addition to counting inventory manually and with computer tools, they use math skills to calculate costs for purchase orders, make sales and stock projections, and calculate the impact of lost and damaged merchandise
Problem-solving skills - determining the causes of low or excess inventory levels and finding ways to improve efficiency requires strong problem-solving skills
Communication skills - strong writing skills help these specialists create clear, detailed, and accurate inventory reports and purchase orders; working with management and warehouse staff requires strong oral communication skills
Tools of the Trade
Here are some equipment and applications that inventory management specialists use:
Lifting equipment (pallet jacks, forklifts)
Inventory tracking tools (barcode readers, scanners)
Inventory management software (NetSuite, SAP, Fishbowl)
Productivity software (Microsoft Excel, Microsoft Word)
Inventory Management Specialist Education and Training
Employers seeking inventory management specialists require a high school diploma and have warehouse supervisors train new workers for up to one month. Some companies prefer candidates with a bachelor's degree in supply chain management or business, and this education can also help an inventory management specialist eventually advance to another role in purchasing or logistics. Courses in these programs may include business analytics, logistics management, purchasing, finance, information systems, business strategy, operations management, and marketing.
Inventory Management Specialist Salary and Outlook
The Bureau of Labor Statistics (BLS) classifies inventory management specialists as stock clerks and order fillers, and this occupation group makes a median yearly wage of around $24,500. The 10th percentile of inventory management specialists earns almost $18,900, and the highest-paid earn more than $40,300. Benefits they may receive include health insurance, tuition reimbursement, compensation for travel time, retirement plan options, and paid time off.
Employment growth for inventory management specialists is expected to rise 5 percent through 2026, which the BLS reports as slower than the 7 percent growth average across all occupations. Technologies like warehouse robots and radio frequency identification tags reduce the work these professionals need to do, and this efficiency allows companies to hire fewer workers. However, companies still need specialists who can help with the inventory planning and production tasks these technologies can't yet do.
Create your own professional resume in just minutes.
Try our resume builder today
Build Your Resume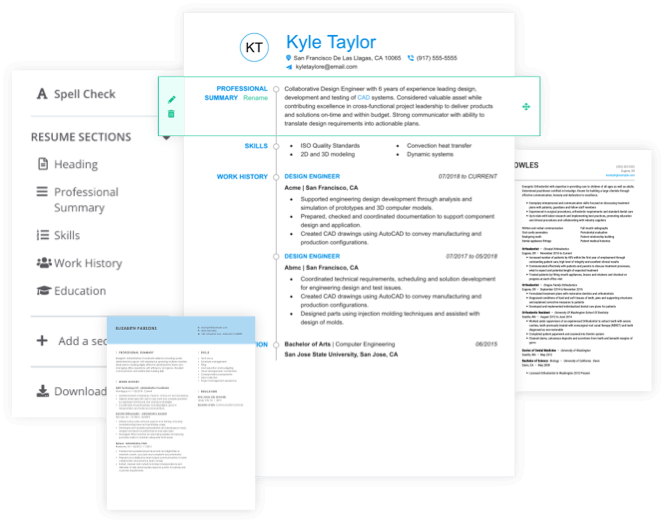 Helpful Resources
Here are some resources that provide more information about a career as an inventory management specialist:
Inventory Management Specialist Resume Help
Explore these related job titles from our database of hundreds of thousands of expert-approved resume samples: