Featured in:
IT Engineers manage organizations' computer systems, including software, hardware and networks. They may be responsible for designing, installing, and supporting the entire system or may specialize in one area of the computer system, such as security infrastructure or telecommunications.
IT Engineers work as part of an IT team and may report to an IT manager, but the majority of their work is completed on their own. According to the Bureau of Labor Statistics, the software development sector, which includes IT Engineers, is expected to grow at an above-average rate of 17 percent through 2024, adding an estimated 186,600 jobs to this sector during this period.
Need cover letter guidance? Add a cover letter to your resume using our cover letter formats how-to guide and add value to your resume.
One extra step to impress a manager: A growing number of hiring professionals read cover letters to determine whether they'll interview a candidate or not. Use our cover letter templates to craft a complete application that lands you the interview.
IT Engineer Duties and Responsibilities
The type of organization and the type of computer system an IT Engineer works with will determine their particular responsibilities; however, there are several main duties all IT Engineers perform. A review of current job listings identified the following primary tasks and responsibilities.
Identify and Resolve System Issues
IT Engineers are responsible for studying their employer's current computer system, identifying areas that need improvements or overhauls and implementing these changes. They will need to be skilled in assessment techniques and have the ability to design and install any necessary upgrades to the system.
Develop Systems
Many IT Engineers are hired to create an IT or computer system specific to their employer's needs. This often entails some programming and scripting knowledge, as well as planning, configuring, testing and monitoring new systems.
Document Work
Documenting work is a very important part of the IT Engineer's job. They must document system configurations, updates they make to a system and any new procedures or policies created in their work. Their documentation is used by other IT staff or management to see what changes or creations have been made to their systems.
Manage Projects
IT Engineers are often called upon to act as a project manager. They often oversee IT staff and coordinate with vendors and internal users when implementing a new system. They may be required to setup meetings, present information and order supplies and equipment when working on a project.
IT Engineer Skills
A successful IT Engineer has a broad knowledge of technologies and enjoys solving problems. They have excellent communication skills and keep up-to-date on the latest developments and trends in the industry. In addition to these traits, employers look for applicants with the following skills.
Core skills
: Based on job listings we looked at, employers want IT Engineer with these core skills. If you want to work in IT Support, focus on the following.
Knowing security protocols, IT systems, networking infrastructures and database systems
Managing multiple projects simultaneously
Working with inter-disciplinary teams to craft IT solutions
Communicating complex information to a non-technological audience
Troubleshooting technology problems
Advanced skills
: While most employers did not require the following skills, multiple job listings included them as preferred. Add these to your skillset and broaden your career options.
Program certifications such as, Microsoft, VMWare, SQL and Oracle
Proficiency in a compiled programming language such as, C++ or FORTRAN
Web application development
Create your own professional resume in just minutes.
Try our resume builder today
Build Your Resume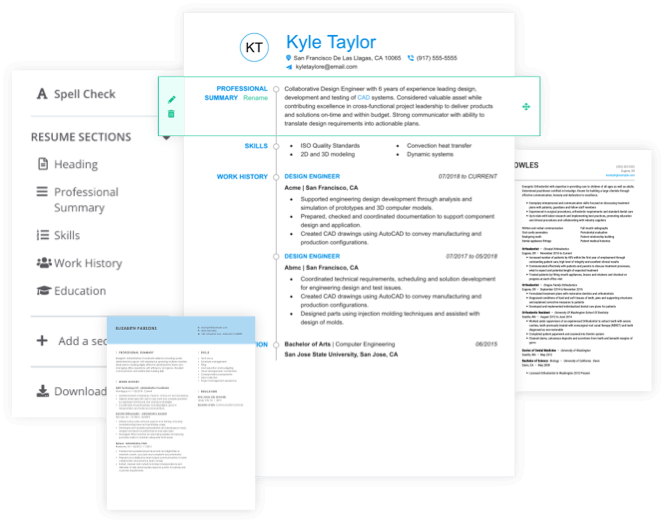 IT Engineer Resources
There are more helpful resources available on the Web for those interested in working in IT Support. We scoured the internet and found these links full of learning opportunities and the latest industry news.
On the Web
This publication is offered bimonthly from the IEEE Computer society and covers all aspects and the latest developments in the IT industry.
This site is a great source for all things computer related. Look under the IT Management section for the latest news and technologies in the IT world.
Twitter
Follow Amber Shinault, an IT and engineering recruiter as she posts opportunities and trends in the IT job market.
This IT/Engineering recruiter tweets a mix of inspirational thoughts and job and industry news.
Industry Groups
IEEE established in 1884 for the burgeoning electrical industry, has grown into an organization with over 430,000 members worldwide composed of scientists, engineers, software developers and computer science employees. Their large network of members enjoy career development, technical information, research and industry news from this organization.
Founded in 1982, CompTIA provides certification and business credentials, IT education, networking opportunities and resources to those in the information technology field.
IT Engineer Resume Help
Explore these related job titles from our database of hundreds of thousands of expert-approved resume samples: