Featured in:
Test engineers design and implement tests that check the quality and functionality of products. They participate in all phases of testing, from determining the exact procedure to troubleshooting errors and communicating recommendations for improvement to the rest of the product development team. Test engineers are commonly found in software engineering, but they can also work in many other industries that manufacture products, such as aerospace and electronics. Both full-time workers and consultants can take on this role, and some test engineers alternate between the office and the production area.
Need cover letter guidance? Add a cover letter to your resume using our cover letter formats how-to guide and add value to your resume.
Want to boost your resume? Your Jobhero subscription comes with a complimentary cover letter builder. Once you choose a cover letter template, the builder will suggest job-specific skills and prewritten entries, allowing you to save multiple letters for various applications fast.
Test Engineer Duties and Responsibilities
Test engineers carry out a variety of duties depending on their employer and their industry. Based on job listings, these duties typically include:
Develop Procedures
Test engineers define procedures for specific products by writing test plans and creating test cases based on requirements and design documentation. They may also develop automated systems to make tests reusable.
Conduct Testing
Before products are released, test engineers make sure that they are completely error-free and in line with specifications by performing various kinds of testing, including quality assurance and design reviews. Upon detecting an issue, they must analyze it and track down the root cause.
Provide Technical Support
Test engineers provide technical support to other teams, assisting with problems encountered internally, such as system malfunctions. Beyond checking for product flaws, they also propose solutions and suggest improvements, as well as contribute to data analysis with their findings from testing.
Ensure Compliance
Throughout the entire production phase, test engineers ensure that materials, products, equipment, and processes meet industry-based compliance requirements, such as those from the ISO (International Organization Standardization). Part of this is enforcing safety measures, and test engineers may help assess risks and develop mitigation plans.
Produce Documentation
Test engineers accompany every round of testing with detailed documentation, noting the results for all test cases and any discovered defects. Based on this raw data, they prepare reports for management and development teams.
Test Engineer Skills and Qualifications
Test engineers are analytical thinkers who rigorously examine products, using creativity and technical skill to fix bugs and devise testing systems. In addition to a bachelor's degree in computer science or engineering, test engineers have the following skills:
Engineering knowledge - to determine quality and interpret malfunctions, test engineers must have a working knowledge of the products that they're examining. For example, those in software development should be able to code, while those in electrotechnology should understand schematic diagrams and hardware concepts
Proficiency with testing - testing engineers must be familiar with several testing techniques and tools. They should be able to implement these and understand the results
Troubleshooting - much of a test engineer's job involves spotting issues, pinpointing the source, and taking corrective action
Creativity - thoroughly checking a product for faults isn't straightforward, and test engineers may have to perform several creative tests before guaranteeing it's foolproof. Out-of-the-box thinking also comes in handy when finding efficient solutions to complex bugs
Technical writing - since test engineers design procedures and create crucial project documentation, they must be well-versed in technical writing, conveying information clearly and accurately
Tools of the Trade
To complete all of their job tasks, test engineers use various tools:
Testing tools (such as Selenium, Apache JMeter, LabVIEW, or TestStand)
Diagramming software (such as AutoCAD, Microsoft Viso, or Gliffy)
Data entry software (such as Microsoft Word and Excel)
Test Engineer Education and Training
Most test engineers hold a bachelor's degree in computer science, engineering, or a field related to their industry. The level of responsibility for this position varies from employer to employer, and more demanding roles may require a master's degree. Additionally, companies prioritize candidates with one to five years of relevant experience in a testing or engineering environment.
Test Engineer Salary and Outlook
Test engineers receive a median salary of around $70,000 annually, according to PayScale. The highest-earning 10 percent of workers in this role earn more than $99,000, while the lowest 10 percent earn less than $53,000. Most test engineers can avail of medical and dental benefits, and job satisfaction is generally high.
Employment for test engineers is projected to grow through 2026. Test engineers in the software industry will be in high demand, as the Bureau of Labor and Statistics (BLS) estimates a growth rate of 13 percent for computer and internet technology occupations. In turn, test engineering positions in other industries are also expected to increase, but at an average rate of 7 percent.
Create your own professional resume in just minutes.
Try our resume builder today
Build Your Resume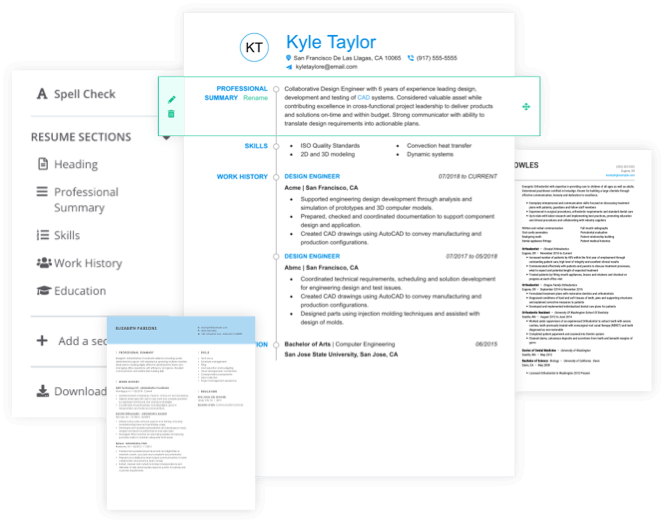 Helpful Resources
Before deciding on a career as a test engineer, it's helpful to consult additional resources first. Below are links to books and communities that will give you more insight about working in this position:
Test Engineer Resume Help
Explore these related job titles from our database of hundreds of thousands of expert-approved resume samples: