Featured in:
Engineering consultants work with various clients to provide engineering advice and technical solutions on different projects. This job involves a range of tasks, including coordinating teams, preparing documentation, and developing project plans. To be successful as an engineering consultant, applicants should have a good knowledge of all areas of engineering in order to analyze different projects and issues. Engineering consultants typically work in an office setting, but often visit sites or clients to assess problems or attend meetings. This role is well suited to people who enjoy problem-solving, have strong IT skills, are organized, and can work to and manage deadlines.
Need cover letter guidance? Add a cover letter to your resume using our cover letter formats how-to guide and add value to your resume.
One extra step to impress a manager: A growing number of hiring professionals read cover letters to determine whether they'll interview a candidate or not. Use our cover letter templates to craft a complete application that lands you the interview.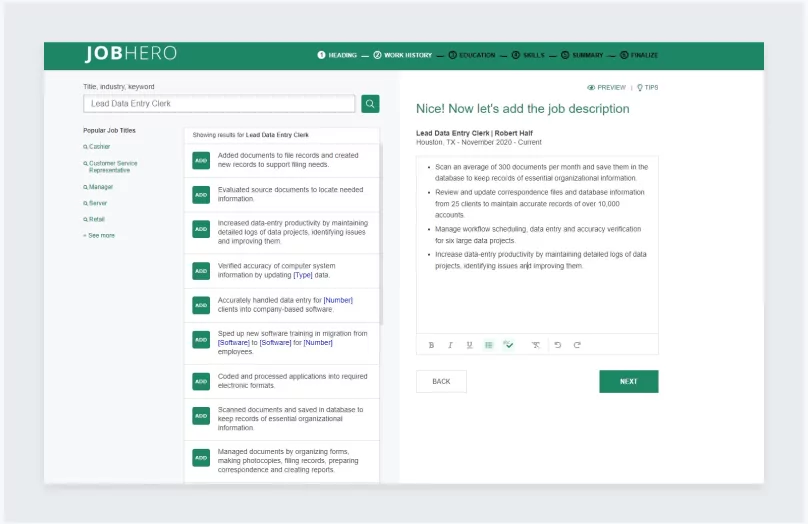 BUILD MY RESUME
Engineering Consultant Duties and Responsibilities
The type of organization an engineering consultant works for will determine the exact roles and responsibilities they take on. Based on job listings we analyzed, an engineering consultant's duties typically involve:
Project Management
Engineering consultants work with clients to assess their needs and translate them into designs, equipment, or new systems. From the initial concept stage through to completion, they manage project timelines and oversee all developments.
Plan Technical Solutions
After assessing projects for technical issues, engineering consultants find unique ways to resolve them without affecting the overall completion deadline or affecting the involvement from other departments or external companies.
Build Relationships with Clients
Engineering consultants attend meetings with clients, architects, local authorities, and manufacturers to create a good rapport with them to fully understand their requirements and provide accurate solutions, as well as to provide them with progress updates along the way.
Organize Project Logistics
Part of this role involves managing and organizing the logistics of the project, such as purchasing or supply chain management. Engineering consultants analyze the processes in place and identify areas that can be improved or find solutions to issues as they arise.
Prepare Documentation
Engineering consultants are responsible for creating documents and reports that detail their assessments, any fact-finding survey data they've acquired, the project's inception, and concept planning.
Engineering Consultant Skills and Qualifications
Engineering consultants should have strong interpersonal and project management skills, be able to work effectively in a fast-paced environment, and be proficient using computer software. Typically, employers will require a bachelor's degree in an engineering field and prior experience in a consulting role, as well as the following abilities:
Communication skills - engineering consultants work with various people within projects, which includes attending meetings to discuss progress, provide ideas, and identify processes that need to be improved. Strong communication skills are a must to fulfill these duties
Organization skills - engineering consultants work to strict deadlines and often on several projects at a time. Incredible organization ensures that every task is completed to the correct deadline
Computer knowledge - this role requires using different types of computer software, reading technical drawings, and making modifications, so engineering consultants need an aptitude for using computers
Writing skills - engineering consultants conduct research to obtain project data and to detail the specifications for a project that is written into a concise report. For this aspect of the role, applicants need strong technical writing abilities
Time management - engineering consultants not only manage their own time effectively, but they must also monitor others' time to keep projects on schedule
Engineering Consultant Education and Training
The minimum requirement to become an engineering consultant is a bachelor's degree in engineering or a similar field as well as prior consulting experience. Students should have experience with electronics, chemistry, statistics, and similar coursework. Some employers may also request that candidates have a certification from the Accreditation Board for Engineering and Technology (ABET). Applicants should be able to demonstrate leadership skills and, if possible, be able to show certified evidence of these skills in order to develop a successful career in engineering consulting.
Engineering Consultant Salary and Outlook
The median annual salary for engineering consultants is $82,000. Engineering consultants in the 10th percentile earn around $58,000 a year, while the highest paid earn as much as $138,000 annually. Bonus structures and profit-sharing opportunities can reach as much as $29,000 with this job, and commissions can reach as high as $25,000. Many companies offer medical, dental, and vision insurance plans as part of their benefits package.
The Bureau of Labor Statistics predicts this job field will grow 7 percent through 2026.
Create your own professional resume in just minutes.
Try our resume builder today
Build Your Resume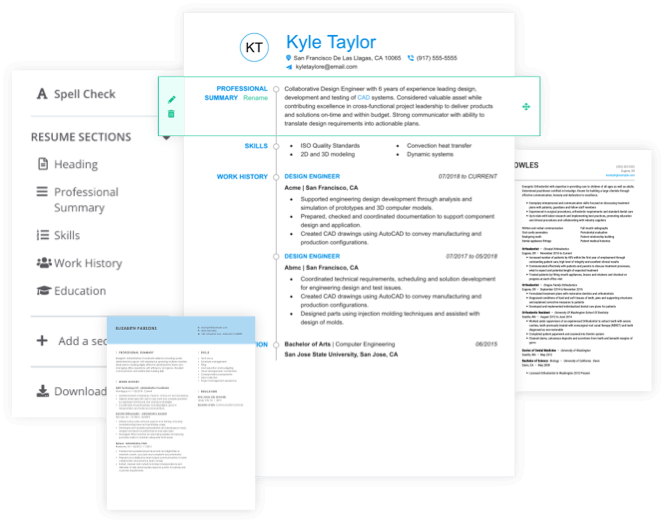 Helpful Resources
We've collected some of the best resources to help you develop a successful career as an engineering consultant:
Engineering Consultant Resume Help
Explore these related job titles from our database of hundreds of thousands of expert-approved resume samples: