Featured in:
People-persons and multitaskers, customer service receptionists help customers solve their product- or service-related problems through phone, email, or in-person conversations. Customer service receptionists usually employed by service-based industries, work in an office setting, such as financial, medical, and insurance offices. They are also employed by customer service call centers. Those who work in an office setting usually maintain regular office hours, while those who work in call centers may have to work nights and weekends.
Customer service receptionists work under the supervision of the office manager. In a call center, they work under a customer service supervisor. According to the National Bureau of Labor Statistics, the demand for receptionists, which includes customer service receptionists, is set to rise 9 percent through 2026.
Studying resume examples is a great way to get inspiration for your own. Study our library of example today!
Improve your application with a personal message! Your resume may summarize your qualifications, but a cover letter can help you express your professional accomplishments and working style. Pair these cover letter templates with our builder subscription to unlock AI-powered text templates and professional designs that will help you submit a complete application.
Customer Service Receptionist Duties and Responsibilities
The primary responsibility of a customer service receptionist is to provide customers with the best customer service possible. We analyzed customer service receptionist job descriptions to come up with the following list of customer service receptionist duties and responsibilities:
Schedule Appointments for Customers
One of the primary responsibilities for customer service receptionists who work in an office setting is scheduling appointments for customers to see the proprietor.
Answer Phone Calls and Emails
Customer service receptionists are responsible for digital communication; they answer customer emails and send emails designed to capture new customers. They also answer phone calls and take messages for the proprietor.
Research Answers to Customer Questions
Customer service receptionists find answers to customer questions in an efficient manner. This duty varies slightly between the call center and office setting.
Diffuse Customer Complaints
Sometimes, customers call or come into the office and don't behave nicely. It is the responsibility of the customer service receptionist to keep a cool, calm demeanor and do everything in their power to diffuse the customer. This requires conflict resolution skills and the ability to think on one's feet.
Customer Service Receptionist Skills
Tenacious, empathetic, and patient, customer service receptionists are whizzes at solving problems and managing irate customers. As they spend most of their day talking to customers, it helps to be an extrovert and to have the "gift of gab." Customer service receptionists also have to have specific service/product knowledge. Other skills that impress hiring managers when they look at candidates for customer service receptionist positions include:
Organizing daily appointment schedules
Performing research while on the phone gathering information from customers
Using conflict resolution skills to diffuse angry customers
Prioritizing tasks to make sure the most important tasks are done first
Building positive rapport with customers
Entering new customer data and updating the information of existing customers
Customer Service Receptionist Tools of the Trade
People interested in becoming business coordinators should familiarize themselves with the following:
Digital Call Software – used specifically by customer service receptionists who work in call centers
Spreadsheet and database software – used to keep customer records
Appointment book software – used to book customer appointments with the proprietor
Customer Service Receptionist Education and Training
Customer service receptionists only need a high school diploma to find employment. Most of their learning comes from on-the-job training, such as learning how to use digital calling and appointment book software.
Customer Service Receptionist Salary
According to the National Bureau of Labor Statistics, the national median hourly wage for receptionists, which includes customer service receptionists, is $13.42. Those in the top 10 percent make above $19.41, while those in the bottom 10 percent make below $9.39.
Create your own professional resume in just minutes.
Try our resume builder today
Build Your Resume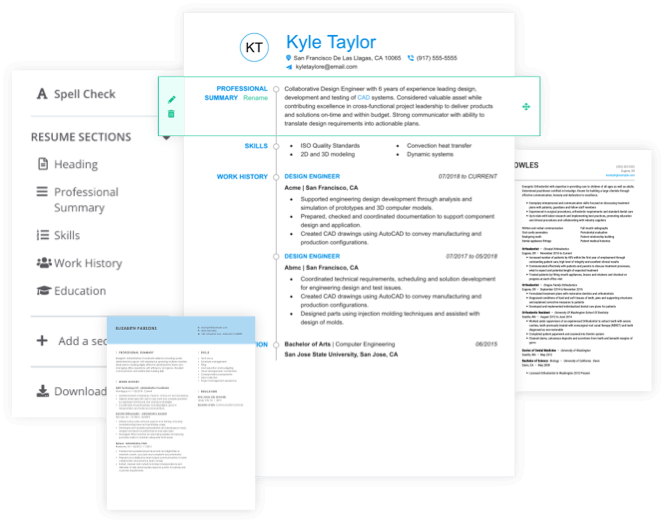 Customer Service Receptionist Resources
Do you want to start a career in customer service? If you do, check out the list of resources below:
The National Customer Service Association is a general organization for all types of customer service professionals. It offers several professional development resources for members.
International Customer Service Association
Founded in 1981, the International Customer Service Association has grown its presence around the globe by dedicating itself to the professional development of its members. Its webinars and other educational resources provide some of the best value in the industry.
Disney is known for providing some of the best customer service on the planet. This book is packed with realworld examples that exhibit how any customer service professional can apply these strategies.
This is a great read for customer service receptionists who see themselves progressing in the world of customer service. Its focus is going above and beyond customer expectations.
This book is perfect for customer service receptionists, especially at call centers, as it includes more than 700 successful phrases they can potentially work into their scripts.
Customer Service Receptionist Resume Help
Explore these related job titles from our database of hundreds of thousands of expert-approved resume samples: