Featured in:
Computer numerically controlled, or CNC, programmers program commercial factory machines that turn raw materials like wood, plastics, and metals into usable components. This job involves reading blueprints and understanding the dimensions of the given component in order to properly program machines. CNC programmers are employed by any industry that involves manufacturing plastic or metal products to be sold. The automotive, architectural and aeronautical industries are the highest employers of CNC programmers. When it comes to work environment, CNC programmers work in a manufacturing setting. They are on their feet most of their shift and the machines can get pretty loud. Some production facilities are open seven days a week and don't shut down until late at night, so evenings and weekends are usually required.
CNC programmer is a junior-level position. They typically work under the supervision of a production manager—the next position up the ladder for those looking to advance. According to the National Bureau of Labor Statistics, demand for metal and plastic machine workers, which includes CNC programmers, is set to decline 9 percent through 2026.
Studying resume examples is a great way to get inspiration for your own. Study our library of example today!
Improve your application with a personal message! Your resume may summarize your qualifications, but a cover letter can help you express your professional accomplishments and working style. Pair these cover letter templates with our builder subscription to unlock AI-powered text templates and professional designs that will help you submit a complete application.
CNC Programmer Duties and Responsibilities
There are several component tasks to programming and operating factory machines. We analyzed several CNC programmer job descriptions to come up with the following list of CNC programmer duties and responsibilities:
Read and Interpret Blueprints
CNC programmers read the blueprint designs of the product to be manufactured and then set their machines to produce the components. This requires familiarity with computer-aided design (CAD) software.
Program Mills and Lathes
CNC programmers write the formulas necessary to program mills and lathes using computer-aided manufacturing (CAM) software. It involves entering tool registries, start and end points, offsets, and conditional switches. It requires knowledge of geometry and trigonometry.
Maintain Inventory of Raw Materials
CNC programmers coordinate with the purchasing manager to make sure their facility stays stocked with the right amount of raw materials to stay at maximum production.
Maintain Equipment Through Preventative Maintenance
It is up to CNC programmers to make sure their machines stay in top operating shape. They create and implement routine maintenance checklists, also performing basic troubleshooting when a machine malfunctions.
Verify Machine Settings and Positioning
CNC programmers don't leave their machines once they enter the settings. They have to periodically check each machine to make sure the positioning of drills, mills, and lathes stays perfectly aligned.
CNC Programmer Skills
Detail-oriented people with great math skills and technical knowledge make the best CNC programmers. CNC programmers especially need to have an understanding of geometry and trigonometry to calculate the correct measurements for various component parts. CNC programmers have to be experts in both industry and government safety standards. The following is a list of further skills CNC programmers need to get hired:
Reading and interpreting blueprints to determine programming parameters
Performing machine adjustment calculations
Adjusting and setting drills, mills, and lathes to ensure 100 percent accuracy
Using knowledge of safety standards to avoid workplace accidents
Collaborating with purchasing managers and other members of the supply chain to maintain a strong inventory of raw materials
CNC Programmer Tools of the Trade
CNC Software – such as Centerdrill, Countersink, and Centerbore, is used to set the specific parameters of each machine
CAD and CAM Software – used to read and interpret product blueprints
CNC Programmer Education and Training
When it comes to academic qualifications, it is possible to get a job as a CNC programmer with just a high school diploma, though some employers prefer a certificate or an associate's degree from a technical school in an area of study, such as machine technology, precision machining, or CNC operations. Certification from industry organizations can help make CNC programmers more marketable. Most employers have their own training programs for new hires to complete.
CNC Programmer Salary
According to Glassdoor, the national median salary for CNC programmers is $55,400. Those at the bottom of the scale make $41,000, while those at the top of the scale make $78,000.
Create your own professional resume in just minutes.
Try our resume builder today
Build Your Resume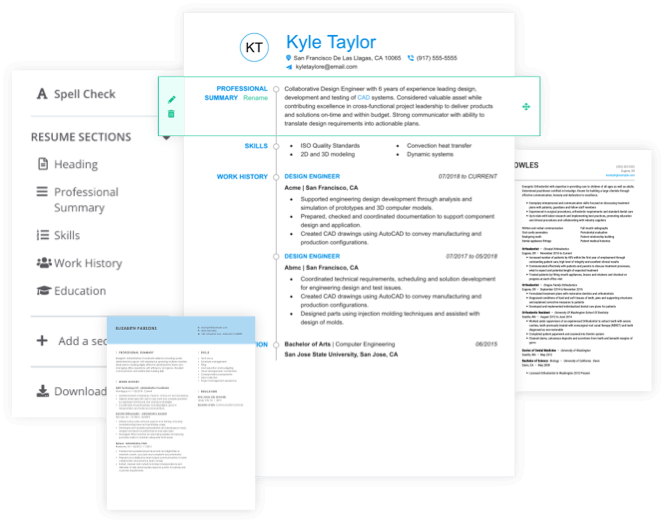 CNC Programmer Resources
If you think a career in manufacturing is for you, check out the following resources for CNC programmers below.
CNC Programmer Resume Help
Explore these related job titles from our database of hundreds of thousands of expert-approved resume samples: