Featured in:
Business directors can work in a range of different industries managing the development of a business' goals and objectives through coordinated operational activities. This is typically a full-time job that is carried out in an office environment.
Many business directors work overtime and usually find that they work over 40 hours a week to meet the demands of the job. Business directors need to be strong communicators and negotiators, have excellent leadership and managerial skills, and be comfortable devising strategies and business plans to help staff work towards goals that benefit the company.
Studying resume samples and examples are a great way to get inspiration for your own. Study our library of examples today!
Want to boost your resume? Your Jobhero subscription comes with a complimentary cover letter builder. Once you choose a cover letter template, the builder will suggest job-specific skills and prewritten entries, allowing you to save multiple letters for various applications fast.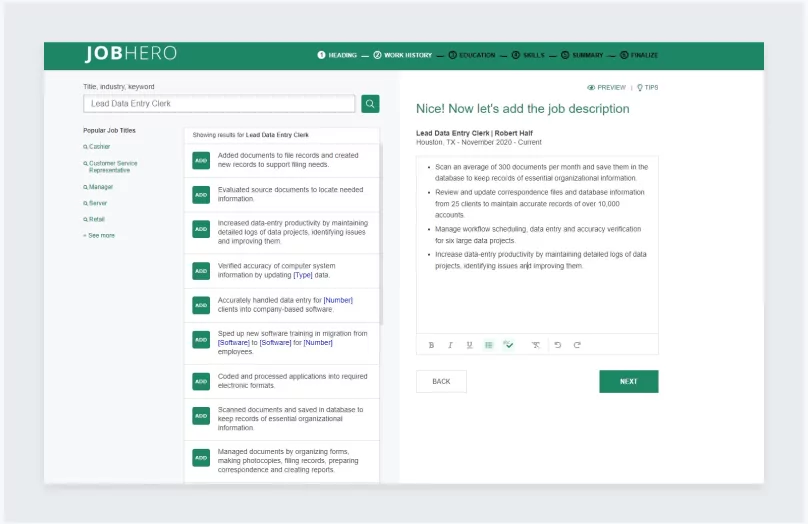 BUILD MY RESUME
Business Director Duties and Responsibilities
The type of organization business directors work for will determine the exact duties they're responsible for. Based on job listings we analyzed, a business director's core tasks typically involve:
Establish Company Policies
Business directors establish effective goals, sales targets, and policies that will benefit the organization and increase revenue. They work with departmental heads to outline procedures that will meet growth objectives.
Oversee Budgets and Financial Activities
They analyze financial statements and audit summaries to oversee the organization's financial and budgetary activities, so that they can make recommendations for improvement and see where the company is failing and succeeding in terms of revenue.
Identify Cost-Cutting Measures
As part of the statement and sales report analysis, business directors are responsible for finding ways to cut costs and improve financial performance. This may be through finding a more efficient system for different departments or looking at policies to find ways to cut back on expenditure.
Negotiate Contracts
Business directors negotiate with suppliers and clients to determine the best deal for the company. They manage sales and work out the best way to market the organization's goods or services to new clients.
Build Relationships with Clients
These directors build and maintain relationships with existing and prospective clients to encourage good business relations and networking for future contract opportunities.
Business Director Skills and Qualifications
Business directors are strong leaders who comfortably managing teams and organizations towards shared goals and strategies. They employ critical thinking to make decisions that benefit the company and its targets. Typically, employers will require a minimum of a bachelor's degree in a business-related subject, as well as the following abilities:
Leadership Skills - Business directors need to be able to manage an organization by successfully coordinating staff, resources, and implementing policies effectively, so strong leadership skills are vital to this position
Time Management - Business directors work on various tasks at once and need to be self-motivated, as often they are completing these tasks under their own direction. Time management and the ability to prioritize tasks is vital to ensure goals are met
Problem-Solving Skills - As issues arise within an organization, business directors need to be able to identify them and resolve them quickly and efficiently for the sake of the business
Decision-Making Abilities - A key part of being a successful business director is the ability to make decisions that benefit the organization and work towards goals, strategies, and policies. They make decisions on a regular basis and choose the best course of action
Communication Skills - As someone implementing policies and business strategies, business directors need to be able to communicate with staff, stakeholders, and clients effectively. This may be in the form of giving instructions, explaining plans, or negotiating with external companies
Business Director Education and Training
The minimum requirement to become a business director is a bachelor's degree in business administration or a similar subject, although many companies prefer applicants to have a master's degree in business administration (MBA). Many people in this role progress within a company through advancement, moving up from lower level management occupations, but there are still many opportunities to gain employment from outside organizations. At this level, employers will expect to see demonstrable experience in managerial roles.
Business Director Salary and Outlook
The median annual salary for business directors is $103,000, according to the Bureau of Labor Statistics (BLS). Business directors in the 10th percentile earn around $56,000 a year, while the highest paid earn around $166,000 annually. Bonuses account for up to $48,000 of this top figure, along with profit-sharing schemes reaching as much as $30,000 and commission reaching as much as $64,000.
The company and location affect the pay level for this job, and most companies provide health benefits. The BLS predicts that the growth rate for this sector is expected to increase by 8 percent through 2026.
Create your own professional resume in just minutes.
Try our resume builder today
Build Your Resume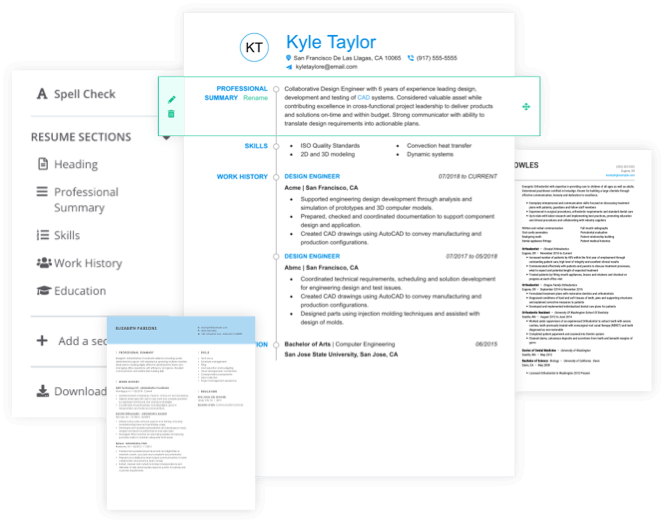 Helpful Resources
We've collected some of the best resources to help you learn more about a career as a business director. Check out these books and web resources as you explore this management position:
Business Director Resume Help
Explore these related job titles from our database of hundreds of thousands of expert-approved resume samples: