A cover letter is typically submitted with a resume to an employer and concisely explains why you're the best fit for the position. It's an essential component to the job search process; hiring managers may consider cover letters the critical element in their interview decision.
JobHero helps you perfect your document with in-depth cover letter writing tips. Find this and additional cover letter resources to create a meaningful connection and improve your chances of landing an interview.
Why You Need a Cover Letter
A cover letter is the best way for you to demonstrate to the hiring manager how your skills and experience are a unique fit to an open role and it differentiates you from the other applications piled on their desk. A cover letter also provides an opportunity to highlight your personality and expand upon skills listed in your resume.
The cover letter may be an optional document in a job application, but it never hurts your chances to submit your letter with every resume.
Start on the Right Foot: A Professional Opening
Your cover letter heading lets you provide your name, establish your location and greet the employer with a personalized greeting. Some studies have suggested a hiring bias against applicants with a longer commute - including your general location can help reduce that bias. Do not include your full address, as this is now an outdated practice. Feel free to only provide your city and state.
If you can, it's best to personalize the greeting of your cover letter. Sometimes you can find the name of the hiring manager in the job posting, or a quick Google search of the company can sometimes reveal the hiring manager's name.
If you absolutely cannot find a name, avoid "To Whom It May Concern," which is a generic greeting and demonstrates a lack of effort. Use these alternatives instead:
Dear Human Resources Representative
First Paragraph: Introduce Yourself
The letter introduction allows you to provide your name again and express your interest in the position. You can do this by taking a traditional, professional approach by explaining how your work experience aligns with the job needs or why this opportunity stands out to you over other jobs.
The other approach is to go the creative route and write a memorable opening line. Tread carefully here, though, because you don't want it to sound forced. If you don't feel comfortable, there's nothing wrong with writing a traditional introduction.
Here's an example based on someone applying for a management internship in retail:
Dear Ms. Tilton,
I would like to express my interest in the Old Navy summer internship recently posted on X School Career Service's website.
Second Paragraph: Align Job Need with Experience
This section lets you highlight one or two career accomplishments that help demonstrate your qualifications and how they fit into the responsibilities of the job you're applying to. It's vital to write separate cover letters for each position you apply to - every job is unique, and each cover letter is going to highlight aspects from your work experience that align with this particular role.
Use the information in the job posting to help you write this section. Typically, the employer lists the characteristics they're looking for, and you can take that language and apply it to your professional experience.
Someone applying for this same management internship in retail might mention these skills:
Analytical and
problem-solving skills

Understanding of management and accounting concepts

Specific financial tools you use
Third Paragraph: Make the Cultural Connection
If you can find it, look up the company's mission statement and explain how your experience matches up with it and how you might fit into the company's culture. You can also talk about your interests and how they're essential for this job.
Use this opportunity to make a personal connection with the company recruiter by explaining how their mission statement aligns with your values. If you have a personal contact within the company who encouraged you to apply, casually mention them to establish an existing connection to the company and team. Never refer to someone without asking their permission first.
Someone applying for a management internship might mention their personal interests in fashion, that they desire to pursue a career in business and that this internship is a stepping-stone towards that goal.
Final Paragraph: Let's Keep in Touch
The purpose of your final paragraph is to keep the lines of communication open. You want to do two things: Thank the hiring manager for taking the time to review your cover letter and resume and let them know your availability in the event they decide to contact you.
An example of a management internship job might read:
I would be thrilled for the opportunity for a personal interview. I can be reached by email ([email protected]) or phone at 555-1212. Thank you for your time and consideration.
A Professional Closing
There are a few ways to wrap up your cover letter. Whatever option you choose, the salutation should be left-aligned. Standard and acceptable farewells include:
After writing your closing, skip three lines and type your name with your phone number listed below it.
Elevate Your Cover Letter With A Template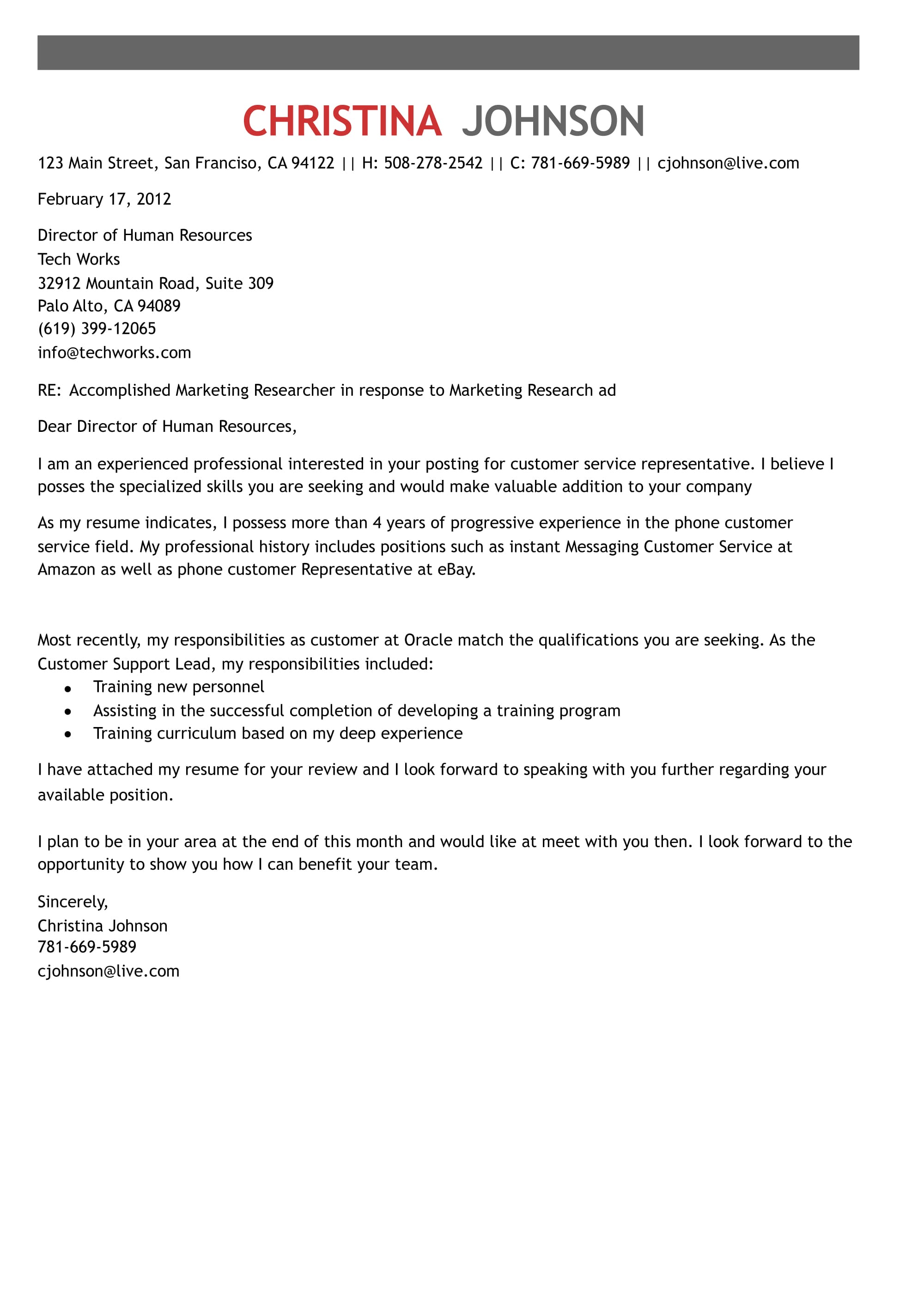 Build a Cover Letter Now
A cover letter template can help save you time and effort during an arduous job search process. When you use a professionally designed cover letter template from JobHero, the format, design, layout and margins are taken care of for you, making it much easier to focus on your message. Using a template also gives you more time to perfect the crucial details of your cover letter without worrying about how it looks.
Top 7 Tips To Help Your Cover Letter
How do you write a cover letter that stands out? The most important thing to remember when you're writing your cover letter is to tailor the content to each job you apply for. This means you'll be writing a unique cover letter each time. Yes, you can use similar pieces of information for each one, but use the job postings to phrase your sentences in different ways.
Check out these seven tips to perfect your cover letter:
Tailor your accomplishments for the job.
If you're applying for a job as a waitress, you can mention your prior work experience as an office assistant and the skills that apply to both jobs. In this example, you would focus on your excellent customer service skills, ability to multitask, and how you can help customers make decisions based on their tastes and preferences. Provide an experience that demonstrates all of these skills.
Make your cover letter complementary but unique to your resume.
Your cover letter should be a chance to flesh out the bullet points that you list on your resume. It should complement the resume, but it should also stand alone. Delve into deeper detail that you are capable of doing on a resume. Add professional examples and give your cover letter a life of its own.
Identify and use job-related keywords.
Look for repeated phrases and key responsibilities in the job description and reflect these in your cover letter to make sure that you capture the interest of your potential employer. Think of it as a call and response. The job posting calls for some of the things the employer needs and in your cover letter you respond with examples of how you have achieved these needs in your work history.
Font choice and size matter.
Stick with standard, easy-to-read fonts. Stay away from fancy fonts or ones that look pretty on paper. Instead, use Arial or Tahoma for electronic submissions and Times New Roman or Garamond for hard copy cover letters. Use a font size of 12 - it's not too big and not too small. This important because obviously you want to make it easy to read for you potential employer. But again, if the job you are applying to uses an ATS, and the software cannot recognize the font that you used, you will not make it to the next step.
Watch your margins.
Depending on your word processing program, page margins may be different on all four sides. Ensure they are consistent on the letter and resume before submitting. Most job seekers use 1-inch margins, but you can use narrow options, such as 0.7 inches, as long as all four margins are equal.
Always be honest.
It's never a good idea to over-embellish your accomplishments. It's easy for hiring managers to double-check your assertions, and it can hurt your future job prospects. Be upfront and direct about what your skills are, and if you feel underqualified, you can mention you're willing to learn a particular skill or program.
Research similar cover letters.
There are many cover letter examples in your particular industry that you can review. Use these samples for ideas on how to phrase your accomplishments.
Strengthen Your Worth With The Right Format
All cover letters follow the same general format. Adhering to a strict standard layout is in your best interest because it can boost the odds of a hiring manager or recruiter reading your job application instead of moving on to the next candidate. A cover letter format follows the same structure as a business letter and should follow these rules:
Keep content to one page.
Single-space each paragraph.
Leave a line space between addresses and the date in the cover letter heading.
Leave a line space between your heading, which includes your contact information, and greeting (Dear Mr. X, To Whom It May Concern).
Leave a line space between each paragraph.

Leave three spaces between your closing (Sincerely,) and your typed name. This gives you enough room to provide a handwritten signature if you're providing a hard copy of your cover letter and resume.
Use standard 1-inch margins.
If you want to use smaller margins, such as 0.7 inches, make sure they're consistent on all sides.
Align all paragraphs to the left side of the page.
JobHero For The Cover Letter Win
Use JobHero and Cover-Letter-Now to create a cover letter that impresses managers and helps you land an interview. Cover-Letter-Now's builder has a built-in editor, so it's easy for you to plug in your skills and work experience details. Choose from dozens of professional cover letter templates and benefit from automatic formatting. That way, you can focus on creating the content and worry less about its visual appeal. Take control of your job search and get started today.