Featured in:
More Convenience Store Clerk Resumes
Use these Convenience Store Clerk samples as a guideline or visit our extensive library of customizable resume templates.
Additional Retail Resume Samples
How to Format a Convenience Store Clerk Resume
Landing interviews and getting the job you want starts with choosing a resume format that will suit your unique situation. A resume format features your best attributes first on your resume, which will, in turn, impress recruiters.
Suppose you just started as a convenience store clerk. A functional format is the best way to highlight your skills and volunteer experience while deemphasizing the lack of extensive work history. The functional resume format is great for job seekers with less than three years of work experience and recent graduates.
However, if you have more than 10 years of consistent work experience, a chronological format takes the recruiters directly to your work history, showing off your career accomplishments first.
If you have three to nine years of experience, the combination resume or hybrid combines the best of the chronological and functional formats strategies. With this format, you can lead recruiters directly to your most vital attributes and top achievements by putting the skills section above your work history.
Here are examples of how two candidates used different resume formats to showcase the most remarkable attributes that qualify them for the role they're applying for.
Chronological Resume
12

years in workforce

3

years at this job

BA

Sociology
Work Experience
Convenience Store Clerk, Uncle Giuseppe's Marketplace
December 2020 - present, Montvale, NJ
Creates attractive displays bringing in more customers.
Provides customer support by solving issues and responding to inquiries.
Keeps track of inventory, stocking shelves daily and ensuring products are up-to-date.
Functional Resume
3

years in workforce

1

year at this job
Professional Skills
Leadership
Demonstrates leadership by training new employees, assisting in the organization, and implementing staff and management meetings.
Calls and meets with distributors weekly to inquire about product availability and specials.
Coordinates daily meetings with the team to discuss new products and services.
Detail-Oriented
Attentive to product detail to improve sales and customer satisfaction.
Organizes shelves and displays that captivate customers.
Monitor the effectiveness of organic products to determine new contracts.
Convenience Store Clerk Resume Samples
No results found
0-5

years of experience

Demonstrated ability to learn quickly while developing efficiency with specialized software such as Passport.
Highlighted customer service background by building and maintaining a strong rapport with employees, customers and various service and product representatives.
Demonstrated leadership excellence by training new employees and assisting in the organization and implementation of staff and management meetings.
Called and met with distributors weekly, to inquire regarding product availability and specials or to resolve any discrepancies. Recorded all phone calls and provided current information to staff and upper management.
Handled incoming customer calls/inquiries; researched and resolved account discrepancies and complaints.
0-5

years of experience

Assisted management in ordering merchandise for the store
Counted money for each shift and logged information into daily reports
Trained new employees
Developed strong customer relationships to enhance service and resolved customer issues
Communicated with vendors on what was needed in stock
0-5

years of experience

Maintained safe, organized, and well-kept work stations
Assisted my customers by providing, friendly, informative, and timely service
Maintained organized, and exact register drawer.
Completed all closing job duties, and prepped the store for the following day.
0-5

years of experience

Provided friendly customer service both in person and by phone
Prepared and tracked order forms for inventory and stocked supplies
Performed cashier duties and prepared daily cash logs
Maintained general appearance and cleanliness of store
0-5

years of experience

Greeted and acknowledged all customers in a friendly, professional manner.
Operated cash register and processed customer payments for gas and store merchandise.
Verified the age of customers when selling lottery, alcohol or tobacco products.
Arranged merchandise, stocked shelves and ensured clean maintenanace of the store.
0-5

years of experience

Job responsibilities include various assignments throughout the store including but not limited to cashiering, stocking, customer service, sorting, stacking, using power equipment, and breaking down product loads, receiving merchandise, scanning of merchandise and other duties as assigned.
Taking out trash; dust and mop store floors; and other cleaning duties as necessary
Maintaining outstanding customer service, displaying a positive attitude and speaking highly of the company.
Accurate operation of cash register taking different forms of payment.
Greeted customers and provided a warm welcome as they entered the store.
Microsoft Word and PowerPoint.
0-5

years of experience
Acquired wide knowledge of credit and debit transactions
Attained excellent knowledge with cash handling procedures
Skilled in operation of point of sale system
Cleaned and stocked shelves
Balanced cash drawer
Effectively interpreted operating and maintenance instructions
Performed duties as Safety Specialist, ensuring all employees were within the safety standards required by [company name]. Also, inspected outside and inside of store for any potential safety hazards.
0-5

years of experience
Greeted customers and assisted with location of products
Took cash and credit card payments
Received, stored and stocked merchandise
Completed all necessary paperwork associated with merchandize
Stocked shelves and maintained cleanliness of both shelves and work areas
Managed store displays
0-5

years of experience
Managed a small convenience store on the campus of the University of Tennessee.
Oversaw the proper opening and closing of the store, including monitoring cleanliness of the store and the accuracy of a cash drawer from open to close.
Worked independently without an immediate supervisor for extended periods of time.
0-5

years of experience
Assisted customers locating/selecting merchandise and checked out using cash register.
Restocked cooler, stocked shelves, made coffee, and routinely monitored gas pumps.
Kept track of gas tank levels and store inventory; and reordered when necessary.
Kept track of daily and monthly sales reports and became familiar with Ruby system.
Performed cleaning procedures to keep store looking clean and attractive.
0-5

years of experience
Assisted customers, maintained a friendly environment
Completed shift paperwork, including till management
Received vendor orders
0-5

years of experience

Greeted customers, explained promotions
Operated cash register for cash transactions, processed credit card transactions
Replenished and organized stock
Processed store orders to ensure product availability to customers
Responsible for knowledge of store promotions, policies regarding payment and exchanges, and security practices
Maintained appearance of store and grounds
6-10

years of experience
Performed financial transactions including cash handling, checks, debits, credits
Greeted customers and assisted with purchases of lotto tickets, cigarettes, etc.
Maintained inventory of merchandise, restocked shelves
Complied with state health regulations when completing food orders
0-5

years of experience

Assisted in cost control, inventory and paperwork
Relay product knowledge to customers and assisted with shopping
Stocked shelves and ensured all shelves were filled at all times
Handled the POS system
0-5

years of experience

Conducted cash and credit card transactions for convenience store and fuel purchases.
Responsible for stocking shelves and drink coolers daily.
Assisted with conducting annual inventories to include rotation of new merchandise.
Responsible for cash drawer accountability and securing of cash within the store safe after work shift.
6-10

years of experience

Greeted customers and assisted with location of products.
Took cash and credit card payments.
Received, stored and stocked merchandise.
Completed all necessary paperwork associated with merchandize.
Stocked shelves and maintained cleanliness of both shelves and work areas.
Managed store displays.
0-5

years of experience

Operated cash register; accepted payments by cash, credit/debit card, EBT card, check
Stocked merchandise
Ran lottery machines and kept record of tickets sold
Trained new employees in duties
Opened and closed store
Maintained cleanliness of store facilities
0-5

years of experience
Responsible for daily store operations from open to close
Maintained store inventory including ordering new supplies and restocking
Provided excellent customer service
0-5

years of experience

Performs a variety of retail functions which derive the highest levels of customer service
Perform front-end cashier duties including operation of cash register and gas management systems
Check-in and stock freight
Perform spot and area cleaning
Perform closing duties
Responsible for financial reporting and accurate money handling
Required to cook and handle food as it is offered in the store
Responsible for merchandising, hanging signs and rotating inventory on shelves and in coolers
Perform other duties and responsibilities as assigned by the supervisor
0-5

years of experience

Strong daily customer service with consumers
Responsible for writing checks to vendors using Quick Books
Working with little or no supervision
Responsible for the accuracy of selling Lotto and Scratch-off tickets
Responsible for ordering store merchandise and communicate with vendors
Responsible for the accuracy of working on the cash register
0-5

years of experience
Greeted customers and assisted with location of products.
Took cash and credit card payments.
Received, stored and stocked merchandise.
Completed all necessary paperwork associated with merchandize.
Stocked shelves and maintained cleanliness of both shelves and work areas.
Pumped gas as and when required.
Managed store displays.
0-5

years of experience
Greeted and interacted with customers
Assisted customers with store related questions
Processed sale of store merchandise
Monitored patrons to assist store in loss prevention
Maintained appearance of store
0-5

years of experience

Maintain control of pumps, Counter sales, Customer Service. Provide Customers with store items as requested.
Balance drawer receipts, responsible for beginning and ending balance.
Receive and stock merchandise from vendors.
Maintain store to be detailed
0-5

years of experience

Assist customers with groceries, gas, and lottery purchases.
Operate POS cash register upon customer checkout.
Helped to maintain inventory and price changes and store cleanliness.
Operated North Carolina Lottery Machine to assist with lottery purchases.
0-5

years of experience

Interacted with the public showing satisfying customer service
Operated the cash register
Collected money from customers who prepaid for gas and turn on pumps
Stocked products, processed cash, checks, credit and debit transactions
Responsible for bookkeeping of all purchases for accurate totals in the cash drawer at the end of the day
Cleaned the premises inside and outside
0-5

years of experience

I was responsible for closing store, completing necessary procedures and paperwork to ensure the store was ready for opening the next morning.
I completed various transactions for customers.
I had to verify the age of customer and if they were purchasing cigarettes.
I sold and prepared food, including deli sandwiches, pizza, hamburgers, and hotdogs.
0-5

years of experience
Receiving payment by cash, check, credit cards, vouchers or automatic debit
Greet customers and vendors entering establishment.
Assisting customers by providing information and resolving their complaints
Cleaning lobby, restroom and checkout areas as well as gas spills around gas pump areas and cleaning trash in parking lot
Monitor checkout stations to ensure that there is adequate cash available
6-10

years of experience
Responsible for handling money
Clean eating and fountain areas and stocking cups, lids, etc.
Stocking and cleaning shelves and coolers
0-5

years of experience
In charge of receiving money to complete transactions for paying customers.
Responsible for general cleaning and up keep store.
Performs duties as assigned by supervisor.
Customer service experience
Retail experience
0-5

years of experience
Perform front-end cashier duties.
Perform opening and closing duties.
Maintained store cleanliness including restrooms.
Prepare and serve food items.
Stocked shelves.
Load More
Convenience Store Clerk Duties and Responsibilities
While their employer determines convenience store clerks' day-to-day duties, there are many core tasks associated with the role. Based on our analysis of job listings, these include:
Customer Interaction Convenience store clerks are on the front lines interacting with patrons. They welcome them, answer questions related the products and services offered, and direct them to key locations within the store (a product aisle, the manager's office, bathroom, etc.), maintaining a helpful and positive attitude in all interactions.
Store and Merchandise Maintenance Convenience store clerks arrange merchandise, stock shelves, manage store displays, and ensure all areas are clean and neat. This can include taking out trash, dusting, mopping floors, and other cleaning duties as necessary. They also open and close the store, depending on shifts. Convenience store clerks are expected to keep track of inventory, notifying their manager when something is running low or ordering new inventory as needed.
Operate Cash Register Convenience store clerks operate the cash register, processing customer payments, handling cash, debit, and credit transactions, and balancing the cash drawer. Cash register types vary by employer.
Convenience Store Clerk Skills and Qualifications
Convenience store clerks have a passion for customer service. The ideal candidate works well with different personality types, enjoys helping others, and upholds a strong sense of cleanliness and organization. Employers prefer candidates who possess the following abilities:
Strong communication skills

- to interact with many types of people, including customers, supervisors, and vendors, keeping things running smoothly, training new staff, working with vendors to place accurate inventory orders, and assisting customers with questions and purchases

Detail-oriented

- in fast-paced environments, it is important to be a strong performer under pressure and to be able to multitask while offering excellent customer service, checking inventory levels, managing the cash register, and interacting with staff

Problem-solving

- from working independently without an immediate supervisor for extended periods of time to dealing with tricky customer situations or possible security issues, convenience store clerks do their best to find solutions or diffuse situations in a safe manner
Convenience Store Clerk Education and Training
While no formal education is required for convenience store clerks, a high school or general education diploma is preferred. Previous work experience as a store clerk is strongly desired by most employers. Preferred credentials vary by establishment, but convenience store clerks may be required to pass background checks and be certified in CPR and first aid. Hands-on training is typically offered by employers, and some provide written manuals on company protocols and procedures.
Convenience Store Clerk Salary and Outlook
The Bureau of Labor Statistics (BLS) lists the median annual wage for convenience store clerks as $11.80 per hour or $24,470 per year. This can vary based on the industry and state in which you work. As reported by the BLS, the employment of store clerks is projected to show little or no change from 2016 to 2026. Advances in technology, such as self-service checkout stands in retail stores and increasing online sales, may limit the need for a lot of store clerks.
Retail Cover Letter Examples
Create your own professional resume in just minutes.
Try our resume builder today
Build Your Resume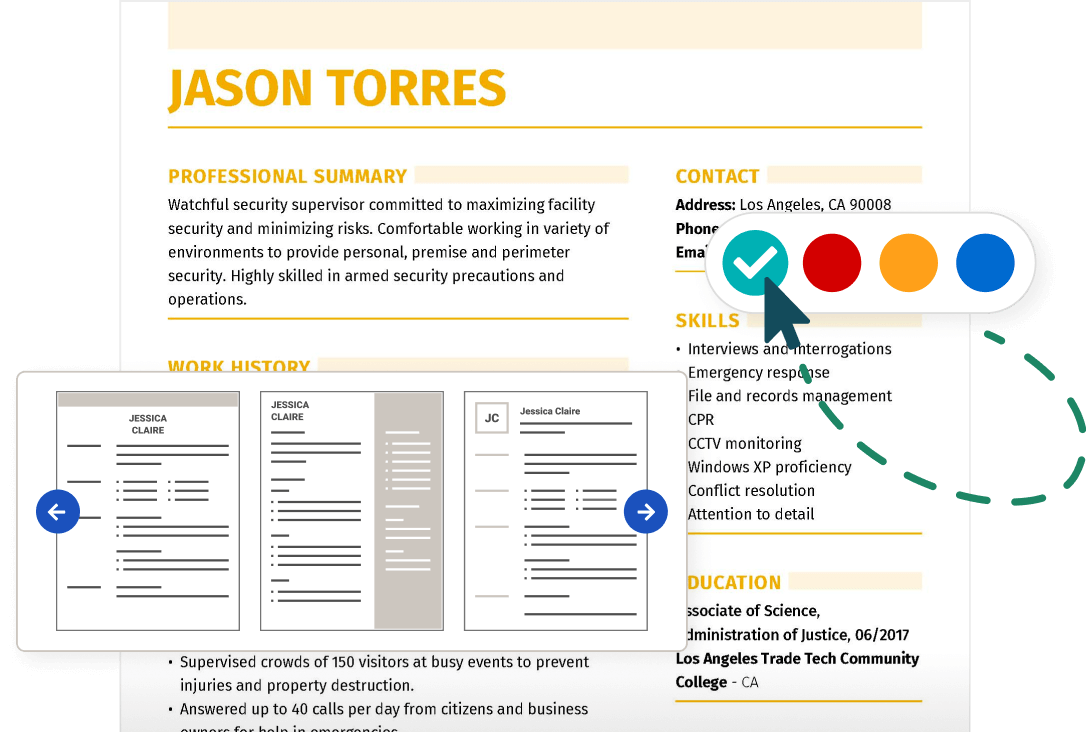 Convenience Store Clerk Resume FAQ
What does a convenience store clerk do?
Store clerks have many responsibilities, such as assisting customers, stocking inventory and using the cash register to facilitate sales. They support store management and generate sales.
Convenience store clerks are friendly and energetic problem-solvers. This hands-on, customer-focused role requires stamina, organization and attention to detail.
What is the importance of a convenience store clerk?
Convenience stores are known for quick and convenient purchases. Their store clerks are the key to cultivating loyal return customers.
Because convenience stores are the one-shop-stop for the community, it is common for store clerks to have a strong connection with existing customers. These relationships eventually become the lifeline of the business.
Even if you have the best product, if your customer service is terrible, it will drive people away. A successful store clerk will be friendly and efficient while creating personalized service.