Featured in:
More Retail Associate Resumes
Use these Retail Associate samples as a guideline or visit our extensive library of customizable resume templates.
Additional Retail Resume Samples
How to Format a Retail Associate Resume
An experienced retail associate with over five years of experience can use a hybrid or chronological format to write resumes. These two formats allow you to describe a timeline of your previous sales experience and subsequent growth of retail skills such as customer service, styling advice and sales floor assistance, as seen below with Candidate A.
However, if you have little to no experience, you should consider the functional format. Candidate B is a current student with only one year of experience at the campus bookstore. However, they are a prolific and loyal shopper with extensive product knowledge of select clothing stores. They can use the functional resume to highlight this independently earned knowledge and customer service skills.
Chronological Resume
12

years of experience

4

years at this job

BA

Journalism
Work History
Retail Associate, BloomingstrumOctober 2019 - now, New York, NY
Holiday hire quickly became an integral part of the floor sales team by successfully convincing 48% of customers to purchase an item.
Regularly convinced an average of two to four customers to sign up for the store's loyalty credit card, securing repeat customers and future business.
Occasionally provided fitting room support by offering customers fit suggestions, alteration services and alternate sizes.
Functional Resume
1

year of experience

1

year at this job

HS

High School Diploma
Professional Skills
Customer Service
Cheerfully greet every customer within two minutes of entering the store.
Approach customers and offer assistance within five minutes of entering the store.
Offer to start a fitting room or give customers a shopping bag if they hold two or more products in their hands.
Product Knowledge
Review new products weekly to provide up-to-date fit and product knowledge.
Sample seasonal items upon arrival to offer customers personalized reviews.
Retail Associate Resume Samples
No results found
0-5

years of experience

Processed and replenished merchandise and ensured stock availability on the assigned floor
Managed, counted, verified, and reconciled daily cash register sales
Greeted customers in a courteous and professional manner, while providing quality customer service to approximately 250 guests per day; answered questions about products and services, membership inquiries and renewals
Received and processed payments by cash, check, credit card and automatic debit transactions while maintaining a balanced cash drawer
Preformed opening and closing procedures effectively according to store policies and procedures
Assisted small business owners with "fax and pull" orders, processed payments, recommend new items for business use
0-5

years of experience

Received extensive training on merchandizing, guest services and inventory management
Drove sales by overseeing the guest service and merchandizing of two to three departments
Assisted managers on site, perform basic duties as required and subsequently strengthens leadership and communication skills
Operated and balanced the cash register at the end of each shift or as scheduled
Complied with established store policies and procedures in a professional and courteous manner
Performed administrative functions, at times, including tracking, ordering, and ensuring store security
0-5

years of experience

Provided superior customer service and kept store well-stocked, displayed, and clean.
Marked items with identifying codes, such as price, stock, or inventory control codes.
Developed product knowledge by reading current vendor tags and pamphlets and attended training classes in order to communicate it to the customer.
Handled minor customer complaints and concerns in an effective, customer supportive manner.
Participated in the processing of new shipments and helped the team to keep the receiving and back stock area
Priced & Sorted merchandise from racks and placed them in their correct location and recommended merchandise
0-5

years of experience

Discussed type, quality and number of merchandise required for purchase
Recommended merchandise based on individual requirements
Answered customers' queries and concerns
Prepared sales contracts and accepted payment through cash, check and credit card
Assisted in display of merchandise
Maintained sales records for inventory control
0-5

years of experience

Planned store layouts or design displays
Kept track of inventory stock and requisitioned new stock.
Ticketed, arranged and displayed merchandise to promote sales.
Computed sales prices, total purchases and receive and process cash or credit payment.
Maintained knowledge of current sales and promotions, policies regarding payment and exchanges, and security practices.
0-5

years of experience

Achieve company goal of 100% customer satisfaction through courteous attention to detail and problem solving on a one-to-one basis
Responsible for cash register transactions including greeting customers upon entering store, sales, returns, customer complaints, assisting customers with product selections
Stock merchandise, track inventory
Recognized as Associate of the Quarter as a result of documented customer satisfaction and history of excellent job performance
Asked for by name by Corporate to assist with opening of new store due to being flexible and professional
0-5

years of experience

Manage all aspects of web operations for successful novelty shop. Assist with building a social media presence and review analytics for website and social platforms. Responsibilities also include opening and closing retail store, receiving product, stocking product and customer service interactions on a daily basis. This was a seasonal position.
Created a new look and feel to the ecommerce website using yahoo's website platform.
Developed and implemented a process for website order fulfillment and product control.
Coached the business owner on how to manage website content and social media platforms.
0-5

years of experience

Provided great customer service to ensure a great experience for customers
Educated and assisted customer with clothing and accessory selections
Responsible for handling cash, credit card, and gift cards transactions
Diligently managed inventory and ensure excess product was stocked safely
Coordinated and maintained store displays as well as advertised new merchandise through creating in store signage and internet marketing
0-5

years of experience

Increased sales in the home department by 3% within a week through cross-merchandising
Proposed a plan to reduce shrink, which created better efficiency and customer service
Lead and train new associates in all departments
Assist in all departments as needed
0-5

years of experience

Checked to ensure that appropriate changes were made to resolve customers' problems.
Recommended, selected, and helped locate and obtain merchandise based on customer needs and desires.
Helped customers try on and fit merchandise.
Cleaned shelves, counters, and tables.
Greeted customers and ascertained what each customer wanted and needed.
0-5

years of experience

Prepare all foods strictly adhering to recipes and designated production quantities as written on the "Daily production Sheet."
Sample and taste prepared food items to assure quality, taste, smell, appearance and take corrective action to ensure foods served meet standards.
Clean equipment per department procedures after each use and maintain a clean and organized work area throughout the day and follow departmental cleaning, sanitation and closing procedures.
Adhere to HACCP guidelines to maintain sanitation and infection control of all food preparation, storage and service.
Place pans of prepared foods into serving steam tables at patient tray line/cafeteria area according to established set-up diagrams.
Read and comprehend simple instructions, short correspondence and memos.
0-5

years of experience

Work as part of retail team in high volume store to effectively meet production and sales goals
Process cash and credit transactions accurately and maintain a balanced drawer
Provide quality customer service by greeting and assisting customers and responding to inquiries
Sort, produce, and price items daily based on quality
Maintain knowledge of current production and sales, policies, and safety and security practices
Recognized as Employee of the Month Sept. 2013
0-5

years of experience

Answered customers' questions and addressed problems and complaints in person and via phone.
Helped customers select products that best fit their personal needs.
Maintained visually appealing and effective displays for the entire store.
Educated customers on product and service offerings.
Kept the showroom clean and maintained neat, orderly product displays.
Unloaded trucks, stocked shelves and carried merchandise out on the floor for customers.
0-5

years of experience

Assisted in training temps with cash handling, photo editing, and stockroom/ sales floor recovery.
Managed cash register and processed cash, credit card, gift card, and traveler's check transactions.
Utilized transferable skills to work in various departments; photo editing, retail, food service, and parking.
Assisted other team members with communicating and translating with international visitors.
Worked in a fast pace environment assisting at least 1,000 guests a day.
0-5

years of experience

Greeted customers entering the stores to ascertain what each customer wanted or needed.
Ensured superior customer experience by addressing customer concerns, demonstrating empathy and resolving problems on the spot.
Learned to work efficiently in a fast paced environment.
Ensured to keep up with the store cleanliness and reputation of outstanding customer service.
0-5

years of experience
Independently carried out daily work assignments and helped store transition, doubling its size while meeting and exceeding job demands.
Provided excellent customer service and effortlessly built rapport with clients and coworkers.
Helped new Retail Associates with required computer training and coached on key job skills.
0-5

years of experience

Maintained a comprehensive working knowledge of products
Promoted sales by providing exemplary customer service
Maintained merchandise and visual displays
Utilized extensive sales knowledge, and maintained sales goals
Stocked shelves and racks, and maintained a presentable sales environment
Followed all safety and loss prevention protocols as outlined by corporate offices
10+

years of experience

Applied my extensive knowledge and experience in the retail industry to establish pricing guidelines for the entire store. Retained sole pricing authority for designer items.
Supervised 4 to 7 shift employees.
Responsible for financial duties including cash reconciliation, payroll and customer reimbursements.
Served as the human resources contact for employee relations issues.
6-10

years of experience

Work in various departments of store.
Retail and Cashier Associate, responsible for cash reconciliation for prior business day.
Prepared daily reports of sales from previous business day.
Greet customers and assisted with selection of merchandise.
Provided translation to bilingual customers.
6-10

years of experience

Completes store operational requirements by scheduling and assigning employees; following up on work results.
Maintains store staff by recruiting, selecting, orienting, and training employees.
Maintains store staff job results by coaching, counseling, and disciplining employees; planning, monitoring, and appraising job results.
Formulates pricing policies by reviewing merchandising activities; determining additional needed sales promotion; authorizing clearance sales; studying trends.
Markets merchandise by studying advertising, sales promotion, and display plans; analyzing operating and financial statements for profitability ratios.
Secures merchandise by implementing security systems and measures.
0-5

years of experience
Worked as a retail associate for large retail store
Operated computerized register, balancing register daily
Promoted and encouraged sales to customers by providing product information
Maintained outstanding customer service towards peers and customers
0-5

years of experience

Operated a cash register for cash, check, and credit/debit card transactions with 99% accuracy.
Priced merchandise, stocked shelves and took inventory of supplies.
Cleaned and organized the store, including the checkout desk and displays.
Used time efficiently when not serving customers, including folding clothes and cleaning out fitting rooms.
0-5

years of experience

Provided superior customer service and kept store well-stocked, displayed, and clean.
Handled minor customer complaints and concerns in an effective, customer supportive manner.
Priced & Sorted merchandise from racks and placing them in their correct location and recommended merchandise based on individual requirements.
Processed payments by totaling purchases; processing checks, cash, and store or other credit cards.
0-5

years of experience

Processed Merchandise that arrived on scheduled basis.
Created price tags for the merchandise and hung the clothes on clothes racks and ran them to the sales floor.
Empty merchandise boxes and trash went to the compactor and bailer.
Cleaned the store and bathrooms and break room using the dust mop, broom, dustpan or shovel with companies cleaning products and used the vacuum to vacuum the rugs and threw out the trash
Picked up layaways and put back boxes in the layaway department.
Completed duties under direct supervision in a timely and safe manner.
0-5

years of experience

Maintains good quality customer service at all times
Ensures proper merchandise presentation is maintained in accordance with company standards
Execution of cashier responsibilities within in company policies and procedures
Responsible for controlling shortage through personal awareness and compliance with company standards and theft deterrents
Additional tasks and responsibilities as assigned by store management
0-5

years of experience

Cashier and maintained front end of store.
Helped maintain the store and daily duties of receiving shipments and unpacking shipments.
Helped to keep displays up to date and the merchandise organized.
Assisted managers with arrangements of merchandise on the sales floor for customers to make purchases.
0-5

years of experience

Accurately operates a POS cash register (handles cash and credit funds and media).
Replenishes and recovers sales floor and maintains appropriate stock levels throughout the day
Assists with price changes and physical inventory
Works cooperatively with supervisors to ensure the safe and expeditious movement of visitors throughout the Theaters and/or Stores.
Adheres to safety and security policies. Recognizes security risks and thefts and is aware of how to prevent or handle these situations.
Completes assignments efficiently and accurately with minimal supervision.
0-5

years of experience

Assisted customers with product selection and queries
Reviewed merchandise movement
Inspected merchandise for quality and quantity
Operated computerized cash register
Managed shelf stocking and pricing activities
0-5

years of experience

Complete managerial paper work and end of day closing; opening and closing store deposits.
Responsible for inventory count and handling of caged mobile phones
Developed and distributed monthly schedule
Floor coaching of 12+ sales associates to ensure focus on meeting store-wide sales goals
On-shift responsibility for employee behavior and work ethics
0-5

years of experience

Store average sales $350,000 per month. Month over month improvement over the last 9 months to drive a 5% increase in sales.
Providing World Class Customer Service to drive Voice of the Customer, Activations, Mobile Internet and Data Sales.
Manage a team of commissioned retail sales reps
Perform daily, weekly and on the spot coaching. Drive results to exceed metrics in all areas of store, district and area objectives.
Open and close store as a key holder, perform store inventory counts, deposits, count tills and audits of cash drawers daily.
Perform monthly and mid-month performance reviews.
Assist customers as needed by answering questions and assessing their wireless needs.
Direct store traffic and manage customer flow.
Provide sales support to customers during peak sales periods.
0-5

years of experience

Customer service including but not limited to: product suggestions, shopping assistance, knowledge of animal habits, interests, demeanor and needs, transactional
Resolution of issues such as product returns, special orders
Identification of new product lines
Inventory receiving and systems administration
Merchandising of store products, rotation for seasonal time periods and display of advertised products
Marketing assistance - particularly with social media and creative development
Closing shift with responsibility for daily sales receipts and funds
0-5

years of experience

Greet customers as they enter the store and meet their needs in a friendly manner and describe merchandise and explain use, operation, and care of merchandise to customers.
Maintain clean merchandise display. Maintain knowledge of current sales and promotions, policies regarding payment and exchanges, and security practices.
Open and close cash registers, performing tasks such as counting money, separating
Assist in specialized area of the store; fitting room, Help customers try on or fit
Maintain a clean work environment. And prepare merchandise for purchase or rental.
Answer questions about the store and it's merchandise. Ticket, arrange and display
Receive phone calls and direct them accordingly. Bag or package purchases, and wrap
0-5

years of experience

Placement of merchandise in the selling floor or stock area
Organize and maintain merchandise in stockrooms
Assist in the preparation of merchandise for shipment to customers
Participate as needed in selling floor recovery, folding and hanging merchandise
Regular, dependable attendance and punctuality
Semi-Finalist Network for Teaching Entrepreneurship: 2014
10+

years of experience
Answered customers' questions and addressed problems and complaints in person and via phone.
Helped customers select products that best fit their personal needs.
Offered exceptional customer service to differentiate and promote the company brand.
Educated customers on service offerings.
Kept the department clean and stocked while maintaining neat and orderly product displays.
Communicated store policy violations to the leadership team in a timely manner.
Built and maintained effective relationships with peers and upper management.
Processed all sales transactions accurately and in a timely fashion.
0-5

years of experience

Answer customers' questions about merchandise and advice customers on merchandise selection.
Itemize and total customer merchandise selection at checkout counter, using cash register, and accept cash or charge card for purchases.
Take inventory or examine merchandise to identify items to be reordered or replenished.
Pack customer purchases in bags or cartons.
Stock shelves, racks, cases and tables with new or transferred merchandise.
0-5

years of experience

Providing customer service is the most important part of this job, being professional and friendly to all patrons and outside vendors.
Operating register, lottery, product ordering system and Brinks machine
Opening and closing the store, setting security system
Stocking product and ordering items on weekly basis
Ensuring order deliveries are correct, interacting with outside vendors
Responsible for organizing paperwork from previous day transactions
Entering financial information into computer-based system
Working together with Site Manager to ensure smooth operation of business
0-5

years of experience

Provides customer service by greeting and assisting customers, and responding to customer inquiries and complaints
Stocking merchandise to floor displays
Keeping up to date with special promotions and putting up displays and ensure that items are correctly priced
Answering queries from customers and giving advice and guidance on product selection to customers
Able to work as part of a sales team and assist other coworkers as needed
0-5

years of experience

Responsible for greet customers and ascertain what each customer wants or needs.
Answer questions regarding the store and its merchandise.
Recommend, select, and help locate or obtain merchandise based on customer needs and desires. Merchandised clothing according to store requirements, also handled daily customers and special holiday sales.
Kept store clean and organized at all times.
0-5

years of experience

Receive payment by cash, check, credit cards, vouchers, or automatic debits.
Issue receipts, refunds, credits, or change due to customers.
Count money in cash drawers at the beginning of shifts to ensure that amounts are correct and that there is adequate change.
Greet customers entering establishments.
Maintain clean and orderly checkout areas.
Establish or identify prices of goods, services or admission, and tabulate bills using calculators, cash registers, or optical price scanners.
0-5

years of experience

Received and processed cash and credit payments for in-store purchases
Opened and closed the store, including counting cash, opening and closing cash registers and creating staff assignments
Placed special merchandise orders for customers
Placed orders for new merchandise
Helping with weekly schedule for Retail Associates
Organized store space
Worked in the big tourist spots like Universal Studios, City Walk and Hollywood & Highland Mall.
0-5

years of experience
General customer service - answered questions for both local and foreign customers.
Handled register to ring up items at front.
Sales floor recovery, making sure store and products are neat and presentable to customers.
Supervised fitting rooms, making sure there was no safety issues and reporting theft to supervisors and SPS.
Unboxing and organizing flow of new shipments from backroom to sales floor.
Translator for Mandarin-speaking customers who were not fluent in English.
0-5

years of experience

Cashiering, being fast and efficient with handling money customers, and returns, greeted customers, assisted employees and customers, helped with loss prevention
Fast and efficient recovery, processed clothes in stockroom from truck, keeping up with weekly safety procedures
Made sure that goods were properly displayed, rearrange store and displays for holiday sell items
Fitting room training buddy goal is to help new associates learn Dd's fitting room procedures
Changed pricing, marked down items and handled all clearance items
0-5

years of experience
Assisted with customer service duties
Performed visual merchandising in sales areas
Provided inventory maintenance
Obtained merchandise from warehouse
0-5

years of experience

Assist customers in the selection of clothing wear and related items.
Proactively greet [company name] customers upon entry and offer them assistance to enhance their
Interact with customers, giving them product presentations and information needed to make their
Strategize to meet assigned sales targets in the given period of time.
Complete all the assigned tasks by the retail sales manager.
Keep track of the stock and inventory in the store and place orders for stock replenishment.
Maintain the proper display of goods in the store and ensure that they comply with [company name]
0-5

years of experience

Perform cashier duties: operating cash register, answering customer questions, and referring to the senior staff for assistance
Assisting in creating and setting up merchandise displays
Receive, price, stock, and shelve merchandise
Assist with inventory and other special events as needed
Perform regular duties as assigned
0-5

years of experience
Responsible for the coaching of 6-8 associates.
Responsible for hitting monthly quota.
Train and coach associates to be more effective and efficient.
Provide customer service by greeting and assisting customers, and responding to customer inquiries and complaints.
Working with the store manager in order to identify areas of opportunity.
0-5

years of experience
Meets 100% of sales goals by assessing customer needs to provide guidance in selecting designated products;
Coordinate inventory management to ensure that merchandise stays organized in accordance with relevant buying trends and patterns;
Conduct all aspects of financial transactions including POS, refunds and price adjustments;
Provide excellent customer service while coaching and training new associates on effective retail sales and communication techniques;
0-5

years of experience
Assisted processors with tagging hard goods, shoes, and accessories
Stocked hard goods, shoes, clothing, and accessories according to store policy
Assisted processors with maintaining a clean work environment
Provided customer service as was possible
6-10

years of experience
Coached my associates to help develop their customer service skills
Oversaw operations and harmony over two different departments
Led my department to being ranked number one in sales in the district
My department had the highest rating of customer feedback in the store
Led by example by receiving recognition for my customer service.
6-10

years of experience
Directed the unloading and processing of all merchandise and supplies.
Maintained 40 hours a week with full time college schedule.
Performed maintenance on refrigeration coolers and compressors.
Trained and engaged new employees on task requirements.
Efficient teamwork with other employees in completing inventory list.
Load More
Retail Cover Letter Examples
Create your own professional resume in just minutes.
Try our resume builder today
Build Your Resume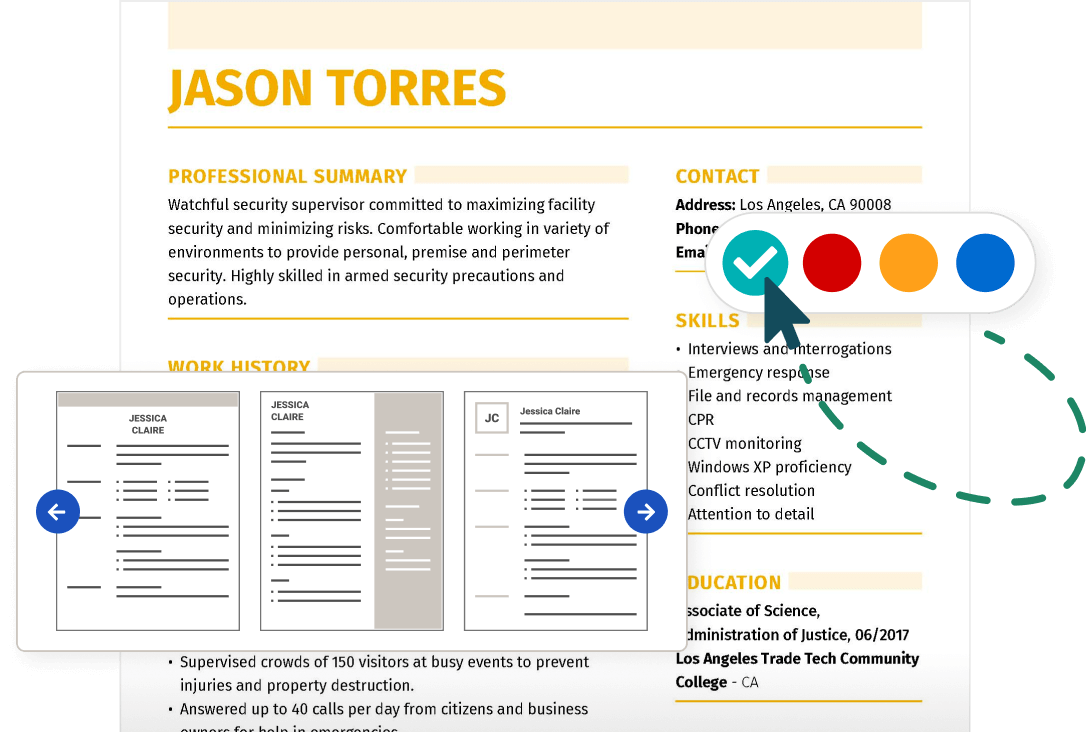 Retail Associate Resume FAQ
How do I tailor a resume to a retail sales associate position?
Most store managers look for flexible schedules, strong customer service skills and collaborative natures in their job applicants. You can tailor your retail associate resume by focusing on skills and accomplishments that match those attributes. We studied job postings to pull together a list of highly requested resume skills to help you craft your resume.
What is a good summary for a sales associate's resume?
A strong resume summary will highlight one impressive sale or retail accomplishment, such as processing the highest number of store credit card applications or earning regular positive online reviews.
We wrote two sample resume summaries of an experienced fitting room attendant. The good example uses evidence-based accomplishments to appeal to hiring managers and demonstrate the writer's training. The poor model fails to show any retail skills or achievements.
Good sales summary statement: Experienced retail associate with over four years at a fast-paced flagship store. Oversaw a fitting room with 14 booths and was responsible for styling customers, processing go-backs and clearing rooms for new customers in under 10 minutes. During peak hours, was able to assist 35 customers an hour.
Poor sales association resume summary: Experienced retail associate looking for a new position. Available to start in three weeks. Eager to develop cashier skills.