Featured in:
More Timekeeper Resumes
Use these Timekeeper samples as a guideline or visit our extensive library of customizable resume templates.
Additional Billing Collections Resume Samples
How to Format a Timekeeper Resume
You can format your timekeeper resume with one of three strategic resume formats. The chronological resume works best for job seekers with over 10 years of steady employment and promotions demonstrating the growth of their responsibilities and skills. Since Candidate A below has less than 10 years of experience, they used the combination resume instead. This format uses the same section headings but swaps the placement of the skills and work history sections. This strategy helps Candidate A prioritize their technical skills, such as knowledge of payroll software and legal regulations.
Candidate B, however, has less than two years of professional experience and less than one year at their current job. Their lack of experience and short employment history can look suspicious to hiring managers, so Candidate B used a functional resume. This resume format minimizes the work history timeline so Candidate B can expand on their technical skills such as timekeeping and payroll knowledge.
Combination Resume
6

years of experience

2

years at this job

BS

Accounting
Work History
Timekeeper, River Lethe Inc.
May 2021 - now, San Diego, CA
Collect and verify timekeeping information for a staff of 75 employees.
Track employee attendance and report non-compliant staff members to the HR department.
Familiar with the payroll softwares Gusto, ADP Payroll and OnPay.
Functional Resume
2

years of experience

1

year at this job

AS

Accounting
Professional Skills
Timekeeping
Collect and verify timekeeping information for all employees.
Calculate pay according to hours worked, incorporating paid time off, partially paid leaves and overtime.
Calculate bonuses and commissions when necessary.
Solid knowledge of relevant state labor legislation, policies and regulations.
Payroll Software
Manage compensation packages using the payroll software Payforce.
Update paper and electronic payroll records by entering adjustments on pay rates and employee status changes.
Timekeeper Resume Samples
No results found
0-5

years of experience
Reviewed timesheets, work charts and timecards for completeness.
Computed total time worked by employees, using calculator and computer, posted time worked to master timesheet and routed timesheet to payroll department.
Timekeeping 115 employees, scheduled work hours, resolved conflicts through Kronos database.
6-10

years of experience

Maintain Timekeeping/Payroll Records for approximately 200 employees which consists of but not limited to; entering data in SAP pertaining to hourly/daily job work completed. This involves entering Order/Notification Numbers, Cost Centers and pertinent information related to all Payroll Functions as required by Plant Personnel and OGE Corporate Payroll.
Assist employees in completing company related forms, including but not limited to; Credit Union transactions, Beneficiary Change Forms, Safety Glasses Program, Expense Accounts and Educational Assistance related material
Assist with the coordination of employee activities (i.e., Men's/Women's Club, Christmas Party, Service Awards Banquet, etc.)
Coordinate United Way Drive for Muskogee Power Plant in conjunction with promoting volunteer opportunities for all members at our location as well as Muskogee Service Center (Power Delivery)
Provide Administrative Support as needed.
10+

years of experience

Tracked and Maintained over 450 employee's time through Tru Track Program
Manually entered employees hours in Quick Books/SAP for Payroll and Billing
Created Invoices to Hovensa for payment
Maintained and Updated employee files
Responsible for Paying FICA Tax, Fed Tax, and Gross Receipt Tax, Account Payable and Receivable, Payroll Transfers, Bank Reconciliation
Reconciled Health Insurance Bills
0-5

years of experience

Collaborate with Pre-Employment Specialists to ensure efficient operation of the Back-to-work Program.
Track participants' attendance, report non-compliant participants to the Human Resources Administration.
Orient new participants to program guidelines and resources offered through the Back-to-work Program.
Provide executive-level administrative support to Site Supervisor.
Perform filing, reception, data entry and management, mailing, archiving, and assist with all other office administrative duties.
0-5

years of experience

Interacting with management and Site Staff.
Typing Memos & Correspondence letters, Attending Telephone, Fax, Systematic Filings & Dispatch of documents to relevant Department.
Looking after internal / routine office documentation activities including filing in the Project Control Dept.
Data Entry & Payroll timekeeping - Periodical Man hours and Man power reports, Summarized reports through the Pivot Table function in Excel, Cost report with respect to Man Hours for Costing, Monthly Salary report etc.
0-5

years of experience

Monitored and adjusted timesheets as needed in the PRIMAC timekeeping system.
Edited, posted, batched and printed daily hours.
Balanced hours worked daily and compared them to the hours report.
Transmitted payroll thru ADP to the main office in Chicago.
Received and checked payroll bi-weekly, sorted the checks and distributed them to departments.
6-10

years of experience
Prepared documents related to daily shipments of products
Coordinated and scheduled freight shipments with various freight companies
Researched claims and approved/declined credits
Executed the filing of claims against the freight companies for missing, shorted or lost freight
Completed and submitted reports concerning jobsite details and progress
Tracked and reported weekly field office payroll records
Completed and submitted accident, workman's compensation, and OSHA reports
Maintained office and field phone communications
0-5

years of experience

Managed the overall administrative functions within a specified location.
Managed administrative efficiency and productivity.
Organized the daily workload in an efficient manner.
Coordinated work assignments for staff and tracking output of work performed by staff.
Trained staff on Company policies and procedures.
Approved employee overtime and timesheets.
Managed employee schedules.
Worked with senior management on forecasting and month end reports.
Worked with senior management on budget preparation.
Ensured employee safety information is up to date and maintained
0-5

years of experience

Key Duties: * Performs secretarial duties including word processing, data entry, filing and mailing processes.
Manages schedules and calendars, and provide updates to employees regarding same.
Granted customer service to vendors/representatives for various products.
Manages timekeeping matters for employees and assist supervisor with payroll matters.
Controls switchboard replaces other positions within the hospital during employees' absence.
6-10

years of experience

Request time cards from all EVS area's to meet Payroll Deadlines.
Reviews time cards for accuracy and completeness
Proxy employees time card information into eHR Time Collecting System. (Countywide System). which consist of (350) employees
Contacts Supervision of corrections needed for various errors' made by employee or supervision.
Acts as liaison between the employee and payroll department answering concerns and/or responding and submitting complaints regarding payroll concerns.
Process and submit requests for "Use of Accrued Time" to management for approval within the guidelines, policy and procedures set by the department.
Research and gather information from employee's Time Records upon request of management and employee.
0-5

years of experience

Process payroll for various hospital and over 7000+ employees in California and Texas.
Process biweekly payroll for all hourly, salaried employees using Kronos time and attendance application.
Prepare supplemental payroll and issue manual checks.
Coordinate and process new hires, direct deposits, W4 and GL files in a timely manner.
Maintain high level of discretion and customer service and experience working in a shared services environment.
Process corporate payroll and responsible for all employee issues and questions.
Responsible for Kronos timekeeping and correctly importing hours into PeopleSoft System, processing edits for employees in Kronos.
Reconcile and report all payrolls funding to finance departments and proper business.
Plan and monitor work production timelines to meet deadlines in reporting.
Work closely with human resource and accounting on all payroll matters.
0-5

years of experience
Organize and fill out paper work for new hires including background check, application, DISA membership, direct deposit, etc.
Contact prospective new hires to inquire if they possessed necessary certifications/licenses
Utilized Contractor Cost Management (CCM) to keep time for approximately 200 employees during turnaround
Assisted with weekly payroll by confirming time worked by each employee and/or explaining missing time or time cut by supervisors
10+

years of experience

Responsible for entering payroll hours of approximately 70 employees using People Soft
Properly schedule construction jobs and services to construction crews
Invoice and collect payments from customers for service work
Create expense reports for management employees for travel and entertainment purchases
Update employee transcripts
0-5

years of experience

Process payroll for up to 50 employees weekly in Tiks 3.0 payroll system.
Set up new employee personnel information and all deductions into the system. Input new hires, employee maintenance, reconciling timesheets and processing payroll and benefit administration Administrative responsibilities include daily reports, spreadsheets, accounts payables, customer billing, and issuing purchase orders.
Document and log OSHA incidents on an internal database as it relates to facility and employee health and safety matters.
Purchase materials and PPE for each job site and coordinate timely delivery for on time and safe completion of projects.
Reconciliation of all department expense accounts and expense reports.
0-5

years of experience

Answer phone; handle complaints and/or requests from guests; direct them to necessary resources
Provide disabled guests with the appropriate knowledge and/or accommodations to ensure their safety on rides
Enter new employee information into database; interview potential employees
Use Workforce to do payroll for all park operation employees
Guide and oversee office clerks and enforce park policy and set example for staff
10+

years of experience

Process new hires. Hire in Wyatt's Payroll system and Human Resource system; make sure hiring package is completed correctly.
Clock in/out employees; make sure time balances with Plant. Prepare and maintain up-to-date evacuation reports.
Process Payroll in Wyatt payroll system, make sure hours / pay are correct
Learn and utilize each system used at the different plants in regards to time and Invoicing. (Track, CCM, CMDS..)
Verify 3rd party invoices to make sure they are correct. Invoice plant for Wyatt Labor, Per Diem, Equipment, and any 3rd party invoices
Track cost of the job; work with Client if over budget.
Verify that invoices are being paid. Work with client on any invoices past due.
General office duties; order office supplies, answer phones, file, create spreadsheets or reports for supervision or client, schedule meetings
Train new timekeepers
Set-up each job per specific contract requirements
0-5

years of experience

Input of customer information for invoicing in NetSuite
Input of company employee's hours for both our corporate office and our New Mexico office using ADP
Scanned documents using peripheral devices
Handled and Filed confidential documents
Maintained office supplies
Demonstrated teamwork and effectively communicated with staff
Ran daily reports utilizing Microsoft Excel program
0-5

years of experience

Assisted in the process of making sure a company pays employees accurately and on time. Collect and organize time sheets and enter information related to employees and pay periods into a computer. Double-check aspects of payroll related to hourly wages and yearly salaries as well as overtime, vacation and sick days.
Resolves payroll discrepancies by collecting and analyzing information.
Maintains payroll information by collecting, calculating, and entering data.
Contributes to team effort by accomplishing related results as needed.
Provides payroll information by answering questions and requests.
0-5

years of experience

Proficient in adhering to NYC policies and procedures for timekeeping.
Modify internal timekeeping documents to reflect oversight agency requirements, as it relates to all payroll and human resource managers.
Ensure employee timesheets are submitted in a timely manner in order to avoid/deter the issuance of commissioner checks.
Assist management staff in the approval and submission of timesheets.
Assist staff, managerial and non- managerial staff with payroll inquiries.
Ability to work independently or within a group setting, to meet established deadlines.
Strong analytical and organizational skills.
0-5

years of experience

Distribute and collect timecards each pay period.
Complete time sheets showing employees' arrival and departure times.
Post relevant work hours to client files to bill clients properly.
Review time sheets and other information to detect and reconcile payroll discrepancies.
Process paperwork for new employees and send to corporate office.
0-5

years of experience
Entered time using the Daily Timekeeping System (DTS) For Human Resource Administration.
Entered time using Cybershift System.
Verify attendance of various workers at their worksite for the Work Experience Program.
Provide secretarial and administrative support, including time entry, filing, faxing and copying.
0-5

years of experience

Extensive training in SAP GUI for the implementation and rollout of the new program company wide.
Excelled within deadline-sensitive environment.
Accurate and on-time completion of timesheets of multiple crews on a daily basis.
Performed additional clerical/administrative tasks as assigned.
0-5

years of experience

Update and maintain company files daily
Responsible for manually entering staff time and attendance through our computerized payroll system (Kronos)
Monitor employees time card for lateness, absence and overtime
Regular use of office machinery to fax, scan, print and make copies
Provide administrative and secretarial support for the department such as answering and screening phone calls
Prepare documents for residents in rent delinquency
Process and close out work tickets in a computer software program ( Maximo)
0-5

years of experience

Compile and maintain control records and related files to release blueprints, drawings, and engineering documents to manufacturing and other operating departments
Develop and maintain a comprehensive filing system and computer database for all documents to be retained and accountability of all company owned equipment
Purchasing / Invoicing Requisitions for client approval
Maintain supervisor expense reports
Administer weekly labor payroll reports per deadlines
Maintain daily headcount reports per client request
Ensure 100% compliance in all policies / procedures per company requirements
Prepare progress reports for weekly meetings with clients
Maintain tracking and billing systems
Liaison between employees and HR/Benefits
Assisting with onboarding and termination process
0-5

years of experience
Manage all activities associated with the processing of police payroll.
Create reports for overtime, comp time, absences and annual leave accruals
Maintain records for injury on duty, personal days, time conversions and carryovers.
Responsible for processing payments for vendors using the SAP program
Successful interact with staff at all levels.
0-5

years of experience
Assisted in daily office tasks, office database updates, such as progress reports.
Maintained records and processed important confidential documents.
Provided daily, weekly and monthly reports.
Payroll / timekeeping.
Materials and personnel request and tracking.
Performed field and blueprints take-offs for estimating.
New personnel introductory and training.
0-5

years of experience

Enter and verify all labor time for all employees on job sites. Balance all hours worked per week.
Order Material / Maintain all Invoices
Maintain Cost Reports
Assist employee's with day to day operations when needed
Maintain and update information in the database
Submit daily Work Force report to client
Interface with client on a daily basis
Load More
Timekeeper Duties and Responsibilities
Timekeepers can work in a variety of industries and organizations, but based on postings that we analyzed, most share several core duties:
Compile Employee Time Data The primary responsibility of a timekeeper is gathering and compiling time sheet data from employees across departments. While some companies may still utilize analog methods to record employee hours, the vast majority of organizations now use computerized time reporting technologies to accurately record personnel hours. Timekeepers use this technology to collect employee hours for submission to payroll processing.
Calculate Wages and Deductions Timekeepers also review employee payroll data to calculate wages and withholdings for taxes, Social Security, and employee benefits. The timekeeper uses employee payroll data and the department's record-keeping system to determine the proper withholdings based on hours worked, tax status, and pay rates.
Record Employee Pay Data Throughout the year, timekeepers also manage and update employee pay data within the payroll department's system. This includes creating initial payroll data based on the employee's withholding options when they are hired and entering the employee's pay rate within the system. Timekeepers may also need to periodically review and update pay data based on employee raises or changes in their tax status or other withholdings (such as adding dependents or changing benefit plans).
Review Payroll Entries During each pay period, the timekeeper also reviews payroll data submitted by individual employees or by departments within the organization. Timekeepers ensure that all employees are accounted for and that time sheets accurately reflect hours worked. In addition, the timekeeper may need to communicate with department heads to verify overtime hours or missed hours, both paid and unpaid.
Monitor Reports for Discrepancies Timekeepers monitor payroll data for discrepancies or unusual occurrences to ensure accuracy and maintain correct information. The timekeeper may flag payroll submissions for excess hours, for example, or notice that an employee has submitted reimbursement requests for unapproved expenses. The timekeeper then reports these issues to their supervisor, the human resources department, or to the head of that employee's department.
Timekeeper Skills and Qualifications
Timekeepers support payroll department activities by gathering and entering employee time data and calculating wages and taxes. Most workers in this role have at least an associate's degree, administrative experience, and the following skills:
Computer skills - timekeepers enter employee time data into payroll management systems, so they need to be proficient with computers and general office technologies
Communication skills - this role also requires strong written and verbal communication skills, since timekeepers work with payroll department personnel and employees outside of the department
Attention to detail - timekeepers should also possess a high level of attention to detail to ensure that they enter information correctly and properly calculate employee pay and withholdings
Time management skills - time management is vital in this role, since timekeepers need to submit employee time and payroll data for processing on schedule so that paychecks arrive on time
Organization skills - timekeepers are also highly organized and manage data for many employees at once while quickly resolving issues that can cause delays in payroll processing
Timekeeper Education and Training
There are no formal educational requirements for timekeepers, although an associate's or bachelor's degree in a business-related field can help applicants find additional employment opportunities. Additionally, timekeepers can obtain certification from organizations like the American Society of Administrative Professionals (ASAP) to gain expertise and improve their job prospects. There are many opportunities for on-the-job training in this role as timekeepers gain familiarity with the policies and practices of their organizations.
Timekeeper Salary and Outlook
According to the Bureau of Labor Statistics (BLS), payroll and timekeeping clerks earned a median annual wage of $43,890 as of May 2017. The highest-paid ten percent of workers in this role earned more than $63,180 per year, while the lowest-paid payroll and timekeeping clerks earned less than $28,130 per year. While the BLS does not provide employment outlook data for payroll and timekeeping clerks, its data indicates that general office clerk employment will remain steady between 2016 and 2026, with no significant increase or decline.
Helpful Resources
We located several resources on the web if you're interested in starting a career as a timekeeper:
"Timekeeping Best Practices" - read this blog post to learn about how to effectively track and record employee time and reduce delays and errors in payroll processing.
Payroll Accounting 2018 by Bernard J. Bieg and Judith Toland - this book covers the principles of payroll accounting, employee timekeeping, and tax withholding for companies of all sizes.
American Society of Administrative Professionals (ASAP) - timekeepers can join ASAP to access professional development materials, obtain certifications, and connect with other professionals through events and conferences.
Payroll Management: 2018 Edition by Steven M. Bragg - read this book to learn how to increase the efficiency and accuracy of the payroll department, with a focus on time tracking and record keeping.
Billing Collections Cover Letter Examples
Create your own professional resume in just minutes.
Try our resume builder today
Build Your Resume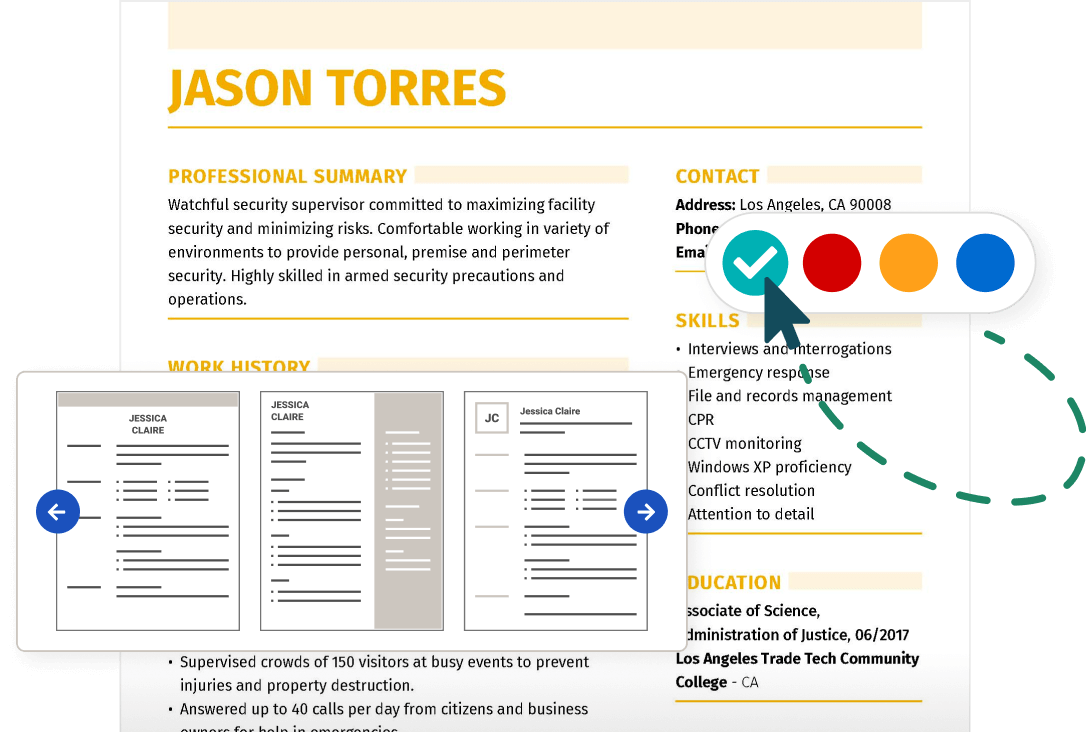 Timekeeper Resume FAQ
What are the duties and responsibilities of a timekeeper?
Your duties and responsibilities as a timekeeper may vary depending on your employer and the technology used. Some employers may use physical punchcards, manually filled timecards, or online systems to calculate hours and wages. However, most timekeepers manage the following tasks:
Manage hourly and annual salaries using payroll software.
Review staff timecards to ensure that employees' working hours are correctly recorded and completed.
Work with employees to fix common timecard errors like missed punches or break adjustments.
Calculate pay according to hours worked, paid or partially paid leave and overtime.
Approve and submit timecards by the payroll deadline.
How do you describe a timekeeper on a resume?
Hiring managers need to find quantifiable information related to your timekeeper experience quickly. The best way to describe a timekeeper on your resume is to add the following information:
How many employees' timecards did you oversee? For example, 25 store staff members or 78 corporate employees.
How many payroll procedures are you familiar with, and how well — for example, moderate knowledge of Gusto Payroll Software but expert knowledge of manual punchcards.
How frequently, thoroughly and quickly can you review and approve timecards?