Featured in:
More Project Coordinator Resumes
Use these Project Coordinator samples as a guideline or visit our extensive library of customizable resume templates.
Additional Administrative Resume Samples
How to Format a Project Coordinator Resume
How you format a project coordinator resume depends on your circumstances. When in doubt, opt for a hybrid resume. This format dedicates equal space to your skills and work history section, making it a balanced approach. We provided a sample of Candidate A's work history section to help you understand how this format works. However, if you don't have experience, you may benefit more from a skills-based approach, like Candidate B below.
Candidate B was a long-time member of a construction crew. They recently completed a construction project management training program and are eager to apply for a promotion within their company. The functional resume, a highly customizable format, works well here. This format doesn't perform well for online applications, however, so use it with caution. Candidate B benefits from this approach because they already work for the company, can deliver a physical copy of their resume, and will remind their employer of the new training and transferable skills that make them a strong coordinator candidate.
Hybrid Resume
8

years of experience

4

years at this job

BS

Business Management
Work History
Project Coordinator, Afterwallet.ioJune 2019 - current, Milwaukee, WI
Responsible for end-to-end monitoring of the internal Compliance Approval Tracking System (CATS) and database.
Collaborate with marketing strategists and various compliance officers to organize, track and finalize all marketing materials within the CATS program, ensuring proper record retention.
Maintain CATS documentation for internal and external testing reviews, audits and exams as evidence of compliance review.
Functional Resume
10

years of experience

1

year at this job

AS

Construction Project Management
Professional Skills
Project Management
Ability to track multiple projects in various stages of construction.
Initiate and coordinate final project walkthroughs to issue timely retention billing and final project deliverables.
Construction
Physically able to contribute to the following on-site tasks: sitting for long periods, standing, walking, typing, bending and occasional lifting of up to 30 pounds.
Previous experience as a construction hand, providing knowledge of the stages of construction.
Project Coordinator Resume Samples
No results found
0-5

years of experience

Coordinated the supportive services between departments through organized weekly meetings.
Prepared and led meeting between departments.
Reported developments to Project Manager using spreadsheet reports.
Resolved issues and disputes involving all employees and reported to HR manager.
Researched vendors for pricing, equipment availability and staffing.
Maintained all record keeping on a customized software program.
Interpreted specifications, blue prints, job orders, company policy, and procedures for workers.
0-5

years of experience

Responsible for managing the financial cycle including bidding and proposals, purchase orders, and review and approval of vendor invoices
Identified and worked to remove barriers to successful completion of the overall project, with particular emphasis on resolving issues with subcontractors
Facilitated and coordinated the work of multiple project teams engaged in the establishment and implementation of new projects to support the Project Manager
Created and tracked purchase orders submissions and complete project close-out manuals
Provided timely project status updates to the Project Manager
Maintain and update company database
0-5

years of experience

Planned, performed, and oversaw all aspects of the worship services for congregation of 600 attendees weekly
Role contributed to a 30% increase of attendees by adding over 200 people during tenure
Coordinated committee to design and remodel sanctuary and managed $75,000 budget
Reorganized and designed Hospitality Ministry team roles
Created and accountable for Worship Arts Department budget
Scheduled social programming for the Worship Arts Department
Served as guest lecturer at local Universities on Worship
Maintained all department equipment (Instruments, Media, Technology, etc.)
Managed and recruited large volunteer base
0-5

years of experience

Annually process over a quarter million projects through the ERP financial closure workflow
Increased timeliness of the closure process from Days to just Hours by identifying process efficiencies
Support financial managers in project closure ensuring it is completed accurately and timely
Proactively investigate and resolve the issues preventing the closure of WBS elements in SAP
Create and sustain good working relationships with internal and external partners
Streamlined the current day process used to resolve closure issues in bulk, as well as older issues
Decreased WBS test failure backlog by 70% in first year by raw determination and diligence
0-5

years of experience

Resolved marketing, printing and shipping needs for Fortune 500 companies, local universities and small businesses.
Maintained the current revenue spend of existing clients while providing additional revenue through upselling retail products and unique full service opportunities.
Managed both customer and account data entry by inputting, reviewing, and updating information on multiple databases while ensuring client confidentiality.
Generated new clients over the phone and in-person by understanding customer needs and providing appropriate solutions.
Assessed all products and service deliverables for accuracy, quality and timeliness.
0-5

years of experience

Managed multiple small to medium-sized web-based software development projects to successful implementation.
Conducted project kick-off meetings, defined project objectives and scope, tracked risks, assumptions, and managed detailed project schedules using Microsoft Project.
Developed and maintained productive working relationships with project owners, business functions, IT developers, vendors, and other project stakeholders.
Conducted regular meetings, facilitated communications, ensured coordination, and cooperation among team members.
Planned and facilitated project review meetings to expedite requirements and resolution of project issues.
Guided the team on resource requirements, methodologies, tasks, dependencies, deliverables, risks, and other issues through the life of the project.
Established customer expectations of project scope, deliverables, procedures for project communications and dissemination of information for team members.
0-5

years of experience

Assist in the execute phases to closing phase of the construction projects.
Assist in subproject planning, budgeting, vendor selection and quality assurance efforts.
Assist the Project manager in supervising the work of team members and tracking overall work progress.
Defined clear targets and objectives and communicated them to other team members.
Monitored timelines and flagged potential issues to be addressed.
Assessed vendor products and maintained positive vendor relations.
Conducted and documented weekly status review for upper management.
0-5

years of experience

Maintained communications, documentation and technical information related to Broker-Dealer and Registered
Investment Advisor products, technology and operations.
Created and distributed reports for the Field Training and Communications Solutions team and Service
Assisted in field training scheduling, coordination, recording and editing.
Prepared presentations for management utilizing presentation software and tools.
Facilitated the content management process for field and client websites to ensure current and accurate
0-5

years of experience

Coordinated various executive projects including facility relocation, marketing campaigns, and employee acquisition and training.
Maintained relationships as liaison for the executive team to all other departments and staff levels.
Provided detailed analysis of daily sales accounts and inventory reports to maintain integrity of inventory data.
Managed deliverables, calendars, and expense reports for CEO and COO.
Responsible for daily operations including facilities management, creating purchase orders, maintaining inventory database, and overseeing accounts payable.
Responsible for vendor acquisition and management as well as rare parts acquisition and price negotiations.
Proactively explored opportunities to meet demands of clientele to provide highest level of customer service and quality on time and on budget.
Researched and implemented options to continuously improve short and long term sourcing solutions.
0-5

years of experience
Successfully coordinated with vendors for Phase 3 of a $2.8M mandated ICD-10 software project.
Assisted technical team with preparation of deployments including reporting in Release Management meetings.
Created status reports, financial reporting, risks & issues associated with the project using Daptiv.
Assigned tasks to team members using Daptiv and MS Project.
Maintained the project and was instrumental in keeping it on schedule and within budget.
Managed the SharePoint team site for the project.
0-5

years of experience
Established and maintained project plans for NBIA (New Business Initiative Approval) and Compliance projects respectively, capturing all milestones, risks and tasks.
Created business process and procedures to ensure compliance with the business processes.
Developed and delivered role-based process and system training.
Coordinated UAT (User Acceptance Testing) for twelve sub lines of business.
Maintained project documentation and business procedures on team SharePoint site.
Prepared and distributed weekly business communications to direct reports and key business stakeholders.
0-5

years of experience
Researched and developed content for a variety of clients
Planned out editorial schedules for all upcoming content
Created and implemented marketing and social media campaigns
Edited copy for all content, wrote press releases
Uploaded content using Kentico and Wordpress
Reviewed and analyzed client sites for areas that need to be improved, deleted, or revised
Load More
Project Coordinator Duties and Responsibilities
To accomplish their primary goal of organizing the numerous parts of a project and making sure it runs smoothly, Project Coordinators perform many tasks. We analyzed several job listings to identify these core Project Coordinator duties and responsibilities.
Plan Meetings Project Coordinators usually work directly with other team members and the client to schedule and plan meetings to allow for planning and updates throughout the course of a project. Project coordinators also help with planning meeting content and presentations.
Organize Project Logistics Project Coordinators organize the logistics of a project. They set a schedule, track dates, budgets and other information using spreadsheets. They must be knowledgeable about the project's particulars, which range from daily minutiae to long-term goals, in order to keep it on schedule.
Maintain Records Project Coordinators maintain detailed records of all aspects of the projects development. They sort reports, contracts, invoices and financial files for quick access and future reference.
Interface with Clients Project Coordinators work directly with the client to respond to their requests and communicate to them the status of the project. If issues arise, Project Coordinators may need to troubleshoot and clearly articulate proposed solutions to the client.
Project Coordinator Skills
Self-motivated, conscientious and adaptable, successful Project Coordinators have excellent organizational and communication skills. They enjoy working on a variety of projects, and can solve complex problems and meet deadlines. In addition to these general skills and personality traits, employers are Project Coordinator candidates with the following skills.
Core skills
: Based on job listings we looked at, employers want Project Coordinators with these core skills. If you want to work as a Project Coordinator, focus on the following.
Advanced analytical, problem solving and decision-making skills
Knowledge and understanding of project coordination and scheduling using MS Project, Project Server or similar system
Ability to use Microsoft Office (Word, Excel, Outlook, and PowerPoint)
Ability to coordinate completion of multiple tasks and deadlines
Knowledge of presentation design, template usage and presentation delivery
Advanced skills
: While most employers did not require the following skills, multiple job listings included them as preferred. Add these to your Project Coordinator toolbox and broaden your career options.
Microsoft Visio experience.
Ability to work flexible hours.
Knowledge of telecommunication features or applications such as WebEx or Telepresence.
Project Coordinator Resources
We searched the Web to find the best industry resources to help you continue exploring a career as a Project Coordinator. From thought leaders to helpful guides, this list is packed with opportunities to learn, connect and engage. On the Web
Project Coordinator - This online toolkit will help with the day-to-day tasks of project coordination.
Casual.PM Blog - Learn more about what it takes to be a Project Coordinator, including videos from professionals and links to online tools.
Outcollaborate Blog - This well-written blog covers the areas of project management, collaboration and productivity, all of which will be helpful to an aspiring Project Coordinator. On LinkedIn
Project Coordinator CoP - A community of practice for current and future Project Coordinators.
Project Coordination ( I.T) - A group for Project Coordinators in the field of IT. Project Coordinator Books
Project Management for Dummies - A basic introduction into the theories and practices of Project Management.
Project Coordinator (Passbooks) - This question and answer style study guide will prepare you with the knowledge needed to be a top-notch Project Coordinator.
Effective Project Management: Traditional, Agile, Extreme - A comprehensive guide to Project Management and the various techniques needed for success.
Administrative Cover Letter Examples
Create your own professional resume in just minutes.
Try our resume builder today
Build Your Resume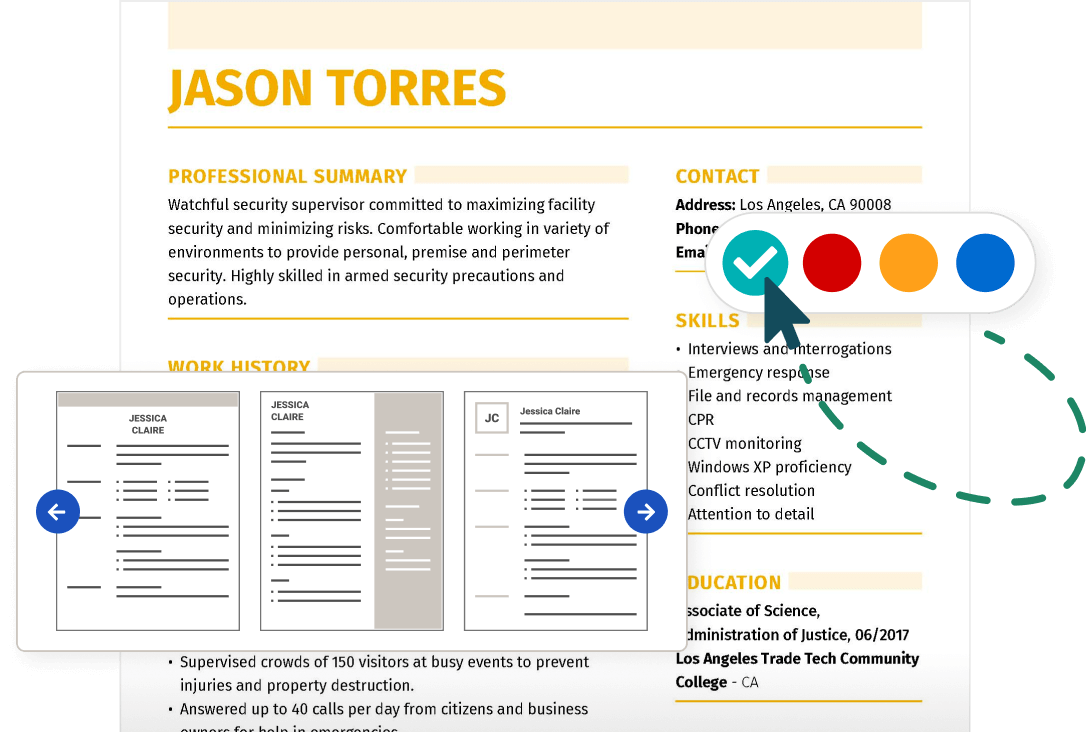 Project Coordinator Resume FAQ
What does a project coordinator do?
Project coordinators streamline communication and deliver deadlines across multiple teams and project stakeholders. Their daily tasks can include:
Crafting detailed project plans and tasks.
Managing team members.
Calculating completed tasks performance.
How much does a project coordinator make?
The average salary of a project coordinator will vary on the local job market, industry and seniority level. According to the Bureau of Labor Statistics, project coordinators earn a median salary of $67,280 a year.
How do you become a project coordinator?
If you're interested in becoming a project coordinator, it'll be helpful to earn the following training and certifications to showcase on your resume:
Project management professional (PMP) certification
Google project management certification
Bachelor of science in business administration or management
What skills do you need to be a project coordinator?
The role and responsibilities of a project coordinator will vary based on the employer and staff. However, most project coordinators should possess the following technical and social skills to be an effective team leader:
Hard and technical skills. Data entry, data analysis, knowledge of task management software or procedures, budget management and time management are all useful technical skills for a project coordinator.
Soft social skills. Project managers benefit from solid organization, communication, note taking, analytical, problem-solving and multitasking skills.
You can find an additional list of the most requested resume skills here to help you boost your job application.