Featured in:
Transportation dispatchers schedule vehicles to move goods or people. They look at the particulars of what needs to be delivered and make the necessary arrangements. They take into consideration factors such as the size of the load (or the number of people), the drivers who are available, the length of the trip, and when what is being carried needs to arrive.
Transportation dispatchers typically work out of an office or other central location. Hours vary by industry. A transportation dispatcher for a school bus company would work during the day when students are going back and forth, while someone employed by a taxi service might be assigned to an evening or weekend shift. The Bureau of Labor Statistics predicts that job prospects for transportation dispatchers will grow 4 percent between 2014 and 2024.
Our certified resume writers have created a library of resume samples to show you exactly what a strong resume looks like. Use them as-is or customize them to your needs.
One extra step to impress a manager: A growing number of hiring professionals read cover letters to determine whether they'll interview a candidate or not. Use our cover letter templates to craft a complete application that lands you the interview.
Transportation Dispatcher Duties and Responsibilities
Getting things from one place to another involves performing a variety of tasks. Our analysis of job postings revealed these actions as some of the most common for transportation dispatchers to do:
Scheduling
Transportation dispatchers look at what (or who) needs to be transported at what time to what destination, and they develop plans to move things in the most efficient way possible. For instance, transportation dispatchers for a trucking company figure out if a rig already heading in a certain direction might be able to handle an additional load or if a different truck will need to make that delivery. On the day of a major business conference, transportation dispatchers for a cab company might make sure an adequate number of drivers are ready to pick people up when the event is over.
Handling Problems
Plenty of things can go wrong on a journey. From a bus with a flat tire to an unexpected roadway closure, unforeseen situations arise. Transportation dispatchers take action to make things right and limit disruptions. They might send out another vehicle to take over the route, look for a new way to get to the desired destination, or notify customers or other concerned parties about a delay.
Maintaining Communication
Transportation dispatchers serve as a liaison between different departments and people. They correspond with maintenance to see which vehicles are available and when out-of-service ones will be returned to the fleet. They talk to drivers to ensure the trip is going as planned. They field messages from customers wanting to confirm arrival time of their items or calling with complaints about damaged merchandise.
Reporting
Companies want to keep their transportation costs down while still providing excellent service. Employers often turn to transportation dispatchers to provide detailed accounts of activities in order to look for patterns or inefficiencies. For instance, a college running its own shuttle service around campus may try to figure out which stops are the most popular. Data from a train line may reveal how many times a train experienced problems due to inclement weather.
Monitoring Safety
All companies have to be concerned about safety, and transportation dispatchers play a role. For instance, they should know about limits on how long drivers can work without rest and take that into consideration when making schedules. If one of a transportation dispatcher's vehicles is involved in a roadway situation, he or she needs to decide the safest course of action, such as getting emergency help to move students off a school bus.
Transportation Dispatcher Skills
Transportation dispatchers are organized problem-solvers capable of dealing with information from multiple sources and acting accordingly. Hiring managers also like to see evidence of the following when evaluating résumés:
Communicating clearly so that all parties involved know what is going on
Keeping calm in the face of surprise situations in order to rectify them quickly and efficiently
Thinking ahead to anticipate potential problems, such as allowing extra delivery time during stormy weather
Managing time wisely both to be an effective employee and to spot ways in which transportation routes and procedures could be improved
Displaying a commitment to teamwork since the job entails contact with a variety of people
Transportation Dispatcher Tools of the trade
If you plan to pursue a career as a transportation dispatcher, it is good to be familiar with these things:
Radios – commonly used form of communication between transportation dispatchers and drivers on the road
Telephones – convenient way of informing customers with delivery updates
Computers – used to operate navigation software, check weather and road conditions, and correspond with others via email
Schedules – detailed lists of what is being transported, who is doing the driving, and when the delivery is supposed to arrive
Transportation Dispatcher Education and Training
Virtually all transportation dispatchers hold at least a high school diploma. Many have taken post-secondary classes in subjects such as communications, logistics, and transportation management at vocational schools or community colleges. New hires should expect a period of on-the-job training to get them up-to-speed on their particular company's transportation practices.
Transportation Dispatcher Salary
The median annual salary for transportation dispatchers, categorized by the BLS as "dispatchers, except police, fire, and ambulance," is $37,940. Transportation dispatchers in the 10th percentile earn about $23,200 a year, and the highest paid make in excess of $63,400 a year. Transportation dispatchers in North Dakota, Illinois, and Washington make the highest median salaries in the U.S. – $47,190, $46,330, and $45,470, respectively.
Create your own professional resume in just minutes.
Try our resume builder today
Build Your Resume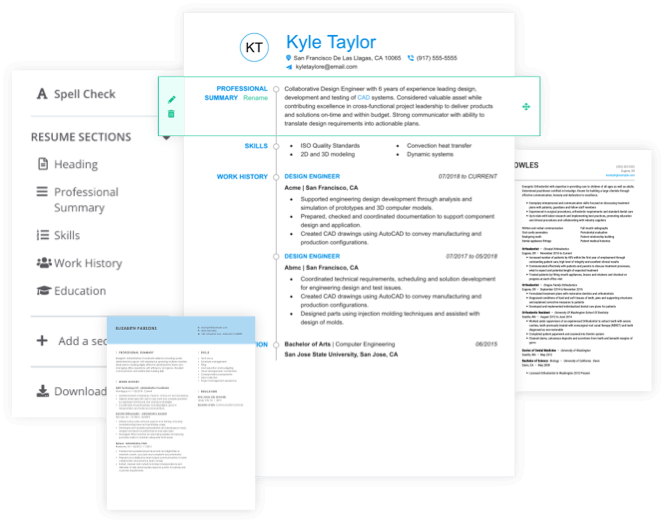 Transportation Dispatcher Resources
For people looking for more information about a career as a transportation dispatcher, the following can be of assistance:
Transportation Dispatcher Resume Help
Explore these related job titles from our database of hundreds of thousands of expert-approved resume samples: