Featured in:
Retail sales associates are responsible for all activities related to sales in a retail establishment. They provide a variety of services, from helping customers pick out items to ringing up purchases. A position as a retail sales associate is perfect for someone who likes working with the public and has a lot of patience when assisting difficult people. The most successful sales associates are outgoing, friendly, and enjoy interacting with customers. This position is great for students, those looking for part-time employment, or those with flexible schedules. Shifts can vary and usually include weekends and holidays.
Need cover letter guidance? Add a cover letter to your resume using our cover letter formats how-to guide and add value to your resume.
One extra step to impress a manager: A growing number of hiring professionals read cover letters to determine whether they'll interview a candidate or not. Use our cover letter templates to craft a complete application that lands you the interview.
Retail Sales Associate Duties and Responsibilities
No two retail sales associate jobs are exactly alike, as specific skills vary from employer to employer. However, after analyzing online job postings, we identified serval core duties and responsibilities common to the job:
Greet Customers
The sales associate is often the customer's first point of contact when they walk into a retail establishment. Associates greet customers and let them know they are available to answer their questions and help them find what they are looking for.
Assist Customers
Retail sales associates assist customers and make sure their shopping experience is pleasant and enjoyable, so they make purchases and come back. This involves answering questions, helping customers identify the products they want, and suggesting products the customer may not know they need.
Provide Product Information
Being knowledgeable about a store's merchandise is key to providing customers the information they need to make purchasing decisions. The retail sales associate explains the benefits of products and helps customers identify and choose appropriately.
Upsell Merchandise
Making money is the name of the game in all business, and retail sales associates are often encouraged to upsell and offer pricier versions of the products shopper are looking for. They also encourage customers to purchase products related to the ones they've already chosen.
Stock and Clean Sales Floor
During downtime when there are few customers to assist, retail sales associates are usually expected to restock merchandise and keep the sales floor clean and organized.
Process Payments
When customers are ready to make a purchase, the retail sales associate assists them at the checkout counter. They ring up the purchases, process cash and credit card payments, and issue receipts.
Retail Sales Associate Skills and Qualifications
Retail sales associates should have energetic, upbeat personalities and enjoy assisting customers with a smile. Prior experience as a sales associate is not required. The following skills are important for success as a retail worker:
Customer service - in the world of retail, the customer is always right; the retail sales associate must interact with customers in a positive and friendly way while listening to their needs and helping them make decisions
Math skills - retail sales associates need to add up prices, calculate discounts, count inventory, and much more
Salesmanship - the retail industry is all about making sales, and sales associates are persuasive sellers able to explain products and benefits clearly to customers to achieve their sales goals
Communication skills - sales associates help customers see the value and benefit they're getting by shopping at the establishment. They also communicate with employers and other employees in a clear and effective manner
Persistence - making the sale requires a can-do attitude. Not every customer is going to make a purchase, and rebounding from losing a sale is a key part of this position
Interpersonal skills - working in retail involves interacting with others - most importantly the customers. Sales associates must keep a friendly face, interact with customers in a positive manner, and stay patient and cool with frustrated customers
Retail Sales Associate Education and Training
There are no minimum education requirements to become a retail sales associate, but a high school diploma or equivalent is usually preferred. Sale associates typically receive on-the-job training from management on company sales policies and merchandise, but experience in retail sales is helpful, as is computer literacy or familiarity using a POS system. A four-year college degree or certificate in business may be required for advancement to retail management positions.
Retail Sales Associate Salary and Outlook
The Bureau of Labor Statistics (BLS) lists the national median salary for retail sales workers as $23,370 per year, or $11.24 per hour. The BLS projects the overall employment of retail sales workers to grow 2 percent by 2026, which is slower than average. Because many workers leave this occupation, it's estimated there will still be plenty of jobs in this field in the next 10 years despite the low projected growth rate.
Some retail sales associates receive commissions and sales bonuses on top of their hourly wage, and some are eligible to receive benefits like healthcare and paid time off, depending on the number of hours they work per week.
Create your own professional resume in just minutes.
Try our resume builder today
Build Your Resume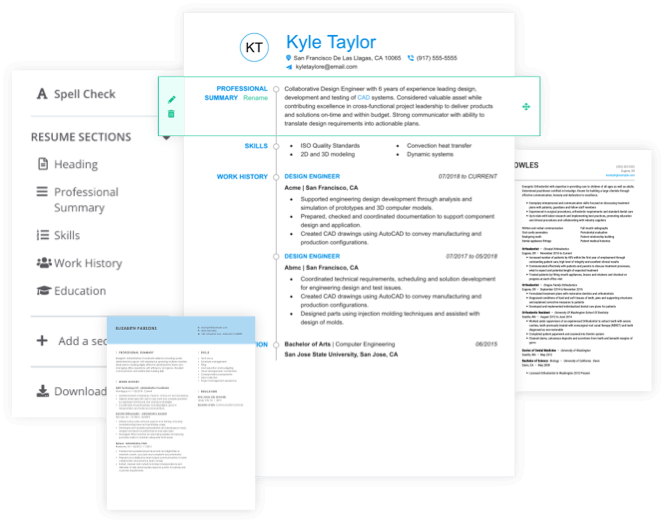 Helpful Resources
We've searched the internet for the best resources to help you explore a potential career in the retail industry. Here are some ways to find out if being a retail sales associate is a good fit for you:
Retail Sales Associate Resume Help
Explore these related job titles from our database of hundreds of thousands of expert-approved resume samples: