Featured in:
Retail directors manage day-to-day retail operations, analyze store budgets, and maintain inventory to keep stores well-stocked. Retail companies of all types, from fashion to food service, hire retail directors to manage employees and work full-time hours in store and corporate office environments. Retail directors work evenings, weekends, and holidays, and may travel between different store branches and corporate offices to complete their duties. Retail directors report to upper-level executives within the company, such as the vice president of sales.
Need cover letter guidance? Add a cover letter to your resume using our cover letter formats how-to guide and add value to your resume.
One extra step to impress a manager: A growing number of hiring professionals read cover letters to determine whether they'll interview a candidate or not. Use our cover letter templates to craft a complete application that lands you the interview.
Retail Director Duties and Responsibilities
Job duties vary for retail directors based on the retail business they're in and the number of stores they oversee. These core responsibilities, however, are essentially the same in all retail environments:
Manage Employees
Retail directors recruit, interview, and train employees to work in retail stores. They're also responsible for managing and terminating employees when necessary. This duty includes providing regular employee evaluations, promotions, and wage increases for those who excel at their jobs.
Analyze Sales Reports and Strategies
Retail directors analyze daily sales reports to note which items are selling well and which are not, in addition to discerning profit margins for each item. They also design marketing and sales strategies and present them to upper management. This includes designing and setting up in-store sales displays.
Monitor Staff Operations
Retail directors manage employee payroll and coordinate staff work schedules to ensure all shifts are covered. They also monitor employee occupational health, turnover, and job satisfaction. When problems are noted, retail directors speak with employees to find out how to help them become more satisfied with their jobs.
Manage Inventory
Retail directors are responsible for maintaining inventory areas and ordering new items as needed. This includes creating regular inventory reports and writing purchase plans for upcoming seasons to make suggestions about items that should be stocked in stores.
Open and Close Stores
Retail directors are responsible for store openings and closings, either by following opening and closing procedures themselves or assigning a team member to manage these tasks.
Communicate with Sales Department
Retail directors regularly communicate with regional sales managers and district sales managers regarding sales reports, marketing campaigns, and day-to-day store operations.
Retail Director Skills and Qualifications
Retail directors are highly detail-oriented staff supervisors, sales professionals, and customer service managers. Employers hire retail directors who have the following relevant skills:
Management - retail directors hire and fire staff members, train employees, and oversee all employee operations, which means management skills are an essential part of this job
Customer service - retail directors are in a customer-oriented industry, so employers look for professionals with strong customer service skills to fill this role
Communication skills - because retail directors create reports and make presentations, they have excellent written and verbal communication skills
Salesmanship - sales drive all retail businesses, and retail directors analyze sales reports regularly, so they need strong sales skills to complete this task
Math skills - retail directors use math to analyze financial reports, create marketing plans, and manage payroll
Time management - retail directors use time management skills to design employee work schedules and manage multiple tasks at once
Physical fitness - retail directors lift heavy boxes in inventory rooms, stand, and walk for hours at a time, which requires strength and endurance
Presentation skills - retail directors use presentation skills create and set up sales displays and marketing plans, and to create reports for company executives
Computer skills - because many companies use digital cash registers, online marketing applications, and sales reporting software, retail directors have strong computer skills
Retail Director Education and Training
Many employers require retail directors to have a bachelor's degree in marketing, business, retail merchandising, or a similar field of study. In addition to education, some employers seek retail directors who have prior experience in retail management or in their specific industry. Because some travel is required for this job, retail directors must also have a valid driver's license and a clean driving record.
Training is not typically provided to retail directors, who already have the education and experience needed to perform their job duties. However, it is common for retail directors to go through an orientation period while they learn the company's retail practices and protocols. This orientation varies by company.
Retail Director Salary and Outlook
The median pay for purchasing managers, buyers, and purchasing agents is $66,610 annually, per the Bureau of Labor Statistics. Like retail directors, purchasing managers, buyers, and purchasing agents work in a sales-driven industry. According to data from PayScale, retail directors earn a median annual income of $77,889. Jobs in this field are expected to decline 3 percent through 2026.
Retail directors receive full benefits packages from employers that include life insurance and retirement plans in addition to health insurance with complete coverage. After an initial trial period, usually three months to one year, retail directors receive paid vacation leave. Some companies also provide in-store discounts on purchases, membership in wellness programs, and monetary bonuses to employees who meet or exceed sales goals.
Create your own professional resume in just minutes.
Try our resume builder today
Build Your Resume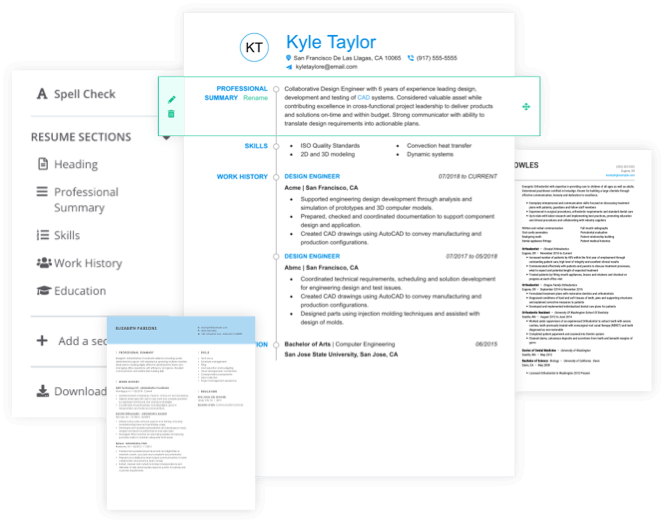 Helpful Resources
Find job opportunities and career tips for retail directors using the tools and strategies in these books and websites:
Retail Director Resume Help
Explore these related job titles from our database of hundreds of thousands of expert-approved resume samples: