Featured in:
Any place that sells goods directly to consumers can benefit from the actions of retail associates. These versatile team members do whatever is necessary to promote a positive customer experience, from maintaining an attractive environment to helping shoppers find particular items. Retail associates may work either full- or part-time. Shifts vary considerably since stores are open various days and hours, including evenings and weekends. The variety of hours available to work often attracts college students, parents, and others looking to balance a job with other responsibilities. Many retail associates are hired temporarily during the busy holiday season, and some use it as a path to regular employment.
Our certified resume writers have created a library of resume samples to show you exactly what a strong resume looks like. Use them as-is or customize them to your needs.
Want to boost your resume? Your Jobhero subscription comes with a complimentary cover letter builder. Once you choose a cover letter template, the builder will suggest job-specific skills and prewritten entries, allowing you to save multiple letters for various applications fast.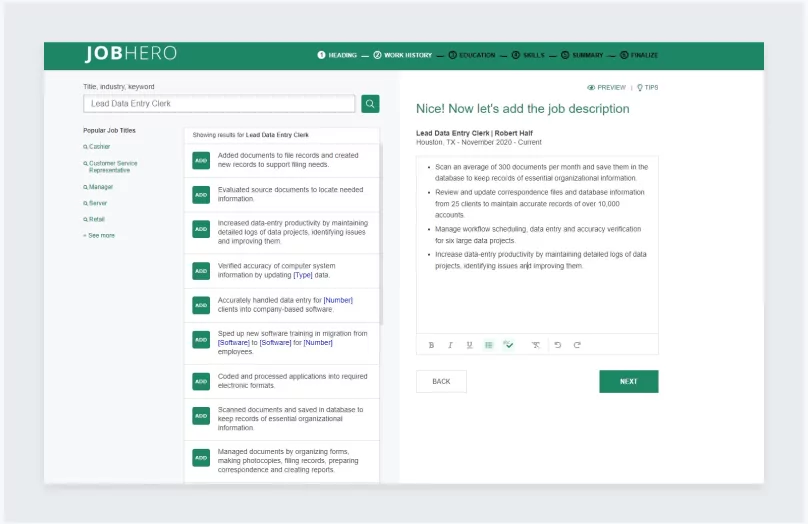 BUILD MY RESUME
Retail Associate Duties and Responsibilities
While the duties of a retail associate vary from store to store, some core tasks are common. Based on listings we analyzed, people hired as retail associates can usually expect to do the following:
Greet Customers
Whether stationed at the front of the store or in an individual department, retail associates show shoppers that they are valued by exchanging pleasantries and offering help in finding items.
Monitor Activities
Retail associates keep an eye on what is going on both inside and outside of the facility. This may involve noticing a spill and cleaning it up, making sure enough carts are available at the front of the store, or restocking items when a display is low. The presence of retail associates throughout the store also deters theft and vandalism.
Develop Expertise
Good retail associates know where items are located within the store. They also should possess knowledge about merchandise within their assigned department so that they can intelligently answer questions from customers.
Work the Checkout
When customers are ready to pay for their purchases, retail associates perform actions such as scanning items, bagging them, totaling the bill, collecting payment, and issuing a receipt. If someone needs assistance getting a purchase to a vehicle, the retail associate will notify the appropriate staff member.
Perform Upkeep
Employers may assign their retail associates common tasks necessary to keep operations flowing and safe. This might involve picking up trash, putting discarded items back in the correct place, restocking shelves, or mopping an entrance way.
Train New Employees
Experienced retail associates may be tasked with getting new hires up to speed and looking over their work.
Retail Associate Skills and Qualifications
If you're enthusiastic about being part of a team, being a retail associate may be a good career option. Your willingness to pitch in with whatever tasks are necessary is sure to impress employers. Other abilities often found among successful retail associates include:
Interpersonal skills - getting along well with colleagues and customers is essential, so those who know how to listen, communicate, and interact pleasantly have an edge
Commitment to policy - wearing appropriate attire, acting professionally at all times, and following company guidelines are expected
Attentiveness - perceiving what needs to be done and doing it, such as opening a new lane when checkout lines get long
Physical requirements - standing behind a register, bending to pick up items, lifting merchandise onto shelves, and maneuvering carts are among the actions requiring strength, flexibility, and stamina (and a comfy pair of shoes)
Multitasking - duties can change quickly based on need, so retail associates must prioritize and juggle demands
Calmness - the environment can get stressful during busy times, so remaining patient with customers and level-headed with demanding managers is admirable
Retail Associate Education and Training
Retail associates typically have a high school diploma or are in the process of obtaining one. New hires should expect a period of on-the-job-training where colleagues and managers teach them about store policies, customer service, the location of items, and check-out procedures.
Retail Associate Salary and Outlook
Retail associates, which the Bureau of Labor Statistics (BLS) categorizes under "Retail Sales Workers," are usually paid by the hour. The national median hourly wage is $10.90. Retail associates in the 10th percentile earn about $8.55 per hour, and the highest 10 percent make in excess of $19.90 per hour.
Depending on where they work, retail associates may get a commission on items they sell. This practice is most common at places where purchases are large, such as at a furniture store. Most retail associates receive discounts on merchandise sold by their employer. Full-time retail associates may be eligible for benefits such as healthcare and paid time off.
According to the BLS Occupational Outlook Handbook, job prospects for retail associates should grow 2 percent between 2016 and 2026. The popularity of online shopping has decreased the number of brick and mortar stores. However, some retailers are upping their game in terms of customer service, which creates jobs for retail associates. And because turnover in this field is high, a good number of openings for retail associates often can be found at any given time.
Create your own professional resume in just minutes.
Try our resume builder today
Build Your Resume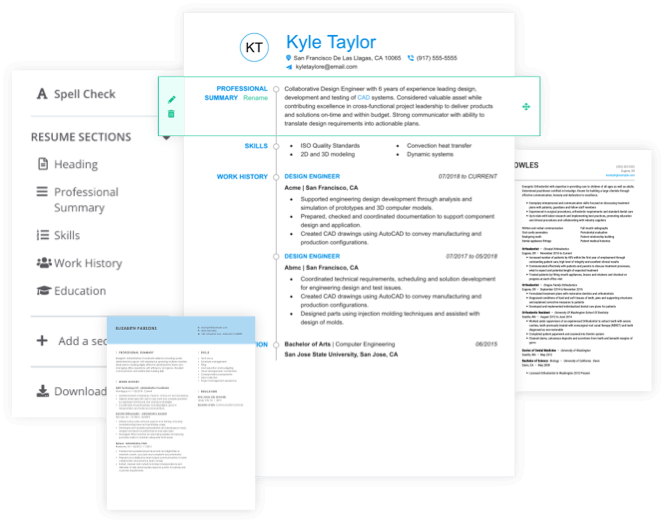 Retail Associate Resources
If becoming a retail associate sounds like a great job for you, check out the following resources for further information.
this professional organization is a goto place for everything related to the retail industry, including hot trends and career advancement suggestions
author Lee Cockerell, former Executive Vice President of Operations at Walt Disney World, offers universal wisdom gained from experience in a handbook described by reviewers as "easy to read" and "understandable, but profound"
people who understand customer behavior have an edge in the retail industry, and this book by Paco Underhill explores shopping habits in ways readers describe as "funny and insightful."
Retail Associate Resume Help
Explore these related job titles from our database of hundreds of thousands of expert-approved resume samples: