Featured in:
A Maintenance Engineer is one who ensures that any type of equipment is working properly. Maintenance Engineers are responsible for working on a wide variety of machines, such as those used in the medical, manufacturing, aviation, heating/cooling or food preparation industries. They perform routine maintenance, troubleshoot problems and make repairs as needed. Maintenance Engineers would also be responsible for removing old equipment and installing new machines.
Maintenance Engineers most often work in industrial settings. They might also work for real estate companies and perform checks on various systems in commercial and residential buildings. The U.S. Bureau of Labor Statistics states that the projects employment growth for all general maintenance and repair workers, which includes Maintenance Engineers, to be 6 percent through 2024. An expected rebound in the overall construction and maintenance fields is believed to be a major factor in this projection.
Need cover letter guidance? Add a cover letter to your resume using our cover letter formats how-to guide and add value to your resume.
Want to boost your resume? Your Jobhero subscription comes with a complimentary cover letter builder. Once you choose a cover letter template, the builder will suggest job-specific skills and prewritten entries, allowing you to save multiple letters for various applications fast.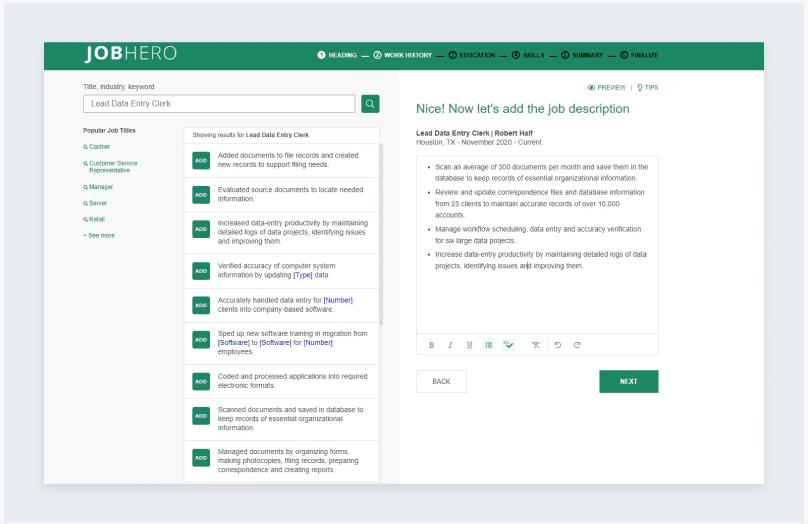 BUILD MY RESUME
Maintenance Engineer Duties and Responsibilities
Maintenance Engineers are involved in several tasks to ensure that industrial machines are maintained and repaired. In reviewing several job listings for this profession, we found the following are among the core duties and responsibilities of a Maintenance Engineer.
Inspect and Maintain Equipment
To avoid malfunction and other problems with equipment, it is up to the Maintenance Engineer to make sure that equipment is working and not in danger of breaking down. They perform routine inspections and preventive maintenance on machines to keep them running smoothly. This might include replacing worn parts and checking oil and other fluid levels.
Make Repairs
When an industrial machine breaks down, it is up the Maintenance Engineer to get it working again. They are responsible for troubleshooting the problem and assessing whether parts can be repaired or need to be replaced. They would commonly be responsible for ordering and installing replacement parts. Maintenance Engineers must also make any required upgrades or changes to established systems to improve or prolong efficiency.
Install New Equipment
In some cases, machines that no longer work simply cannot be repaired due to the age of the machine or the cost of the repairs. It is then the responsibility of the Maintenance Engineer to install new equipment and to perform checks following installation to ensure that all systems are in working order.
Maintenance Engineer Skills
In addition to mechanical skills, a Maintenance Engineer should be a strong problem solver with an eye for detail and an analytical mind. Strong communication and organizational skills are also important for this profession. Maintenance Engineers should have the ability to stand, stoop, squat and kneel for long periods of time, as well as lift, push and pull large machine parts or machines as needed. In addition to these general skills, a Maintenance Engineer could be expected by potential employers to possess the following skills.
Core skills
: Based on job listings we looked at, employers want Maintenance Engineers with these core skills. If you want to work as a Maintenance Engineer, focus on the following.
Understanding electrical, plumbing, air conditioning, heating and electronic systems
Troubleshooting problems on various types of equipment
Understanding how to read blueprints and system schematics
Knowing equipment safety systems and processes
Advanced skills
: While most employers did not require the following skills, multiple job listings included them as preferred. Add these to your Maintenance Engineer toolbox and broaden your career options.
Knowledge of OSHA and EPA guidelines and standards
Understand how to handle and dispose of hazardous materials
Knowledge of basic computer applications, such as Microsoft Word, Excel and PowerPoint
Create your own professional resume in just minutes.
Try our resume builder today
Build Your Resume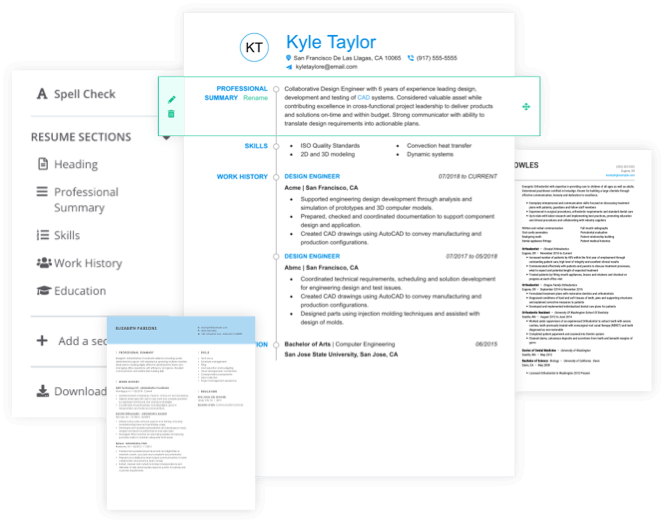 Maintenance Engineer Resources
The following are among the best industry resources we found that could be helpful as you continue your research of a Maintenance Engineer career. Both online and print resources are listed here.
On the Web
A website offering solutions and technologybased information for Maintenance Engineers and related professions. Provides online articles, tips, videos, conferences and workshops.
An independent website with blog articles relevant to maintenance engineering, such as those addressing engineering strategies and planned maintenance approaches.
Industry Groups
Formed in 1992, SMRP offers educational programs, professional development webinars, publications and an annual conference for those working the maintenance field.
An organization offering support and resources for plant engineers, facility engineers and Maintenance Engineers. Provides certification and continuing education information, classes and webinars.
Maintenance Engineers employed in hotels, motels and resorts will find forums, videos, online publications and industry news that are helpful resources for their profession.
Books
An indepth look at the best methods and practices for those working in this field. Covers everything from analytical methods to preventive maintenance.
Cowritten by a 30year veteran of the maintenance engineering field, this book provides charts, graphs and other helpful illustrations along with easy explanations and solutions for working on various types of equipment.
Presents an extensive look at the methods and challenges of working at the managerial level in maintenance engineering.
Maintenance Engineer Resume Help
Explore these related job titles from our database of hundreds of thousands of expert-approved resume samples: